2 products found for undefined in Industrial

perfluorence GmbH
perfluorence GmbH LUBOFÉ
Applications: Fluids & Lubricants, Metal Manufacturing, Rail & Mass Transit
Product Families: Surface Protective Additives
End Uses: Metalworking Fluids, Metalworking Equipment Oils, Gear Oils
LUBOFÉ is a Extreme Pressure / Anti-Wear additives used for high performance lubricants.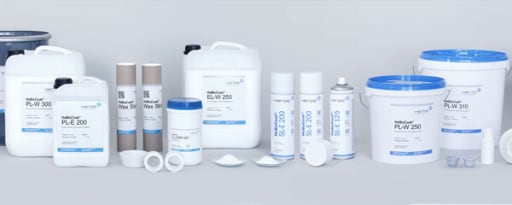 HENZE BORON NITRIDE PRODUCTS
HeBoFill® extrusion
Brand: HeBoFill
Applications: Metal Manufacturing
Product Families: Surface Protective Additives, Performance Additives
Chemical Family: Boron-based Compounds
HeBoFill ® extrusion is the latest Boron Nitride powder from Henze, developed specifically for the Aluminium extrusion sector. HeBoFill® extrusion exhibits excellent lubricating and release properties, high purity and good flow characteristics and pourability. It effectively prevents the adhesion of Aluminium to the press dummy block as well as other critical working surfaces during extrusion. HeBoFill ® extrusion is easy to use and offers process cleanliness through an efficient electrostatic spraying process which ensures economy, and results in a uniform, consistent coating. Both component service life and process security of the Aluminium extrusion process are increased.