CytoGuard® OX-OST is a powerful antioxidant designed for use in fats, oils and food products with lower water content. These powerful antioxidants are natural, clean label ingredients that ensure the quality of your products throughout their shelf-life.
Ingredient Origin:
Natural Origin
Labeling Claims:
Kosher

,
Naturally Derived

,
Solvent-free

,
Natural

,
Clean Label

,
Non-GMO
Price
Available upon quote
Minimum Order Quantity
Quote required
Available Incoterms
Quote required
Regional Availability
View
Knowde Enhanced TDS
Identification & Functionality
Food Ingredients Functions
Labeling
Natural flavor
Natural tea extract
Jasmine Tea Extract
Spice
Cytoguard® OX-OST

Features & Benefits
Food Ingredients Features
Features & Benefits
Features
High antioxidant activity
Oil-soluble liquid or Water-soluble powder
Non-GMO
Solvent-free extraction process
Clean/Neutral taste
Heat stable (180 °C/365 °F)
Health enhancing nutraceutical
Benefits
Natural Antioxidant
Ensures quality, extends shelf life
Natural / plant-based ingredients
Shelf-stable oil
Preserves the flavor
Preserves the color
Clean Label / Label-Friendly
Higher efficiency compared to other popular antioxidant blends
May be used to replace chemical preservatives and synthetic antioxidants (BHA, BHT, Propyl gallate, TBHQ)
Product Highlights
Cytoguard Natural Antioxidants Product Line
Water and Oil-soluble versions of:
0regano Extract (natural flavor)
Jasmine Tea Extract (natural flavor)
Mediterranean Spice Extract (natural flavor)
Use Natural Antioxidants To Replace Synthetic Preservatives
Our natural antioxidants play an ever-increasing role in the food industry as the industry continues its rapid shift away from the probable carcinogens BHA and BHT. And, while there is an overabundance of antioxidant choices, A&B Ingredients has centered its focus on a line of natural, plant-based antioxidants with clean label options.
CytoGuard natural antioxidants are produced through a solvent-free extraction of the phenolic compounds naturally present in select plants. CytoGuard natural antioxidants have a clean flavor profile and have minimal impact on the organoleptic properties of food products at typical usage levels.
Clean Label Solution For Food Oxidation
A&B's line of natural antioxidants provides a clean label solution that addresses the problems of oxidation in food manufacturing. For instance, rancidity in certain foods results from lipid material (fat) undergoing oxidation reactions that produce aldehydes, ketones, keta acids and other compounds responsible for odor and off-flavors. Not only does this cause flavor and quality loss, but it also affects the nutritional quality of your food product, not to mention the health risks. CytoGuard water-soluble antioxidants can help reduce oxidation at the lipid/water interface. CytoGuard oil-soluble antioxidants can help extend the shelf life of the oils and the shelf life of the fried foods.
Food & Nutrition Applications
Applications and Uses
Uses
CytoGuard OX-OST is a powerful antioxidant designed for use in fats, oils and food products with lower water content
In food – frying oils, fats and oils
In nutraceuticals and cosmetics – cosmetic oils and fish oil
Typical Usage Rates – 0.1-0.3%
Pre-dissolve in oil phase, cloudiness will disappear at 100-150°C
Applications
CytoGuard antioxidants are formulated to be highly effective in reducing oxidation in:
Animal and vegetable fats and oils
Meat, poultry and seafood
Prepared foods and beverages
Nutritional bars, pet foods and baked and fried snacks
Food colorants
Cosmetics
Nutraceutical products
Microbiological Values
| | | | |
| --- | --- | --- | --- |
| | Value | Units | Test Method / Conditions |
| Escherichia Coli | Absent | per 1g | - |
| Salmonella | Absent | per 25g | - |
| Total Plate Count | max. 3000 | cfu/g | - |
| Yeasts and Molds | max. 100 | cfu/g | - |
Certifications & Compliance
Certification
In compliance with ISO 22000, GMP and HACCP (Codex Alimenatrius DS 3027)
Kosher
Pareve
Halal
Non-GMO
Technical Details & Test Data
Research
Our research has found that CytoGuard natural antioxidants are among the most powerful plant-based antioxidants with demonstrated high antioxidant activity and performance levels beyond the traditional rosemary extracts. They are also a natural alternative to synthetic BHT and TBHQ.
Different antioxidants tested at equal dosages of 200ppm in Linocelic Acid Emulsion at 60°C after 17days
Strong Antioxidant Activity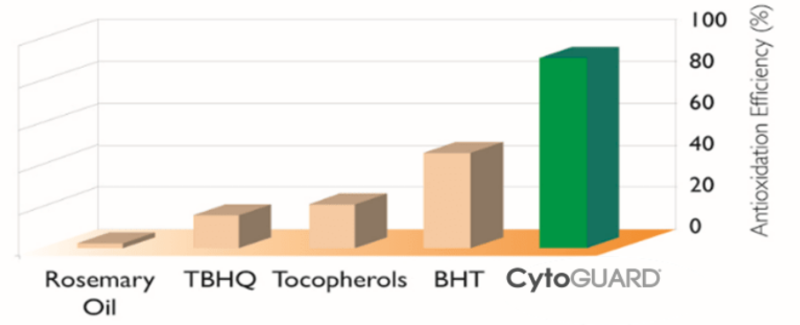 Recommended Usage Foods
Pre-dissolve in oil phase – will clarify at 80°C
Always add at the earliest stage of processing
Delaying Oxidation of Sunflower Oil by Cytoguard® OX-OST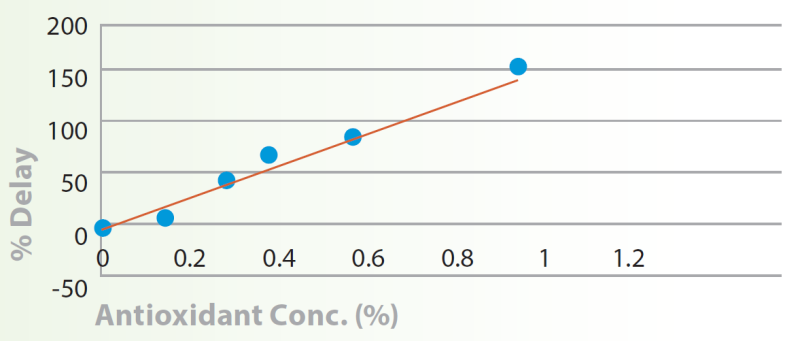 Delaying Oxidation of Canola Oil by Cytoguard® OX-OST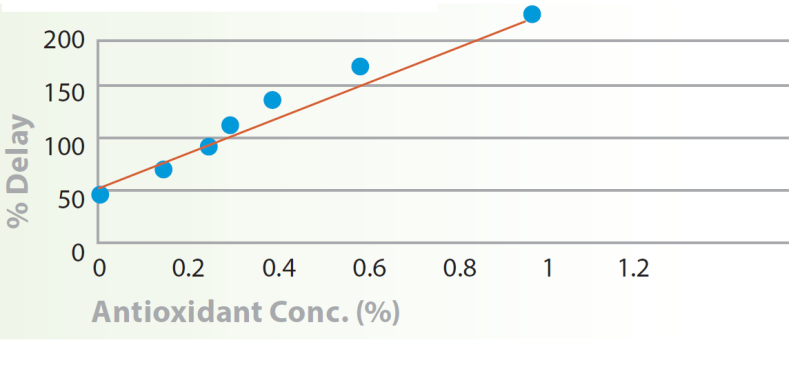 Delaying Oxidation of Sunflower Oil Measured by Rancimat at 120°C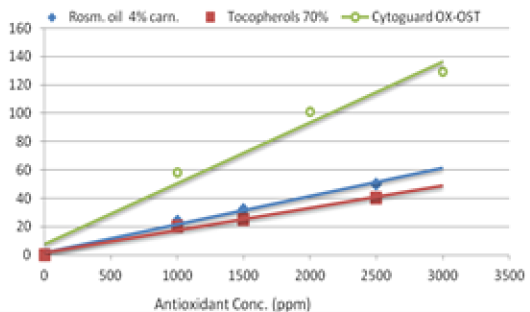 Delaying Oxidation of Canola Oil Measured by Rancimat at 120°C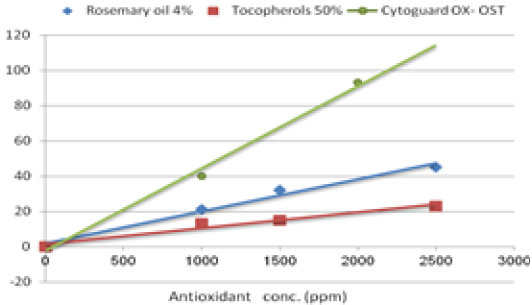 Storage and Shelf Life
Store in a cool, at ambient temperatures
Shelf Life : 2 years when stored unopened according to recommended storage conditions, in original sealed packaging
Cytoguard® OX-OST
A&B Ingredients