CytoGuard® Stat-N is a natural mild smoke flavor. All flavor ingredients contained in this product are approved for use in accordance with Food and Drug Administration regulations or are accepted as Generally Recognized As Safe. CytoGuard Stat-N natural shelf-life extenders are based on natural extracts which work to effectively inhibit bacterial growth and improve flavor and color over the course of the food products shelf-life. CytoGuard Stat-N is based on the same basic technology as smoking foods, which mankind has been using as a method to preserve foods for hundreds if not thousands of years.
Function:
Shelf Life Enhancer

,
Flavoring Agent
Ingredient Origin:
Natural Origin
Labeling Claims:
Organic

,
Natural

,
Clean Label

,
GMO-free

,
Naturally Derived

,
Non-GMO

,
Allergen-free
Price
Available upon quote
Minimum Order Quantity
Quote required
Available Incoterms
Quote required
Regional Availability
Quote required
Product Name
Product Families
Applications
Cytoguard® LA 25
Antioxidants & Preservatives
Meat, Poultry & Seafood
Cytoguard® Stat-N Plus
Antioxidants & Preservatives, Flavor Ingredients
Other Food Applications, Dairy, Savory & Culinary, Meat, Poultry & Seafood
Cytoguard® OX-WS
Plant & Herb Products & Extracts, Spices, Herbs & Seasonings
Knowde Enhanced TDS
Identification & Functionality
Food Ingredients Functions
Labeling
Natural Flavor(s)
Natural Flavoring
Natural Flavor from Flaxseed, Oregano, and Plums (CytoGuard YM)
CytoGuard products are formulated entirely from natural ingredients and labeled "natural flavors" or "natural flavoring". CytoGuard fermentates contain organic acids, among other compounds, which maintain the "fresh" flavor of the food and provide shelf life extension benefits.
Cytoguard® Stat-N

Features & Benefits
Food Ingredients Features
Features & Benefits
Features
All natural
Clean label – can be labeled "Natural Flavors" or "Flavoring" on ingredient statement, depending on the application
Water soluble liquid with activity over a wide pH range
Allergen and GMO-free – contains no dairy derivatives
Organic compliant
Easily adaptable to multiple product formulations
Simply labeled ingredients
Complement flavors
Made in the U.S.
Benefits
Maintain fresh flavor
Accentuate flavor notes
Wide range of applications
Cost-effective solution

Added Benefits
Highly effective against lactic and other spoilage organisms, including yeast and molds
Shelf life extension
Replace artificial preservatives for a clean-label statement
Achieve label transparency
Backed by rigorous microbial testing and challenge study support
Applications
CytoGuard™ LA 2X can be used at low dosages with no perceptible impact on flavor. CytoGuard Stat-N flavors can be used in a wide range of food products such as:

Meat
Poultry
Seafood
Dairy and non-dairy items – dips/dressings, refrigerated salads
Vegetable-based food products
Beef Jerky & Dried Meats
Bakery Fillings & Frostings
Prepared Meals

CytoGuard Stat-N can improve the product quality over the range of the shelf-life of the finished product.
Usage
CytoGuard Stat-N flavors should be incorporated into products taking the place of water in the formulation – improving shelf life by 30%. Typical usage is 1% - 2% of the product formulation.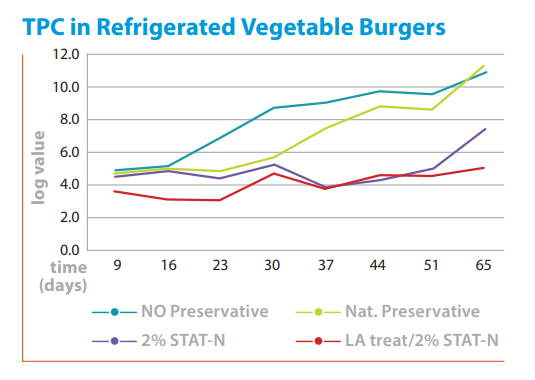 CytoGuard Stat-N can be used in conjunction with CytoGuard® LA to further improve efficacy. In the above example, CytoGuard LA was used to reduce intital bacterial loads and CytoGuard Stat-N maintained lower counts throughout shelf-life.
Application for Surface Treatment
CytoGuard Stat-N can also be applied as a surface treatment. By targeting the primary location of bacterial growth, the preservative effect is maximized, while minimizing any secondary sensory impact.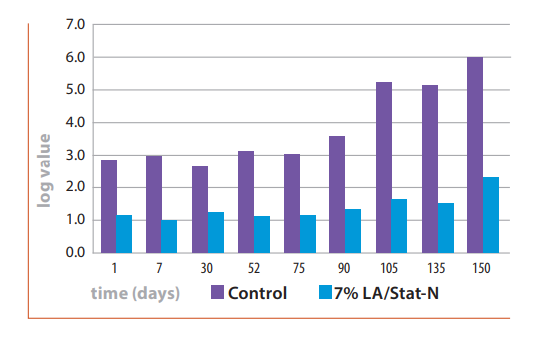 When using as a surface application, CytoGuard Stat-N can also be mixed directly with a bacterial agent such as CytoGuard LA.
Typical Properties
| | | | |
| --- | --- | --- | --- |
| | Value | Units | Test Method / Conditions |
| pH Value | 4.8 - 6.2 | - | - |
| Titratable Acidity | 0.3 - 2.3 | % | - |
Powder Characteristics
| | | | |
| --- | --- | --- | --- |
| | Value | Units | Test Method / Conditions |
| Specific Gravity | 1.045 - 1.065 | g/ml | - |
Packaging Information
Available in bulk, 320 gallon totes, and 55 gallon drums.
Lot Identification : 0429502101
04
29
5
021
01
Month
Date
Year (2015)
Production Line
Run
Segment

Container Code : 00031 Drum/Tote Number
Storage and Shelf Life
1 Year, unopened, when stored in closed packaging in a cool, dry environment
Cytoguard® Stat-N
A&B Ingredients