Amiporine® ER Purified Pomegranate Extract is 100% natural high-tech active ingredient, Amiporine® ER is a purified pomegranate extract that optimizes the skin's cellular communication. This cosmetic ingredient provides a dual action of anti-aging and moisturizing.
INCI Name:
Punica Granatum Fruit Extract
Function:
Firming Agent

,
Restoring Agent

,
Moisturizing Agent

,
Anti-Aging Agent

,
Protective Agent
Ingredient Origin:
Plant Origin
Labeling Claims:
Clean at Sephora

,
Organic
Certifications & Compliance:
Organic Certified

,
ECOCERT

,
COSMOS
Benefit Claims:
Anti-Aging

,
Healing

,
Replenishing

,
Conditioning

,
Highly Restructuring
Price
Available upon quote
Minimum Order Quantity
Quote required
Available Incoterms
Quote required
Regional Availability
View
Amiporine Technical Guide
Amiporine Technical Guide
Technical Data Sheet
Knowde Enhanced TDS
Identification & Functionality
Cosmetic Ingredients Functions
Amiporine® ER Purified Pomegranate Extract

Features & Benefits
Product Benefits
Containing active anti-aging and dual action moisturizing agents, the purified pomegranate extract contained in Amiporine® ER offers several care benefits:
Active anti-aging: Amiporine® ER is an anti-aging active ingredient to further densify, firm and rejuvenate the skin.
Moisturizing active ingredient: The stimulation of aquaporin (essential proteins for water circulation in the skin) synthesis provides optimal hydration benefits.
Firming active ingredient: The properties of the purified pomegranate extract Amiporine® ER increase the production of collagen by reducing collagenases, responsible for skin tissue relaxation.
Applications
Amiporine® ER can be used in the following products:
Products for dry and dehydrated skin
Products for mature skin
Radiance skin care
After-sun products
Typical Properties
| | | | |
| --- | --- | --- | --- |
| | Value | Units | Test Method / Conditions |
| Aerobic Bacteria | max. 100 | CFU/g | - |
| Flash Point | max. 175 | °C | - |
| Refractive Index | 1.467 - 1.477 | - | - |
Technical Details & Test Data
Efficacy Tests
Numerous tests have been carried out to validate the effectiveness of the purified pomegranate
Effect of Amiporine® increasing doses on aquaporins expression by keratinocytes
Analytical method
Keratinocytes used for these experiments are from HaCat cell line. One night after being cultured, the media is exchanged with a new one containing Amiporine®. After a 72-hour incubation, cultures are rinsed and fixed for immunostaining.
This experiment highlights the Amiporine® effect: aquaporins expression increases when the active concentration increases.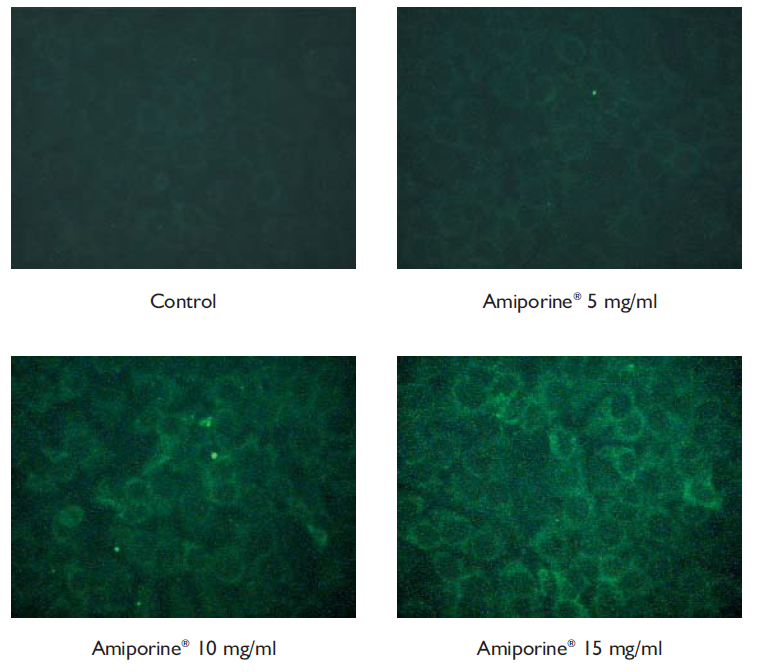 Aquaporins expression observed on skin cells cultures: effect of a cream containing Amiporine®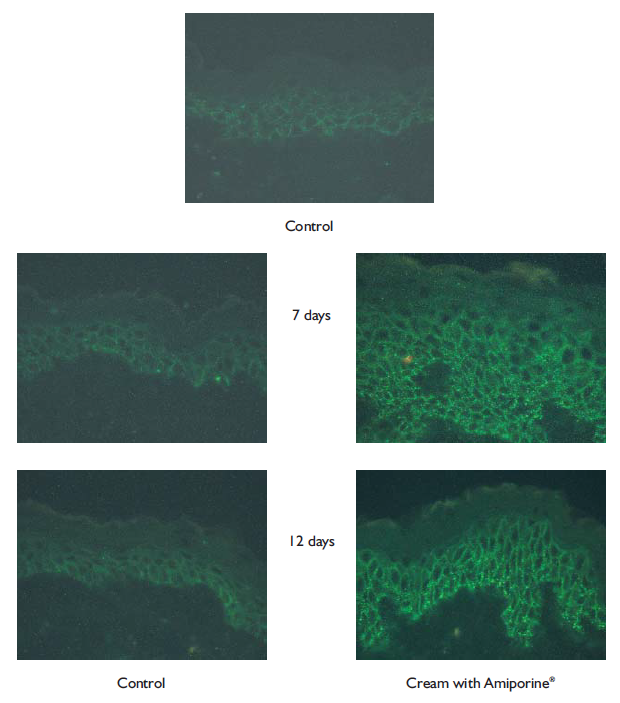 Aquaporins expression is widely stimulated in skin cells treated with the cream containing Amiporine®.
Consequences of Amiporine® activity on skin metabolism: communication between epidermis cells is optimal.
Re-establishing water flow in the epidermis allows the skin to restore its suppleness and beauty. This unequaled effect of Amiporine® is the result of a general improvement in cells metabolism. As an example, the communication between keratinocytes was studied.
Analytical method
The following test was performed using a specific fluorescent tracer: Lucifer Yellow, that penetrates in cells if they have first been artificially cut.
When entered in a cell, Lucifer Yellow can diffuse in neighboring cells using gap junctions. These are involved in the skin tissue organization and coherence since they favor cells communication.
The following pictures were taken using a fluorescent microscope. In this manner, the effect of Amiporine® on cell communication via gap junction was visualized.
By controlling water flow, Amiporine® favors cell communication: Amiporine® is an essential way to fight against aging.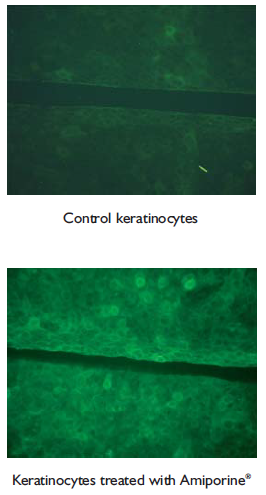 Amiporine® effect on collagen I and III and matrix collgenase synthesis by human dermal fibroblasts
Analytical method
In order to demonstrate the Amiporine® activity on human dermal fibroblasts via the epidermis, keratinocytes were previously incubated with different doses of the active. The medium obtained was then used for fibroblasts culture.
This experiment demonstrates that Amiporine® also acts on fibroblasts via the epidermis cells. The active stimulates collagen I and III synthesis and decreases collagenase synthesis. On the opposite of collagen that build the dermis matrix, collagenase damages it.
Keratinocytes treatment
Human keratinocytes were cultured and incubated overnight with a standard culture medium. Supernatants were then eliminated and replaced by a new medium (control) or medium containing Amiporine®.
After a 6-hour incubation, supernatants were eliminated, cells were rinced and again incubated with a new medium during 24 hours. After this period, supernatants were centrifuged and filtered for fibroblasts culture.
Fibroblasts treatment
Fibroblasts were cultured with keratinocytes supernatants.
After a 48 hours incubation, supernatants were filtered and freeze at -20°C. The measurement of collagenase using ELISA dosage was then performed.
The measurement of collagen I and III was performed by using a semi-quantitative method of fluorescent immuno-labeling : after the labeling of collagens I and III, cells were lysed and fluorescent supernatants were then quantified with a spectrofluorimeter (Fluoroscan).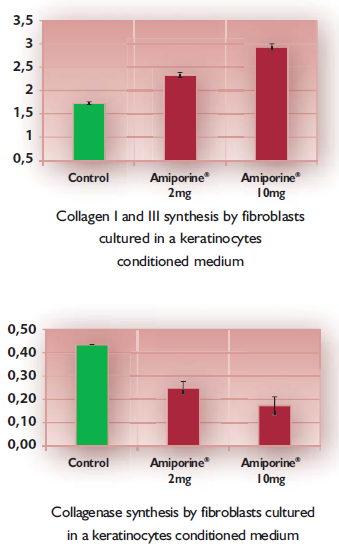 Amiporine® increases the collagen production and decreases the collagenase production, leading to a limitative effect of skin aging.
Hormonal variation and aquaporins
All their life long, women are subjected to several hormonal variations, particularly during menstrual cycle and on pregnancy
These changes widely alter cells behavior and can lead to a dysfunction affecting the general aspect of the skin.
Our research team performed a test which demonstrate that an increase in a sporadic hormonal concentration such as the estradiol, can alter aquaporins expression. This experiment was realized thanks to a flow spectrofluorimeter: this high-performance device allows to label the cells with a specific fluorescent antibody and to analyze cells precisely, one by one.
The results obtained prove that Amiporine® is able to reverse the estradiol effects on aquaporins expression and even to stimulate it despite the hormone presence.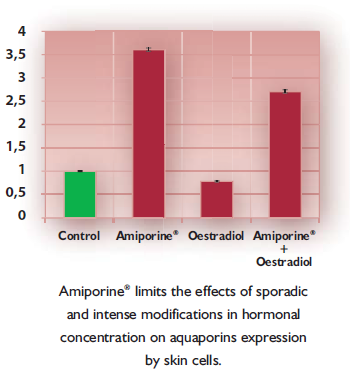 Conclusion
Entirely natural, without preservative and stabilized in glycerine, Amiporine® is the first moisturizing and restructuring active recommended in all cosmetic products. Shaking up traditional ideas on skin moisturizing, A.M.I. revolutionizes the cosmetic skin care world by stimulating the skin metabolism with the more essential life element: water.
Amiporine® acts on the biological and chemical foundations, by favoring water flow in the skin. Perfectly moisturized and boosted, the skin reveals its brightness and shows a young, sooth and restful aspect.
Amiporine® ER Purified Pomegranate Extract
Alban Muller