Octopirox™ Anti-dandruff Active
Octopirox® is an effective, practically nontoxic antidandruff active ingredient. It is particularly suitable for the manufacture of antidandruff shampoos and hair care products such as hair tonics and cream rinses with an antidandruff action. Highly effective antidandruff agent, soluble in surfactant systems, ideal for clear formulations Decorative Cosmetic.
Knowde Enhanced TDS
Identification & Functionality
+
Cosmetic Ingredients Functions
Product Information
Microorganisms such as Malassezia Furfur produce enzymes which decompose fats into the respective fatty acids. These and further decomposition products like lipo-peroxides irritate the scalp. As a result, increased production of keratinocytes and increased mitosis occur which leads to desquamation and occurrence of parakeratosis.
Octopirox® controls the growth of microorganisms effectively and is directly targeting the cause of dandruff. Use concentration can be chosen between 0.1 and 1.0%, depending on the finished product. For leave-on products, the concentration can be lowered to 0.05 and 0.1%.
Bath & Shower Applications
Color Cosmetic Applications
Other Beauty & Care Applications
Recommended Uses
Antidandruff Shampoo
Cream rinse
Hair treatment
Setting lotion
Hair tonic
Hair gel
Hair cream
Hair oil
Deodorants
Anti acne products
Appearance
White to faintly yellowish to white crystalline powder
White to faintly yellowish-white crystalline powder
Typical Properties
| | | | |
| --- | --- | --- | --- |
| | Value | Units | Test Method / Conditions |
| Active ingredient Content | min. 98.0 | - | - |
| Loss On Drying | max. 0.3 | % | - |
| Molar mass | 298.4 | g/mol | - |
| pH (20°C, 10% aqueous suspension) | 8.5-10.0 | - | - |
Regulatory & Compliance
+
Certifications & Compliance
Technical Details & Test Data
+
Antidandruff action
In a comparison with a placebo shampoo, the efficacy of Octopirox® at a concentration of 0.75% has been showed in a study over the course of 1.5 month.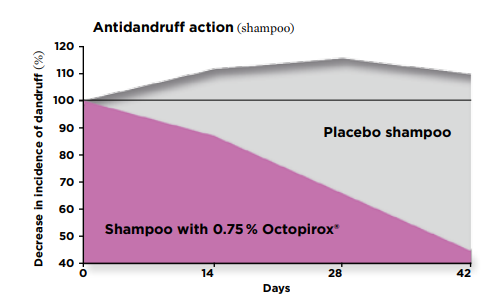 Light stability
Octopirox® is sensitive towards UV light and might be decomposed depending on the amount of irradiation. Therefore it is recommended to use non-transparent or colored packaging
Influence of the pH value and thermal stability
With a pKa value of ca. 7.4, Octopirox® is present as free acid in neutral solutions and is chemically stable over a wide pH range. It can be formulated in a pH range of 3-9. Higher temperatures up to 80 °C which are normally used during production do not cause decomposition of the product or loss of efficacy. Nevertheless, prolonged heating for an extended time period should be avoided.
Compatibility with cosmetic raw materials
Octopirox® is compatible with most surfactants, additives and active
ingredients used in cosmetics. Compatibility with perfume oils with
aldehyde and ketone functionality may be limited in some cases.
Despite the anionic character of the active ingredient molecule,
Octopirox® can be used together with most cationic surfactants
(quaternary ammonium compounds) and cationic active ingredients
and in some cases, the solubility of Octopirox® in water is increased.
Nevertheless it is advisable to carry out compatibility and stability
tests when using these substances.
Attention must be drawn to the product's property of forming
complexes with metal ions, especially iron and copper ions. For
example, with mere traces of iron (1 ppm Fe) a clearly visible yellow
iron complex is formed. Formation of the complex is not prevented
by adding the usual complexing agents.
Influence on viscosity in surfactant systems
In some surfactant systems, Octopirox® may cause an increase in viscosity which can be considered in order to economize on consistency modifiers during formulation development.
Solubility
Generally, the solubility of Octopirox® is highly depending on the
pH value of the solution. As a rule of thumb, it is better dissolved in
neutral and slightly alkaline aqueous solutions than in acidic solutions. It is possible to dissolve between pH=5 to pH=8 in surfactant
solutions and alcohol/water mixtures
readily soluble in alcohol (10 %)
soluble in aqueous surfactant solutions
and water/alcohol mixtures (1–10 %)
slightly soluble in water (ca. 0.05 %) and
oils (0.05 – 0.1 %)
Usual concentrations for personal care products
Hair shampoos 0.3 – 1.0%
Hair tonics 0.05 – 0.1%
Hair conditioners 0.1 – 0.3%
Setting lotions / hair gels 0.05 – 0.2%
Hair creams 0.1 – 0.3%
Deodorants 0.1 – 0.3%
Process Information
Due to the good solubility in aqueous surfactant systems as well as alcohol/water mixtures, Octopirox® is especially suitable for the formulation of clear products. Aqueous or alcoholic solutions of Octopirox® have a pH of 9-10 which can be adjusted using organic acids like citric acid or lactic acid. Octopirox® may have an influence on the viscosity of the formulation in that it can increase the viscosity significantly in surfactant systems. During the formulation process, Octopirox® can be heated up to 80 °C, if necessary but should not exceed this temperature for a longer time period. Traces of iron can lead to the formation of yellow complexes which may lead to a colored end product. It has to be kept in mind when selecting dyes for the formulation.
Storage and Handling
Octopirox® should be stored in its original container at ambient temperature protected from moisture. If stored correctly in its original sealed container, Octopirox® can be kept for at least five years.
Most Viewed Documents
Document Name
Type
Products
Learn More
Octopirox Product Fact Sheet
Nipaguard® POB Preservative Blend, Nipaguard® POM Preservative Blend, Nipaguard® PO 5 Preservative Blend, Clariant Octopirox®, Octopirox™ Anti-dandruff Active
Products:
Nipaguard® POB Preservative Blend, Nipaguard® POM Preservative Blend, Nipaguard® PO 5 Preservative Blend, Clariant Octopirox®, Octopirox™ Anti-dandruff Active
Octopirox™ Anti-dandruff Active
Products:
Octopirox™ Anti-dandruff Active