Crosolv™ 50
Crosolv 50 is a low VOC environmentally friendly solvents. It is readily biodegradable, safe, VOC exempt solvent targeted for household and I&I aqueous cleaning formulations. Crosolv performs exceptionally well against greasy soils and is effective at low use rates of 0.3-3% when combined with non-ionic surfactants. Crosolv can also be used neat or as a dilutable concentrate with higher surfactant levels.
Knowde Enhanced TDS
Identification & Functionality
+
Cleaning Ingredients Functions
Benefits
Readily biodegradable, safe, VOC exempt green solvents
Bio-based content of 40% - 80% depending on manufacturing site
Safe, green replacements for glycol ethers in aqueous cleaners
Effective at levels of 0.3 – 3% combined with NatSurf 265 or other surfactant
Used neat or as dilutable concentrate with higher surfactant levels
Applications
Household and I&I aqueous cleaning formulations
Safe replacements for traditional glycol ethers and d-limonene
Crosolv 50 - targeted at lighter duty cleaning of greasy/mixed soils
Technical Details & Test Data
+
Water Solubility and Formulating
Crosolv 50 have low solubility in pure water, <0.1% by weight, however, they are easily solubilised in surfactant solutions, especially using non-ionic cleaning surfactants such as NatSurf™ 265 or Brij™ L7.
Minimum ratio of surfactant/solvent to solubilise green solvent in water
| | | |
| --- | --- | --- |
| Green solvent In formulation | NatSurf 265 | Brij L7 |
| Crosolv 50 | 2 : 1 | 2 : 1 |
The NatSurf 265/Crosolv blend represents a powerful degreasing combination!
Performance Data – Crude Oil Soil
Additional crude oil soil testing was conducted with Crosolv 50 where it was post-added to three commercial cleaners (and the Green Cleaner) at 1%. All formulations were clear and stable. As shown in Figure 4, the addition of Crosolv 50 to all the commercial cleaners led to a significant enhancement of cleaning performance of oily soil compared to cleaner alone.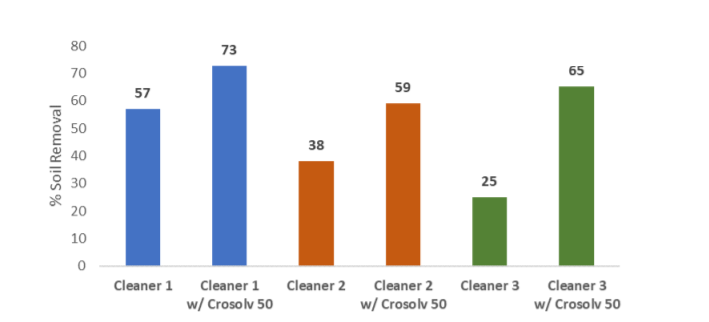 Figure 4: Performance enhancement of commercial cleaners by addition of 1% Crosolv 50
Performance Data – Competitive Products
A Sheen Scrub Test was conducted to compare the cleaning performance of Crosolv 50 and a competitor green solvent when added to the Green Cleaner formulation at 1%. Performance was also compared to propylene glycol n-butyl ether at 1% (a benchmark solvent widely used in aqueous cleaning formulations) and the Green Cleaner alone. Results are shown in Figure 8.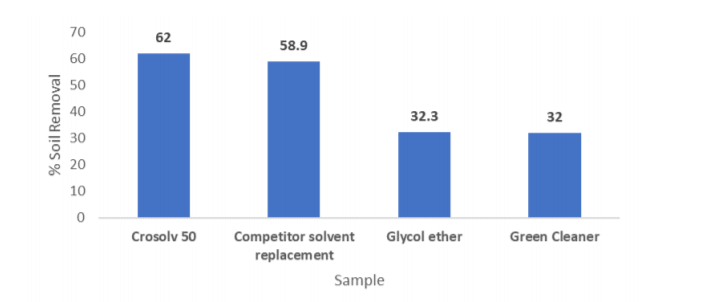 Figure 8: A Green Cleaner with 1% Crosolv 50 demonstrated a slightly better cleaning result over a competitor green solvent replacement and significantly better cleaning than glycol ether or the Green Cleaner control.
Packaging & Availability
+
Most Viewed Documents
Document Name
Type
Products
Learn More
Crosolv 30 & 50 Technical Data Sheet
Products:
Crosolv™ 30, Crosolv™ 50
Croda Home Care - Sustainable Product Guide
ECO Brij™ C2 MBAL, ECO Brij™ S100 MBAL, Coltide™ Cotton, Coltide™ H (Wheat), Coltide™ HSi, Coltide™ Radiance, Coltide™ Silk, Crodamol™ SS, Crodasinic™ LS30, Crodasinic™ HT, Crodasoft™ TZ, Crodateric™ LIDP, ModiSurf™ Clarity NP, Multitrope™ 1620, NatraGem™ S140, NatraSense™ AG-810, NatraSense™ LF8, NatSurf™ 265, Polawax™ NF, Prisorine™ 3508, Solan™ 75/50, Span™ 40, Syncrowax™ HGLC, Syncrowax™ BB4, Syncrowax™ ERLC, Syncrowax™ HRC, ECO Brij™ C10, ECO Brij™ C20 MBAL, ECO Brij™ CS20, ECO Brij™ L23 MBAL, ECO Brij™ L4 MBAL, ECO Brij™ O10 MBAL, ECO Brij™ O2 MBAL, ECO Brij™ O20 MBAL, ECO Brij™ O3 MBAL, ECO Brij™ O5, ECO Brij™ S10 MBAL, ECO Brij™ S2 MBAL, ECO Brij™ S20 MBAL, ECO Brij™ S721 MBAL, Coronet™ Lanolin, Crodacol™ S95, Crodamol™ CAP, Crodamol™ CP, Crodamol™ GTCC, Crodamol™ IPM, Crodamol™ IPP, Crodamol™ PTC, Crodasinic™ CS30, Crodex™ N, Croduret™ 40, Croduret™ 50, Croduret™ 60, ECO Etocas™ 40, Fluilan™, Myrj™ S100, Myrj™ S20, Myrj™ S40, Myrj™ S50, Myrj™ S8, Novol™, Polawax™ GP-200, Prisorine™ 3501, Span™ 20, Span™ 60, Span™ 65, Span™ 80, Span™ 85, ECO Tween™ 20, ECO Tween™ 21, ECO Tween™ 40 MBAL, ECO Tween™ 60 MBAL, ECO Tween™ 61 MBAL, ECO Tween™ 65, ECO Tween™ 81, ECO Tween™ 85 MBAL, ECO Tween™ 85LM MBAL, ECO Natrasense™ WS MBAL, Multitrope™ 810, Cirrasol™ Expel, Cirrasol™ PP842, Coltide™ Cashmere, Corona™ 9, DIVERSACLEAN™ NC, ECO Etocas™ 30, ZINADOR™ 22L, Cirrasol™ Protect, ZINADOR™ 35L, ECO Natrasense™ 125 MBAL, ECO Natrasense™ 205 MBAL, ECO Natrasense™ 265 MBAL, Brij™ C2, Brij™ C20, Brij™ CS12, Brij™ CS20, Brij™ CS25, Brij™ L23, Brij™ L23-69, Brij™ L4, Brij™ O10, Brij™ O2, Brij™ O20, Brij™ O5, Brij™ S10, Brij™ S100, Brij™ S2, Brij™ S20, Brij™ S721, Cithrol™ PG22O, Cithrol™ PG43O, Coltide™ HQS, Corona™ 8, Cosmowax™ D, Crodacol™ CS50, Crodamol™ MM, Crodamol™ OS, Croduret™ 25, Crosolv™ 30, Crosolv™ 50, ECO Arlatone T, ECO Brij™ L23-69 MBAL, ECO Brij™ L3 MBAL, ECO Brij™ L6L MBAL, ECO Brij™ L7L MBAL, ECO Brij™ O20-22, ECO Cirrasol PE1185, ECO Cithrol™ S20BW, ECO Cithrol™ S40LAN, ECO Cosmowax™ J, ECO Cosmowax™ P, ECO Croduret™ 1292, ECO Croduret™ 25G, ECO Croduret™ 40, ECO Diversaclean CS, ECO Glycerox™ 767 MBAL, ECO Glycerox™ HE, ECO Glycerox™ PK-70 MBAL, ECO Myrj™ S100, ECO Myrj™ S40, ECO Myrj™ S40 MBAL, ECO Myrj™ S8, ECO Polawax™ A-31 MBAL, ECO Polawax™ NF MBAL, ECO Renex™ PEG 1000, ECO Renex™ PEG 1450, ECO Renex™ PEG 200, ECO Renex™ PEG 2000, ECO Renex™ PEG 3350, ECO Renex™ PEG 400, ECO Renex™ PEG 600, ECO Renex™ PEG 800, ECO Tween™ 22, ECO Tween™ 23, ECO Tween™ 28, ECO Tween™ 80, ECO Tween™ 95, Etocas™ 29, Etocas™ 30, Etocas™ 35, Etocas™ 40, Evogen™ GP 50x, Evogen™ ON 50x, Medilan™, Pricerine™ 9091, Tween™ 20, Tween™ 21, Tween™ 28, Tween™ 40, Tween™ 60, Tween™ 61, Tween™ 65, Tween™ 80, Tween™ 81, Tween™ 85, ECO Cirrasol Care, Croda Aloe Vera Extract EC, Croda Camomile Flower Extract EC, Crodarom® Nordic Cotton, Fruitliquid™ Orange GL, Croda Pearl Extract
Products:
ECO Brij™ C2 MBAL, ECO Brij™ S100 MBAL, Coltide™ Cotton, Coltide™ H (Wheat), Coltide™ HSi, Coltide™ Radiance, Coltide™ Silk, Crodamol™ SS, Crodasinic™ LS30, Crodasinic™ HT, Crodasoft™ TZ, Crodateric™ LIDP, ModiSurf™ Clarity NP, Multitrope™ 1620, NatraGem™ S140, NatraSense™ AG-810, NatraSense™ LF8, NatSurf™ 265, Polawax™ NF, Prisorine™ 3508, Solan™ 75/50, Span™ 40, Syncrowax™ HGLC, Syncrowax™ BB4, Syncrowax™ ERLC, Syncrowax™ HRC, ECO Brij™ C10, ECO Brij™ C20 MBAL, ECO Brij™ CS20, ECO Brij™ L23 MBAL, ECO Brij™ L4 MBAL, ECO Brij™ O10 MBAL, ECO Brij™ O2 MBAL, ECO Brij™ O20 MBAL, ECO Brij™ O3 MBAL, ECO Brij™ O5, ECO Brij™ S10 MBAL, ECO Brij™ S2 MBAL, ECO Brij™ S20 MBAL, ECO Brij™ S721 MBAL, Coronet™ Lanolin, Crodacol™ S95, Crodamol™ CAP, Crodamol™ CP, Crodamol™ GTCC, Crodamol™ IPM, Crodamol™ IPP, Crodamol™ PTC, Crodasinic™ CS30, Crodex™ N, Croduret™ 40, Croduret™ 50, Croduret™ 60, ECO Etocas™ 40, Fluilan™, Myrj™ S100, Myrj™ S20, Myrj™ S40, Myrj™ S50, Myrj™ S8, Novol™, Polawax™ GP-200, Prisorine™ 3501, Span™ 20, Span™ 60, Span™ 65, Span™ 80, Span™ 85, ECO Tween™ 20, ECO Tween™ 21, ECO Tween™ 40 MBAL, ECO Tween™ 60 MBAL, ECO Tween™ 61 MBAL, ECO Tween™ 65, ECO Tween™ 81, ECO Tween™ 85 MBAL, ECO Tween™ 85LM MBAL, ECO Natrasense™ WS MBAL, Multitrope™ 810, Cirrasol™ Expel, Cirrasol™ PP842, Coltide™ Cashmere, Corona™ 9, DIVERSACLEAN™ NC, ECO Etocas™ 30, ZINADOR™ 22L, Cirrasol™ Protect, ZINADOR™ 35L, ECO Natrasense™ 125 MBAL, ECO Natrasense™ 205 MBAL, ECO Natrasense™ 265 MBAL, Brij™ C2, Brij™ C20, Brij™ CS12, Brij™ CS20, Brij™ CS25, Brij™ L23, Brij™ L23-69, Brij™ L4, Brij™ O10, Brij™ O2, Brij™ O20, Brij™ O5, Brij™ S10, Brij™ S100, Brij™ S2, Brij™ S20, Brij™ S721, Cithrol™ PG22O, Cithrol™ PG43O, Coltide™ HQS, Corona™ 8, Cosmowax™ D, Crodacol™ CS50, Crodamol™ MM, Crodamol™ OS, Croduret™ 25, Crosolv™ 30, Crosolv™ 50, ECO Arlatone T, ECO Brij™ L23-69 MBAL, ECO Brij™ L3 MBAL, ECO Brij™ L6L MBAL, ECO Brij™ L7L MBAL, ECO Brij™ O20-22, ECO Cirrasol PE1185, ECO Cithrol™ S20BW, ECO Cithrol™ S40LAN, ECO Cosmowax™ J, ECO Cosmowax™ P, ECO Croduret™ 1292, ECO Croduret™ 25G, ECO Croduret™ 40, ECO Diversaclean CS, ECO Glycerox™ 767 MBAL, ECO Glycerox™ HE, ECO Glycerox™ PK-70 MBAL, ECO Myrj™ S100, ECO Myrj™ S40, ECO Myrj™ S40 MBAL, ECO Myrj™ S8, ECO Polawax™ A-31 MBAL, ECO Polawax™ NF MBAL, ECO Renex™ PEG 1000, ECO Renex™ PEG 1450, ECO Renex™ PEG 200, ECO Renex™ PEG 2000, ECO Renex™ PEG 3350, ECO Renex™ PEG 400, ECO Renex™ PEG 600, ECO Renex™ PEG 800, ECO Tween™ 22, ECO Tween™ 23, ECO Tween™ 28, ECO Tween™ 80, ECO Tween™ 95, Etocas™ 29, Etocas™ 30, Etocas™ 35, Etocas™ 40, Evogen™ GP 50x, Evogen™ ON 50x, Medilan™, Pricerine™ 9091, Tween™ 20, Tween™ 21, Tween™ 28, Tween™ 40, Tween™ 60, Tween™ 61, Tween™ 65, Tween™ 80, Tween™ 81, Tween™ 85, ECO Cirrasol Care, Croda Aloe Vera Extract EC, Croda Camomile Flower Extract EC, Crodarom® Nordic Cotton, Fruitliquid™ Orange GL, Croda Pearl Extract
Most Viewed Formulations
Formulation Name
End Uses
Applications
Learn More
Biodegradable All-purpose Greasy Soil Cleaner with Crosolv™ 50 #HC/HS/115
End Uses:
Multipurpose Cleaners
Biodegradable All-purpose Greasy Soil Cleaner with Crosolv™ 50 #HC/HS/117
End Uses:
Multipurpose Cleaners