CrystaSense™ LP1 is a unique patented amide polymer designed for use as a rheology modifier for low polarity liquids in household and industrial and institutional (I&I) applications. CrystaSense™ LP1 will add structure to oil and fragrance based formulations for use in air care and toilet care.
Knowde Enhanced TDS
Identification & Functionality
Cleaning Ingredients Functions
CrystaSense™ LP1

Features & Benefits
Product Highlights
Used to create water-resistant, oil-based rim blocks
Useful for rim block cage applications
Can also gel mineral oil - ideal for making clear gel candles
Steady fragrance release
Crystal clear formulations
Oils & Fragrance
Air Care
All the CrystaSense rheology modifiers can be used to produce visually appealing air fresheners featuring high fragrance loading and innovative design possibilities, with steady, predictable fragrance release. The system can be used in the same way to gel insect repellents. The most suitable CrystaSense polymer depends on the polarity of the fragrance and compatibility with other formulation ingredients.
Water-Based Air Fresheners
The CrystaSense LP, MP, HP series can also be used for water-based air fresheners.
Toilet Rim Blocks
All the rheology modifiers can be used to formulate air fresheners for integration into toilet care products, such as rim blocks. Water-resistant oil-based rim blocks can be formulated using CrystaSense LP1, LP2 or LP3, and water-soluble formulations use.
Candles
CrystaSense LP1 and LP3 can both be used to gel mineral oil, therefore making them ideal for use in vibrant clear gel candles. The CrystaSense rheology modifiers will gel formulations containing mineral oil, dye and fragrance and will burn steadily throughout the candle's lifetime. Liquid fatty acids such as Priolene™ 6907 and Prisorine™ 3501 are used to bring clarity to the formulations at low polymer concentrations. Figure 2 shows a candle made with 20% CrystaSense LP3.
Surfactants & Aqueous Systems
Hard surface cleaners
Thickened hard surface cleaners are ideal for vertical surfaces due to the increased contact time. This allows for a reduction in surfactant levels, milder pH levels and improved consumer usability. Gelled formulations appear more concentrated and dosage can be more predictable, appealing to the consumer.
Acidic Cleaners
Thickened hard surface cleaners are valuable for household applications but also I&I applications where acidic cleaners are used on heavy duty soils such as limescale and traffic film on automotive wheels. Large areas of vertical surfaces are often difficult to clean with mechanical action, therefore any cleaning solutions need to be highly effective - increased contact time for acid cleaners will equate to cleaner surfaces.
Air Care
Used to create water-resistant, oil-based rim blocks
Useful for rim block cage applications
Can also gel mineral oil - ideal for making clear gel candles
Steady fragrance release
Crystal clear formulations
Applications
Air care
Toilet care
Hard surface cleaners
I&I cleaners
The highly versatile polymers can be used with oils and fragrance to formulate visually appealing air fresheners with high fragrance loadings, vibrant gel candles and water-soluble or water-resistant toilet care products. The CrystaSense LP, MP, HP Series also shows compatibility with aqueous systems and can add structure to shear thinning hard surface cleaners, including acidic formulations, allowing increased contact time and more controlled application.
Recommended Uses
| | |
| --- | --- |
| Air fresheners | Most suitable |
| Oil-based rim blocks | Most suitable |
| Candles | Most Suitable |
Table 2: The CrystaSense series rheology modifiers are each suited to particular uses due to their chemistry and compatibilities
Formulating
CrystaSense LP are solid colourless wax-like pastilles and therefore require heating for processing. For example, to produce an air freshener all ingredients except volatile components must be mixed and heated to at least the softening point of the CrystaSense component. The mixture is then cooled to a suitable temperature and the volatile ingredients are added. The mixture is then poured into moulds; full gel strength is obtained after approximately two hours at room temperature.
Formulation Examples
Water-Resistant Fragrance Rim Block with CrystaSense LP1 HC/AF/11
Typical Properties
| | | | |
| --- | --- | --- | --- |
| | Value | Units | Test Method / Conditions |
| Type | ETPA | - | - |
| Color Value (Gardner) | max. 3 | - | - |
| Acid Value | max. 15 | mg KOH/g | DIN EN ISO 2114 |
| Amine Number | max. 2 | - | - |
| Molecular Weight | 6500 | - | - |
| Softening Point | 92 | °C | - |
Technical Details & Test Data
Clearly Superior Gellants
The CrystaSense LP, MP, HP Series consists of six unique patented amide polymers designed for use as rheology modifiers in a wide range of formulation types and formats.
The gellants are chemically inert and work by forming a three dimensional structure, locked in by hydrogen bonding. Oil is attracted to the fatty dimer acid chains and the hydrophobic pockets that are formed trap the oil. The strength, or hardness, of the gel is controlled by the polymer concentration and molecular weight of the gellant.
Polymer Selection
As each CrystaSense gellant has different chemistry, the series has a wide range of compatibilities with other ingredients. A suitable gel can be chosen depending on the other ingredients in the formulations, what the intended application of the product is, and the ideal physical characteristics. Figure 5 shows a variety of common ingredients and the CrystaSense amide polymer that is likely to show compatibility with that ingredient, based on polarity.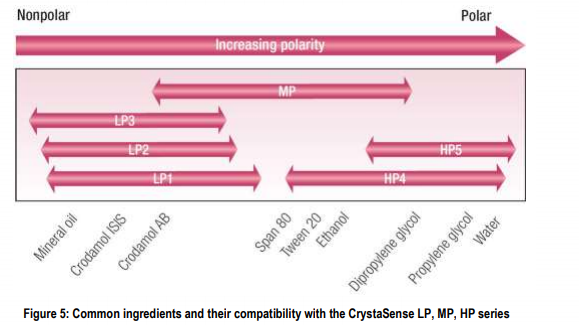 The properties of gels made with CrystaSense rheology modifiers vary depending on a number of factors. Table 2 shows how the physical properties of the gels change by increasing or decreasing concentration and the molecular weight of the rheology modifier.

System Compatibility
Decreased molecular weight = Increased compatibility
Gel Strength
Increased concentration = Increased gel strength
Increased molecular weight = Increased gel strength
Gel Clarity
Increased concentration = Increased gel clarity
Decreased molecular weight = Increased gel clarity
Table 4: The physical properties of gels made with the CrystaSense rheology modifiers change with varying concentration
Compatibility
Oils & fragrance
Surfactants & aqueous systems
Acidic formulations
Most Viewed Documents
Document Name
Type
Products
Coltide™ Radiance, Crodastat™ 400, Crosolv™ G, CrystaSense™ HP4, CrystaSense™ HP5, CrystaSense™ LP1, CrystaSense™ LP3, Glycerox™ HE, NatraSense™ LF8, NatSurf™ 265, DIVERSACLEAN™ NC
Products:
Coltide™ Radiance, Crodastat™ 400, Crosolv™ G, CrystaSense™ HP4, CrystaSense™ HP5, CrystaSense™ LP1, CrystaSense™ LP3, Glycerox™ HE, NatraSense™ LF8, NatSurf™ 265, DIVERSACLEAN™ NC
CrystaSense™ LP, MP, HP Series Brochure
CrystaSense™ HP4, CrystaSense™ HP5, CrystaSense™ LP1, CrystaSense™ LP2, CrystaSense™ LP3, CrystaSense™ MP
Products:
CrystaSense™ HP4, CrystaSense™ HP5, CrystaSense™ LP1, CrystaSense™ LP2, CrystaSense™ LP3, CrystaSense™ MP
CrystaSense™ LP, MP, HP Series Presentation
CrystaSense™ HP4, CrystaSense™ HP5, CrystaSense™ LP1, CrystaSense™ LP2, CrystaSense™ LP3, CrystaSense™ MP
Products:
CrystaSense™ HP4, CrystaSense™ HP5, CrystaSense™ LP1, CrystaSense™ LP2, CrystaSense™ LP3, CrystaSense™ MP
CrystaSense™ LP, MP, HP Series Technical Data Sheet
CrystaSense™ HP4, CrystaSense™ HP5, CrystaSense™ LP1, CrystaSense™ LP2, CrystaSense™ LP3, CrystaSense™ MP
Products:
CrystaSense™ HP4, CrystaSense™ HP5, CrystaSense™ LP1, CrystaSense™ LP2, CrystaSense™ LP3, CrystaSense™ MP
Most Viewed Formulations
Formulation Name
End Uses
Applications
Water-Resistant Fragranced Rim Block with CrystaSense™ LP1 #HC/AF/11
Air Fresheners & Deodorizers
End Uses:
Air Fresheners & Deodorizers