ECO Renex™ PEG 3350
100% bio-based.
Experts
(1)
Xinming Jin
Marketing
The Croda Customer Success Team is standing by and ready to help!
Knowde Enhanced TDS
Identification & Functionality
+
Cleaning Ingredients Functions
100% Bio-based ECO Range
Sustainability is in our DNA. It is integral to everything we do. From the raw materials we source and the way we use them, to the ingredients we create, we believe in being a responsible company. We are pleased to introduce our new ECO range of 100% bio-based surfactants. Over 50 products make up the ECO range made by using bio-based ethylene oxide (EO) which we manufacture from biomass ethanol. Coupling the use of bio-based EO with the high proportion of renewable energy used at the manufacturing plant, leads to a significant reduction in carbon footprint for the ECO product range. Formulators can now access 100% renewable surfactants without sacrificing performance to help meet increasingly demanding sustainability targets.
The new range of ECO surfactants
100% renewable
Performance identical to petrochemicalbased options
Lower carbon footprint than petrochemically derived ingredients
USDA BioPreferred®Program third party certification
RSPO Supply Chain Certified via Mass Balance
Made using renewable energy
ECO Range Multi-layered Renewable Benefits
The ECO range provides multi-layered renewable benefits and value for our customers. Not only will formulators be able to replace petrochemical-based non-ionic analogues while experiencing "zero sacrifice" in performance, they will be able to replace less-effective "natural" market alternatives as well.
Bio-based & Sustainable
Sustainable palm sourcing, RSPO supply chain certified via Mass Balance†
Biomass raw material for 100% bio-based ethylene oxide and derivatives
Low Carbon Footprint
Made using energy sourced from landfill gas and solar energy
Cradle-to-gate carbon footprint
ECO Range
100% bio-based surfactants
Community Benefit
30 new full time employees
Reduced rail freight miles of highly flammable petrochemical EO from the Gulf of Mexico
Green Labelling
EPA Safer Choice recognised for biodegradability and low toxicity
USDA BioPreferred® third party certification of C14 measurements
Certified Bio-based Content
Our new ECO range helps formulators meet renewability targets. Table 2 lists the BioPreferred bio-based content requirement of a finished formulation under a product category. Replacing petrochemical based surfactants for ECO range products will improve bio-based content of the formulation. All ECO products are being registered on the USDA BioPreferred Programme.
| | |
| --- | --- |
| Product Category | % Bio-based |
| Bathroom Cleaner | 74 |
| Bathroom Cleaner | 58 |
| Laundry Product | 34 |
Table 2: Examples of USDA BioPreferred product categories and associated minimum bio-based content to be eligible for certification.
Renewable Energy at Atlas Point
In 2012, we invested in a renewable energy project at our Atlas Point manufacturing site located in Delaware, USA (Figure 3). This investment saw the installation of a 3.5 mile pipeline from a local landfill site so that we could purchase local landfill gas. The gas feeds two combined heat and power (CHP) units and a multi-fuel boiler to generate electricity and steam for the plant. In 2014, we further invested in solar panels at the site, which reduced our annual carbon dioxide (CO2) emissions by 11,600 tonnes CO2e. By quarter two of 2020, a third CHP unit will be installed, increasing our capacity for generating electricity and steam from landfill gas and increasing the estimated percentage of the site's energy being renewably sourced to above 30%.
I&I Cleaning Applications
Regulatory & Compliance
+
Technical Details & Test Data
+
Making Ethylene Oxide Sustainable
With increasing consumer demand for renewably sourced and sustainable products, we are pleased to introduce our new ECO range of 100% bio-based surfactants. In recent years, "greener" non-ethoxylated ingredients have been used in the pursuit of more renewable formulations, but the performance has not met the levels achieved when using traditional ethoxylates. With significant investment at our Atlas Point manufacturing site, located in Delaware, USA, our plant is the first of its kind in the US to produce bio-based EO from bio-ethanol (Figure 3). This development enables the production of sustainable and bio-based ethoxylates (Figure.1)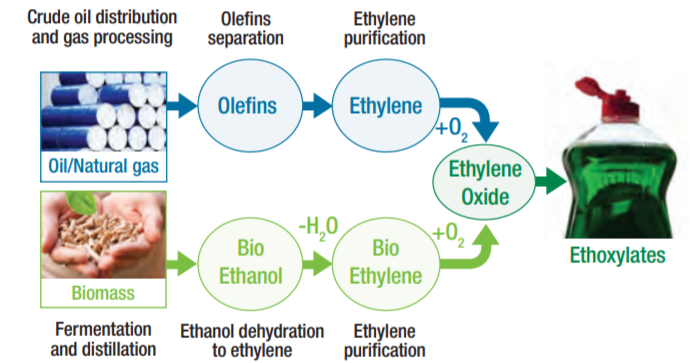 Figure 1: The petroleum and bio-based production pathways of ethylene oxide.
Avoidance of Greenhouse Gas (GHG) Emissions
Converting landfill gas to electricity and steam avoids the release of methane into the atmosphere, which has a global warming potential 25 times greater than CO2 when measured over 100 years. Our use of landfill gas since 2012, combined with the reduction in our usage of natural gas, has led to an aggregate reduction in GHG emissions of close to 1 million tonnes CO2e. Annually, the amount of avoided emissions is a figure equivalent to our total combined Group 1 and 2 emissions.
Carbon Footprint of ECO Range
We have used SimaPro software to model the cradle-to-gate life cycle analysis (LCA) of our ECO product families, focused on the climate change impact category, following the technical specification ISO 14067. The high proportion of renewable energy available at Atlas Point, along with the use of bio-based EO, leads to a significant reduction in carbon footprint for a typical ECO product family, when compared to traditional ethoxylates made using petrochemical-based EO and without renewable energy (Figure.4)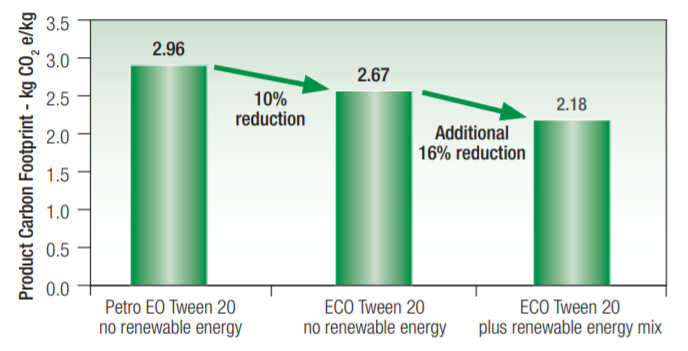 Figure 4: Carbon footprint example for Tween 20. Demonstrates the unique carbon footprint reduction moving from petrochemical-based EO to bio-based EO, plus the plant's use of renewable energy for these ingredients.
Δ Atlas Point renewable energy calculated for the 2018 sustainability report.
ΔΔ Group 1 emissions are direct emissions. Group 2 emissions are indirect emissions from the generation of of purchased power
Packaging & Availability
+
Documents
(2)
Document Name
Type
Products
ECO Brij™ C2 MBAL, ECO Brij™ S100 MBAL, ECO Brij™ C10, ECO Brij™ C20 MBAL, ECO Brij™ CS20, ECO Brij™ L23 MBAL, ECO Brij™ L4 MBAL, ECO Brij™ O10 MBAL, ECO Brij™ O2 MBAL, ECO Brij™ O20 MBAL, ECO Brij™ O3 MBAL, ECO Brij™ O5, ECO Brij™ S10 MBAL, ECO Brij™ S2 MBAL, ECO Brij™ S20 MBAL, ECO Brij™ S721 MBAL, ECO Etocas™ 40, ECO Tween™ 20, ECO Tween™ 21, ECO Tween™ 40 MBAL, ECO Tween™ 60 MBAL, ECO Tween™ 61 MBAL, ECO Tween™ 65, ECO Tween™ 81, ECO Tween™ 85 MBAL, ECO Natrasense™ WS MBAL, ECO Etocas™ 30, ECO Natrasense™ 125 MBAL, ECO Natrasense™ 205 MBAL, ECO Natrasense™ 265 MBAL, ECO Arlatone T, ECO Brij™ L23-69 MBAL, ECO Brij™ L3 MBAL, ECO Brij™ L6L MBAL, ECO Brij™ L7L MBAL, ECO Brij™ O20-22, ECO Cirrasol PE1185, ECO Cosmowax™ J, ECO Cosmowax™ P, ECO Croduret™ 1292, ECO Croduret™ 25G, ECO Croduret™ 40, ECO Diversaclean CS, ECO Glycerox™ 767 MBAL, ECO Glycerox™ HE, ECO Glycerox™ PK-70 MBAL, ECO Myrj™ S100, ECO Myrj™ S40, ECO Myrj™ S8, ECO Polawax™ A-31 MBAL, ECO Polawax™ NF MBAL, ECO Renex™ PEG 1000, ECO Renex™ PEG 1450, ECO Renex™ PEG 200, ECO Renex™ PEG 2000, ECO Renex™ PEG 3350, ECO Renex™ PEG 400, ECO Renex™ PEG 600, ECO Renex™ PEG 800, ECO Tween™ 22, ECO Tween™ 23, ECO Tween™ 24, ECO Tween™ 28, ECO Tween™ 80, ECO Tween™ 84, ECO Tween™ 95
Products:
ECO Brij™ C2 MBAL, ECO Brij™ S100 MBAL, ECO Brij™ C10, ECO Brij™ C20 MBAL, ECO Brij™ CS20, ECO Brij™ L23 MBAL, ECO Brij™ L4 MBAL, ECO Brij™ O10 MBAL, ECO Brij™ O2 MBAL, ECO Brij™ O20 MBAL, ECO Brij™ O3 MBAL, ECO Brij™ O5, ECO Brij™ S10 MBAL, ECO Brij™ S2 MBAL, ECO Brij™ S20 MBAL, ECO Brij™ S721 MBAL, ECO Etocas™ 40, ECO Tween™ 20, ECO Tween™ 21, ECO Tween™ 40 MBAL, ECO Tween™ 60 MBAL, ECO Tween™ 61 MBAL, ECO Tween™ 65, ECO Tween™ 81, ECO Tween™ 85 MBAL, ECO Natrasense™ WS MBAL, ECO Etocas™ 30, ECO Natrasense™ 125 MBAL, ECO Natrasense™ 205 MBAL, ECO Natrasense™ 265 MBAL, ECO Arlatone T, ECO Brij™ L23-69 MBAL, ECO Brij™ L3 MBAL, ECO Brij™ L6L MBAL, ECO Brij™ L7L MBAL, ECO Brij™ O20-22, ECO Cirrasol PE1185, ECO Cosmowax™ J, ECO Cosmowax™ P, ECO Croduret™ 1292, ECO Croduret™ 25G, ECO Croduret™ 40, ECO Diversaclean CS, ECO Glycerox™ 767 MBAL, ECO Glycerox™ HE, ECO Glycerox™ PK-70 MBAL, ECO Myrj™ S100, ECO Myrj™ S40, ECO Myrj™ S8, ECO Polawax™ A-31 MBAL, ECO Polawax™ NF MBAL, ECO Renex™ PEG 1000, ECO Renex™ PEG 1450, ECO Renex™ PEG 200, ECO Renex™ PEG 2000, ECO Renex™ PEG 3350, ECO Renex™ PEG 400, ECO Renex™ PEG 600, ECO Renex™ PEG 800, ECO Tween™ 22, ECO Tween™ 23, ECO Tween™ 24, ECO Tween™ 28, ECO Tween™ 80, ECO Tween™ 84, ECO Tween™ 95
ECO Brij™ C2 MBAL, ECO Brij™ S100 MBAL, Crodazoline™ O, Crodazoline™ T, ECO Brij™ C10, ECO Brij™ C20 MBAL, ECO Brij™ CS20, ECO Brij™ L23 MBAL, ECO Brij™ L4 MBAL, ECO Brij™ O10 MBAL, ECO Brij™ O2 MBAL, ECO Brij™ O20 MBAL, ECO Brij™ O3 MBAL, ECO Brij™ O5, ECO Brij™ S10 MBAL, ECO Brij™ S2 MBAL, ECO Brij™ S20 MBAL, ECO Brij™ S721 MBAL, Cromollient™ SCE, ECO Etocas™ 40, ECO Tween™ 20, ECO Tween™ 21, ECO Tween™ 40 MBAL, ECO Tween™ 60 MBAL, ECO Tween™ 61 MBAL, ECO Tween™ 65, ECO Tween™ 81, ECO Tween™ 85 MBAL, ECO Natrasense™ WS MBAL, ECO Etocas™ 30, ECO Natrasense™ 125 MBAL, ECO Natrasense™ 205 MBAL, ECO Natrasense™ 265 MBAL, ECO Arlatone T, ECO Brij™ L23-69 MBAL, ECO Brij™ L3 MBAL, ECO Brij™ L6L MBAL, ECO Brij™ L7L MBAL, ECO Brij™ O20-22, ECO Cirrasol PE1185, ECO Cithrol™ S20BW, ECO Cithrol™ S40LAN, ECO Cosmowax™ J, ECO Cosmowax™ P, ECO Croduret™ 1292, ECO Croduret™ 25G, ECO Croduret™ 40, ECO Diversaclean CS, ECO Glycerox™ 767 MBAL, ECO Glycerox™ HE, ECO Glycerox™ PK-70 MBAL, ECO Myrj™ S100, ECO Myrj™ S40, ECO Myrj™ S40 MBAL, ECO Myrj™ S8, ECO Polawax™ A-31 MBAL, ECO Polawax™ NF MBAL, ECO Renex™ PEG 1000, ECO Renex™ PEG 1450, ECO Renex™ PEG 200, ECO Renex™ PEG 2000, ECO Renex™ PEG 3350, ECO Renex™ PEG 400, ECO Renex™ PEG 600, ECO Renex™ PEG 800, ECO Tween™ 22, ECO Tween™ 23, ECO Tween™ 24, ECO Tween™ 28, ECO Tween™ 80, ECO Tween™ 84, ECO Tween™ 95, ECO Cirrasol Care
Products:
ECO Brij™ C2 MBAL, ECO Brij™ S100 MBAL, Crodazoline™ O, Crodazoline™ T, ECO Brij™ C10, ECO Brij™ C20 MBAL, ECO Brij™ CS20, ECO Brij™ L23 MBAL, ECO Brij™ L4 MBAL, ECO Brij™ O10 MBAL, ECO Brij™ O2 MBAL, ECO Brij™ O20 MBAL, ECO Brij™ O3 MBAL, ECO Brij™ O5, ECO Brij™ S10 MBAL, ECO Brij™ S2 MBAL, ECO Brij™ S20 MBAL, ECO Brij™ S721 MBAL, Cromollient™ SCE, ECO Etocas™ 40, ECO Tween™ 20, ECO Tween™ 21, ECO Tween™ 40 MBAL, ECO Tween™ 60 MBAL, ECO Tween™ 61 MBAL, ECO Tween™ 65, ECO Tween™ 81, ECO Tween™ 85 MBAL, ECO Natrasense™ WS MBAL, ECO Etocas™ 30, ECO Natrasense™ 125 MBAL, ECO Natrasense™ 205 MBAL, ECO Natrasense™ 265 MBAL, ECO Arlatone T, ECO Brij™ L23-69 MBAL, ECO Brij™ L3 MBAL, ECO Brij™ L6L MBAL, ECO Brij™ L7L MBAL, ECO Brij™ O20-22, ECO Cirrasol PE1185, ECO Cithrol™ S20BW, ECO Cithrol™ S40LAN, ECO Cosmowax™ J, ECO Cosmowax™ P, ECO Croduret™ 1292, ECO Croduret™ 25G, ECO Croduret™ 40, ECO Diversaclean CS, ECO Glycerox™ 767 MBAL, ECO Glycerox™ HE, ECO Glycerox™ PK-70 MBAL, ECO Myrj™ S100, ECO Myrj™ S40, ECO Myrj™ S40 MBAL, ECO Myrj™ S8, ECO Polawax™ A-31 MBAL, ECO Polawax™ NF MBAL, ECO Renex™ PEG 1000, ECO Renex™ PEG 1450, ECO Renex™ PEG 200, ECO Renex™ PEG 2000, ECO Renex™ PEG 3350, ECO Renex™ PEG 400, ECO Renex™ PEG 600, ECO Renex™ PEG 800, ECO Tween™ 22, ECO Tween™ 23, ECO Tween™ 24, ECO Tween™ 28, ECO Tween™ 80, ECO Tween™ 84, ECO Tween™ 95, ECO Cirrasol Care