ECO Tween™ 20 is a 100% bio-based ethoxylated (20) sorbitan ester based on a natural fatty acid (lauric acid) and manufactured via the RSPO's Mass Balance System. This ethoxylate is highly effective at forming O/W emulsions, particularly when used in combination with its non-ethoxylated derivative, Span 20.
Function:
Surfactant

,
Solubilizer

,
Emulsifier (O/W)

,
Cleansing Agent

,
Surfactant (Nonionic)

,
Emulsifier
Chemical Name:
Polysorbate 20
Labeling Claims:
Low Carbon Footprint

,
From Renewable Resources

,
Natural

,
Bio-based

,
Biodegradable

,
Kosher

,
Sustainable

,
Palm Oil-free

,
Environmentally Friendly

,
Palm free

,
Naturally Derived

,
1,4-Dioxane free
Certifications & Compliance:
RSPO MassBalance Certified

,
RSPO Certified Sustainable Palm Oil

,
Kosher

,
Safer Choice

,
USDA BioPreferred

,
Detergent Ingredient Database (DID List)

,
EPA Registered

,
USDA Certified Biobased

,
EU Ecolabel
INCI Name:
Polysorbate 20
End Uses:
Multisurface Cleaners

,
Wax Polishes

,
Polishes

,
Multipurpose Surface Cleaners

,
Air Fresheners & Deodorizers

,
Industrial Cleaners

,
Multisurface Polishes

,
Institutional Cleaners

,
Hard Surface Cleaners
Knowde Enhanced TDS
Identification & Functionality
Cleaning Ingredients Functions
Cosmetic Ingredients Functions
Chemical Structure - Polyethoxylated Monoester

Chemical Structure - Polyethoxylated Monoester
ECO Tween™ 20

Features & Benefits
Features and Benefits
100% Renewable
100% Bio-based*
Reduces reliance on fossil fuel feedstocks
Manufactured with renewable energy
Performance identical to petro-based options
Lower carbon footprint than petro-based versions
Will be tested for certification to the USDA BioPreferred® Program
RSPO Supply Chain Certified via Mass Balance**
Safer Choice approved (listed on CleanGredients)†
*Calculated using USDA BioPreferred Method for determining bio-based content which is to be validated by carbon 14 testing (ASTM D6866)
** Products containing palm oil derivatives are RSPO Supply Chain Certified via Mass Balance
† Products registered as EPA Safer Choice USDA Bio Preferred is a registered trademark of the U.S Department of Agriculture
Polyoxyethylene Derivatives of Sorbitan Esters
The ECO Tween series of surfactants are polyoxyethylene derivatives of the Span™ series of products. ECO Tween surfactants are available as part of Croda's 100% renewable, 100% bio-based ECO Range of surfactants.
ECO Tween surfactants are hydrophilic, generally soluble or dispersible in water, and soluble to varying degrees in organic liquids. The ECO Tween series are excellent O/W emulsifiers, solubilizers, wetting agents and dispersants. In emulsion systems, they are commonly used in combination with the corresponding Span. Manipulation of the Span/Tween ratio produces emulsifying systems of various HLB (hydrophilic lipophilic balance) values. ECO Tween products are useful in the stabilization of many types of emulsion systems found in household or I&I applications.
Certified Sustainable Palm Oil Derivatives - Mass Balance
ECO Tween series are Croda's sustainable palm oil variants. They allowing customers to use sustainably sourced material.
RSPO's Mass Balance Certified
Eco Tween 20 is RSPO Mass Balance certified. The RPSO Mass balance certification allows sustainable palm oil material and non certified material to be mixed throughout the supply chain but administratively monitors the mass of certified material produced and sold.
This process is fully audited allowing buyers of the material to view the product's life span. Another advantage of this system is that it actively encourages palm growers to produce sustainable palm and move towards a segregated supply chain system. By choosing these ingredients, you contribute to the production of sustainable palm oil. Products manufactured with sustainable palm oil do not in any way compromise their performance.

Properties and Functions
Fully saturated liquid ester, recommended as an emulsifier for O/W systems and effective solubilizer for essential oils and perfumes in aqueous and aqueous/alcoholic systems. Also used as a mildness additive in detergent systems and a cleansing agent in wet wipes.
ECO Range
The ECO Tween series addresses the consumer demand for more sustainable products and aids our customers in meeting their own sustainability goals, while delivering high performance products to the market. It is manufactured using ethylene oxide derived from bio-ethanol, resulting in 100% renewable surfactants with performance identical to petro-based options. These 100% bio-based products eliminate the need to choose between high performance and fully renewable ingredients.
By using an alternative route to ethylene oxide with bioethanol from biomass sources, it significantly increases the bio-based content of ethoxylated products and reduces reliance on fossil fuels. Additionally, the ECO Tween series is manufactured with high levels of renewable energy.
Key Application Areas
Polishes
Spans and Tweens are key emulsifying agents for a number of applications. By using combinations of Spans with their corresponding Tweens, it is possible to prepare a variety of oil in water and water in oil emulsion systems. Span 80 is excellent for water in oil emulsification of hydrocarbons and is particularly useful in aerosol systems such as multi surface spray polishes and cleaners.
Water in oil based aerosol polishes using Span 80 break down rapidly upon spraying, ensuring an even application of wax and silicone. Span 60 and Span 80, when used in combination with ECO Tween 60 and ECO Tween 80, are excellent for emulsifying systems for silicone fluids in furniture polishes, shoe polishes, and vehicle exterior and interior polishes
Air care
Tweens are extremely versatile as solubilizers for all types of fragrances and perfumes used in air fresheners and other household products. ECO Tween 20 and ECO Tween 80 have high HLB values and are of particular interest when solubilising volatile components. ECO Tween 20, a fully saturated ester, is most commonly used in this application due to its low odor. Typical inclusion levels are 1:1 Tween to fragrance, depending on the formulations and fragrance to be solubilised. Tweens are recommended for odor neutralisers and solvent based degreasers.
Wipes
For quick and easy removal of oily stains,ECO Tween 20 can be incorporated into wipe formulations and added to non-woven substrates. ECO Tween 20 is helpful in creating emulsions with oily fats, helping cleaning efficiency. It has the additional benefit of being a mildness additive and is suitable for use in wet wipes where contact with the wipe may be prolonged.
Eco Tween 20 Formulating Guidelines for Emulsion Systems
It is well established that a combination of a high and a low HLB emulsifier is often more effective than the use of a single emulsifier. Combinations of Spans and ECO Tweens can therefore be used to develop stable oil in water emulsions of various materials.
Through experimentation it is important to establish the required HLB of the material to be emulsified and the appropriate chemical type of the emulsifier blend. Selection of the appropriate chemistry is as important as choosing the correct HLB. For example, emulsifiers with an unsaturated alkyl chain, such as an oleyl chain, have an increased affinity for oils with unsaturated bonds. In this case a blend of Span 80 (Sorbitan Oleate) and ECO Tween 80 (Polysorbate 80) would be recommended to emulsify vegetable oils. Similarly a blend of emulsifiers with saturated alkyl chains, for example Span 60 (Sorbitan Stearate) and ECO Tween 60 (Polysorbate 60), would be appropriate for the emulsification of saturated materials.
Most raw materials that are likely to be emulsified (e.g. mineral and vegetable oils, emollient esters, silicone oils) have a published required HLB value. For example, required HLB values of approximately 10 are usually quoted for mineral oils. In order to develop a stable emulsion of mineral oil, a blend of Span 60 (Sorbitan Stearate) and ECO Tween 60 (Polysorbate 60), combined to give an HLB value of 10, could be evaluated at different concentrations. Further minor adjustments will be required to optimize formulation stability, viscosity, aesthetics etc.
In order to calculate how much of emulsifier (A) to blend with emulsifier (B) to reach a given required HLB of X: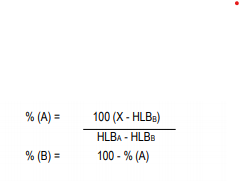 To calculate the blend of Span 60 (Sorbitan Stearate) and ECO Tween 60 (Polysorbate 60) to emulsify an oil with a required HLB of 10:

If the required HLB of the material or blend of materials to be emulsified is not known, this can be determined by experimentation. Evaluation of the stability of emulsions formed with blends of an appropriate Span and ECO Tween pair covering a range of HLB values will identify the required HLB.
The optimum concentration of the emulsifier blend can then be determined by experiment. Generally 10-20% of the level of the emulsified material is a useful starting point, i.e. to make a 30% emulsion of oil would usually require an optimum level of 3% emulsifier blend. Both emulsifiers are usually introduced into the oil phase.
Solubilities
| | |
| --- | --- |
| Water (1%) | Soluble, Clear |
| Water (10%) | Soluble, Clear |
| Propylene glycol (1%) | Soluble, Clear |
| Propylene glycol (10%) | Insoluble, self-dispersing or self-emulsifying; on standing, separates into distinct phases |
| Isopropyl alcohol (1%) | Soluble, Clear |
| Isopropyl alcohol (10%) | Soluble, Clear |
| Xylene (1%) | Soluble, Clear |
| Xylene (10%) | Soluble, Clear |
| Cottonseed oil (1%) | Soluble, Clear |
| Cottonseed oil (10%) | Insoluble, self-dispersing or self-emulsifying; on standing, separates into distinct phases |
| Mineral oil (1%) | Insoluble, gross separation into distinct phases |
| Mineral oil (10%) | Insoluble, gross separation into distinct phases |
Technical Details & Test Data
Improved Bio-based Content
Chemically equivalent to petrochemical-based ethoxylates, Table 1 shows the improvement in bio-based content for key surfactant chemistries when produced using our bio-based EO.
Surfactant
Bio-based content
with synthetic EO (%)
Bio-based content
with Bio-EO (%)
Laureth-6
50
100
Laureth-7
46
100
PEG-40 castor oil
42
100
Polysorbate 20
31
100
Trideceth-9
0
58
C9-C11 + 6EO
0
55
Table 1: Comparison of percentage bio-based content between using petrochemical based EO versus bio-based EO*.

*Calculated using ASTM D6866 which is validated by carbon 14 testing
†RSPO Grades - Certified sustainable palm oil grades by mass balance (minimum)
Carbon Footprint of ECO Range
We have used SimaPro software to model the cradle-to-gate life cycle analysis (LCA) of our ECO product families, focused on the climate change impact category, following the technical specification ISO 14067. The high proportion of renewable energy available at Atlas Point, along with the use of bio-based EO, leads to a significant reduction in carbon footprint for a typical ECO product family, when compared to traditional ethoxylates made using petrochemical-based EO and without renewable energy (Figure.4)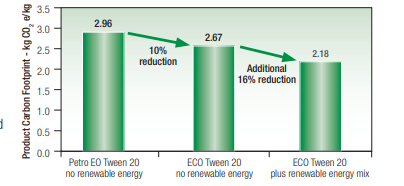 Figure 4: Carbon footprint example for Tween 20. Demonstrates the unique carbon footprint reduction moving from petrochemical-based EO to bio-based EO, plus the
plant's use of renewable energy for these ingredients.
Δ Atlas Point renewable energy calculated for the 2018 sustainability report.

ΔΔ Group 1 emissions are direct emissions. Group 2 emissions are indirect emissions from the generation of purchased power.
Most Viewed Documents
Document Name
Type
Products
Croda Eco Line Guide (ES)
ECO Brij™ C2 MBAL, ECO Brij™ S100 MBAL, ECO Brij™ C20 MBAL, ECO Brij™ CS20, ECO Brij™ L23 MBAL, ECO Brij™ O10 MBAL, ECO Brij™ O2 MBAL, ECO Brij™ O20 MBAL, ECO Brij™ O3 MBAL, ECO Brij™ O5, ECO Brij™ S10 MBAL, ECO Brij™ S2 MBAL, ECO Brij™ S20 MBAL, ECO Brij™ S721 MBAL, ECO Etocas™ 40, ECO Tween™ 20, ECO Tween™ 21, ECO Tween™ 40 MBAL, ECO Tween™ 60 MBAL, ECO Tween™ 61 MBAL, ECO Tween™ 65, ECO Tween™ 81, ECO Tween™ 85 MBAL, ECO Natrasense™ WS MBAL, ECO Etocas™ 30, ECO Natrasense™ 125 MBAL, ECO Natrasense™ 205 MBAL, ECO Natrasense™ 265 MBAL, ECO Brij™ L23-69 MBAL, ECO Brij™ L3 MBAL, ECO Brij™ L7L MBAL, ECO Brij™ O20-22, ECO Tween™ 22, ECO Tween™ 23, ECO Tween™ 24, ECO Tween™ 28, ECO Tween™ 80, ECO Tween™ 84, ECO Tween™ 95
Products:
ECO Brij™ C2 MBAL, ECO Brij™ S100 MBAL, ECO Brij™ C20 MBAL, ECO Brij™ CS20, ECO Brij™ L23 MBAL, ECO Brij™ O10 MBAL, ECO Brij™ O2 MBAL, ECO Brij™ O20 MBAL, ECO Brij™ O3 MBAL, ECO Brij™ O5, ECO Brij™ S10 MBAL, ECO Brij™ S2 MBAL, ECO Brij™ S20 MBAL, ECO Brij™ S721 MBAL, ECO Etocas™ 40, ECO Tween™ 20, ECO Tween™ 21, ECO Tween™ 40 MBAL, ECO Tween™ 60 MBAL, ECO Tween™ 61 MBAL, ECO Tween™ 65, ECO Tween™ 81, ECO Tween™ 85 MBAL, ECO Natrasense™ WS MBAL, ECO Etocas™ 30, ECO Natrasense™ 125 MBAL, ECO Natrasense™ 205 MBAL, ECO Natrasense™ 265 MBAL, ECO Brij™ L23-69 MBAL, ECO Brij™ L3 MBAL, ECO Brij™ L7L MBAL, ECO Brij™ O20-22, ECO Tween™ 22, ECO Tween™ 23, ECO Tween™ 24, ECO Tween™ 28, ECO Tween™ 80, ECO Tween™ 84, ECO Tween™ 95
Croda Eco Line Guide (PT)
ECO Brij™ S100 MBAL, ECO Brij™ CS20, ECO Brij™ L23 MBAL, ECO Brij™ O10 MBAL, ECO Brij™ O2 MBAL, ECO Brij™ O20 MBAL, ECO Brij™ O5, ECO Brij™ S10 MBAL, ECO Brij™ S2 MBAL, ECO Brij™ S20 MBAL, ECO Brij™ S721 MBAL, ECO Tween™ 20, ECO Tween™ 21, ECO Tween™ 40 MBAL, ECO Tween™ 60 MBAL, ECO Tween™ 61 MBAL, ECO Tween™ 65, ECO Tween™ 81, ECO Tween™ 85 MBAL, ECO Natrasense™ WS MBAL, ECO Natrasense™ 125 MBAL, ECO Natrasense™ 205 MBAL, ECO Natrasense™ 265 MBAL, ECO Brij™ L23-69 MBAL, ECO Brij™ L3 MBAL, ECO Brij™ L7L MBAL, ECO Brij™ O20-22, ECO Tween™ 22, ECO Tween™ 23, ECO Tween™ 24, ECO Tween™ 28, ECO Tween™ 80, ECO Tween™ 84, ECO Tween™ 95
Products:
ECO Brij™ S100 MBAL, ECO Brij™ CS20, ECO Brij™ L23 MBAL, ECO Brij™ O10 MBAL, ECO Brij™ O2 MBAL, ECO Brij™ O20 MBAL, ECO Brij™ O5, ECO Brij™ S10 MBAL, ECO Brij™ S2 MBAL, ECO Brij™ S20 MBAL, ECO Brij™ S721 MBAL, ECO Tween™ 20, ECO Tween™ 21, ECO Tween™ 40 MBAL, ECO Tween™ 60 MBAL, ECO Tween™ 61 MBAL, ECO Tween™ 65, ECO Tween™ 81, ECO Tween™ 85 MBAL, ECO Natrasense™ WS MBAL, ECO Natrasense™ 125 MBAL, ECO Natrasense™ 205 MBAL, ECO Natrasense™ 265 MBAL, ECO Brij™ L23-69 MBAL, ECO Brij™ L3 MBAL, ECO Brij™ L7L MBAL, ECO Brij™ O20-22, ECO Tween™ 22, ECO Tween™ 23, ECO Tween™ 24, ECO Tween™ 28, ECO Tween™ 80, ECO Tween™ 84, ECO Tween™ 95
ECO Brij™ S100 MBAL, Coltide™ Cotton, Coltide™ H (Wheat), Coltide™ HSi, Coltide™ Radiance, Coltide™ Silk, Crodasinic™ LS30, Crodasoft™ TZ, Crodateric™ LIDP, ModiSurf™ Clarity NP, Multitrope™ 1620, NatraSense™ AG-810, NatraSense™ LF8, NatSurf™ 265, Solan™ 75/50, Syncrowax™ HGLC, Syncrowax™ BB4, Syncrowax™ ERLC, Synperonic™ NCA 830, Synperonic™ 13/7 - 85, Synperonic™ NCA 810, ECO Brij™ CS20, ECO Brij™ L23 MBAL, ECO Brij™ O10 MBAL, ECO Brij™ O2 MBAL, ECO Brij™ O20 MBAL, ECO Brij™ O5, ECO Brij™ S10 MBAL, ECO Brij™ S2 MBAL, ECO Brij™ S20 MBAL, ECO Brij™ S721 MBAL, Coronet™ Lanolin, Crodasinic™ CS30, Crodex™ N, Croduret™ 40, Croduret™ 60, Myrj™ S20, Myrj™ S50, Polawax™ GP-200, Synperonic™ NCA 850, ECO Tween™ 20, ECO Tween™ 21, ECO Tween™ 40 MBAL, ECO Tween™ 60 MBAL, ECO Tween™ 61 MBAL, ECO Tween™ 65, ECO Tween™ 81, ECO Tween™ 85 MBAL, Multitrope™ 810, Cirrasol™ Expel, Cirrasol™ PP842, Corona™ 9, Cirrasol™ Protect, ZINADOR™ 35L, Brij™ C20, Brij™ CS12, Brij™ CS25, Brij™ L23, Brij™ L4, Coltide™ HQS, Corona™ 8, Croduret™ 25, Croduret™ 7, Crosolv™ 30, Crosolv™ 50, ECO Arlatone T, ECO Brij™ L23-69 MBAL, ECO Brij™ L3 MBAL, ECO Brij™ L6L MBAL, ECO Brij™ L7L MBAL, ECO Brij™ O20-22, ECO Cithrol™ S20BW, ECO Cosmowax™ J, ECO Cosmowax™ P, ECO Diversaclean CS, ECO Myrj™ S8, ECO Polawax™ A-31 MBAL, ECO Polawax™ NF MBAL, ECO Tween™ 23, ECO Tween™ 28, ECO Tween™ 80, Etocas™ 29, Etocas™ 35, Evogen™ GP 50x, Evogen™ ON 50x, Pricerine™ 9091, ECO Cirrasol Care, Croda Aloe Vera Extract EC, Croda Camomile Flower Extract EC, Crodarom® Nordic Cotton, Fruitliquid™ Orange GL, ECO Crodastat™ 400
Products:
ECO Brij™ S100 MBAL, Coltide™ Cotton, Coltide™ H (Wheat), Coltide™ HSi, Coltide™ Radiance, Coltide™ Silk, Crodasinic™ LS30, Crodasoft™ TZ, Crodateric™ LIDP, ModiSurf™ Clarity NP, Multitrope™ 1620, NatraSense™ AG-810, NatraSense™ LF8, NatSurf™ 265, Solan™ 75/50, Syncrowax™ HGLC, Syncrowax™ BB4, Syncrowax™ ERLC, Synperonic™ NCA 830, Synperonic™ 13/7 - 85, Synperonic™ NCA 810, ECO Brij™ CS20, ECO Brij™ L23 MBAL, ECO Brij™ O10 MBAL, ECO Brij™ O2 MBAL, ECO Brij™ O20 MBAL, ECO Brij™ O5, ECO Brij™ S10 MBAL, ECO Brij™ S2 MBAL, ECO Brij™ S20 MBAL, ECO Brij™ S721 MBAL, Coronet™ Lanolin, Crodasinic™ CS30, Crodex™ N, Croduret™ 40, Croduret™ 60, Myrj™ S20, Myrj™ S50, Polawax™ GP-200, Synperonic™ NCA 850, ECO Tween™ 20, ECO Tween™ 21, ECO Tween™ 40 MBAL, ECO Tween™ 60 MBAL, ECO Tween™ 61 MBAL, ECO Tween™ 65, ECO Tween™ 81, ECO Tween™ 85 MBAL, Multitrope™ 810, Cirrasol™ Expel, Cirrasol™ PP842, Corona™ 9, Cirrasol™ Protect, ZINADOR™ 35L, Brij™ C20, Brij™ CS12, Brij™ CS25, Brij™ L23, Brij™ L4, Coltide™ HQS, Corona™ 8, Croduret™ 25, Croduret™ 7, Crosolv™ 30, Crosolv™ 50, ECO Arlatone T, ECO Brij™ L23-69 MBAL, ECO Brij™ L3 MBAL, ECO Brij™ L6L MBAL, ECO Brij™ L7L MBAL, ECO Brij™ O20-22, ECO Cithrol™ S20BW, ECO Cosmowax™ J, ECO Cosmowax™ P, ECO Diversaclean CS, ECO Myrj™ S8, ECO Polawax™ A-31 MBAL, ECO Polawax™ NF MBAL, ECO Tween™ 23, ECO Tween™ 28, ECO Tween™ 80, Etocas™ 29, Etocas™ 35, Evogen™ GP 50x, Evogen™ ON 50x, Pricerine™ 9091, ECO Cirrasol Care, Croda Aloe Vera Extract EC, Croda Camomile Flower Extract EC, Crodarom® Nordic Cotton, Fruitliquid™ Orange GL, ECO Crodastat™ 400
ECO Tween™ Series (ES) Technical Data Sheet
ECO Tween™ 20, ECO Tween™ 22, ECO Tween™ 24, ECO Tween™ 28, ECO Tween™ 80, ECO Tween™ 84, ECO Tween™ 95
Products:
ECO Tween™ 20, ECO Tween™ 22, ECO Tween™ 24, ECO Tween™ 28, ECO Tween™ 80, ECO Tween™ 84, ECO Tween™ 95
ECO Tween™ Series (PT) Technical Data Sheet
ECO Tween™ 20, ECO Tween™ 22, ECO Tween™ 24, ECO Tween™ 28, ECO Tween™ 80, ECO Tween™ 84, ECO Tween™ 95
Products:
ECO Tween™ 20, ECO Tween™ 22, ECO Tween™ 24, ECO Tween™ 28, ECO Tween™ 80, ECO Tween™ 84, ECO Tween™ 95
ECO Tween™ Series Technical Data Sheet
ECO Tween™ 20, ECO Tween™ 28, ECO Tween™ 80
Products:
ECO Tween™ 20, ECO Tween™ 28, ECO Tween™ 80
Sustainable Bio-based Surfactants Brochure
ECO Brij™ C2 MBAL, ECO Brij™ S100 MBAL, Crodazoline™ O, Crodazoline™ T, ECO Brij™ C20 MBAL, ECO Brij™ CS20, ECO Brij™ L23 MBAL, ECO Brij™ L4 MBAL, ECO Brij™ O10 MBAL, ECO Brij™ O2 MBAL, ECO Brij™ O20 MBAL, ECO Brij™ O3 MBAL, ECO Brij™ O5, ECO Brij™ S10 MBAL, ECO Brij™ S2 MBAL, ECO Brij™ S20 MBAL, ECO Brij™ S721 MBAL, Cromollient™ SCE, ECO Etocas™ 40, ECO Tween™ 20, ECO Tween™ 21, ECO Tween™ 40 MBAL, ECO Tween™ 60 MBAL, ECO Tween™ 61 MBAL, ECO Tween™ 65, ECO Tween™ 81, ECO Tween™ 85 MBAL, ECO Natrasense™ WS MBAL, DIVERSACLEAN™ NC, ECO Etocas™ 30, ECO Natrasense™ 125 MBAL, ECO Natrasense™ 205 MBAL, ECO Natrasense™ 265 MBAL, Croduret™ 25, ECO Arlatone T, ECO Brij™ L23-69 MBAL, ECO Brij™ L3 MBAL, ECO Brij™ L6L MBAL, ECO Brij™ L7L MBAL, ECO Brij™ O20-22, ECO Cirrasol PE1185, ECO Cithrol™ S20BW, ECO Cithrol™ S40LAN, ECO Cosmowax™ J, ECO Cosmowax™ P, ECO Croduret™ 1292, ECO Croduret™ 25G, ECO Croduret™ 40, ECO Diversaclean CS, ECO Glycerox™ 767 MBAL, ECO Glycerox™ PK-70 MBAL, ECO Myrj™ S100, ECO Myrj™ S40, ECO Myrj™ S40 MBAL, ECO Myrj™ S8, ECO Polawax™ A-31 MBAL, ECO Polawax™ NF MBAL, ECO Renex™ PEG 1000, ECO Renex™ PEG 1450, ECO Renex™ PEG 200, ECO Renex™ PEG 2000, ECO Renex™ PEG 3350, ECO Renex™ PEG 400, ECO Renex™ PEG 600, ECO Renex™ PEG 800, ECO Tween™ 23, ECO Tween™ 28, ECO Tween™ 80, Synperonic™ LF/40, ECO Cirrasol Care
Products:
ECO Brij™ C2 MBAL, ECO Brij™ S100 MBAL, Crodazoline™ O, Crodazoline™ T, ECO Brij™ C20 MBAL, ECO Brij™ CS20, ECO Brij™ L23 MBAL, ECO Brij™ L4 MBAL, ECO Brij™ O10 MBAL, ECO Brij™ O2 MBAL, ECO Brij™ O20 MBAL, ECO Brij™ O3 MBAL, ECO Brij™ O5, ECO Brij™ S10 MBAL, ECO Brij™ S2 MBAL, ECO Brij™ S20 MBAL, ECO Brij™ S721 MBAL, Cromollient™ SCE, ECO Etocas™ 40, ECO Tween™ 20, ECO Tween™ 21, ECO Tween™ 40 MBAL, ECO Tween™ 60 MBAL, ECO Tween™ 61 MBAL, ECO Tween™ 65, ECO Tween™ 81, ECO Tween™ 85 MBAL, ECO Natrasense™ WS MBAL, DIVERSACLEAN™ NC, ECO Etocas™ 30, ECO Natrasense™ 125 MBAL, ECO Natrasense™ 205 MBAL, ECO Natrasense™ 265 MBAL, Croduret™ 25, ECO Arlatone T, ECO Brij™ L23-69 MBAL, ECO Brij™ L3 MBAL, ECO Brij™ L6L MBAL, ECO Brij™ L7L MBAL, ECO Brij™ O20-22, ECO Cirrasol PE1185, ECO Cithrol™ S20BW, ECO Cithrol™ S40LAN, ECO Cosmowax™ J, ECO Cosmowax™ P, ECO Croduret™ 1292, ECO Croduret™ 25G, ECO Croduret™ 40, ECO Diversaclean CS, ECO Glycerox™ 767 MBAL, ECO Glycerox™ PK-70 MBAL, ECO Myrj™ S100, ECO Myrj™ S40, ECO Myrj™ S40 MBAL, ECO Myrj™ S8, ECO Polawax™ A-31 MBAL, ECO Polawax™ NF MBAL, ECO Renex™ PEG 1000, ECO Renex™ PEG 1450, ECO Renex™ PEG 200, ECO Renex™ PEG 2000, ECO Renex™ PEG 3350, ECO Renex™ PEG 400, ECO Renex™ PEG 600, ECO Renex™ PEG 800, ECO Tween™ 23, ECO Tween™ 28, ECO Tween™ 80, Synperonic™ LF/40, ECO Cirrasol Care
100 Bio based Eco Range Flyer
ECO Brij™ C2 MBAL, ECO Brij™ S100 MBAL, ECO Brij™ C20 MBAL, ECO Brij™ CS20, ECO Brij™ L23 MBAL, ECO Brij™ L4 MBAL, ECO Brij™ O10 MBAL, ECO Brij™ O2 MBAL, ECO Brij™ O3 MBAL, ECO Brij™ O5, ECO Brij™ S10 MBAL, ECO Brij™ S2 MBAL, ECO Brij™ S20 MBAL, ECO Brij™ S721 MBAL, ECO Etocas™ 40, ECO Tween™ 20, ECO Tween™ 21, ECO Tween™ 40 MBAL, ECO Tween™ 60 MBAL, ECO Tween™ 65, ECO Etocas™ 30, ECO Natrasense™ 125 MBAL, ECO Natrasense™ 205 MBAL, ECO Natrasense™ 265 MBAL, ECO Brij™ L23-69 MBAL, ECO Brij™ L3 MBAL, ECO Brij™ L6L MBAL, ECO Brij™ L7L MBAL, ECO Brij™ O20-22, ECO Croduret™ 25G, ECO Croduret™ 40, ECO Diversaclean CS, ECO Tween™ 22, ECO Tween™ 23, ECO Tween™ 24, ECO Tween™ 28, ECO Tween™ 80, ECO Crodastat™ 400
Products:
ECO Brij™ C2 MBAL, ECO Brij™ S100 MBAL, ECO Brij™ C20 MBAL, ECO Brij™ CS20, ECO Brij™ L23 MBAL, ECO Brij™ L4 MBAL, ECO Brij™ O10 MBAL, ECO Brij™ O2 MBAL, ECO Brij™ O3 MBAL, ECO Brij™ O5, ECO Brij™ S10 MBAL, ECO Brij™ S2 MBAL, ECO Brij™ S20 MBAL, ECO Brij™ S721 MBAL, ECO Etocas™ 40, ECO Tween™ 20, ECO Tween™ 21, ECO Tween™ 40 MBAL, ECO Tween™ 60 MBAL, ECO Tween™ 65, ECO Etocas™ 30, ECO Natrasense™ 125 MBAL, ECO Natrasense™ 205 MBAL, ECO Natrasense™ 265 MBAL, ECO Brij™ L23-69 MBAL, ECO Brij™ L3 MBAL, ECO Brij™ L6L MBAL, ECO Brij™ L7L MBAL, ECO Brij™ O20-22, ECO Croduret™ 25G, ECO Croduret™ 40, ECO Diversaclean CS, ECO Tween™ 22, ECO Tween™ 23, ECO Tween™ 24, ECO Tween™ 28, ECO Tween™ 80, ECO Crodastat™ 400
Most Viewed Formulations
Formulation Name
End Uses
Applications
Fabric Conditioner with 3-in-1 Protection #HC/LF/20
End Uses:
Fabric Conditioners
Hand Cleanser Wipe Concentrate #HC/SC/22
Hand Cleansers, Concentrates
End Uses:
Hand Cleansers, Concentrates
Insect Repellent Water Resistant Spray with 20% Deet #HC/IR/10
Insect Repellent Clear Spray with 20% Deet #HC/IR/06
Air Freshener for Pump Pack Application (Water-based) #HC/AF/03
Air Fresheners & Deodorizers
End Uses:
Air Fresheners & Deodorizers
Insect Repellent Water Resistant Spray with 20% IR 3535 #HC/IR/31
Insect Repellent Clear Spray with 20% IR 3535 #HC/IR/11
Fabric Refresher with Odour Neutraliser for Pump Pack Application (Water-Based) #HC/AF/06
End Uses:
Fabric Fresheners
Insect Repellent Water Resistant Spray with 20% Picaridin #HC/IR/37