ZINADOR™ 22L is a 100% bio-based odor neutraliser that has proven to be effective against a broad range of household and industrial odors. Independent testing by trained panelists has demonstrated the effectiveness of ZINADOR™ 22L as an odor eliminator against most common malodors.
It requires no emulsifiers or chelators to formulate and can be solubilized in water, making it cost effective and very easy-to-use. Developed and produced using Itaconix polymer technology.
Knowde Enhanced TDS
Identification & Functionality
Cleaning Ingredients Functions
ZINADOR™ 22L

Features & Benefits
Benefits
Effective odor neutraliser against a range of malodours.
100% bio-based
Readily soluble in aqueous formulations.
Leaves no surface residues.
Safe to use on stain-resistant carpets.
Can be formulated with fragrances.
Stable in hard water, from pH 2-11
Low foaming
No restaining of treated surfaces
Zinador 22L Performance Highlights
Odor Reduction Performance
Zinc complexes are widely used to neutralize odors caused by hydrogen sulfide, mercaptans, thioethers, isovaleric acid and ammonia. ZINADOR™ 22L is a new technology that provides an easier-to-use, more costeffective approach to formulating zinc complexes into household and industrial products to give effective odor neutralization.
Odor Neutralizer Performance on Ammonia
Ammonia is a common malodour that is most associated with urine. It is important that this odor can be counteracted especially in applications such as bathroom cleaners, sprays and laundry care. Two commercial zinc ricinoleate products were tested against ZINADOR™ 22L on a comparable inclusion level basis, in order to assess their odor neutralizing performance against ammonia. The odor neutraliser to be tested was added to 25ml of a synthetic urine solution (0.125% ammonia in deionised water). The sample was then inverted once to mix the solution before peak ammonia level readings in ppm were taken using an MSA ammonia gas detector (Figure 1).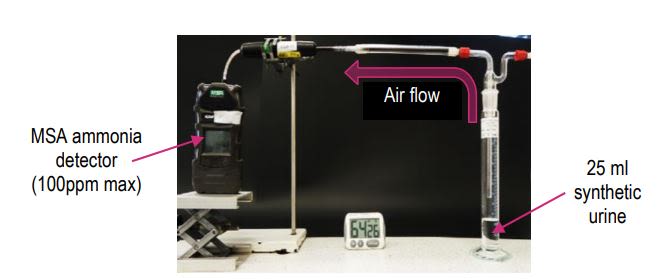 Figure 1: The setup used to detect the level of ammonia present in the air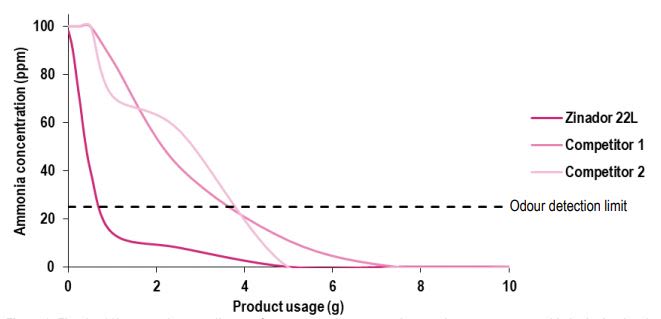 Figure 2: ZINADOR™ 22L ammonia neutraliser performance against competitor products on a comparable inclusion level basis
As seen in Figure 2, it requires less than 1g of ZINADOR™ 22L neutralize ammonia odors by dropping the concentration below the odor detection threshold. The nearest competitors; both require around 4g of product to reach the same level of odor neutralization.
Testing Against Commercial Off-the-shelf Products
Two commercially available odor neutralizer products were tested against ZINADOR™ 22L in order to assess their odor neutralizing performance against ammonia. 2g of the odor neutralizer was added to 25ml of a synthetic urine solution (0.125% ammonia in deionised water). The sample was then inverted once before peak ammonia level readings in ppm were taken using an MSA ammonia gas detector.
Figure 3: Zinador 22L outperforms competitors for ammonia odor neutralization
As seen in Figure 3, ZINADOR™ 22L outperforms commercially available products in reducing the odor of ammonia.
Odor Reduction Panel Testing
Independent laboratory panel testing proved ZINADOR™ 22L has as good as or superior odor reduction performance, compared to a generic zinc ricinoleate-based odor neutralizer. Cotton and polyester fabric swatches were impregnated with the following odors: body odor, cat urine and food odors. These swatches were then evaluated by trained panellists, who rated them out of 10 by comparing the treated fabrics to a reference odor fabric swatch. The lower the score, the less similar the swatch was to the reference odor and therefore the lower the perceived odor.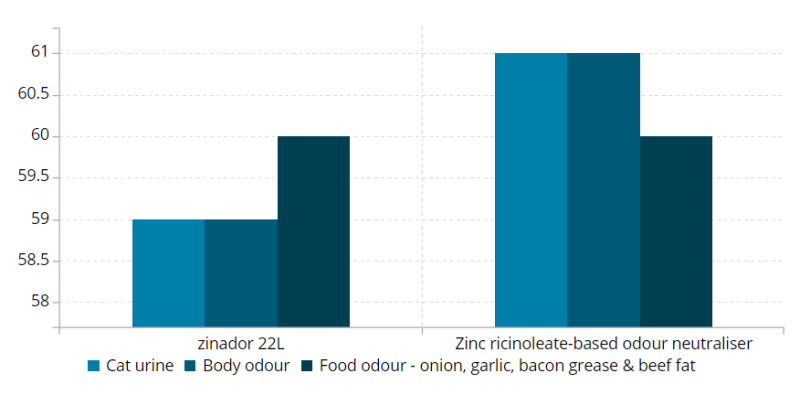 Figure 4: Odor reduction panel test results for ZINADOR™ 22L compared to zinc ricinoleate (0.05% active Zn)
The results in Figure 4 show that Zinador delivers excellent odor reduction performance across all of the odors tested, with equal to or better performance than the current market-leading zinc-based odor neutralization technology.
Neutralization of DEA Molecules
Diethylamine (DEA) is an unpleasant malodor associated with the scent of rotting fish. The capability of ZINADOR™ 22L to neutralize DEA was tested by the preparation of a solution containing a standard reference detergent and ZINADOR™ 22L at varying levels. The concentration and rate of DEA released was assessed using gas chromatography flame ionization detector (GC-FID).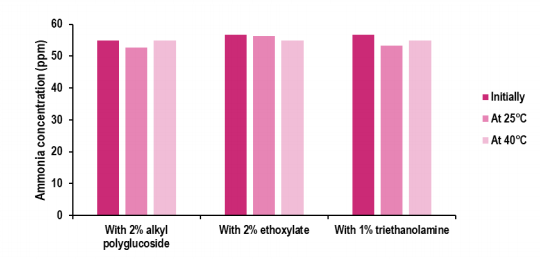 Figure 5: DEA odor reduction by Zinador 22L
ZINADOR™ 22L effectively removes a model odor molecule (DEA) from the gas phase and immobilizes it in the water phase, thus making the odor no longer detectable/perceivable. The DEA binds to the zinc from ZINADOR™ 22L in a 1:1 molar ratio.
ZINADOR™ 22L in Laundry Detergents
A build-up of body soil during the wear-wash-wear cycle of fabrics can result in fatty organic residue causing malodor on the fabric. This is often seen on synthetic fabrics and is a particular problem on sportswear but is also present on other garments. CONSUMERTEC Dingy MS Persistent Malodor, replicates this persistent malodor.For this, we applied Dingy MS Persistent Malodor to poly/cotton (65:35) swatch, as is used in clothes, sportswear and bed linen.
To prove the efficacy of ZINADOR™ 22L, two sets of standardized malodor swatches were washed in a front-loading washing machine on the cottons 40°C program. The first set was washed with 35ml of a commercially available fragrance-free laundry detergent and the second with the same detergent plus 3% ZINADOR™ 22L. A panel of untrained analysts were asked which swatch had less odor both before and after line drying.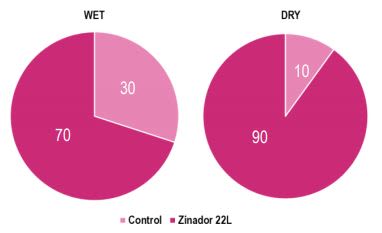 Figure 6: ZINADOR™ 22L performance on washed swatches containing malodor both before and after line drying
The results in Figure 4 show that the majority of panelists found that swatches washed with detergent containing ZINADOR™ 22L had less odor. This was evident when evaluated both wet and dry (70% and 90% respectively). Adding ZINADOR™ 22L to laundry detergent has been shown to significantly reduce persistent body odors on fabric both before and after drying, making ZINADOR™ 22L the ideal choice for odor control in laundry detergents.
Foaming in Odor Neutralizers
Two commercial zinc ricinoleate products were tested against ZINADOR™ 22L in order to assess the volume of foam produced when in solution. 1 g/L solutions of each product were made up and added to a SITA foam tester. Foam generation was measured at 25°C with an agitation speed of 1200rpm. The volume of foam produced was measured over a number of intervals and the results can be seen in Figure 7, below.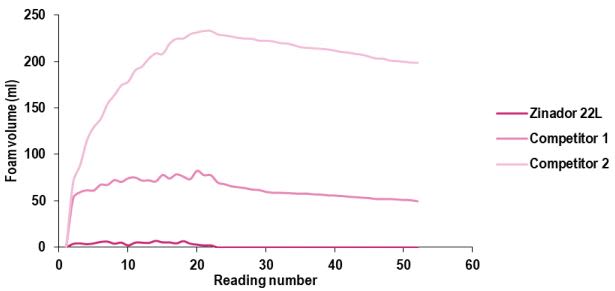 Figure 7: Comparison of foam levels in solutions containing ZINADOR™ 22L and competitor products
The results in Figure 7, show that ZINADOR™ 22L produces very little foam when in solution. This is extremely helpful to formulators as they will not need to worry about excess foam generation, unlike if competitor products were being used.
Figure 8 shows vials of 5% w/w solutions of commercial zinc ricinoleate (ZnR) odor neutralizers after 5 seconds shaking, showing that ZINADOR™ 22L is both low foam and easy to solubilize in water alone. By comparison, traditional ZnR-based odor neutralizers may require solubilizers, which can in turn lead to unwanted foam generation.
Figure 8: Comparison of foam generation after 5 seconds of shaking
Fabric Residue Comparative Performance
Four commercial zinc ricinoleate products were comparatively tested against ZINADOR™ 22L, in order to assess the residues left on fabric after use. One drop of neat product was mixed with 5 drops deionised water on a ceramic tile and a clean, dry swatch of polyester/cotton (65/35) applied to absorb the solution in its center. Images of the fabric swatches after air drying can be seen in Figure 9.

Figure 9: Fabric residues testing results
Figure 9 shows that ZINADOR™ 22L leaves no residues on fabric, whereas all four ZnR-based competitors leave oily, waxy residues. This is important for both fabric appearance after use and in applications where re-staining can be caused by residues, for example in carpet care.
Applications
Fabric and upholstery refreshers and cleaners.
Air fresheners
Bathroom and surface cleaners.
Liquid laundry detergents (especially useful for sports-wear and industrial clothing)
Pet and urine odor removal.
Waste treatment and landfill facilities.
Animal and agriculture waste containment sites.
Appearance
Clear to slightly hazy yellow liquid
Typical Properties
| | | | |
| --- | --- | --- | --- |
| | Value | Units | Test Method / Conditions |
| Specific Gravity | 1.17 | g/cm3 | - |
| Average Molecular Weight | 5500 | g/mol | - |
| pH | 7.9 | - | - |
| Solids Content | 26 | % | - |
| Viscosity | max. 100 | cP | - |
| Zinc Content | 2 | % | - |
Technical Details & Test Data
Compatibility
Wide Formulation Compatibility
ZINADOR™ 22L is a 100% bio-based product that delivers major new formulating and cost advantages over the current market-leading technologies. Formulating with ZINADOR™ 22L is easier and more effective than current leading zinc-based technology. Odour neutralisation claims and performance are easily achieved with ZINADOR™ 22L, without the need for adding:
Surfactants
Solvents
Emulsifiers
Chelators
Anti-foaming agents
Overall, formulations are simpler, work across broad pH and temperature ranges and do not leave problematic surface residues. Some further formulation development may be required when using ZINADOR™ 22L in liquid laundry detergents, due to high salt content. Usage in fabric conditioners with cationic surfactants is not recommended.
In order to demonstrate formulation compatibility, three common formulation ingredients (alkyl polyglucoside, ethoxylate and triethanolamine) were added to 3% ZINADOR™ 22L solutions and stability testing carried out at 25°C and 40°C. After 3 months, ammonia neutralisation performance was assessed and compared to initial performance. The results can be seen in Figure 10, below.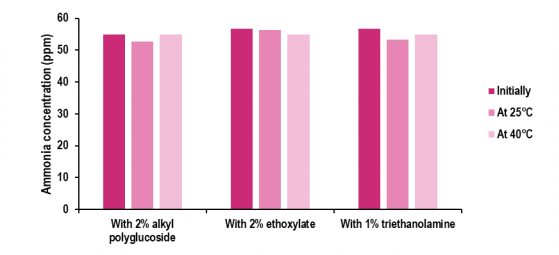 Figure 10: Ammonia neutralization effect of 3% ZINADOR™ 22L in different solutions of common formulation ingredients, tested initially and after 3 months at 25°C and 40°C
The results in Figure 10, show that there is excellent formulation stability when using ZINADOR™ 22L and there is no loss in the odor neutralization performance of the product, when used alongside these common formulation ingredients.
Product Stability
ZINADOR™ 22L is 100% water soluble, with excellent stability in very hard water conditions, over a broad pH range (2-11) and temperature range. Current leading zinc-based odour neutraliser technologies require different products for different pH ranges, as well as added chelators for protection against hard water conditions.
ZINADOR™ 22L is fully compatible with leading non-ionic and anionic surfactants, fragrances and hydrogen peroxide. It should be transported and stored below 40°C and is stable to freeze/thaw. In end-use formulations ZINADOR™ 22L is stable up to 60°C.
Most Viewed Documents
Document Name
Type
Products
Zinador™ 22L Technical Data Sheet
Zinador™ 22L Product Brochure
Zinador™ 22L Presentation
Most Viewed Formulations
Formulation Name
End Uses
Applications
Liquid Laundry Detergent with Odour Neutraliser #HC/LF/35
Liquid Laundry Detergents
End Uses:
Liquid Laundry Detergents
Carpet Stain Remover with Zinador™ 22L #HI-712
Stain & Spot Removers, Carpet Cleaners
Industrial Cleaning, Carpet & Upholstery, Laundry & Fabric Care
End Uses:
Stain & Spot Removers, Carpet Cleaners
Odour Neutraliser with Corrosion Inhibitor #HI-701-2
Air Fresheners & Deodorizers, Odor Control Products
End Uses:
Air Fresheners & Deodorizers, Odor Control Products
Fabric/Air Spray Refresher with Odour Neutraliser #HC/AF/17
Fabric Fresheners, Air Fresheners & Deodorizers
Laundry & Fabric Care, Air Care
End Uses:
Fabric Fresheners, Air Fresheners & Deodorizers
Antistatic Carpet Cleaner with Odour Neutraliser #HC/LF/37
End Uses:
Carpet Cleaners
Fabric/Air Spray Refresher with Zinador™ 22L #HI-711
Fabric Fresheners, Air Fresheners & Deodorizers
Air Care, Laundry & Fabric Care
End Uses:
Fabric Fresheners, Air Fresheners & Deodorizers
Carpet Cleaner with Zinador™ 22L and Anti-Stat #HI-709
End Uses:
Carpet Cleaners
100% Bio-based Fabric/Air Spray Refresher with Odour Neutraliser #HC/AF/20
Fabric Fresheners, Air Fresheners & Deodorizers
Air Care, Laundry & Fabric Care
End Uses:
Fabric Fresheners, Air Fresheners & Deodorizers
Fresh Scent Wrinkle Releaser Clothing Spray #HC/LF/44
Fabric Fresheners, Fabric Conditioners
End Uses:
Fabric Fresheners, Fabric Conditioners