A detergent polymer shows exceptional calcium polyphosphate dispersing properties in dishwashing detergent formulations and Gypsum Components.
Features & Benefits
Safe and easy-to-handle liquid and easy to formulate (wide range of alkalinity level, bleach stable, excellent surfactant compatibility)
Effective dispersant for a wide choice of formulations
Very good filming inhibition on glasses and dishes
Excellent inhibition of crystal growth and dispersion of precipitates in the cleaning bath
Prevents the redeposition of soil onto the fabric or hard surface, lime soap encrustation in liquid laundry products containing fatty acid soaps
Highly effective in maintaining whiteness and providing lime soap dispersion for liquid laundry detergents
Reduced fabric harshness/fabric encrustation
Function:
Builder

,
Scale Inhibitor

,
Dispersant
Labeling Claims:
Non-GMO

,
Allergen-free

,
BSE-free

,
Animal Products-free

,
Not Listed In California Proposition 65

,
Preservative-free

,
CleanGredients (DfE)

,
CMR Substances-free

,
TSE-free
End Uses:
Automatic Dishwash
Knowde Enhanced TDS
Identification & Functionality
Cleaning Ingredients Functions
Chemical Note
Sulfonated water-soluble acrylic copolymer supplied as the partially neutralized sodium salt in water
ACUSOL™ 588 Dispersant

Features & Benefits
Key Attributes
ACUSOL™ 588 Polymer is a unique copolymer specifically designed for phosphate and reduced/no phosphate compositions containing formulations in powder, liquid, or tablet form. Its chemical structure and molecular weight are optimized to provide calcium polyphosphate and phosphonate, as well as magnesium silicate inhibition properties, resulting in reduced filming on glasses and dishes in automatic dishwashing or improved fabric softness and whiteness in laundry detergents.
ACUSOL™ 588 Polymer is a copolymer of acrylic and sulphonic acids optimized for the following features:
Anti-precipitation: ACUSOL™ 588 will inhibit precipitation of calcium polyphosphate and phosphonate, as well as insoluble silicate salts in the wash bath due to absorption properties on seeds and growing particles. The controlled precipitation of these sparingly soluble salts will reduce the phenomenon of filming, which is due to deposition of precipitating builders on the various surfaces encountered in automatic dishwashing: stainless steel, ceramics, and glass.
Dispersing properties: ACUSOL™ 588 is an excellent dispersant for calcium polyphosphate/phosphonate and magnesium silicate base scales. It will keep them dispersed in the wash bath and avoid their deposition and build-up that would cause filming on surfaces.
Note: ACUSOL™ 588 is also available as granules under ACUSOL™ 588G Polymer or powder under ACUSOL™ 588D Polymer names.
Applications
Automatic dishwashing detergent formulations
Laundry detergent formulations
Water-softener additives
Hard surface cleaners and bleach formulations
Industrial and institutional: laundry, ware-wash, bottle-wash and metal-cleaning products
Formulation Advice
ACUSOL™ 588 Polymer can be combined with acrylic homopolymers such as ACUSOL™ 445G, ACUSOL™ 445NG, ACUSOL™ 420NG, ACUSOL™ 425N in order to boost the filming inhibition performance due to specific calcium carbonate inhibition properties. This combination is particularly recommended for the all-in-one tablets, to alleviate the heavy precipitating conditions arising from higher calcium and magnesium levels in the wash bath.
To obtain an optimal efficiency, ACUSOL™ 588 Polymer should be used at levels between 50 and 500 ppm in the wash bath for household or industrial purposes. This will corespond to 1–8% of ACUSOL™ 588 in the washing powders.
Appearance
Clear hazy colorless to yellow liquid free of visible impurities
Typical Properties
| | | | |
| --- | --- | --- | --- |
| | Value | Units | Test Method / Conditions |
| Brookfield Viscosity (at 25°C, LV, Spindle 1, 12 rpm) | 150 - 500 | cP | DOWM 102715 |
| Color (APHA) | 0 - 200 | Hazen | DOWB 508010 |
| Molecular Weight | 18000 - 20000 | - | - |
| pH | 3.70 - 4.70 | - | DOWM 102574 |
| Solids Content (Forced Draft Oven at 150°C, 0.6 g, 60 min) | 36.00 - 38.00 | % | DOWM 102570 |
Technical Details & Test Data
Formulation Example
Gel it Well - Automatic Dish Washing Gel
ACUSOL™ 588 Liquid Polymer was formulated in the following Automatic Dish Washing Gel combined with anti-spotting surfactant ECOSURF™ Bright 1 and TERGITOL™ 15-S-9 Surfactants, a nonionic surfactant to boost cleaning performance on fat.
Formulation
Disperse ACUSOL™ 810A Rheology Modifier in water at 300 rpm until homogeneous. Separately, mix ECOSURF™ Bright 1 and TERGITOL™ 15-S-9 Surfactants, at 50ºC, then add this blend to ACUSOL™ 810A solution. Add ACUSOL™ 588 Polymer and Trilon M one after the other and mix until homogeneous. Adjust pH to 8.5 with citric acid at 30%. Add the other ingredients and mix until homogeneous.
| | | |
| --- | --- | --- |
| Trade Name / Supplier | % Wt | Ingredient description |
| Water | 40 | |
| ACUSOL™ 810A Rheology Modifier / Dow | 8 | Thickening agent - ASE polymer |
| TERGITOL™ 15-S-9 Surfactant / Dow | 6.7 | Secondary alcohol ethoxylate |
| ECOSURF™ Bright 1 Surfactant / Dow | 2.6 | Specialty alcohol alkoxylate |
| ACUSOL 588™ Polymer / Dow | 6.4 | Acrylic copolymer |
| Trilon M / BASF | 19.4 | MGDA |
| Cublen K8514G / Zschimmer & Schwarz | 3.8 | HEDP |
| Citric acid 30% | 11.8 | pH adjustment |
| Medley Essential 100L / Novozymes | 2.6 | Enzymes |
| Clean Energy 097 / IFF | 0.23 | Fragrance |
| Liquitint Bright Yellow / Milliken & Company | 0.04 | Dye |
| Liquitint Cyan 15 / Milliken & Company | 0.04 | Dye |
| Benzisothiazolinone | 0.2 | Preservative |
| XIAMETER™ AFE-0020 Antifoam Emulsion / Dow | 0.9 | Foam control agent |
| Water | QS 100% | |
The final formulation is an opaque green liquid with a final viscosity1 of 560 Cps and a pH of 8.6. After the first week of ageing, the viscosity of the formulation remains stable for a month when stored at room temperature and 40ºC.
Shine Performance
Rinse test performed on Miele GLS2, Program: 50°C/8'/65°C, IKW soil, 6 cumulative wash cycles.
Figure 1: Visual Assessment of film & spot on glass from 0 (no deposit) to 5 (maximum deposit)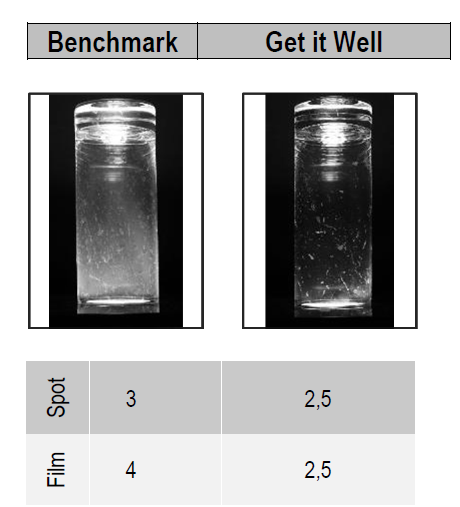 Shine Performance (Cont.)
Gel it Well formulation outshines the benchmark, a leading ADW Gel from the German Market, by reducing filming enabled by ACUSOL™ 588 Polymer and controlling spotting enabled by ECOSURF™ Bright 1 Surfactant.
Limitations
This product is neither tested nor represented as suitable for medical or pharmaceutical uses.
Health and Environmental Information
To support customers in their product safety needs, Dow has an extensive Product Stewardship organization and a team of product safety and regulatory compliance specialists available in each area.
Product Stewardship
Dow has a fundamental concern for all who make, distribute, and use its products, and for the environment in which we live. This concern is the basis for our product stewardship philosophy by which we assess the safety, health, and environmental information on our products and then take appropriate steps to protect employee and public health and our
environment. The success of our product stewardship program rests with each and every individual involved with Dow products - from the initial concept and research, to manufacture,
use, sale, disposal, and recycle of each product.
Customer Notice
Dow strongly encourages its customers to review both their manufacturing processes and their applications of Dow products from the standpoint of human health and environmental
quality to ensure that Dow products are not used in ways for which they are not intended or tested. Dow personnel are available to answer your questions and to provide reasonable technical support. Dow product literature, including safety data sheets, should be consulted prior to use of Dow products. Curent safety data sheets are available from Dow.
Packaging Information
ACUSOL™ 588 Polymer is available in bulk and 1200 kg IBCs. ACUSOL™ 588G Polymer is available in 900 and 1000 kg bags.
Handling Precautions
Product Safety Information Required for Safe Use is Not Included in this Document. Before Handling, Read Product and Safety Data Sheets and Container Labels for Safe Use, Physical and Health Hazard Information. The Safety Data Sheet is Available on The Dow Website at Dow.Com, or from Your Dow Sales Application Engineer, or Distributor, or by Calling Dow Customer Service.
Usable Life and Storage
Keep from freezing. This emulsion product as supplied will ireversibly coagulate upon freezing. Extended exposure to temperatures above 40°C may also coagulate the polymer emulsion and render it unsuitable for use.
Disposal Considerations
Dispose in accordance with all local, state (provincial) and federal regulations. Empty containers may contain hazardous residues. This material and its container must be
disposed in a safe and legal manner.
It is the user's responsibility to verify that treatment and disposal procedures comply with local, state (provincial) and federal regulations. Contact your Dow Technical Representative
for more information.
Most Viewed Documents
Document Name
Type
Products
ACUSOL™ 588 Dispersant Sales Specification Sheet
Products:
ACUSOL™ 588 Dispersant
ACUSOL™ 588 Dispersant & ACUSOL™ 588G Technical Data Sheet
ACUSOL™ 588 Dispersant, ACUSOL™ 588G
Products:
ACUSOL™ 588 Dispersant, ACUSOL™ 588G
ACUSOL™ 588 Polymer Technical Data Sheet
Products:
ACUSOL™ 588 Dispersant
ACUSOL™ 588 Dispersant Regulatory Data Sheet (000000182492)
Products:
ACUSOL™ 588 Dispersant
ACUSOL™ 588 Dispersant Safety Data Sheet (40133273)
Products:
ACUSOL™ 588 Dispersant