CRINA® Ruminants
CRINA® Ruminants is a unique, precisely formulated blend of essential oil compounds proven to have a positive effect on the rumen environment. By altering the balance of rumen microflora, CRINA® Ruminants helps improve rumen efficiency. CRINA® Ruminants has been shown to enhance milk production in dairy cows as well as live weight gain and feed efficiency in beef cattle. CRINA® Ruminants is a precise blend of essential oil components
Knowde Enhanced TDS
Identification & Functionality
+
Animal Feed & Nutrition Functions
Animal Feed & Nutrition Features
Product Benefits
The proof
The benefits of feeding CRINA® Ruminants have been proven in trials at well-respected independent research centres around the world.
The payback
Improved weight gain together with better feed conversion rate means cattle finish sooner and feed costs are reduced. This will give better profitability and in addition, improved cash flow.
Feed Cost Saving
Adding CRINA® Ruminants to compound feeds delivers real benefits:
Allows potential reduction in the specification of feeds without affecting animal performance
Allows greater use of lower-priced ingredients, thereby reducing diet costs
Helps to reduce the impact of variations in raw material quality
Helps limit the effect of raw material price volatility on compound feed costs
CRINA® Ruminants provides a proven way of achieving greater control of formulation costs.
How Does Its Works
It reduces protein degradability from a broad range of dietary sources
It inhibits rumen bacteria that degrade amino acids to ammonia
It synchronises protein and energy metabolism in the rumen
Together they add up to better feed utilisation, increased production and higher profits.
Trial Results
During trials, CRINA® Ruminants has been shown to create a better balance of microbes in the digestive system, improving efficiency of digestion by:
Slowing the rate of starch fermentation
Reducing the extent to which protein is degraded
Preventing the growth of bacteria that turn valuable amino acids into waste ammonia
This has shown to improve the supply of nutrients available to animals, and translates into more milk from the same feed. It also has shown to generate greater feed efficiency, which improves cost savings on feed.
Regulatory & Compliance
+
Certifications & Compliance
Technical Details & Test Data
+
Effect
CRINA® Ruminants enhances milk production and live weight gain.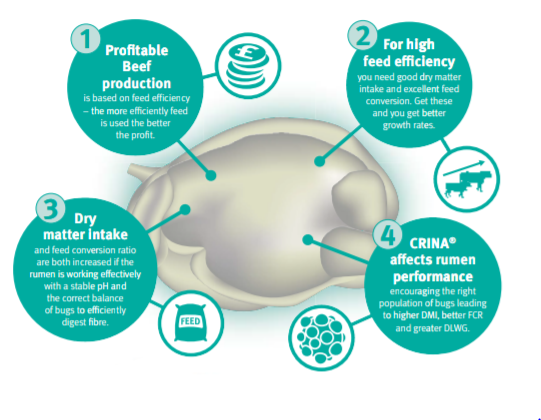 Effect of CRINA® Ruminants on beef cattle
Australian feedlot trial Relative results (control = 100)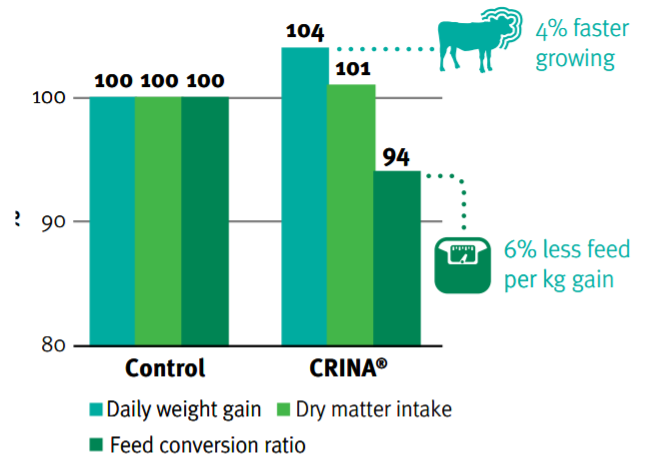 Providing Flexibility in Ration Design
The precise formulation of essential oil components in CRINA®Ruminants has been shown to improve rumen performance. As more of the protein provided can be used by the animal, it becomes possible to replace expensive protein sources with cheaper alternatives.
This is an effective way to achieve greater control over formulation costs and margins.