HYA-ACT™ S
HYA-ACT™ S is the hydration booster for thirsty skin. Also microbiome-friendly, its small molecules fortify skin's natural barrier, locks in moisture and calm redness. Combined with HYA-ACT™ M, the possibilities are powerful in an in-vivo study, it delivered up to a 77% hydration boost.
Knowde Enhanced TDS
Identification & Functionality
+
Cosmetic Ingredients Functions
Origin
100% natural origin (ISO 16128)
Derived from sweet corn seeds
GMO free
Manufacturing Process
HYA-ACT™ S is obtained by bio-fermentation.
Product Features
Small molecular weight hyaluronic acid of 200 – 400 KDa
Pure powder with superior dissolving properties in water
No preservative
Benefits
Acts as a hydration booster
Lock in moisture for an even greater hydration boost and calms reddened skin.
Certified as Microbiome-friendly (tested according to MyMicrobiome test 18.10)
Halal certified
Applications
Suitable for all kinds of facial and body care leave-on and rinse-off hydration products
Regulatory & Compliance
+
Certifications & Compliance
Technical Details & Test Data
+
Efficacy Test : Skin Hydration
Skin Hydration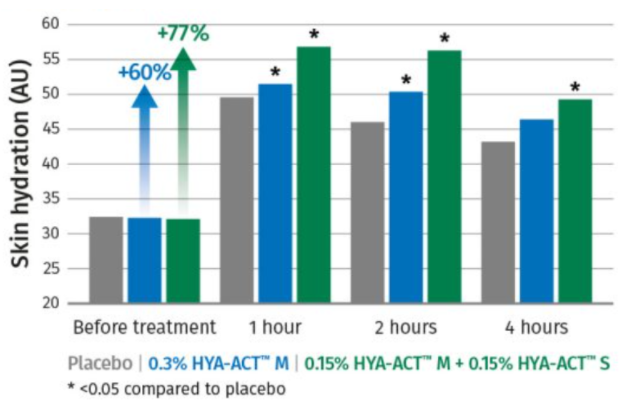 Result:
Up to 77% Hydration Boost by adding HYA-ACT™ S (0.15%) to HYA-ACT™ M (0.15%)
Documents
(2)
Document Name
Type
Products
HYA-ACT™ M, HYA-ACT™ S, HYA-ACT™ XS
Products:
HYA-ACT™ M, HYA-ACT™ S, HYA-ACT™ XS
Formulations
(1)
Formulation Name
End Uses
Product Families