ROVIMIX® Biotin
ROVIMIX® H-2 is a free-flowing, off-white to slightly yellowish, spray-dried powder consisting of D-biotin finely dispersed in a matrix of dextrin. Sorbic acid is added as a preservative. ROVIMIX® Biotin has shown to deliver better-producing dairy cows with improved hoof strength and durability. This has a positive effect on farmer returns.
Knowde Enhanced TDS
Identification & Functionality
+
Animal Feed & Nutrition Functions
Benefits
Optimises horn quality and strength
Promotes keratin synthesis
Optimises the composition of intercellular cement
Reduces white line disease lameness
Increases propionate utilisation
Increases glucose synthesis
Increases milk yield and protein yield
Advantages
Manufactured using advanced technology for superior product quality
Scientifically proven benefit for improved hoof health and milk yield
Hoof
Optimises hoof horn quality
Improves hoof health
Improves animal welfare
Improving hoof strength reduces the likelihood of problems associated with lameness. Cows with sound hooves eat more, produce more, and are more willing to breed. Treatment costs are also reduced. The overall result is that cows are more profitable.
By improving hoof health, and optimizing horn quality and strength, ROVIMIX® Biotin helps reduce the number of losses due to lameness.
Its outstanding bioavailability means ROVIMIX® Biotin visibly increases strong hoof horn formation. This helps reduce incidences of common problems including white line disease, sole ulcers and digital dermatitis.
Fewer of these problems means lower vet bills and reduced antibiotic use.
Milk
Improves milk yield
Improves protein yield
Biotin is essential for milk production as it increases the production of glucose by the cow. More glucose means higher milk yields. Supplementing high-yielding cows with ROVIMIX® Biotin has resulted in milk yield increases of almost 2kg per cow per day.
Overall, ROVIMIX® Biotin builds stronger hooves, higher milk yields and greater profits.
Uses
For animal nutrition in premixes, compound feeds, milk replacers and liquid diets.
Feeding Recommendations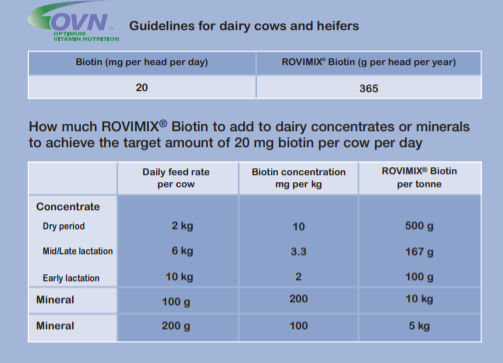 Regulatory & Compliance
+
Regulatory status
Generally approved for the intended use.
Technical Details & Test Data
+
Economics
Reported field benefits

Field Trial Results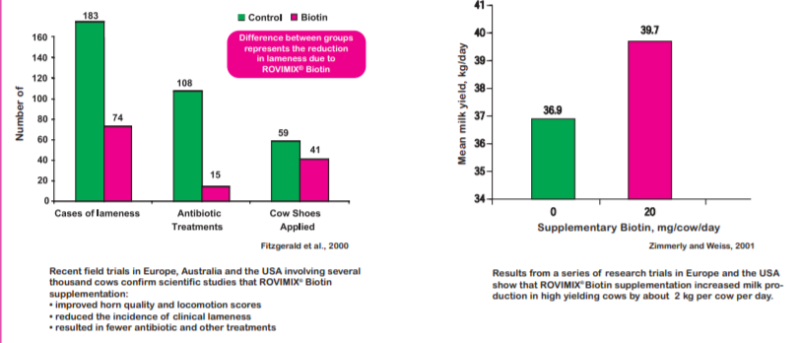 Safety
This product is safe for the intended use. Avoid ingestion, inhalation of dust or direct contact by applying suitable protective measures and personal hygiene.
Stability & Storage
ROVIMIX® H-2 is fairly stable to air but slightly sensitive to light and high humidity. The
product may be stored for at least 36 months from the date of manufacture in the unopened
original container and at a temperature below 25 °C. The 'best used before' date is printed
on the label. Keep container tightly closed. Once opened, use contents quickly.