ROVIMIX® STAY-C®35
ROVIMIX® STAY-C®35 beige is a spray-dried powder consisting of a stabilized (phosphorylated) Na/Ca salt of L-ascorbic acid. Esterification of ascorbic acid at position 2 protects vitamin C from destruction by oxidation. It contains primarily the monophosphate ester of L-ascorbic acid, with very small quantities of diphosphate ester and traces of triphosphate ester. The L-ascorbate molar activity of the phosphorylated esters of vitamin C is equivalent to L-ascorbic acid.
Knowde Enhanced TDS
Identification & Functionality
+
Animal Feed & Nutrition Functions
Synonyms
L-ascorbic acid phosphate; L-ascorbic acid monophosphate: vitamin C phosphate
Molecular Structure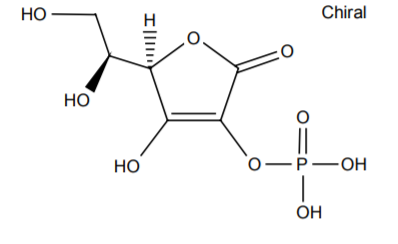 Animal Feed & Nutrition Features
Product Highlights
Farmed fish need high-quality vitamin C in their diet: they need our ROVIMIX® STAY-C®35.
Vitamin C is crucial in farmed fish. Fish are unable to synthesize vitamin C themselves, so it must be obtained through their diets. Vitamin C is needed for:
Growth and development
Reproduction
Wound healing
Resistance to disease and immune system strength
ROVIMIX® STAY-C®35 has been developed specifically to meet the unique demands of aquaculture, ensuring outstanding bioavailability for all species.
The supplement is unaffected by the extrusion systems used to produce feeds for species such as salmon and trout. It also maintains high bioavailability in systems that use submerged feeds (such as shrimp production). Whatever the fish species, ROVIMIX® STAY-C®35 delivers exceptional bioavailability combined with proven cost-effectiveness.
Uses
For animal nutrition in premixes and compound feeds where stability may be critical, e.g. in
expanded, extruded or aggressively pelleted feeds.
Typical Properties
| | | | |
| --- | --- | --- | --- |
| | Value | Units | Test Method / Conditions |
| Molecular mass | 256.11 | g/mol | - |
| Loss on Drying | max. 7 | % | - |
| Total phosphorylated ascorbic acid activity (Euivalent to) | min. 35 | % | - |
| Ascorbic acid activity from monophosphate ester (Equivalent to) | min. 33 | % | - |
Regulatory & Compliance
+
Regulatory status
Generally approved for the intended use.
Safety
This product is safe for the intended use. Avoid ingestion, inhalation of dust or direct contact by applying suitable protective measures and personal hygiene.
Stability & Storage
ROVIMIX® STAY-C® 35 is specifically produced for use as a stabilized source of vitamin C in feed. It is fairly stable to air if protected from humidity and heat. The product may be stored for at least 18 months from the date of manufacture in the unopened original container and at a temperature below 25 °C. The 'best used before' date is printed on the label. Keep container tightly closed. Once opened, use contents quickly.