VevoVitall®
VevoVitall® is an ultra-pure source of food grade benzoic acid. Fully traceable with low smell, low corrosion and low caking. VevoVitall® is an easy to handled organic acid and the only safe source of benzoic acid. When added to pig diets it acts as a preservative reducing the activity of bacteria, yeasts and moulds. It also moderates the microflora in the gut resulting in more effective digestion and reduced digestive disorders.
Knowde Enhanced TDS
Identification & Functionality
+
Animal Feed & Nutrition Functions
Benefits
Feed acidification with VevoVitall®
Maximizes feed value, and thus
Enables performance optimization
Including VevoVitall® is proven to help producers improve the economical and environmental sustainability of their businesses:
The Challenge
Poor growth rate in pigs
Poor feed conversion
Higher feed costs
Low feed intakes
High incidence of scours and diarrhoea
High number of veterinary treatments
High levels of ammonia in pig houses
VevoVitall® effect
Improves daily weight gain by 5-15% in piglets
Improves FCR in piglets by 2-5%
Reduces FCR in growers and fatteners by up to 5%
3-10% increase in piglet feed intakes
Up to 90% reduction in diarrhoea
Reduced level of medication required
Up to 35% reduction in ammonia emissions

Product Highlights
Pig producers face many challenges as they strive to produce finished animals cost-effectively while protecting the environment
By including VevoVitall® in diets pig producers can:
Improve daily liveweight gain and feed conversion
Reduce ammonia production providing a better environment for staff and pigs
Reduce the incidence of diarrhoea and medication.
Form
VevoVitall® is a safe source of benzoic acid for livestock use. It is easy to handle, with low odor and low corrosion.
Better Performance
Trials in several countries show a consistent improvement in both daily liveweight gain
and feed conversion efficiency.
Studies also show a clear benefit from including higher levels of VevoVitall® in piglet diets.
Both feed conversion and weight gain improved as the level of VevoVitall® is increased up to 0.75%. Faster growing pigs are more profitable.
VevoVitall - Delivers Better Returns
Supplementing diets VevoVitall® leads to healthier, better performing pigs and this means better returns and improved cash flow.
Increased returns
| | |
| --- | --- |
| In piglets (to age) | €0.25-1.25 per piglet |
| In growing and finishing pigs | €1.0-3.0 per pig |
Recommended inclusion rates
Weaned piglets
5kg VevoVitall®/ton
complete feed
Growing, finishing pigs
5kg VevoVitall /ton complete feed
Optimum ammonia control
10kg/ton of complete feed
Technical Details & Test Data
+
Proven Effects
The benefits of VevoVitall® have been proven in extensive trials and studies.


Preservation effects
Benzoic acid is a long-established preservative in the feed industry. It is particularly effective against fungi and yeasts. Better feed preservation can help improve intakes and performance. Benzoic acid helps reduce the numbers of the pathogenic bacteria responsible for digestive disorders. It is particularly effective in reducing the growth and development of E Coli and Salmonella. A lower pathogenic load leads to healthier, faster growing pigs. A series of trials has shown a decrease in feed conversion when VevoVitall® is used up to slaughter.
Reduction in Scours and Medication
Trials show that herds using VevoVitall® enjoy a reduction in digestive disorders and a saving in the medication required. Lower levels of digestive disorders mean healthier, faster growing pigs.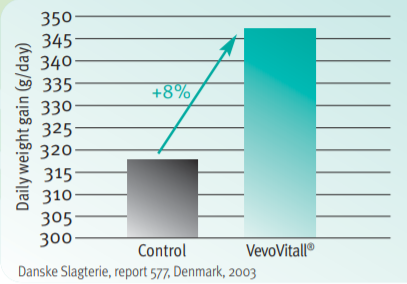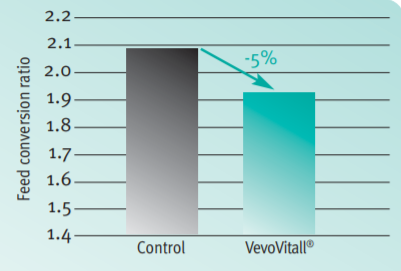 Reduced Ammonia Emissions
By reducing the pH of urine, benzoic acid resulted in lower ammonia emissions of up to
35%, leading to a healthier environment. Better air quality means more pleasant working conditions.