Zemea® propanediol is the multifunctional, preservative-boosting humectant and ingredient that delivers high performance in a variety of consumer applications, from cosmetics and personal care to food, flavor, and pharmaceuticals, and laundry and household cleaning.
Chemical Name:
Propane-1,3-diol
CAS Number:
504-63-2

,
26264-14-2
Ingredient Origin:
Natural Origin
Labeling Claims:
Naturally Derived

,
Petroleum-free

,
Paraben-free

,
Non-Irritant

,
Natural

,
Organic
Certifications & Compliance:
United States Pharmacopeia (USP)

,
NPA Certified

,
USDA BioPreferred

,
Generally Recognized As Safe (GRAS)

,
Natural Health Products Ingredient (Canada)

,
Organic Certified

,
Kosher

,
ECOCERT

,
Design for Environment (DfE)

,
Halal
Knowde Enhanced TDS
Identification & Functionality
Cleaning Ingredients Functions
Cosmetic Ingredients Functions
Zemea® Propanediol

Features & Benefits
Key Attributes
Zemea® propanediol can be used for :
Botanical extraction and dilution
Carrier for active cosmetic ingredients
Natural ester in cosmetic ingredients
Cosmetic ingredient in natural preservative systems
It's benefits include :
Better viscosity
Enhanced clarity
Excellent cloud point
Increased foaming (if desired)
Freeze/thaw protection
Heat stability
It can replace petroleum-based glycols such as propylene glycol, butylene glycol, and glycerin in formulations.
Bath & Shower Applications
Color Cosmetic Applications
Other Beauty & Care Applications
Personal Hygiene Applications
Zemea® Propanediol - A Natural Ingredient for Cosmetics
A natural carrier / diluent and bio-based chemical intermediate building block for cosmetic ingredients. It has favorable environmental profile. It's uses in various cosmetic ingredients are listed below.
Preservatives
Boosts efficacy of preservatives and may improve product handling
Cosmetic & Personal Care Actives
Helps deliver actives to the skin; boosts efficacy of zinc pyrithione (ZPT). Zemea® propanediol is now USP-NF, making it suitable as a carrier for benzoyl peroxide, antiperspirant salts, or other drug actives.
Solid Surfactants
Enables lower viscosity, high-active surfactant products and blends as alternatives to powder or low activity aqueous solutions
Dyes & Pigments
Lower viscosity than glycerin, more consumer-friendly than propylene glycol
Polymers
Pre-wetted polymer option for acrylates, polyacrylamides, urethanes, polyquats and cationic guar
Cationic Conditioners
Alternative carrier for solid fatty quats or other solid materials that cannot easily be sprayed or flaked
Botanical Extracts
Natural carrier and alternative extraction solvent replacing ethanol, hexane or propylene glycol
Novel Emollients
Develop polar esters that enhance spreading on skin, moisturization, skin elasticity potential or pigment wetting
Novel Cosmetic Solvents
Develop effective polar solvents with unique Hansen Solubility
Parameters:
Propanediol dibenzoate vs. propylene glycol dibenzoate
Ethoxydipropanediol vs. ethoxydiglycol
Dimethyl propanediol vs. dimethyl isosorbide
Propanediol carbonate vs. propylene carbonate
Naturally-derived Polymer Thickeners
Petroleum-free modifier for cellulosics, guars, starches and others
Surfactants
Alternative reaction solvent to propylene glycol for production of surfactants or other polar materials.
Antimicrobial Stabilizers
Development of natural alternatives to preservatives
Typical Properties
| | | | |
| --- | --- | --- | --- |
| | Value | Units | Test Method / Conditions |
| Boiling Point | 214 | °C | - |
| Density (20°C) | 1.053 | g/cc | - |
| Melting Point | -24 | °C | - |
| Molecular Weight | 76.1 | - | - |
| pH | 7 | - | - |
| Purity | 99.8 | % | - |
| Viscosity (20°C) | 52 | cPs | - |
Technical Details & Test Data
The greener alternative
Zemea® propanediol is produced through a proprietary fermentation process using plant-derived glucose instead of petroleum-based feedstocks. The resulting product is typically 99.99% pure.
Zemea® propanediol is the world's first 100% bio-based glycol alternative to have earned certification from the Natural Products Association.
Greenhouse Gas Emissions
56% less than Propanediol
42% less than Propylene Glycol
Non-Renewable Energy Use
42% less than Propanediol
38% less than Propylene Glycol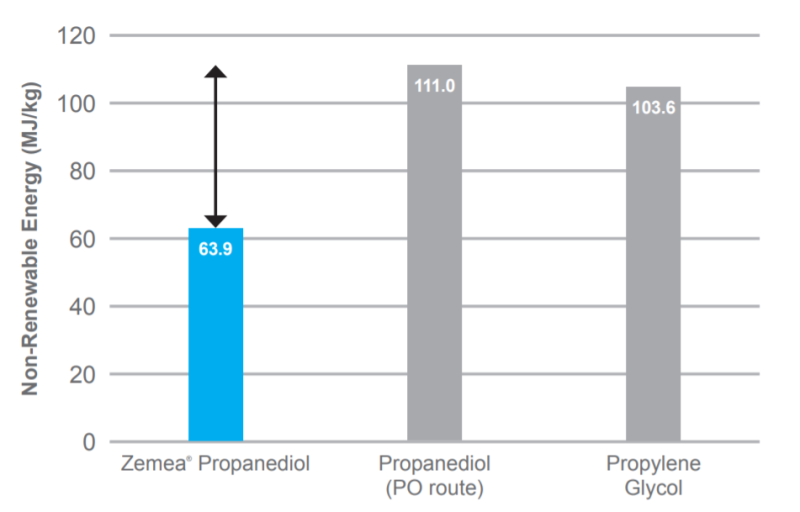 Zemea® Propanediol for Skin Care
Zemea® propanediol is a natural, skin-friendly, preservative-boosting alternative to petroleum-based glycols and glycerin for formulators who desire versatile and innovative cosmetic ingredients.
Reduced skin irritation
In multiple studies using the modified Draize Repeated Insult Patch Test method, Zemea® propanediol produced no skin irritation, fatigue or sensitization—even at high concentrations. Researchers observed no clinically significant dermal irritation or allergic contact following exposure of up to 75% Zemea® propanediol at three different pH levels.
By contrast, skin irritation was observed with propylene glycol (PG) at a concentration of 25%, with nearly one-quarter of the test population indicating positive irritation at a 75% concentration. Results from these studies show that Zemea® propanediol has low potential to irritate or sensitize human skin.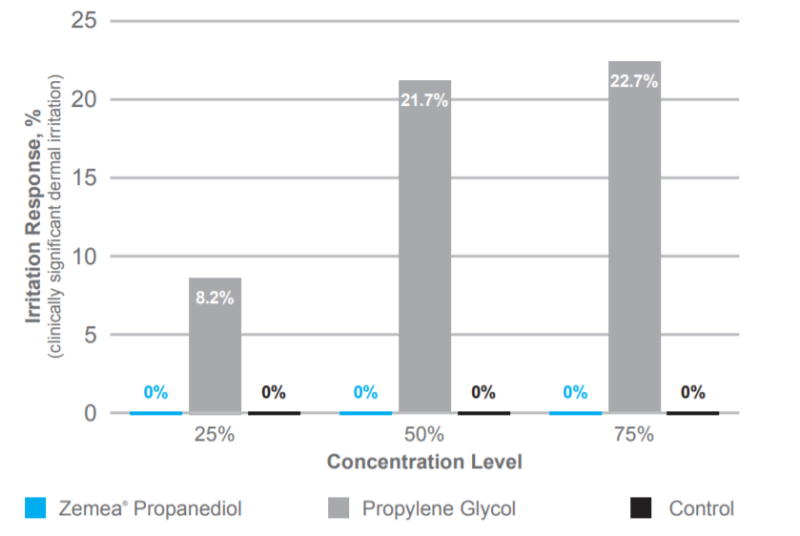 Moisturization performance vs. glycerin
In tests comparing the moisturizing effect of Zemea® propanediol to glycerin at a 10% use level, measurements taken with a Corneometer ASA-M2 showed that Zemea® propanediol provides improved skin moisturization during initial application. A mixture of 5% Zemea® propanediol/ 5% glycerin in formulation demonstrated a synergistic effect that improved and extended skin moisturization. Formulating with a Zemea® propanediol/glycerin mixture also requires less glycerin and may reduce tackiness.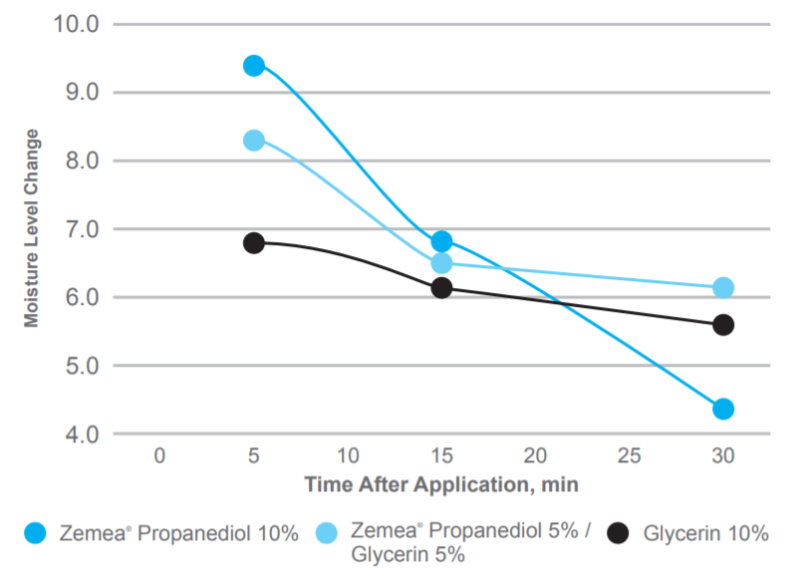 Moisturization performance vs. petroleum-based glycols
In two independent tests conducted between Zemea® propanediol and petroleum-based glycols, measurements with a Corneometer 825 PC® (Courage + Khazaka) revealed that Zemea® propanediol was more efficient than either PG or butylene glycol (BG) at moisturizing the skin at a 5% use level.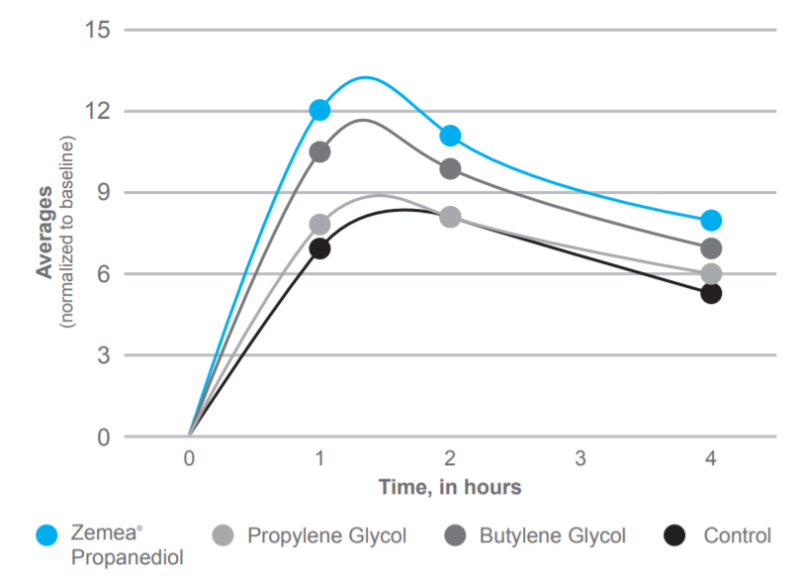 High-scoring sensorials
In repeated consumer sensory studies, lotions formulated with Zemea® propanediol rated higher for all sensory attributes than lotions formulated with glycerin. Zemea® propanediol is also effective at reducing the tackiness associated with high concentrations of glycerin in certain formulations.

Preservative-boosting performance
CTFA Preservative Challenge Testing has shown that Zemea® propanediol can boost the efficacy of preservatives in a formulation. Seven different preservatives were tested at 50% of the recommended use level in a skin care emulsion. The Zemea® propanediol use level was varied from 0-6% to determine the minimum level of Zemea® propanediol needed to pass the challenge test.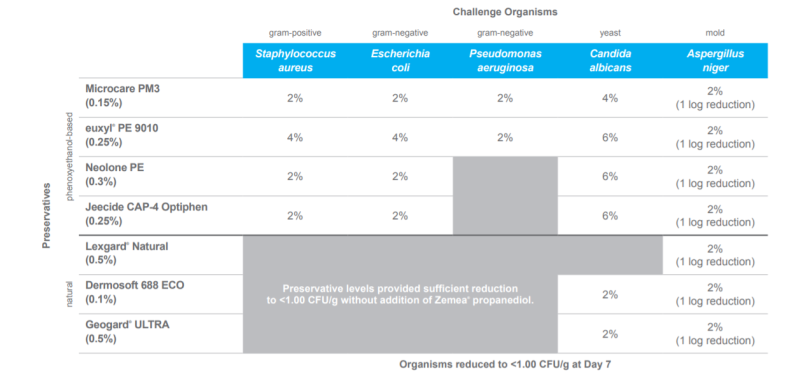 Effective solubility
Zemea® propanediol has a unique set of Hansen Solubility Parameters. Software modeling suggested that Zemea® propanediol can be an effective solvent for actives and functional materials in skin care products and sunscreens.
In tests, Zemea® propanediol worked well as a primary solvent to maximize the solubility of ferulic acid and allantoin. Zemea® propanediol worked well as a secondary solvent to manage the solubility and extend delivery time of ascorbic acid and glycolic acid. Zemea® propanediol worked well as a solvent to optimize formulation design and efficacy for salicylic acid and hexylresorcinol. In a broad-spectrum, daily-wear facial moisturizer, the addition of Zemea® propanediol effectively kept the sunscreen actives ensulizole and sulisobenzone in solution during the evaporative process on the skin, leading to greater efficacy.
Zemea® Propanediol for Hair Care
Studies have demonstrated the unique performance benefits of Zemea® propanediol in hair care products.
Improved feel
Bleached hair tress evaluations (5% polyol) spotlighted the benefits of shampoo made with Zemea® propanediol versus propylene glycol (PG), butylene glycol (BG) and glycerin. Zemea® propanediol demonstrated ease of spreading in shampoo application stage, ease of combing and a clean moisturized/conditioned feel in the wet stage, and ease of combing, body/fullness and moisturized/conditioned feel in the dry stage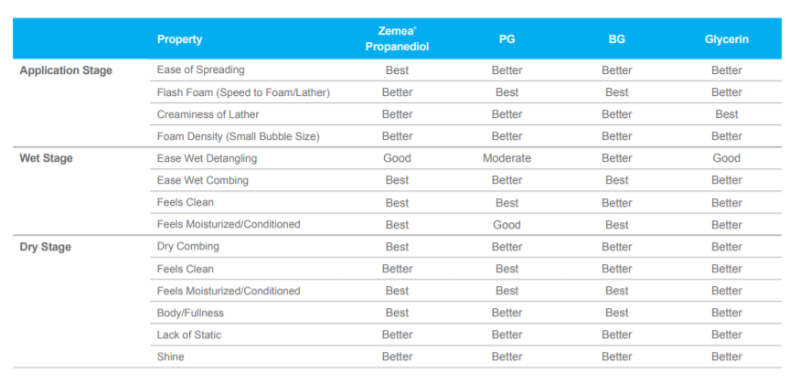 Anti-dandruff
Zemea® propanediol has improved the efficacy of zinc pyrithione (ZPT) in anti-dandruff shampoo formulations. A time-dependent dose relationship was observed between Malassezia globosa and Zemea® propanediol concentration over a range of 0%-4%. Mortality rates of M. globosa increased by 90% when 4% Zemea® propanediol and 1.2% ZPT were paired in a generic formulation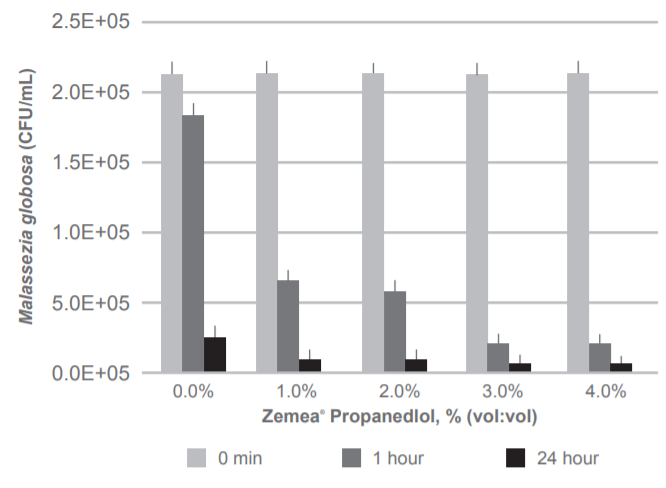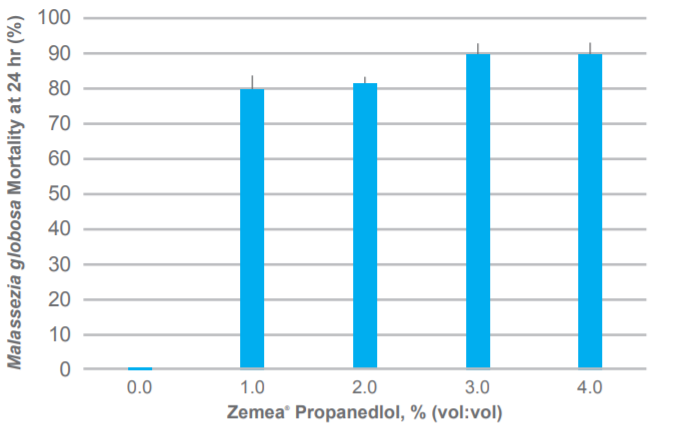 Enhanced moisturization
On chemically treated hair under extreme heat, Zemea® propanediol demonstrated increased moisturization versus PG, BG and glycerin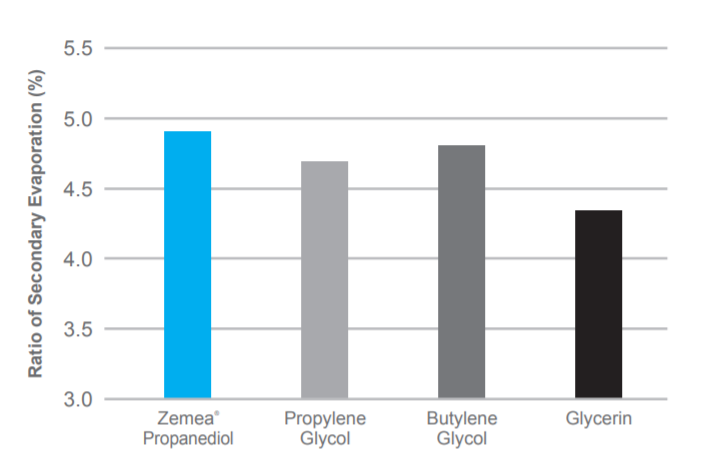 Improved sensorials
In tests, consumers rated shampoo (10% polyol) and leave-in conditioner (5% polyol) made with Zemea® propanediol higher than or equivalent to PG, BG and glycerin on almost all sensorial attributes.
Increased viscosity with less salt
In a viscosity test conducted with three different clear shampoo formulations (5% PG, 5% BG and 5% Zemea® propanediol), the Zemea® propanediol formulation exhibited increased viscosity, requiring 36% less NaCl than the PG formulation and 57% less than the BG formulation.

Zemea® Propanediol for Oral Care
Zemea® propanediol is a natural, petroleum-free humectant and solvent for formulators who desire versatile and innovative personal care ingredients. Zemea® propanediol is ideally suited many different oral care applications including mouthwash and toothpaste.
Benefits in mouthwash formulations
Eliminates solubilizer gelling
Reduces surfactant load
Improves taste
Enables formulation clarity
Alcohol-free formulation possible
Benefits in toothpaste formulations
Solvent for sorbitol and sweeteners
Carrier for gums
Improves taste
Gels with clarity and rheology
SLS-free formulation possible
Packaging Information
18.1 kg (40 lb) Pails
199.8 kg (440 lb) Drums
997.9 kg (2,200 lb) Totes
Tank Trucks
Iso Tank Containers
Storage and Handling
Sealed containers should be stored within a temperature range of 0°– 50°C (32°–122°F). Containers can be resealed and stored within the same temperature range.
Avoid prolonged exposure to oxygen and water. The use of nitrogen during storage is encouraged.
If the seal is unbroken and the material has been stored according to the manufacturer's recommendations, a 2 year shelf life can be expected
Most Viewed Documents
Document Name
Type
Products
Zemea Propanediol Technical Data Sheet
Products:
Zemea® Propanediol
Zemea Propanediol Miscibility Data
Products:
Zemea® Propanediol
Zemea Propanediol Safety Data Sheet
Products:
Zemea® Propanediol
Zemea Propanediol Hair Care Brochure
Products:
Zemea® Propanediol
Zemea Propanediol Solubility Data
Products:
Zemea® Propanediol
Zemea Propanediol Natural Solvent Technical Bulletin
Products:
Zemea® Propanediol
Zemea Propanediol Life Cycle Analysis Overview
Products:
Zemea® Propanediol
Zemea Propanediol Skin Care Brochure
Products:
Zemea® Propanediol
Zemea Propanediol Skin Moisturizing Performance Test
Products:
Zemea® Propanediol