From aerospace and chemical processing to chip manufacturing and oil and gas applications, DuPont™ Kalrez® elastomers are engineered to provide more stability, more resistance, and more effective sealing. Period. While DuPont didn't invent o-rings or specialty sealants, it has a 40-year track record of innovation and development, creating sealants that stand up to the most challenging operating environments. Aside from its cleanliness and purity, Kalrez® polymer chains are engineered to be one of the most inert polymer structures available, standing up to more than 1,800 different chemicals while offering high-temperature stability. Kalrez® perfluoroelastomer (FFKM) parts are manufactured to the highest quality standards. Every part has documented traceability, and these parts provide one of the longest, most predictable lifespans in industry. The long-term, proven performance of Kalrez® parts can mean less frequent seal changes, repairs, and inspections, increasing process and equipment uptime for greater productivity and yield.
DuPont Kalrez® and Vespel® Center of Excellence
When sealing matters, choose DuPont Kalrez® and Vespel® products. DuPont™ Kalrez® and Vespel® work with customers to bring state of the art technology to solve customers' toughest application challenges.
Kalrez® Sealing Technologies
From aerospace and chemical processing to chip manufacturing and oil and gas applications, DuPont™ Kalrez® elastomers are engineered to provide more stability, more resistance, and more effective sealing. Period.
DuPont Kalrez® and Vespel®
Perfluoroelastomer parts have been the sealing material of choice for long-term reliable sealing in the harshest chemical environments. Today, elastomeric seals are expected to perform in a variety of even more aggressive chemicals and at higher temperatures.
Kalrez® 0090 parts for Rapid Gas Decompression
DuPont scientists developed Kalrez® 0090 perfluoroelastomer parts for outstanding resistance to repeated rapid gas decompression.


Featured Products
Kalrez
Kalrez® 4079
Applications:
Equipment & Parts, Other Semiconductor Applications, Other Oil, Gas & Mining Applications, Pumps, Turbines & Compressors, Food & Beverage Manufacturing, Packaging & Assembly Materials, Photovoltaic Components, Aerospace & Aviation
Product Families:
Parts & Shapes
Chemical Family:
Fluoropolymers
Polymer Name:
Perfluoroelastomer (FFKM)
End Uses:
Pump Parts, Semiconductor Applications, Aircraft Applications
Brand Summary
Identification & Functionality
+
Brand Highlights
Features and Benefits
Kalrez® elastomers for specialty sealing are engineered to resist more than 1,800 chemicals while offering high temperature stability. Advantages of Kalrez® include:
Resists over 1,800 different chemicals
High temperature stability up to 327°C
Maintains seal integrity
Reduces maintenance and operating costs
Long seal life
Meets safety standards for pharmaceutical and food processing
Available in standard and specialty compounds formulated for custom use
Kalrez® FFKM Applications
Seals and o-rings in pumps, reactors and flange joints
Valve stem packing systems
High-performance parts for aerospace, oil and gas equipment, transportation, and chemical processing
Life science applications
Semiconductor processing
Photovoltaic manufacturing seals
Food contact materials
Kalrez® FFKM Parts Chemical Resistance
Kalrez® perfluoroelastomer (FFKM) parts withstand attack from over 1,800 chemicals, solvents and plasmas. While exhibiting excellent chemical compatibility, the Kalrez® product line delivers outstanding performance in aggressive process environments. Whether it's resistance to acids, amines, plasma, ultrapure de-ionized water or strong bases, by selecting the Kalrez® product that is best suited to a specific application, manufacturers can improve seal performance in their operating environment. Kalrez® parts are available in a number of different compounds that are formulated to optimize properties and give the best possible performance in various chemicals and temperatures.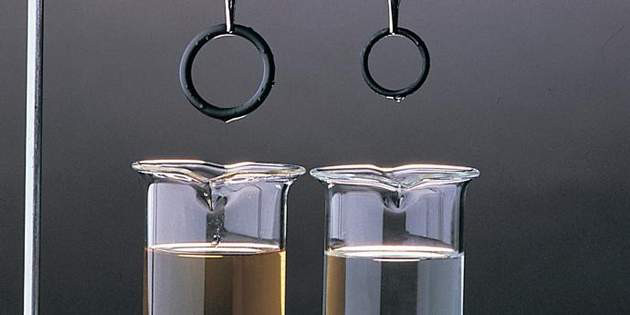 Fluoroelastomer O-ring (left) and Kalrez® O-ring (right). The Kalrez® O-ring exhibits less volume swell in trisolvent test
Chemical Resistance Chart
Case Studies
Extending Lifetime of Critical Seals in HDPCVD Processes
As the semiconductor industry continues to invest in 300 mm wafer fabrication, the spotlight is on process improvement and the greater demands this technology makes on process equipment. In HDPCVD processes elastomer sealing materials can be a weak link because of the need for seal replacement during preventive maintenance (PM) procedures.
Kalrez® Parts in Natural Gas Sampling Systems and Delivery
Transporting natural gas from well to consumer is a delivery challenge faced by industrialized nations throughout the world. In the United States alone, well over 270,000 miles of above- and below-ground pipelines are dedicated to delivering gas to the millions of households and commercial businesses that rely on natural gas for heat and energy.
Kalrez® Spectrum™ 7275 Double Seal Life in Chlorine Dioxide Service
Chlorine dioxide is a strong oxidizing gas that finds many uses as bleaching agent and disinfectant, being a more effective and safer biocide than other sources of chlorine. Most of the production of chlorine dioxide is used at paper mills for pulp bleaching.
Most Viewed Documents
Document Name
Type
Products
Learn More
Kalrez® Spectrum™ 6375 Technical Data Sheet
Products:
Kalrez® Spectrum™ 6375
Kalrez® 9600 Technical Data Sheet
Kalrez® 0090 Technical Data Sheet
Kalrez® 3035 Technical Data Sheet
Kalrez® 9100 for Semiconductor Applications Technical Data Sheet
Kalrez® 4079 Technical Data Sheet