Crastin® SK605 BK851 is a 30% glass fiber reinforced, lubricated polybutylene terephthalate resin for injection molding.
Polymer Name:
Polybutylene Terephthalate (PBT)

,
Thermoplastic Polyester
Processing Methods:
Injection Molding

,
Extrusion
Fillers Included:
Glass Fiber
Flexural Modulus:
9000.0 MPa
Price
Available upon quote
Minimum Order Quantity
Quote required
Available Incoterms
Quote required
Regional Availability
Quote required
Crastin® SK605 BK851
DuPont
Similar Products from DuPont
NEW
Knowde Enhanced TDS
Identification & Functionality
Plastics & Elastomers Functions
Crastin® SK605 BK851

Features & Benefits
Industry Needs
DuPont™ Crastin® is a stiff, tough PBT thermoplastic with superior electrical insulating properties. Crastin® PBT is the resin of choice for cost-effective, high-performing automotive radar systems.
Low dielectric properties for radar transparency.
Material and design solutions for radar absorbency.
Excellent dimensional stability and low warpage.
Excellent balance of mechanical properties.
Resistance to exterior environments, including road salt, automotive fluids, thermal cycling, and hydrolysis resistance.
Improved laser-marking properties.
Back Housing and Connector
Higher thermal conductivity for heat dissipation
EMI shielding (depending on requirements)
Improved toughness
Superior hydrolysis resistance for hot and humid environments
Improved thermal-shock-cycling resistance
Available laser transparent and improved laser marking
Low warpage for higher dimensional control
Standard grade with good mechanical properties
Mounting Brackets Sensor Support
Excellent combination of toughness and stiffness.
Good chemical resistance.
Extensive material data available for anisotropic analysis.
Improved laser marking solutions available.
Radome
Improved radio transparency with low Dk and low Df
Excellent dimensional stability
Improved toughness
Superior hydrolysis resistance for hot and humid environments
Available laser transparent and with improved laser marking
Low warpage for higher dimensional control
Standard grade with good mechanical properties
Plastics & Elastomers Processing Methods
Mechanical Properties
| | | | |
| --- | --- | --- | --- |
| | Value | Units | Test Method / Conditions |
| Tensile Modulus | 10000 | MPa | ISO 527 |
| Stress at Break | 140 | MPa | ISO 527-1/-2 |
| Strain at Break | 2.7 | % | ISO 527-1,2 |
| Flexural Modulus | 9000 | MPa | ASTM D790 |
| Flexural Strength | 200 | MPa | ASTM D 790 |
| Charpy Impact Strength (23°C) | 65 | kJ/m2 | ISO 179/1eU |
| Charpy Notched Impact Strength (23°C) | 10 | kJ/m2 | ISO 179/1eA |
| Izod Notched Impact Strength (23°C) | 9 | kJ/m2 | ISO 180/1A |
| Izod Impact Strength (23°C) | 60 | kJ/m² | ISO 180/1U |
| Izod Impact Strength (-30°C) | 55 | kJ/m² | ISO 180/1U |
| Izod Impact Strength (-40°C) | 55 | kJ/m² | ISO 180/1U |
| Ball Indentation Hardness (H 358/30) | 205 | MPa | ISO 2039-1 |
| Poisson's Ratio | 0.34 | - | ASTM E132 |
Physical Properties
| | | | |
| --- | --- | --- | --- |
| | Value | Units | Test Method / Conditions |
| Melt Volume - Flow Rate | 7 | cm³/10min | ISO 1133 |
| Melt Mass Flow Rate - MFR (250°C/2.16 kg) | 10 | g/10 min | STN EN ISO 1133 |
| Load | 2.16 | kg | ISO 1133 |
| Molding Shrinkage - Parallel | 0.3 | % | ISO 294-4, 2577 |
| Molding Shrinkage - Normal | 1.1 | % | ISO 294-4, 2577 |
| Post Molding Shrinkage - Normal (48 h at 80°C) | 0.2 | % | ISO 294-4 |
| Post Molding Shrinkage - Parallel (48 h at 80°C) | 0.1 | % | ISO 294-4 |
| Temperature | 250 | °C | ISO 1133 |
Thermal Properties
| | | | |
| --- | --- | --- | --- |
| | Value | Units | Test Method / Conditions |
| Melting Temperature (10°C/min) | 225 | °C | ISO 11357-1/-3 |
| Temperature of Deflection Under Load(1.8 MPa) | 205 | °C | ISO 75-1/-2 |
| Specific Heat Capacity of Melt | 1730 | J/(kg K) | - |
| Relative Temperature Index - Electrical (0.75 mm) | 130 | °C | UL 746B |
| Relative Temperature Index - Electrical (1.5 mm) | 130 | °C | UL 746B |
| Relative Temperature Index - Electrical (3 mm) | 130 | °C | UL 746B |
| Relative Temperature Index - Electrical (6 mm) | 130 | °C | UL 746B |
| Relative Temperature Index - Impact (0.75 mm) | 130 | °C | UL 746B |
| Relative Temperature Index - Impact (1.5 mm) | 130 | °C | UL 746B |
| Relative Temperature Index - Impact (3 mm) | 130 | °C | UL 746B |
| Relative Temperature Index - Impact (6 mm) | 130 | °C | UL 746B |
| Relative Temperature Index - Strength (0.75 mm) | 130 | °C | UL 746B |
| Relative Temperature Index - Strength (1.5 mm) | 130 | °C | UL 746B |
| Relative Temperature Index - Strength (3 mm) | 130 | °C | UL 746B |
| Relative Temperature Index - Strength (6 mm) | 130 | °C | UL 746B |
| Thermal Conductivity of Melt | 0.28 | W/(m K) | - |
| Ball Pressure Test | 210 | °C | IEC 60695-10-2 |
Electrical Properties
| | | | |
| --- | --- | --- | --- |
| | Value | Units | Test Method / Conditions |
| Comparative Tracking Index - CTI | 225 | V | IEC 60112 |
Flammability
| | | | |
| --- | --- | --- | --- |
| | Value | Units | Test Method / Conditions |
| Burning Behaviour (1.5 mm, Nominal Thickness) | HB | class | IEC 60695-11-10 |
| Burning Behaviour (Thickness h) | HB | class | IEC 60695-11-10 |
| Oxygen Index | 20 | % | ISO 4589-1/-2 |
| Glow Wire Flammability Index - GWFI (0.75 mm) | 725 | °C | IEC 60695-2-12 |
| Glow Wire Flammability Index - GWFI (1.5 mm) | 725 | °C | IEC 60695-2-12 |
| Glow Wire Flammability Index - GWFI (3 mm) | 750 | °C | IEC 60695-2-12 |
| Glow Wire Ignition Temperature - GWIT (0.75 mm) | 750 | °C | IEC 60695-2-13 |
| Glow Wire Ignition Temperature - GWIT (1.5 mm) | 750 | °C | IEC 60695-2-13 |
| Glow Wire Ignition Temperature (3 mm) | 775 | °C | IEC 60695-2-13 |
| FMVSS Class | B | - | ISO 3795 (FMVSS 302) |
| Burning Rate (1 mm, Thickness) | 54 | mm/min | ISO 3795 (FMVSS 302) |
| Ul Recognition | Yes | - | UL 94 |
| Thickness Tested | 1.5 | mm | IEC 60695-11-10 |
Other Properties
| | | | |
| --- | --- | --- | --- |
| | Value | Units | Test Method / Conditions |
| Humidity Absorption (2 mm) | 0.15 | % | Sim. to ISO 62 |
| Water Absorption (2 mm) | 0.35 | % | Sim. to ISO 62 |
| Density | 1530 | kg/m³ | ISO 1183 |
Processing Information (Injection Molding)
| | | | |
| --- | --- | --- | --- |
| | Value | Units | Test Method / Conditions |
| Drying Recommended | Yes | - | - |
| Drying Temperature | 120 | °C | - |
| Drying Time (Dehumidified Dryer) | 2.0 - 4.0 | h | - |
| Processing Moisture Content | ≤0.04 | % | - |
| Melt Temperature Optimum | 250 | °C | - |
| Min. Melt Temperature | 240 | °C | - |
| Max. Melt Temperature | 260 | °C | - |
| Mold Temperature Optimum | 80 | °C | - |
| Min. Mold Temperature | 30 | °C | - |
| Max. Mold Temperature | 130 | °C | - |
| Hold Pressure Range | ≥60 | MPa | - |
| Hold Pressure Time | 3 | s/mm | - |
| Back Pressure | As low as possible | - | - |
| Ejection Temperature | 170 | °C | - |
VDA Properties
| | | | |
| --- | --- | --- | --- |
| | Value | Units | Test Method / Conditions |
| Emission of Organic Compounds | 110 | µgC/g | VDA 277 |
| Odour | 3 | class | VDA 270 |
| Fogging - F Value (Refraction) | 99 | % | ISO 6452 |
Solutions for Radar Housing and Connector
Dielectric Properties
at 77GHz
Low-Warpage /
Dimensional Stability
Laser Weldable
(Transparent)
Hydrolysis
Resistant
Crastin® SK605
+
++
+++
++
Best: ++++
Chemical Resistance
| | | |
| --- | --- | --- |
| Chemical Type | Chemical Name | Resistance |
| Acids | Acetic Acid (5% by mass) (23°C) | Probably Resistant |
| Acids | Chromic Acid solution (40% by mass) (23°C) | Not Recommended |
| Acids | Citric Acid solution (10% by mass) (23°C) | Probably Resistant |
| Acids | Hydrochloric Acid (36% by mass) (23°C) | Not Recommended |
| Acids | Lactic Acid (10% by mass) (23°C) | Probably Resistant |
| Acids | Nitric Acid (40% by mass) (23°C) | Not Recommended |
| Acids | Sulfuric Acid (38% by mass) (23°C) | Not Recommended |
| Acids | Sulfuric Acid (5% by mass) (23°C) | Not Recommended |
| Alcohols | Ethanol (23°C) | Probably Resistant |
| Alcohols | Isopropyl alcohol (23°C) | Probably Resistant |
| Alcohols | Methanol (23°C) | Probably Resistant |
| Bases | Ammonium Hydroxide solution (10% by mass) (23°C) | Probably Resistant |
| Bases | Sodium Hydroxide solution (1% by mass) (23°C) | Probably Resistant |
| Bases | Sodium Hydroxide solution (35% by mass) (23°C) | Not Recommended |
| Ethers | Diethyl ether (23°C) | Probably Resistant |
| Hydrocarbons | iso-Octane (23°C) | Probably Resistant |
| Hydrocarbons | n-Hexane (23°C) | Probably Resistant |
| Hydrocarbons | Toluene (23°C) | Probably Resistant |
| Ketones | Acetone (23°C) | Probably Resistant |
| Mineral oils | Automatic hypoid-gear oil Shell Donax TX (135°C) | Not Recommended |
| Mineral oils | Hydraulic oil Pentosin CHF 202 (125°C) | Not Recommended |
| Mineral oils | Insulating Oil (23°C) | Probably Resistant |
| Mineral oils | Motor oil OS206 304 Ref.Eng.Oil, ISP (135°C) | Not Recommended |
| Mineral oils | SAE 10W40 multigrade motor oil (130°C) | Not Recommended |
| Mineral oils | SAE 10W40 multigrade motor oil (23°C) | Probably Resistant |
| Mineral oils | SAE 80/90 hypoid-gear oil (130°C) | Not Recommended |
| Other | 1% nonylphenoxy-polyethyleneoxy ethanol in water (23°C) | Probably Resistant |
| Other | 50% Oleic acid + 50% Olive Oil (23°C) | Probably Resistant |
| Other | DOT No. 4 Brake fluid (130°C) | Not Recommended |
| Other | Ethyl Acetate (23°C) | Probably Resistant |
| Other | Ethylene Glycol (50% by mass) in water (108°C) | Not Recommended |
| Other | Hydrogen peroxide (23°C) | Not Recommended |
| Other | Phenol solution (5% by mass) (23°C) | Probably Resistant |
| Other | Water (23°C) | Probably Resistant |
| Other | Water (90°C) | Not Recommended |
| Salt solutions | Sodium Carbonate solution (2% by mass) (23°C) | Probably Resistant |
| Salt solutions | Sodium Carbonate solution (20% by mass) (23°C) | Probably Resistant |
| Salt solutions | Sodium Chloride solution (10% by mass) (23°C) | Probably Resistant |
| Salt solutions | Sodium Hypochlorite solution (10% by mass) (23°C) | Probably Resistant |
| Salt solutions | Zinc Chloride solution (50% by mass) (23°C) | Probably Resistant |
| Standard Fuels | Diesel fuel (pref. ISO 1817 Liquid F) (>90°C) | Not Recommended |
| Standard Fuels | Diesel fuel (pref. ISO 1817 Liquid F) (23°C) | Probably Resistant |
| Standard Fuels | Diesel fuel (pref. ISO 1817 Liquid F) (90°C) | Probably Resistant |
| Standard Fuels | ISO 1817 Liquid 1 - E5 (60°C) | Not Recommended |
| Standard Fuels | ISO 1817 Liquid 2 - M15E4 (60°C) | Not Recommended |
| Standard Fuels | ISO 1817 Liquid 3 - M3E7 (60°C) | Not Recommended |
| Standard Fuels | ISO 1817 Liquid 4 - M15 (60°C) | Not Recommended |
| Standard Fuels | Standard fuel with alcohol (pref. ISO 1817 Liquid 4) (23°C) | Probably Resistant |
| Standard Fuels | Standard fuel without alcohol (pref. ISO 1817 Liquid C) (23°C) | Probably Resistant |
| | | |
Certifications & Compliance
Technical Details & Test Data
Dynamic Tensile Modulus vs Temperature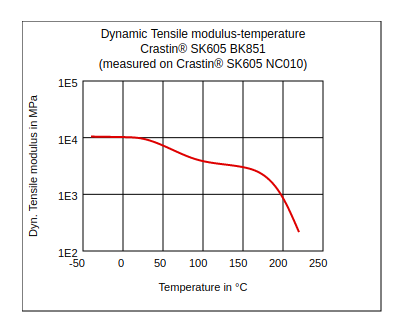 Stress vs Strain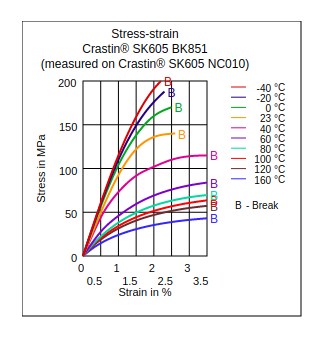 Secant Modulus vs Strain