Delrin® FG500MXD is a metal- and X-ray-detectable medium viscosity acetal homopolymer for injection molding and extrusion. It has been developed for applications in contact with food. Detection limits need to be determined as a function of the detector and other process variables.
Polymer Name:
Polyacetal Homopolymer (POM)
Processing Methods:
Injection Molding

,
Extrusion
Additives Included:
Mold Release Agent
Flexural Modulus:
3400.0 MPa
Price
Available upon quote
Minimum Order Quantity
Quote required
Available Incoterms
Quote required
Regional Availability
View
Knowde Enhanced TDS
Identification & Functionality
Plastics & Elastomers Functions
Delrin® FG500MXD BLA090

Features & Benefits
Processing Notes
Injection Molding
Drying is recommended, but not necessary for newly opened packaging stored in a dry location.
Follow the drying guidelines above in the following cases
If moisture is above the Processing Moisture Content recommendation,
When a resin container is damaged,
When the material is not properly stored in a dry place at room temperature, or
When packaging stays open for a significant time.
Mechanical Properties
| | | | |
| --- | --- | --- | --- |
| | Value | Units | Test Method / Conditions |
| Hardness, Rockwell | 90 | Scale M | ISO 2039-2 |
| Hardness, Rockwell | 120 | Scale R | ISO 2039-2 |
| Charpy Notched Impact Strength (23°C) | 4.0 | kJ/m² | ISO 179/1eA |
| Tensile Modulus | 3600.0 | MPa | ISO 527-1/-2 |
| Yield Stress | 64.0 | MPa | ISO 527-1/-2 |
| Yield Strain | 11.0 | % | ISO 527-1/-2 |
| Stress at Break | 64.0 | MPa | ISO 527-1/-2 |
| Strain at Break | 14.0 | % | ISO 527-1/-2 |
| Flexural Modulus | 3400.0 | MPa | ISO 178 |
| Flexural Stress at 3.5% | 84.0 | MPa | ISO 178 |
| Charpy Impact Strength (23°C) | 70.0 | kJ/m² | ISO 179/1eU |
| Charpy Impact Strength (-30°C) | 70.0 | kJ/m² | ISO 179/1eU |
| Charpy Notched Impact Strength (-30°C) | 3.5 | kJ/m² | ISO 179/1eA |
| Poisson's Ratio | 0.36 | - | - |
Physical Properties
| | | | |
| --- | --- | --- | --- |
| | Value | Units | Test Method / Conditions |
| Moulding Shrinkage - Normal | 1.6 | % | ISO 294-4, 2577 |
| Moulding Shrinkage - Parallel | 1.8 | % | ISO 294-4, 2577 |
| Melt Volume-Flow Rate - MVFR (190°C/2.16 kg) | 10.0 | cm³/10min | ISO 1133 |
| Melt Mass-Flow Rate - MFR (190°C/2.16 kg) | 14.0 | g/10min | ISO 1133 |
Thermal Properties
| | | | |
| --- | --- | --- | --- |
| | Value | Units | Test Method / Conditions |
| Melting Temperature (10°C/Min) | 178.0 | °C | ISO 11357-1/-3 |
| Temperature of Deflection Under Load (0.45 Mpa) | 163.0 | °C | ISO 75-1/-2 |
| Temperature of Deflection Under Load (1.8 Mpa) | 105.0 | °C | ISO 75-1/-2 |
Other Properties
| | | | |
| --- | --- | --- | --- |
| | Value | Units | Test Method / Conditions |
| Density | 1610.0 | kg/m³ | ISO 1183 |
| Density of Melt | 1350.0 | kg/m³ | - |
Processing Information (Extrusion)
| | | | |
| --- | --- | --- | --- |
| | Value | Units | Test Method / Conditions |
| Melt Temperature Range | 195 - 205 | °C | - |
| Drying Temperature | 75 - 85 | °C | - |
| Drying Time (Dehumidified Dryer) | 2 .0 - 4 | h | - |
| Processing Moisture Content | ≤ 0.2 | % | - |
| Melt Temperature Optimum | 200.0 | °C | - |
Processing Information (Injection Molding)
| | | | |
| --- | --- | --- | --- |
| | Value | Units | Test Method / Conditions |
| Hold Pressure Range | 80 - 100 | MPa | - |
| Drying Temperature | 80.0 | °C | - |
| Drying Recommended | Yes | - | - |
| Drying Time (Dehumidified Dryer) | 2 .0 - 4 | h | - |
| Melt Temperature Optimum | 215.0 | °C | - |
| Min. Melt Temperature | 210.0 | °C | - |
| Max. Melt Temperature | 220.0 | °C | - |
| Mold Temperature Optimum | 90.0 | °C | - |
| Min. Mould Temperature | 80.0 | °C | - |
| Max. Mould Temperature | 100.0 | °C | - |
| Annealing Temperature | 160.0 | °C | - |
| Processing Moisture Content | ≤ 0.2 | % | - |
| Hold Pressure Time | 8.0 | s/mm | - |
| Annealing Time - Optional | 301.0 | min/mm | - |
Technical Details & Test Data
Secant Modulus-Strain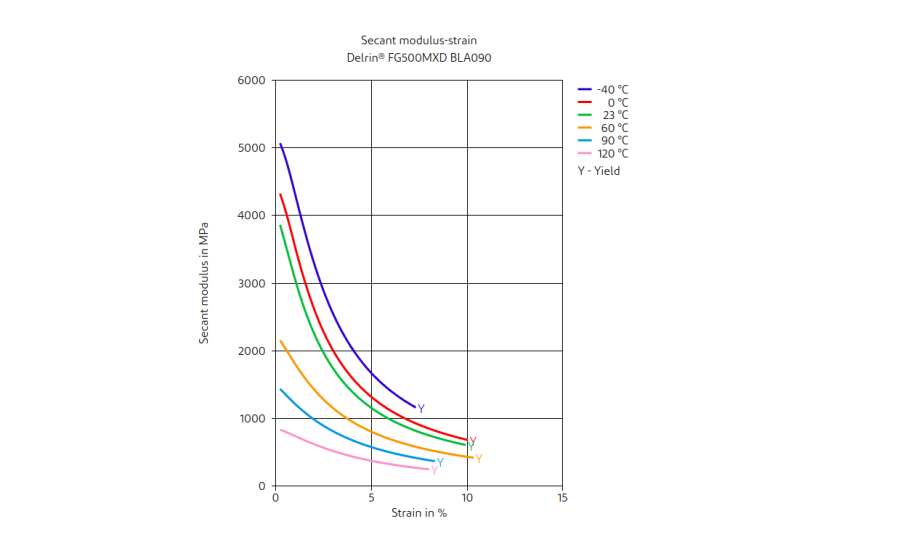 Stress-Strain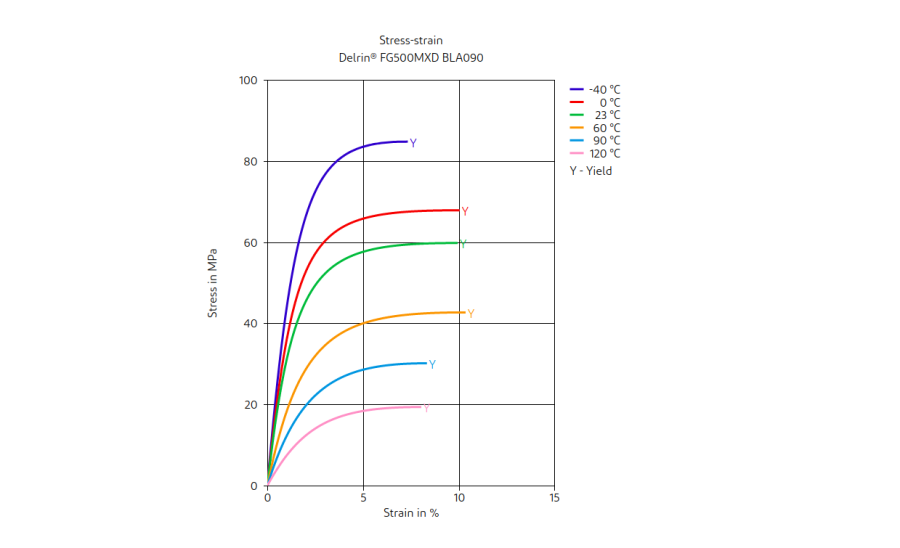 Delrin® FG500MXD BLA090
DuPont