MOLYKOTE® G-1074 Grease is a PAO-based grease for lubricating common metal, plastic and elastomeric substrates. It offers excellent noise-damping properties, even under extreme pressure at high frequency.
Knowde Enhanced TDS
Identification & Functionality
+
Ready to Use Product Type
Base Oil
Polyalphaolefin Oil (PAO)
Composition
Polyalphaolefin
Lithium soap
PTFE, antioxidants
Ready to Use Product Features
Product Highlights
A leading, Europe-based manufacturer of tailormade mechatronic actuator systems for automotive applications selected MOLYKOTE® G-1074 Grease to provide the high-performance lubrication needed on its advanced roll stabilizer for an active suspension system. The system is designed and developed to reduce body tilt during cornering and hard turns, keeping the vehicle more level during such maneuvers to improve handling and safety. The initial application is on selected models of a luxury vehicle brand.
Faster-acting than typical hydraulically actuated roll stabilizers, the advanced electromechanical design incorporates a strain-wave gearbox, specially developed brushless motor and an electronic controller to influence torque coupling and dramatically reduce rolling movements of the vehicle. In evaluating potential lubricants for the stabilizer gearbox application, the manufacturer selected MOLYKOTE® G-1074 Grease for its superior performance compared to an initially qualified lubricant choice.
Customer
A manufacturer of mechatronic actuator systems developed a backlash-free, high-reduction strain-wave gearbox for an active stabilizer suspension system being used on select models of a luxuryclass vehicle brand. The company is a subsidiary of a world market leader in precision gears and actuator systems for robotics and for the railway, automotive and aerospace industries.
Challenge
To meet a vehicle OEM customer's performance specifications, the manufacturer of the strain-wave gear technology needed an effective lubricant to outperform current PAO-based grease options. Key lubrication criteria included noise-damping capabilities, good lubricity with high-pressure sliding friction, good low-temperature performance, suitable grease mobility, and compatibility with gearbox elastomer seals.
Solution
The manufacturer collaborated with MOLYKOTE® brand application engineering specialists to identify an effective solution to meet the gearbox lubrication needs. Compared with an initial PAO/ester grease for gearbox lubrication, MOLYKOTE® G-1074 Grease delivered superior performance. Potential benefits included less noise, reduced oil separation and oxidation, and good lubricity under extreme pressures across a wide temperature range.
The strain-wave gearing works on elastic dynamics and utilizes the flexibility of metal. It offers excellent positioning accuracy and repeatability, high torque capacity, a wide range of reduction ratios (50:1 to 320:1) in the same package size, zero backlash, lightweight and compact designs, and coaxial input and output shafts.


Excellent noise-damping performance/properties
Fortified with additives to work under extreme pressure at high frequency
Excellent wide temperature performance
Advantages
The performance properties of MOLYKOTE® G-1074 Grease compare favorably with those of the initial lubricant option for the gearbox application.
Potential advantages of MOLYKOTE® G-1074 Grease include:
Better noise-reduction capabilities
Reduced friction under extreme pressure at high frequency
Less oil separation
Better oxidation stability
Good lubricity over a wide service-temperature range
Excellent compatibility with H-NBR sealing elastomers
Based on gearbox lubrication performance in the vehicle active suspension system, the manufacturer expects to qualify MOLYKOTE® G-1074 Grease for use in other actuator applications for robotics, farm machinery, autonomous vehicles, industrial control technologies and more. Based on industry interest, mechatronic roll stabilizer applications have sizable growth potential across multiple vehicle platforms.
Use Recommendations
With excellent noise-damping properties, high performance under extreme pressure at high frequency, and a wide service-temperature range, MOLYKOTE® G-1074 Grease offers significant performance advantages for use in other applications.
Effective on most common metals, plastics and elastomers, this PAO-based grease is an excellent lubricant for bearings, gears, slides and other applications requiring low friction under heavy loads. It provides an effective solution for noise, vibration and harshness (NVH) control in automotive applications involving chassis and brake systems, as well as selected exterior or interior components.
Automotive systems, such as chassis and brake, exterior, and interior. Ideal for bearings, gears, slides and mechanical applications requiring low friction and compatibility with common metals, plastics and/or elastomers.
How to Use
Clean points of application. As is usual with lubricating greases, apply or fill by means of a brush, spatula or automated lubrication device.
Typical Properties
| | | | |
| --- | --- | --- | --- |
| | Value | Units | Test Method / Conditions |
| Temperature Range | -190 | °C | - |
| Base Oil Viscosity (40°C) | 53 | mm2/s | JIS K 2283 |
| Base Oil Viscosity (100°C) | 8.5 | mm2/s | - |
| Bleed (24 h, 100°C) | 3.6 | % | JIS K 2220 |
| Evaporation (99°C, 22 h) | 0.1 | % | JIS K 2220 |
| Water Washout Test (38°C, 1 hr) | 1.98 | % | JIS K 2220 |
| Four Balll Test - Wear Scar (1,200 rpm, 392N, 1 hr) | 0.69 | mm | ASTM D2266 |
| SRV - Extreme Pressure (50°C, 50 Hz, 1mm, Procedure A) | 1 | N | ASTM D5706 |
| Low Temperature Torque Test - Starting Torque (-40°C) | 99 | mNm | JIS K 2220 |
| Low Temperature Torque Test - Running Torque (-40°C) | 50 | mNm | JIS K 2220 |
| Density | 0.9 | - | - |
| Dropping Point | 210 | °C | - |
| Penetration | 280 | - | JIS K 2220 |
Technical Details & Test Data
+
Comparative Performance Testing
MOLYKOTE® G-1074 Grease has demonstrated superior capabilities over two different competitive lubricants in comparative performance testing. This technical data shows clear advantages in terms of reduced friction under extreme pressure, less noise generation and a more stable coefficient of friction. These test results provided the design team support for selecting MOLYKOTE® G-1074 Grease as the strain-wave gearbox lubricant.
SRV extreme-pressure test results: ASTM D5706

MOLYKOTE® G-1074 Grease has much greater extreme-pressure value than Competitors A and B.

Noise test results vs. Competitor A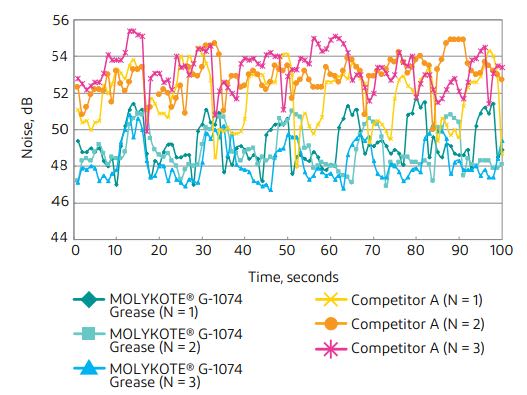 Noise test results vs. Competitor B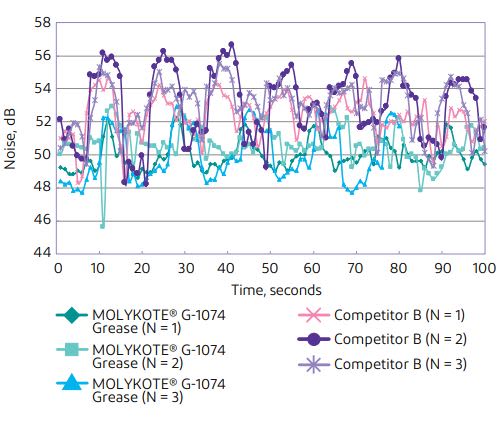 These values indicate that MOLYKOTE® G-1074 Grease will reduce noise by 30% more than Competitor A and will reduce noise by 26% more than Competitor B
SRV coefficient of friction test results: ASTM D5707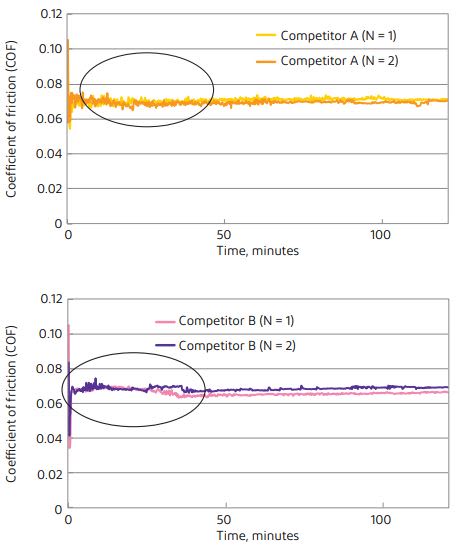 Temperature: 80ËšC
load: 200 N (break in: 50 N, 30 s)
stroke: 1 mm
frequency: 50 Hz
test ball: SUJ-2
test disk: PA66
| | | | |
| --- | --- | --- | --- |
| Property tested, unit | MOLYKOTE® G-1074 Grease | Competitor A | Competitor B |
| COF minimum | 0.063; 0.056 | 0.063; 0.065 | 0.062; 0.065 |
| COF end | 0.069; 0.067 | 0.071; 0.071 | 0.069; 0.066 |
| Wear scar - ball, mm | 0; 0 | 0; 0 | 0; 0 |
| Depth of wear scar - disk, μm | 42; 42 | 62; 60 | 54; 55 |
Compared to Competitor A, MOLYKOTE® G-1074 Grease shifted smoothly, while Competitor A had strong fluctuation until 20 minutes. Compared to Competitor B, MOLYKOTE® G-1074 Grease shifted stably and smoothly, while Competitor B had large fluctuation until 20 minutes and COF slightly dropped in 30 minutes
Lubrication Solutions
Faced with potential performance issues with its initial gearbox lubricant choice, the actuator system manufacturer requested help. Trust in the MOLYKOTE® brand - our specialty lubrication expertise, problem-solving capabilities and broad technical support opened an opportunity to evaluate an application-matched noise-damping grease.
MOLYKOTE® G-1074 Grease was identified as a potential solution to meet customer requirements for effective lubrication of the strainwave gearbox used in the active roll stabilizer suspension system. This high-performance lubricant is formulated to provide excellent lubricity under extreme pressure, low noise, materials compatibility with most materials, and good flow characteristics across a wide servicetemperature range. It consists of a polyalphaolefin (PAO) base oil, thickened with lithium soap and fortified with Polytetrafluoroethylene (PTFE) and antioxidant additives.
Packaging & Availability
+
Packaging Information
This product is available in 1 kg cans (10 cans/case) and 16 kg pails.
Storage and Handling
When stored unopened in a cool, dark place, MOLYKOTE® G-1074 Grease has a usable life of 36 months from the date of production.
Most Viewed Documents
Type
Products
Document Name
Learn More
MOLYKOTE® 1000 Paste, MOLYKOTE® 106 Anti Friction Coating, MOLYKOTE® 111 Compound, MOLYKOTE® 112 High Performance Lube/Sealant, MOLYKOTE® 1122 Chain and Open Gear Grease, MOLYKOTE® 165 LT Grease, MOLYKOTE® 3099 HVIC (High Voltage Insulator Coating) Compound, MOLYKOTE® 316 Silicone Release Spray, MOLYKOTE® 33 Extreme Low Temp. Bearing Grease, Light, MOLYKOTE® 33 Medium Extreme Low Temperature Grease, MOLYKOTE® 33M Grease, MOLYKOTE® 3400A AERO Anti-Friction Coating, MOLYKOTE® 3400A Anti-Friction Coating LF, MOLYKOTE® 3402-C LF Anti-Friction Coating, MOLYKOTE® 3451 Chemical Resistant Bearing Grease, MOLYKOTE® 3452 Chemical Resistant Valve Grease, MOLYKOTE® 4 Electrical Insulating Compound, MOLYKOTE® 41 Extreme High Temp. Bearing Grease, MOLYKOTE® 41 Grease, MOLYKOTE® 44 Light High Temperature Grease, MOLYKOTE® 44 Medium High Temperature Grease, MOLYKOTE® 44-L Grease, MOLYKOTE® 44-M Grease, MOLYKOTE® 44MA Grease, MOLYKOTE® 5 Compound, MOLYKOTE® 55 O-Ring Lubricant, MOLYKOTE® 557 Silicone Dry Film Lubricant, MOLYKOTE® 6173 Grease, MOLYKOTE® 7325 Grease, MOLYKOTE® 7365 Lubolid (EXP) Additive Powder, MOLYKOTE® 7400 Anti-Friction Coating, MOLYKOTE® 7415 Thinner, MOLYKOTE® 7514 Grease, MOLYKOTE® 822M Grease, MOLYKOTE® AG-626 Grease, MOLYKOTE® AG-626 Grease (USA), MOLYKOTE® AG-633 Grease, MOLYKOTE® AI-6159 Grease, MOLYKOTE® AS-880N Grease, MOLYKOTE® BG-20 Synthetic Bearing Grease, MOLYKOTE® BG-555 Low Noise Grease, MOLYKOTE® BR1 S Grease, MOLYKOTE® BR-2 Plus High Performance Grease, MOLYKOTE® C-40 High Temperature Chain Lubricant, MOLYKOTE® CU-7439 Lubricant, MOLYKOTE® Cu-7439 Plus High Temperature Copper Paste, MOLYKOTE® D Paste, MOLYKOTE® D-10-Gbl Anti-Friction Coating, MOLYKOTE® D-321 R Anti-Friction Coating, MOLYKOTE® D-55 Lubolid Additive Powder, MOLYKOTE® D-6927 Anti-Friction Coating, MOLYKOTE® D-7405 Anti-Friction Coating, MOLYKOTE® D-7409 Anti-Friction Coating, MOLYKOTE® D-7620 Anti-Friction Coating, MOLYKOTE® D-78 Lubolid Additive Powder, MOLYKOTE® DX Paste, MOLYKOTE® E Paste, MOLYKOTE® EM-30L Grease, MOLYKOTE® EM-30LP Grease, MOLYKOTE® EM-50L Grease, MOLYKOTE® EM-50LP Grease, MOLYKOTE® EM-60L Grease, MOLYKOTE® EM-D110 Grease, MOLYKOTE® FM1 Grease, MOLYKOTE® Food Machinery Spray Oil, MOLYKOTE® G-0051 FM White EP Bearing Grease, MOLYKOTE® G-0102 Bearing Grease, MOLYKOTE® G-0102 Grease, MOLYKOTE® G-1023 Grease, MOLYKOTE® G-1057 Grease, MOLYKOTE® G-1060 Grease, MOLYKOTE® G-1067 Grease, MOLYKOTE® G-2001 Grease, MOLYKOTE® G-3000 Synthetic Grease, MOLYKOTE® G-3407 Caliper Pin Grease, MOLYKOTE® G-3500 Grease, MOLYKOTE® G-407 Anti-Fretting Grease, MOLYKOTE® G-4500 FM Multi-Purpose Synthetic Grease, MOLYKOTE® G-4501 FM Multi-Purpose Synthetic Grease, MOLYKOTE® G-4700 Extreme Pressure Synthetic Grease, MOLYKOTE® G-5008 Dielectric Grease, MOLYKOTE® G-5025 Grease, MOLYKOTE® G-5111 Compound, MOLYKOTE® G-5511 Water Tap Compound, MOLYKOTE® G-68 Grease for Lubrication of Plastic, MOLYKOTE® G-804 Silicone Compound, MOLYKOTE® G-807 Low Friction Silicone Compound, MOLYKOTE® G-9000 Grease, MOLYKOTE® G-N Metal Assembly Paste, MOLYKOTE® G-N Metal Assembly Paste Aerosol, MOLYKOTE® G-N Plus Paste, MOLYKOTE® G-Rapid Spray, MOLYKOTE® High Vacuum Grease, MOLYKOTE® HP-300 Grease, MOLYKOTE® HP-500 Grease, MOLYKOTE® HP-670 Grease, MOLYKOTE® HP-870 Grease, MOLYKOTE® HSC Plus Paste, MOLYKOTE® HTP Paste, MOLYKOTE® L-0115 FM Gear Oil ISO 150, MOLYKOTE® L-0115 Gear Oil - ISO 150, MOLYKOTE® L-0122 FM Gear Oil ISO 220, MOLYKOTE® L-0122 ISO VG 220 Gear Oil, MOLYKOTE® L-0146 FM Gear Oil ISO 460, MOLYKOTE® L-0146 ISO VG 460 Gear Oil, MOLYKOTE® L-0268 Process Gas Oil, MOLYKOTE® L-0346 Hydraulic Oil, MOLYKOTE® L-0368 FM Hydraulic Oil, MOLYKOTE® L-0460 FM Chain Oil, MOLYKOTE® L-0501 High Performance Penetrating Lubricant, MOLYKOTE® L-0510 FM Multi-Purpose Oil, MOLYKOTE® L-0532FM Multi-Purpose Light Oil, MOLYKOTE® L-0568 Multi-Purpose Oil, MOLYKOTE® L-0610 Vacuum Pump Oil, MOLYKOTE® L-0660 Ammonia Refrigerant Compressor Oil, MOLYKOTE® L-0668 Ammonia Refrigerant Compressor Oil, MOLYKOTE® L-1115 FM Synthetic Gear Oil ISO 150, MOLYKOTE® L-1122 FM Synthetic Gear Oil ISO 220, MOLYKOTE® L-1122 Synthetic Gear Oil - ISO 220, MOLYKOTE® L-1132 FM Synthetic Gear Oil ISO 320, MOLYKOTE® L-1132 Synthetic Gear Oil - ISO 320, MOLYKOTE® L-1146 Synthetic Gear Oil - ISO 460, MOLYKOTE® L-1168 Synthetic Gear Lubricant, MOLYKOTE® L-1210 Synthetic Compressor And Vacuum Pump Oil, MOLYKOTE® L-1232 FM Synthetic Compressor Oil, MOLYKOTE® L-1232 Synthetic Compressor Oil, MOLYKOTE® L-1246 FM Synthetic Compressor Oil, MOLYKOTE® L-1246 Synthetic Compressor Oil, MOLYKOTE® L-13 Thinner, MOLYKOTE® L-1332 FM Synthetic Hydraulic & Gear Oil, MOLYKOTE® L-1346 FM Synthetic Blend Hydraulic Oil, MOLYKOTE® L-1368 FM Synthetic Blend Hydraulic Oil, MOLYKOTE® L-1428 High Temperature Chain Oil, MOLYKOTE® L-1468 FM Synthetic Freezer Chain Oil, MOLYKOTE® L-1510 Process Gas Oil, MOLYKOTE® L-1568 Process Gas Oil, MOLYKOTE® L-1605 FM Synthetic Barrier Fluid, MOLYKOTE® L-1668 FM Synthetic Blend Vacuum Pump Oil, MOLYKOTE® L-2110 Synthetic Gear Oil, MOLYKOTE® L-2115 Synthetic Gear Oil, MOLYKOTE® L-2122 Synthetic Gear Oil, MOLYKOTE® L-2132 Synthetic Gear Oil, MOLYKOTE® L-2146 Synthetic Gear Oil, MOLYKOTE® L-2168 Synthetic Gear Oil, MOLYKOTE® L-3232 Synthetic Compressor Oil, MOLYKOTE® L-3246 Synthetic Compressor Oil, MOLYKOTE® L-4610 Synthetic Blend Piston Compressor Oil, MOLYKOTE® L-4611 Synthetic Compressor Oil, MOLYKOTE® L-4640 SYN FLUSH FLD, MOLYKOTE® L-4646 High Temperature Synthetic Compressor Oil, MOLYKOTE® L-8030 Lubricant, MOLYKOTE® Longterm 00 Semi-Fluid Gearbox Grease, MOLYKOTE® Longterm 1 Plus Extreme Pressure Bearing Grease, MOLYKOTE® Longterm 2 Plus Extreme Pressure Bearing Grease, MOLYKOTE® Longterm 2/78 G, MOLYKOTE® M Gear Oil Additive, MOLYKOTE® M-77 Paste, MOLYKOTE® MI-60 Grease, MOLYKOTE® Microsize Powder, MOLYKOTE® MKL-N Chain Grease With Solid Lubricant, MOLYKOTE® Multilub High Performance Grease, MOLYKOTE® P-1500 Anti-Fretting Paste, MOLYKOTE® P-1500 Paste, MOLYKOTE® P-1900 FM Anti-Seize Paste, MOLYKOTE® P-37 Antiseize Paste, MOLYKOTE® P-37 Thread Paste, MOLYKOTE® P-40 Paste, MOLYKOTE® P-74 Paste, MOLYKOTE® PA-744 Anti-Friction Coating, MOLYKOTE® PG 54 Plastislip Grease, MOLYKOTE® PG-65 Plastislip Grease, MOLYKOTE® PG-75 Plastislip Grease, MOLYKOTE® SH 44 MA Grease, MOLYKOTE® SH 44 MT Grease, MOLYKOTE® Silicone Brake Fluid, MOLYKOTE® SK-623 Grease, MOLYKOTE® TP-42 Paste, MOLYKOTE® U Paste, MOLYKOTE® U-N Paste, MOLYKOTE® YM-102 Grease, MOLYKOTE® YM-103 Grease, MOLYKOTE® Z Powder, MOLYKOTE® 33L Grease, MOLYKOTE® D-3484 Anti-Friction Coating, MOLYKOTE® 7 Release Compound, MOLYKOTE® 7508 Valve Grease, MOLYKOTE® D-708 Anti-Friction Coating, MOLYKOTE® G-Rapid Plus Paste, MOLYKOTE® D-79 Lubolid Additive Powder, MOLYKOTE® Metal Protector Plus, MOLYKOTE® Polygliss-N Adhesive Transparent Lubricant, MOLYKOTE® G-0052 FM White EP Bearing Grease, MOLYKOTE® L-0322 Hydraulic Oil, MOLYKOTE® G-1056 Grease, MOLYKOTE® G-1074 Grease, MOLYKOTE® G-0050 FM White EP Bearing Grease, MOLYKOTE® G-3000, MOLYKOTE® 7375 Lubolid Additive Powder, MOLYKOTE® D-96 Anti-Friction Coating, MOLYKOTE® D-96 UV Anti-Friction Coating, MOLYKOTE® L-1115 Synthetic Gear Oil - ISO 150, MOLYKOTE® L-1146 FM Synthetic Extreme Temp Gear Oil ISO 460, MOLYKOTE® L-1268 Synthetic Compressor Oil, MOLYKOTE® G-1502 FM Synthetic Bearing & Gear Grease, MOLYKOTE® D-709 Anti-Friction Coating, MOLYKOTE® 1 PLUS (IN) GREASE, MOLYKOTE® 1000 Spray, MOLYKOTE® 1000 Thread Lubricant, MOLYKOTE® 1000 Thread Paste Spray, MOLYKOTE® 1102 Gas Cock Grease, MOLYKOTE® 1122 Chain and Open Gear Grease (Aerosol), MOLYKOTE® 1122 Chain Grease Spray, MOLYKOTE® 316 Silicone Release Fluid, MOLYKOTE® 33 Light Extreme Low Temperature Grease, MOLYKOTE® 3451 Grease, MOLYKOTE® 3452 Chemical Resistant Valve Lubricant, MOLYKOTE® 3452 Grease, MOLYKOTE® 41 Extreme High Temperature Grease, MOLYKOTE® 55 M Grease, MOLYKOTE® 557 Lubricant, MOLYKOTE® 557 Silicone Dry Film Lubricant Spray, MOLYKOTE® 6031A Anti-Friction Coating, MOLYKOTE® 6050 Anti-Friction Coating, MOLYKOTE® 6157 Grease, MOLYKOTE® 6166 Grease, MOLYKOTE® 6169 Grease, MOLYKOTE® 7325(W) Grease, MOLYKOTE® 7348 Grease, MOLYKOTE® 7508 Valve Grease (J), MOLYKOTE® 908 Paste, MOLYKOTE® 912 Lubricant, MOLYKOTE® A Solid Lubricant Dispersion, MOLYKOTE® AG-650 Grease, MOLYKOTE® AS-810 Grease, MOLYKOTE® AS-812 Grease, MOLYKOTE® AS-828 Grease, MOLYKOTE® BR-2 Plus Grease, MOLYKOTE® BY 28-026 Grease, MOLYKOTE® BY 28-034 L Grease, MOLYKOTE® CO-220 Oil Multi-Purpose Chain Oil, MOLYKOTE® CU-7439 Paste, MOLYKOTE® CU-7439 Plus Paste, MOLYKOTE® CU-7439 Plus Paste Spray, MOLYKOTE® D Paste Spray, MOLYKOTE® D-21 Anti-Friction Coating, MOLYKOTE® D-29 Lubolid Additive Powder, MOLYKOTE® D-3051 Lubolid Additive Powder, MOLYKOTE® D-3500 Lubolid, MOLYKOTE® D-42 Lubolid Additive Powder, MOLYKOTE® D-43 Lubolid Additive Powder, MOLYKOTE® D-51 Lubolid Additive Powder, MOLYKOTE® D-5321 R Spray, MOLYKOTE® D-6023-GBL Anti-Friction Coating, MOLYKOTE® D-6024 Anti-Friction Coating, MOLYKOTE® D-6500 Protective Coating, MOLYKOTE® D-6565 Anti-Friction Coating, MOLYKOTE® D-88-GBL Anti-Friction Coating, MOLYKOTE® D-9630 Anti-Friction Coating, MOLYKOTE® DR-07 Grease, MOLYKOTE® EM-10L Grease, MOLYKOTE® EM-40M Grease, MOLYKOTE® EM-70L Grease, MOLYKOTE® EP Grease, MOLYKOTE® FS-841 Grease, MOLYKOTE® G Paste, MOLYKOTE® G-1006Y Grease, MOLYKOTE® G-1007 Grease, MOLYKOTE® G-1011 Grease, MOLYKOTE® G-1015 Grease, MOLYKOTE® G-1017 Grease, MOLYKOTE® G-1020 Grease, MOLYKOTE® G-1021 Synthetic Automotive Grease, MOLYKOTE® G-1031 Grease, MOLYKOTE® G-1035 Grease, MOLYKOTE® G-1039 Grease, MOLYKOTE® G-1051 Grease, MOLYKOTE® G-1054 Grease, MOLYKOTE® G-1058 Grease, MOLYKOTE® G-1066Y Grease, MOLYKOTE® G-1071 Grease, MOLYKOTE® G-1076 Grease, MOLYKOTE® G-1077 Grease, MOLYKOTE® G-1080 Grease, MOLYKOTE® G-1090 Grease, MOLYKOTE® G-1123 Grease, MOLYKOTE® G-2001 Bearing Grease, MOLYKOTE® G-2003 Grease, MOLYKOTE® G-2008 Synthetic Tool Gear Grease, MOLYKOTE® G-2088 Synthetic High Speed Gear Grease, MOLYKOTE® G-4500 Multi-Purpose Synthetic Grease Spray, MOLYKOTE® G-4700 Grease, MOLYKOTE® G-4700 Synthetic Bearing Grease, MOLYKOTE® G-5016 Grease, MOLYKOTE® G-5021 Grease, MOLYKOTE® G-5029 Grease, MOLYKOTE® G-5042 Silicone Automotive Service Grease, MOLYKOTE® G-5050 Grease, MOLYKOTE® G-56 Grease, MOLYKOTE® G-6000 Grease, MOLYKOTE® G-67 Grease, MOLYKOTE® G-8005 Grease, MOLYKOTE® G-8007 Grease, MOLYKOTE® G-8010 Grease, MOLYKOTE® G-8018 Grease, MOLYKOTE® G-8025 Grease, MOLYKOTE® G-8036 Grease, MOLYKOTE® G-8039 Grease, MOLYKOTE® G-8072 Grease, MOLYKOTE® G-8080 Grease, MOLYKOTE® G-9001 Grease, MOLYKOTE® G-9106 Grease, MOLYKOTE® Gas Cock Grease GC-SS(171606), MOLYKOTE® G-N Paste, MOLYKOTE® G-Rapid Plus Paste Spray, MOLYKOTE® HD-984 Powder, MOLYKOTE® HF-20 Oil, MOLYKOTE® HF-30 Oil, MOLYKOTE® HP Solvent, MOLYKOTE® HP-200 Grease, MOLYKOTE® HP-300 Spray, MOLYKOTE® HP-500 Spray, MOLYKOTE® HP-630 Grease, MOLYKOTE® HP-800 Grease, MOLYKOTE® HSC Plus Paste Spray, MOLYKOTE® HTF Solid Lubricant Dispersion, MOLYKOTE® L 13 Anti-Friction Coating Thinner, MOLYKOTE® L-0115 ISO VG 150 Gear Oil, MOLYKOTE® L-0346 FM Hydraulic Oil, MOLYKOTE® L-0500 Protective Zinc Coating Spray, MOLYKOTE® L-1115 ISO 150 VG Synthetic Gear Oil, MOLYKOTE® L-1368 Full Synthetic Hydraulic Oil, MOLYKOTE® L-8000 Lubricant, MOLYKOTE® L-8001 Lubricant, MOLYKOTE® L-8011 Lubricant, MOLYKOTE® L-8013 Lubricant, MOLYKOTE® L-8033 Lubricant, MOLYKOTE® Longterm 2/78 (USA) Grease, MOLYKOTE® Longterm 2/78 Grease, MOLYKOTE® Longterm W2 Multi-Purpose Grease, MOLYKOTE® M Dispersion, MOLYKOTE® M-30 Dispersion, MOLYKOTE® M-30 Solid Lubricant Dispersion, MOLYKOTE® M-55 Dispersion, MOLYKOTE® M-77 Assembly Paste, MOLYKOTE® M-8800 Anti-Friction Coating, MOLYKOTE® M-8800 Anti-Friction Coating Spray, MOLYKOTE® Metal Protector Plus Coating Spray, MOLYKOTE® Metalform, MOLYKOTE® MH-62 (USA) Grease, MOLYKOTE® MH-62 Grease, MOLYKOTE® MI-60 Grease, MOLYKOTE® Multigliss, MOLYKOTE® Omnigliss, MOLYKOTE® Omnigliss Extreme Pressure Oil, Spray, MOLYKOTE® P-1600 Paste, MOLYKOTE® P-40 Assembly Paste, MOLYKOTE® P-74 Assembly Paste, MOLYKOTE® PA-722 Anti-Friction Coating, MOLYKOTE® PD-920 Lubricant, MOLYKOTE® PD-930 Lubricant, MOLYKOTE® PD-933C Lubricant, MOLYKOTE® PG-21 Plastislip Grease, MOLYKOTE® PG-641 Grease, MOLYKOTE® PG-661(W) Grease, MOLYKOTE® PG-662Y Grease, MOLYKOTE® PG-663 Grease, MOLYKOTE® PG-663-UV Blue, MOLYKOTE® Polygliss-N Adhesive Transparent Lubricant, Spray, MOLYKOTE® POLYUREA 3(IN) GREASE, MOLYKOTE® Powder Spray Coating Spray, MOLYKOTE® PTFE-N UV Anti Friction Coating Spray, MOLYKOTE® PTFE-N UV Anti-Friction Coating, MOLYKOTE® Q5-0180 Oil, MOLYKOTE® Q5-7514 Grease, MOLYKOTE® S-1010 Anti-Spatter Spray, MOLYKOTE® S-1011 Open Gear Spray, MOLYKOTE® S-1013 Cutting Fluid Spray, MOLYKOTE® S-1501 High Temperature Synthetic Chain Oil, MOLYKOTE® S-1503 High Temperature Medium Viscosity Chain Oil, MOLYKOTE® Separator Silicone Spray, MOLYKOTE® SH 33 F Grease, MOLYKOTE® SH 33 L Grease, MOLYKOTE® SH 33 M Grease, MOLYKOTE® SH 4 Compound, MOLYKOTE® SH 41 Grease, MOLYKOTE® SH 44 F Grease, MOLYKOTE® SH 44 L Grease, MOLYKOTE® SH 44 M Grease, MOLYKOTE® SH 45 Grease, MOLYKOTE® SK-623 (USA) Grease, MOLYKOTE® Supergliss, MOLYKOTE® W 15 Solid Lubricant Dispersion, MOLYKOTE® X Grease Paste, MOLYKOTE® X5-6020 Grease, MOLYKOTE® G-72 Grease, MOLYKOTE® 1000 Thread Paste, MOLYKOTE® G-0010 Grease, MOLYKOTE® G-5032 Grease, MOLYKOTE® Supergliss Water Displacement Type Water Proofing Agent, MOLYKOTE® G-1068 Grease, MOLYKOTE® 55 Grease, MOLYKOTE® PD-910C Lubricant, MOLYKOTE® PD-910 Lubricant, MOLYKOTE® PG-671 Grease, MOLYKOTE® G-0109 Grease, MOLYKOTE® FB-180 Grease, MOLYKOTE® G-4500 FM Multi-Purpose Synthetic Grease Spray
This is MOLYKOTE® Specialty lubricants
Products:
MOLYKOTE® 1000 Paste, MOLYKOTE® 106 Anti Friction Coating, MOLYKOTE® 111 Compound, MOLYKOTE® 112 High Performance Lube/Sealant, MOLYKOTE® 1122 Chain and Open Gear Grease, MOLYKOTE® 165 LT Grease, MOLYKOTE® 3099 HVIC (High Voltage Insulator Coating) Compound, MOLYKOTE® 316 Silicone Release Spray, MOLYKOTE® 33 Extreme Low Temp. Bearing Grease, Light, MOLYKOTE® 33 Medium Extreme Low Temperature Grease, MOLYKOTE® 33M Grease, MOLYKOTE® 3400A AERO Anti-Friction Coating, MOLYKOTE® 3400A Anti-Friction Coating LF, MOLYKOTE® 3402-C LF Anti-Friction Coating, MOLYKOTE® 3451 Chemical Resistant Bearing Grease, MOLYKOTE® 3452 Chemical Resistant Valve Grease, MOLYKOTE® 4 Electrical Insulating Compound, MOLYKOTE® 41 Extreme High Temp. Bearing Grease, MOLYKOTE® 41 Grease, MOLYKOTE® 44 Light High Temperature Grease, MOLYKOTE® 44 Medium High Temperature Grease, MOLYKOTE® 44-L Grease, MOLYKOTE® 44-M Grease, MOLYKOTE® 44MA Grease, MOLYKOTE® 5 Compound, MOLYKOTE® 55 O-Ring Lubricant, MOLYKOTE® 557 Silicone Dry Film Lubricant, MOLYKOTE® 6173 Grease, MOLYKOTE® 7325 Grease, MOLYKOTE® 7365 Lubolid (EXP) Additive Powder, MOLYKOTE® 7400 Anti-Friction Coating, MOLYKOTE® 7415 Thinner, MOLYKOTE® 7514 Grease, MOLYKOTE® 822M Grease, MOLYKOTE® AG-626 Grease, MOLYKOTE® AG-626 Grease (USA), MOLYKOTE® AG-633 Grease, MOLYKOTE® AI-6159 Grease, MOLYKOTE® AS-880N Grease, MOLYKOTE® BG-20 Synthetic Bearing Grease, MOLYKOTE® BG-555 Low Noise Grease, MOLYKOTE® BR1 S Grease, MOLYKOTE® BR-2 Plus High Performance Grease, MOLYKOTE® C-40 High Temperature Chain Lubricant, MOLYKOTE® CU-7439 Lubricant, MOLYKOTE® Cu-7439 Plus High Temperature Copper Paste, MOLYKOTE® D Paste, MOLYKOTE® D-10-Gbl Anti-Friction Coating, MOLYKOTE® D-321 R Anti-Friction Coating, MOLYKOTE® D-55 Lubolid Additive Powder, MOLYKOTE® D-6927 Anti-Friction Coating, MOLYKOTE® D-7405 Anti-Friction Coating, MOLYKOTE® D-7409 Anti-Friction Coating, MOLYKOTE® D-7620 Anti-Friction Coating, MOLYKOTE® D-78 Lubolid Additive Powder, MOLYKOTE® DX Paste, MOLYKOTE® E Paste, MOLYKOTE® EM-30L Grease, MOLYKOTE® EM-30LP Grease, MOLYKOTE® EM-50L Grease, MOLYKOTE® EM-50LP Grease, MOLYKOTE® EM-60L Grease, MOLYKOTE® EM-D110 Grease, MOLYKOTE® FM1 Grease, MOLYKOTE® Food Machinery Spray Oil, MOLYKOTE® G-0051 FM White EP Bearing Grease, MOLYKOTE® G-0102 Bearing Grease, MOLYKOTE® G-0102 Grease, MOLYKOTE® G-1023 Grease, MOLYKOTE® G-1057 Grease, MOLYKOTE® G-1060 Grease, MOLYKOTE® G-1067 Grease, MOLYKOTE® G-2001 Grease, MOLYKOTE® G-3000 Synthetic Grease, MOLYKOTE® G-3407 Caliper Pin Grease, MOLYKOTE® G-3500 Grease, MOLYKOTE® G-407 Anti-Fretting Grease, MOLYKOTE® G-4500 FM Multi-Purpose Synthetic Grease, MOLYKOTE® G-4501 FM Multi-Purpose Synthetic Grease, MOLYKOTE® G-4700 Extreme Pressure Synthetic Grease, MOLYKOTE® G-5008 Dielectric Grease, MOLYKOTE® G-5025 Grease, MOLYKOTE® G-5111 Compound, MOLYKOTE® G-5511 Water Tap Compound, MOLYKOTE® G-68 Grease for Lubrication of Plastic, MOLYKOTE® G-804 Silicone Compound, MOLYKOTE® G-807 Low Friction Silicone Compound, MOLYKOTE® G-9000 Grease, MOLYKOTE® G-N Metal Assembly Paste, MOLYKOTE® G-N Metal Assembly Paste Aerosol, MOLYKOTE® G-N Plus Paste, MOLYKOTE® G-Rapid Spray, MOLYKOTE® High Vacuum Grease, MOLYKOTE® HP-300 Grease, MOLYKOTE® HP-500 Grease, MOLYKOTE® HP-670 Grease, MOLYKOTE® HP-870 Grease, MOLYKOTE® HSC Plus Paste, MOLYKOTE® HTP Paste, MOLYKOTE® L-0115 FM Gear Oil ISO 150, MOLYKOTE® L-0115 Gear Oil - ISO 150, MOLYKOTE® L-0122 FM Gear Oil ISO 220, MOLYKOTE® L-0122 ISO VG 220 Gear Oil, MOLYKOTE® L-0146 FM Gear Oil ISO 460, MOLYKOTE® L-0146 ISO VG 460 Gear Oil, MOLYKOTE® L-0268 Process Gas Oil, MOLYKOTE® L-0346 Hydraulic Oil, MOLYKOTE® L-0368 FM Hydraulic Oil, MOLYKOTE® L-0460 FM Chain Oil, MOLYKOTE® L-0501 High Performance Penetrating Lubricant, MOLYKOTE® L-0510 FM Multi-Purpose Oil, MOLYKOTE® L-0532FM Multi-Purpose Light Oil, MOLYKOTE® L-0568 Multi-Purpose Oil, MOLYKOTE® L-0610 Vacuum Pump Oil, MOLYKOTE® L-0660 Ammonia Refrigerant Compressor Oil, MOLYKOTE® L-0668 Ammonia Refrigerant Compressor Oil, MOLYKOTE® L-1115 FM Synthetic Gear Oil ISO 150, MOLYKOTE® L-1122 FM Synthetic Gear Oil ISO 220, MOLYKOTE® L-1122 Synthetic Gear Oil - ISO 220, MOLYKOTE® L-1132 FM Synthetic Gear Oil ISO 320, MOLYKOTE® L-1132 Synthetic Gear Oil - ISO 320, MOLYKOTE® L-1146 Synthetic Gear Oil - ISO 460, MOLYKOTE® L-1168 Synthetic Gear Lubricant, MOLYKOTE® L-1210 Synthetic Compressor And Vacuum Pump Oil, MOLYKOTE® L-1232 FM Synthetic Compressor Oil, MOLYKOTE® L-1232 Synthetic Compressor Oil, MOLYKOTE® L-1246 FM Synthetic Compressor Oil, MOLYKOTE® L-1246 Synthetic Compressor Oil, MOLYKOTE® L-13 Thinner, MOLYKOTE® L-1332 FM Synthetic Hydraulic & Gear Oil, MOLYKOTE® L-1346 FM Synthetic Blend Hydraulic Oil, MOLYKOTE® L-1368 FM Synthetic Blend Hydraulic Oil, MOLYKOTE® L-1428 High Temperature Chain Oil, MOLYKOTE® L-1468 FM Synthetic Freezer Chain Oil, MOLYKOTE® L-1510 Process Gas Oil, MOLYKOTE® L-1568 Process Gas Oil, MOLYKOTE® L-1605 FM Synthetic Barrier Fluid, MOLYKOTE® L-1668 FM Synthetic Blend Vacuum Pump Oil, MOLYKOTE® L-2110 Synthetic Gear Oil, MOLYKOTE® L-2115 Synthetic Gear Oil, MOLYKOTE® L-2122 Synthetic Gear Oil, MOLYKOTE® L-2132 Synthetic Gear Oil, MOLYKOTE® L-2146 Synthetic Gear Oil, MOLYKOTE® L-2168 Synthetic Gear Oil, MOLYKOTE® L-3232 Synthetic Compressor Oil, MOLYKOTE® L-3246 Synthetic Compressor Oil, MOLYKOTE® L-4610 Synthetic Blend Piston Compressor Oil, MOLYKOTE® L-4611 Synthetic Compressor Oil, MOLYKOTE® L-4640 SYN FLUSH FLD, MOLYKOTE® L-4646 High Temperature Synthetic Compressor Oil, MOLYKOTE® L-8030 Lubricant, MOLYKOTE® Longterm 00 Semi-Fluid Gearbox Grease, MOLYKOTE® Longterm 1 Plus Extreme Pressure Bearing Grease, MOLYKOTE® Longterm 2 Plus Extreme Pressure Bearing Grease, MOLYKOTE® Longterm 2/78 G, MOLYKOTE® M Gear Oil Additive, MOLYKOTE® M-77 Paste, MOLYKOTE® MI-60 Grease, MOLYKOTE® Microsize Powder, MOLYKOTE® MKL-N Chain Grease With Solid Lubricant, MOLYKOTE® Multilub High Performance Grease, MOLYKOTE® P-1500 Anti-Fretting Paste, MOLYKOTE® P-1500 Paste, MOLYKOTE® P-1900 FM Anti-Seize Paste, MOLYKOTE® P-37 Antiseize Paste, MOLYKOTE® P-37 Thread Paste, MOLYKOTE® P-40 Paste, MOLYKOTE® P-74 Paste, MOLYKOTE® PA-744 Anti-Friction Coating, MOLYKOTE® PG 54 Plastislip Grease, MOLYKOTE® PG-65 Plastislip Grease, MOLYKOTE® PG-75 Plastislip Grease, MOLYKOTE® SH 44 MA Grease, MOLYKOTE® SH 44 MT Grease, MOLYKOTE® Silicone Brake Fluid, MOLYKOTE® SK-623 Grease, MOLYKOTE® TP-42 Paste, MOLYKOTE® U Paste, MOLYKOTE® U-N Paste, MOLYKOTE® YM-102 Grease, MOLYKOTE® YM-103 Grease, MOLYKOTE® Z Powder, MOLYKOTE® 33L Grease, MOLYKOTE® D-3484 Anti-Friction Coating, MOLYKOTE® 7 Release Compound, MOLYKOTE® 7508 Valve Grease, MOLYKOTE® D-708 Anti-Friction Coating, MOLYKOTE® G-Rapid Plus Paste, MOLYKOTE® D-79 Lubolid Additive Powder, MOLYKOTE® Metal Protector Plus, MOLYKOTE® Polygliss-N Adhesive Transparent Lubricant, MOLYKOTE® G-0052 FM White EP Bearing Grease, MOLYKOTE® L-0322 Hydraulic Oil, MOLYKOTE® G-1056 Grease, MOLYKOTE® G-1074 Grease, MOLYKOTE® G-0050 FM White EP Bearing Grease, MOLYKOTE® G-3000, MOLYKOTE® 7375 Lubolid Additive Powder, MOLYKOTE® D-96 Anti-Friction Coating, MOLYKOTE® D-96 UV Anti-Friction Coating, MOLYKOTE® L-1115 Synthetic Gear Oil - ISO 150, MOLYKOTE® L-1146 FM Synthetic Extreme Temp Gear Oil ISO 460, MOLYKOTE® L-1268 Synthetic Compressor Oil, MOLYKOTE® G-1502 FM Synthetic Bearing & Gear Grease, MOLYKOTE® D-709 Anti-Friction Coating, MOLYKOTE® 1 PLUS (IN) GREASE, MOLYKOTE® 1000 Spray, MOLYKOTE® 1000 Thread Lubricant, MOLYKOTE® 1000 Thread Paste Spray, MOLYKOTE® 1102 Gas Cock Grease, MOLYKOTE® 1122 Chain and Open Gear Grease (Aerosol), MOLYKOTE® 1122 Chain Grease Spray, MOLYKOTE® 316 Silicone Release Fluid, MOLYKOTE® 33 Light Extreme Low Temperature Grease, MOLYKOTE® 3451 Grease, MOLYKOTE® 3452 Chemical Resistant Valve Lubricant, MOLYKOTE® 3452 Grease, MOLYKOTE® 41 Extreme High Temperature Grease, MOLYKOTE® 55 M Grease, MOLYKOTE® 557 Lubricant, MOLYKOTE® 557 Silicone Dry Film Lubricant Spray, MOLYKOTE® 6031A Anti-Friction Coating, MOLYKOTE® 6050 Anti-Friction Coating, MOLYKOTE® 6157 Grease, MOLYKOTE® 6166 Grease, MOLYKOTE® 6169 Grease, MOLYKOTE® 7325(W) Grease, MOLYKOTE® 7348 Grease, MOLYKOTE® 7508 Valve Grease (J), MOLYKOTE® 908 Paste, MOLYKOTE® 912 Lubricant, MOLYKOTE® A Solid Lubricant Dispersion, MOLYKOTE® AG-650 Grease, MOLYKOTE® AS-810 Grease, MOLYKOTE® AS-812 Grease, MOLYKOTE® AS-828 Grease, MOLYKOTE® BR-2 Plus Grease, MOLYKOTE® BY 28-026 Grease, MOLYKOTE® BY 28-034 L Grease, MOLYKOTE® CO-220 Oil Multi-Purpose Chain Oil, MOLYKOTE® CU-7439 Paste, MOLYKOTE® CU-7439 Plus Paste, MOLYKOTE® CU-7439 Plus Paste Spray, MOLYKOTE® D Paste Spray, MOLYKOTE® D-21 Anti-Friction Coating, MOLYKOTE® D-29 Lubolid Additive Powder, MOLYKOTE® D-3051 Lubolid Additive Powder, MOLYKOTE® D-3500 Lubolid, MOLYKOTE® D-42 Lubolid Additive Powder, MOLYKOTE® D-43 Lubolid Additive Powder, MOLYKOTE® D-51 Lubolid Additive Powder, MOLYKOTE® D-5321 R Spray, MOLYKOTE® D-6023-GBL Anti-Friction Coating, MOLYKOTE® D-6024 Anti-Friction Coating, MOLYKOTE® D-6500 Protective Coating, MOLYKOTE® D-6565 Anti-Friction Coating, MOLYKOTE® D-88-GBL Anti-Friction Coating, MOLYKOTE® D-9630 Anti-Friction Coating, MOLYKOTE® DR-07 Grease, MOLYKOTE® EM-10L Grease, MOLYKOTE® EM-40M Grease, MOLYKOTE® EM-70L Grease, MOLYKOTE® EP Grease, MOLYKOTE® FS-841 Grease, MOLYKOTE® G Paste, MOLYKOTE® G-1006Y Grease, MOLYKOTE® G-1007 Grease, MOLYKOTE® G-1011 Grease, MOLYKOTE® G-1015 Grease, MOLYKOTE® G-1017 Grease, MOLYKOTE® G-1020 Grease, MOLYKOTE® G-1021 Synthetic Automotive Grease, MOLYKOTE® G-1031 Grease, MOLYKOTE® G-1035 Grease, MOLYKOTE® G-1039 Grease, MOLYKOTE® G-1051 Grease, MOLYKOTE® G-1054 Grease, MOLYKOTE® G-1058 Grease, MOLYKOTE® G-1066Y Grease, MOLYKOTE® G-1071 Grease, MOLYKOTE® G-1076 Grease, MOLYKOTE® G-1077 Grease, MOLYKOTE® G-1080 Grease, MOLYKOTE® G-1090 Grease, MOLYKOTE® G-1123 Grease, MOLYKOTE® G-2001 Bearing Grease, MOLYKOTE® G-2003 Grease, MOLYKOTE® G-2008 Synthetic Tool Gear Grease, MOLYKOTE® G-2088 Synthetic High Speed Gear Grease, MOLYKOTE® G-4500 Multi-Purpose Synthetic Grease Spray, MOLYKOTE® G-4700 Grease, MOLYKOTE® G-4700 Synthetic Bearing Grease, MOLYKOTE® G-5016 Grease, MOLYKOTE® G-5021 Grease, MOLYKOTE® G-5029 Grease, MOLYKOTE® G-5042 Silicone Automotive Service Grease, MOLYKOTE® G-5050 Grease, MOLYKOTE® G-56 Grease, MOLYKOTE® G-6000 Grease, MOLYKOTE® G-67 Grease, MOLYKOTE® G-8005 Grease, MOLYKOTE® G-8007 Grease, MOLYKOTE® G-8010 Grease, MOLYKOTE® G-8018 Grease, MOLYKOTE® G-8025 Grease, MOLYKOTE® G-8036 Grease, MOLYKOTE® G-8039 Grease, MOLYKOTE® G-8072 Grease, MOLYKOTE® G-8080 Grease, MOLYKOTE® G-9001 Grease, MOLYKOTE® G-9106 Grease, MOLYKOTE® Gas Cock Grease GC-SS(171606), MOLYKOTE® G-N Paste, MOLYKOTE® G-Rapid Plus Paste Spray, MOLYKOTE® HD-984 Powder, MOLYKOTE® HF-20 Oil, MOLYKOTE® HF-30 Oil, MOLYKOTE® HP Solvent, MOLYKOTE® HP-200 Grease, MOLYKOTE® HP-300 Spray, MOLYKOTE® HP-500 Spray, MOLYKOTE® HP-630 Grease, MOLYKOTE® HP-800 Grease, MOLYKOTE® HSC Plus Paste Spray, MOLYKOTE® HTF Solid Lubricant Dispersion, MOLYKOTE® L 13 Anti-Friction Coating Thinner, MOLYKOTE® L-0115 ISO VG 150 Gear Oil, MOLYKOTE® L-0346 FM Hydraulic Oil, MOLYKOTE® L-0500 Protective Zinc Coating Spray, MOLYKOTE® L-1115 ISO 150 VG Synthetic Gear Oil, MOLYKOTE® L-1368 Full Synthetic Hydraulic Oil, MOLYKOTE® L-8000 Lubricant, MOLYKOTE® L-8001 Lubricant, MOLYKOTE® L-8011 Lubricant, MOLYKOTE® L-8013 Lubricant, MOLYKOTE® L-8033 Lubricant, MOLYKOTE® Longterm 2/78 (USA) Grease, MOLYKOTE® Longterm 2/78 Grease, MOLYKOTE® Longterm W2 Multi-Purpose Grease, MOLYKOTE® M Dispersion, MOLYKOTE® M-30 Dispersion, MOLYKOTE® M-30 Solid Lubricant Dispersion, MOLYKOTE® M-55 Dispersion, MOLYKOTE® M-77 Assembly Paste, MOLYKOTE® M-8800 Anti-Friction Coating, MOLYKOTE® M-8800 Anti-Friction Coating Spray, MOLYKOTE® Metal Protector Plus Coating Spray, MOLYKOTE® Metalform, MOLYKOTE® MH-62 (USA) Grease, MOLYKOTE® MH-62 Grease, MOLYKOTE® MI-60 Grease, MOLYKOTE® Multigliss, MOLYKOTE® Omnigliss, MOLYKOTE® Omnigliss Extreme Pressure Oil, Spray, MOLYKOTE® P-1600 Paste, MOLYKOTE® P-40 Assembly Paste, MOLYKOTE® P-74 Assembly Paste, MOLYKOTE® PA-722 Anti-Friction Coating, MOLYKOTE® PD-920 Lubricant, MOLYKOTE® PD-930 Lubricant, MOLYKOTE® PD-933C Lubricant, MOLYKOTE® PG-21 Plastislip Grease, MOLYKOTE® PG-641 Grease, MOLYKOTE® PG-661(W) Grease, MOLYKOTE® PG-662Y Grease, MOLYKOTE® PG-663 Grease, MOLYKOTE® PG-663-UV Blue, MOLYKOTE® Polygliss-N Adhesive Transparent Lubricant, Spray, MOLYKOTE® POLYUREA 3(IN) GREASE, MOLYKOTE® Powder Spray Coating Spray, MOLYKOTE® PTFE-N UV Anti Friction Coating Spray, MOLYKOTE® PTFE-N UV Anti-Friction Coating, MOLYKOTE® Q5-0180 Oil, MOLYKOTE® Q5-7514 Grease, MOLYKOTE® S-1010 Anti-Spatter Spray, MOLYKOTE® S-1011 Open Gear Spray, MOLYKOTE® S-1013 Cutting Fluid Spray, MOLYKOTE® S-1501 High Temperature Synthetic Chain Oil, MOLYKOTE® S-1503 High Temperature Medium Viscosity Chain Oil, MOLYKOTE® Separator Silicone Spray, MOLYKOTE® SH 33 F Grease, MOLYKOTE® SH 33 L Grease, MOLYKOTE® SH 33 M Grease, MOLYKOTE® SH 4 Compound, MOLYKOTE® SH 41 Grease, MOLYKOTE® SH 44 F Grease, MOLYKOTE® SH 44 L Grease, MOLYKOTE® SH 44 M Grease, MOLYKOTE® SH 45 Grease, MOLYKOTE® SK-623 (USA) Grease, MOLYKOTE® Supergliss, MOLYKOTE® W 15 Solid Lubricant Dispersion, MOLYKOTE® X Grease Paste, MOLYKOTE® X5-6020 Grease, MOLYKOTE® G-72 Grease, MOLYKOTE® 1000 Thread Paste, MOLYKOTE® G-0010 Grease, MOLYKOTE® G-5032 Grease, MOLYKOTE® Supergliss Water Displacement Type Water Proofing Agent, MOLYKOTE® G-1068 Grease, MOLYKOTE® 55 Grease, MOLYKOTE® PD-910C Lubricant, MOLYKOTE® PD-910 Lubricant, MOLYKOTE® PG-671 Grease, MOLYKOTE® G-0109 Grease, MOLYKOTE® FB-180 Grease, MOLYKOTE® G-4500 FM Multi-Purpose Synthetic Grease Spray
MOLYKOTE® G-1074 Grease Technical Data Sheet
Products:
MOLYKOTE® G-1074 Grease
MOLYKOTE® 1000 Paste, MOLYKOTE® 106 Anti Friction Coating, MOLYKOTE® 111 Compound, MOLYKOTE® 112 High Performance Lube/Sealant, MOLYKOTE® 1122 Chain and Open Gear Grease, MOLYKOTE® 165 LT Grease, MOLYKOTE® 3099 HVIC (High Voltage Insulator Coating) Compound, MOLYKOTE® 316 Silicone Release Spray, MOLYKOTE® 33 Extreme Low Temp. Bearing Grease, Light, MOLYKOTE® 33 Medium Extreme Low Temperature Grease, MOLYKOTE® 33M Grease, MOLYKOTE® 3400A AERO Anti-Friction Coating, MOLYKOTE® 3400A Anti-Friction Coating LF, MOLYKOTE® 3402-C LF Anti-Friction Coating, MOLYKOTE® 3451 Chemical Resistant Bearing Grease, MOLYKOTE® 3452 Chemical Resistant Valve Grease, MOLYKOTE® 4 Electrical Insulating Compound, MOLYKOTE® 41 Extreme High Temp. Bearing Grease, MOLYKOTE® 41 Grease, MOLYKOTE® 44 Light High Temperature Grease, MOLYKOTE® 44 Medium High Temperature Grease, MOLYKOTE® 44-L Grease, MOLYKOTE® 44-M Grease, MOLYKOTE® 44MA Grease, MOLYKOTE® 5 Compound, MOLYKOTE® 55 O-Ring Lubricant, MOLYKOTE® 557 Silicone Dry Film Lubricant, MOLYKOTE® 6173 Grease, MOLYKOTE® 7325 Grease, MOLYKOTE® 7365 Lubolid (EXP) Additive Powder, MOLYKOTE® 7400 Anti-Friction Coating, MOLYKOTE® 7415 Thinner, MOLYKOTE® 7514 Grease, MOLYKOTE® 822M Grease, MOLYKOTE® AG-626 Grease, MOLYKOTE® AG-626 Grease (USA), MOLYKOTE® AG-633 Grease, MOLYKOTE® AI-6159 Grease, MOLYKOTE® AS-880N Grease, MOLYKOTE® BG-20 Synthetic Bearing Grease, MOLYKOTE® BG-555 Low Noise Grease, MOLYKOTE® BR1 S Grease, MOLYKOTE® BR-2 Plus High Performance Grease, MOLYKOTE® C-40 High Temperature Chain Lubricant, MOLYKOTE® CU-7439 Lubricant, MOLYKOTE® Cu-7439 Plus High Temperature Copper Paste, MOLYKOTE® D Paste, MOLYKOTE® D-10-Gbl Anti-Friction Coating, MOLYKOTE® D-321 R Anti-Friction Coating, MOLYKOTE® D-55 Lubolid Additive Powder, MOLYKOTE® D-6927 Anti-Friction Coating, MOLYKOTE® D-7405 Anti-Friction Coating, MOLYKOTE® D-7409 Anti-Friction Coating, MOLYKOTE® D-7620 Anti-Friction Coating, MOLYKOTE® D-78 Lubolid Additive Powder, MOLYKOTE® DX Paste, MOLYKOTE® E Paste, MOLYKOTE® EM-30L Grease, MOLYKOTE® EM-30LP Grease, MOLYKOTE® EM-50L Grease, MOLYKOTE® EM-50LP Grease, MOLYKOTE® EM-60L Grease, MOLYKOTE® EM-D110 Grease, MOLYKOTE® FM1 Grease, MOLYKOTE® Food Machinery Spray Oil, MOLYKOTE® G-0051 FM White EP Bearing Grease, MOLYKOTE® G-0102 Bearing Grease, MOLYKOTE® G-0102 Grease, MOLYKOTE® G-1023 Grease, MOLYKOTE® G-1057 Grease, MOLYKOTE® G-1060 Grease, MOLYKOTE® G-1067 Grease, MOLYKOTE® G-2001 Grease, MOLYKOTE® G-3000 Synthetic Grease, MOLYKOTE® G-3407 Caliper Pin Grease, MOLYKOTE® G-3500 Grease, MOLYKOTE® G-407 Anti-Fretting Grease, MOLYKOTE® G-4500 FM Multi-Purpose Synthetic Grease, MOLYKOTE® G-4501 FM Multi-Purpose Synthetic Grease, MOLYKOTE® G-4700 Extreme Pressure Synthetic Grease, MOLYKOTE® G-5008 Dielectric Grease, MOLYKOTE® G-5025 Grease, MOLYKOTE® G-5111 Compound, MOLYKOTE® G-5511 Water Tap Compound, MOLYKOTE® G-68 Grease for Lubrication of Plastic, MOLYKOTE® G-804 Silicone Compound, MOLYKOTE® G-807 Low Friction Silicone Compound, MOLYKOTE® G-9000 Grease, MOLYKOTE® G-N Metal Assembly Paste, MOLYKOTE® G-N Metal Assembly Paste Aerosol, MOLYKOTE® G-N Plus Paste, MOLYKOTE® G-Rapid Spray, MOLYKOTE® High Vacuum Grease, MOLYKOTE® HP-300 Grease, MOLYKOTE® HP-500 Grease, MOLYKOTE® HP-670 Grease, MOLYKOTE® HP-870 Grease, MOLYKOTE® HSC Plus Paste, MOLYKOTE® HTP Paste, MOLYKOTE® L-0115 FM Gear Oil ISO 150, MOLYKOTE® L-0115 Gear Oil - ISO 150, MOLYKOTE® L-0122 FM Gear Oil ISO 220, MOLYKOTE® L-0122 ISO VG 220 Gear Oil, MOLYKOTE® L-0146 FM Gear Oil ISO 460, MOLYKOTE® L-0146 ISO VG 460 Gear Oil, MOLYKOTE® L-0268 Process Gas Oil, MOLYKOTE® L-0346 Hydraulic Oil, MOLYKOTE® L-0368 FM Hydraulic Oil, MOLYKOTE® L-0460 FM Chain Oil, MOLYKOTE® L-0501 High Performance Penetrating Lubricant, MOLYKOTE® L-0510 FM Multi-Purpose Oil, MOLYKOTE® L-0532FM Multi-Purpose Light Oil, MOLYKOTE® L-0568 Multi-Purpose Oil, MOLYKOTE® L-0610 Vacuum Pump Oil, MOLYKOTE® L-0660 Ammonia Refrigerant Compressor Oil, MOLYKOTE® L-0668 Ammonia Refrigerant Compressor Oil, MOLYKOTE® L-1115 FM Synthetic Gear Oil ISO 150, MOLYKOTE® L-1122 FM Synthetic Gear Oil ISO 220, MOLYKOTE® L-1122 Synthetic Gear Oil - ISO 220, MOLYKOTE® L-1132 FM Synthetic Gear Oil ISO 320, MOLYKOTE® L-1132 Synthetic Gear Oil - ISO 320, MOLYKOTE® L-1146 Synthetic Gear Oil - ISO 460, MOLYKOTE® L-1168 Synthetic Gear Lubricant, MOLYKOTE® L-1210 Synthetic Compressor And Vacuum Pump Oil, MOLYKOTE® L-1232 FM Synthetic Compressor Oil, MOLYKOTE® L-1232 Synthetic Compressor Oil, MOLYKOTE® L-1246 FM Synthetic Compressor Oil, MOLYKOTE® L-1246 Synthetic Compressor Oil, MOLYKOTE® L-13 Thinner, MOLYKOTE® L-1332 FM Synthetic Hydraulic & Gear Oil, MOLYKOTE® L-1346 FM Synthetic Blend Hydraulic Oil, MOLYKOTE® L-1368 FM Synthetic Blend Hydraulic Oil, MOLYKOTE® L-1428 High Temperature Chain Oil, MOLYKOTE® L-1468 FM Synthetic Freezer Chain Oil, MOLYKOTE® L-1510 Process Gas Oil, MOLYKOTE® L-1568 Process Gas Oil, MOLYKOTE® L-1605 FM Synthetic Barrier Fluid, MOLYKOTE® L-1668 FM Synthetic Blend Vacuum Pump Oil, MOLYKOTE® L-2110 Synthetic Gear Oil, MOLYKOTE® L-2115 Synthetic Gear Oil, MOLYKOTE® L-2122 Synthetic Gear Oil, MOLYKOTE® L-2132 Synthetic Gear Oil, MOLYKOTE® L-2146 Synthetic Gear Oil, MOLYKOTE® L-2168 Synthetic Gear Oil, MOLYKOTE® L-3232 Synthetic Compressor Oil, MOLYKOTE® L-3246 Synthetic Compressor Oil, MOLYKOTE® L-4610 Synthetic Blend Piston Compressor Oil, MOLYKOTE® L-4611 Synthetic Compressor Oil, MOLYKOTE® L-4640 SYN FLUSH FLD, MOLYKOTE® L-4646 High Temperature Synthetic Compressor Oil, MOLYKOTE® L-8030 Lubricant, MOLYKOTE® Longterm 00 Semi-Fluid Gearbox Grease, MOLYKOTE® Longterm 1 Plus Extreme Pressure Bearing Grease, MOLYKOTE® Longterm 2 Plus Extreme Pressure Bearing Grease, MOLYKOTE® Longterm 2/78 G, MOLYKOTE® M Gear Oil Additive, MOLYKOTE® M-77 Paste, MOLYKOTE® MI-60 Grease, MOLYKOTE® Microsize Powder, MOLYKOTE® MKL-N Chain Grease With Solid Lubricant, MOLYKOTE® Multilub High Performance Grease, MOLYKOTE® P-1500 Anti-Fretting Paste, MOLYKOTE® P-1500 Paste, MOLYKOTE® P-1900 FM Anti-Seize Paste, MOLYKOTE® P-37 Antiseize Paste, MOLYKOTE® P-37 Thread Paste, MOLYKOTE® P-40 Paste, MOLYKOTE® P-74 Paste, MOLYKOTE® PA-744 Anti-Friction Coating, MOLYKOTE® PG 54 Plastislip Grease, MOLYKOTE® PG-65 Plastislip Grease, MOLYKOTE® PG-75 Plastislip Grease, MOLYKOTE® SH 44 MA Grease, MOLYKOTE® SH 44 MT Grease, MOLYKOTE® Silicone Brake Fluid, MOLYKOTE® SK-623 Grease, MOLYKOTE® TP-42 Paste, MOLYKOTE® U Paste, MOLYKOTE® U-N Paste, MOLYKOTE® YM-102 Grease, MOLYKOTE® YM-103 Grease, MOLYKOTE® Z Powder, MOLYKOTE® 33L Grease, MOLYKOTE® D-3484 Anti-Friction Coating, MOLYKOTE® 7 Release Compound, MOLYKOTE® 7508 Valve Grease, MOLYKOTE® D-708 Anti-Friction Coating, MOLYKOTE® G-Rapid Plus Paste, MOLYKOTE® D-79 Lubolid Additive Powder, MOLYKOTE® Metal Protector Plus, MOLYKOTE® Polygliss-N Adhesive Transparent Lubricant, MOLYKOTE® G-0052 FM White EP Bearing Grease, MOLYKOTE® L-0322 Hydraulic Oil, MOLYKOTE® G-1056 Grease, MOLYKOTE® G-1074 Grease, MOLYKOTE® G-0050 FM White EP Bearing Grease, MOLYKOTE® G-3000, MOLYKOTE® 7375 Lubolid Additive Powder, MOLYKOTE® D-96 Anti-Friction Coating, MOLYKOTE® D-96 UV Anti-Friction Coating, MOLYKOTE® L-1115 Synthetic Gear Oil - ISO 150, MOLYKOTE® L-1146 FM Synthetic Extreme Temp Gear Oil ISO 460, MOLYKOTE® L-1268 Synthetic Compressor Oil, MOLYKOTE® G-1502 FM Synthetic Bearing & Gear Grease, MOLYKOTE® D-709 Anti-Friction Coating, MOLYKOTE® 1 PLUS (IN) GREASE, MOLYKOTE® 1000 Spray, MOLYKOTE® 1000 Thread Lubricant, MOLYKOTE® 1000 Thread Paste Spray, MOLYKOTE® 1102 Gas Cock Grease, MOLYKOTE® 1122 Chain and Open Gear Grease (Aerosol), MOLYKOTE® 1122 Chain Grease Spray, MOLYKOTE® 316 Silicone Release Fluid, MOLYKOTE® 33 Light Extreme Low Temperature Grease, MOLYKOTE® 3451 Grease, MOLYKOTE® 3452 Chemical Resistant Valve Lubricant, MOLYKOTE® 3452 Grease, MOLYKOTE® 41 Extreme High Temperature Grease, MOLYKOTE® 55 M Grease, MOLYKOTE® 557 Lubricant, MOLYKOTE® 557 Silicone Dry Film Lubricant Spray, MOLYKOTE® 6031A Anti-Friction Coating, MOLYKOTE® 6050 Anti-Friction Coating, MOLYKOTE® 6157 Grease, MOLYKOTE® 6166 Grease, MOLYKOTE® 6169 Grease, MOLYKOTE® 7325(W) Grease, MOLYKOTE® 7348 Grease, MOLYKOTE® 7508 Valve Grease (J), MOLYKOTE® 908 Paste, MOLYKOTE® 912 Lubricant, MOLYKOTE® A Solid Lubricant Dispersion, MOLYKOTE® AG-650 Grease, MOLYKOTE® AS-810 Grease, MOLYKOTE® AS-812 Grease, MOLYKOTE® AS-828 Grease, MOLYKOTE® BR-2 Plus Grease, MOLYKOTE® BY 28-026 Grease, MOLYKOTE® BY 28-034 L Grease, MOLYKOTE® CO-220 Oil Multi-Purpose Chain Oil, MOLYKOTE® CU-7439 Paste, MOLYKOTE® CU-7439 Plus Paste, MOLYKOTE® CU-7439 Plus Paste Spray, MOLYKOTE® D Paste Spray, MOLYKOTE® D-21 Anti-Friction Coating, MOLYKOTE® D-29 Lubolid Additive Powder, MOLYKOTE® D-3051 Lubolid Additive Powder, MOLYKOTE® D-3500 Lubolid, MOLYKOTE® D-42 Lubolid Additive Powder, MOLYKOTE® D-43 Lubolid Additive Powder, MOLYKOTE® D-51 Lubolid Additive Powder, MOLYKOTE® D-5321 R Spray, MOLYKOTE® D-6023-GBL Anti-Friction Coating, MOLYKOTE® D-6024 Anti-Friction Coating, MOLYKOTE® D-6500 Protective Coating, MOLYKOTE® D-6565 Anti-Friction Coating, MOLYKOTE® D-88-GBL Anti-Friction Coating, MOLYKOTE® D-9630 Anti-Friction Coating, MOLYKOTE® DR-07 Grease, MOLYKOTE® EM-10L Grease, MOLYKOTE® EM-40M Grease, MOLYKOTE® EM-70L Grease, MOLYKOTE® EP Grease, MOLYKOTE® FS-841 Grease, MOLYKOTE® G Paste, MOLYKOTE® G-1006Y Grease, MOLYKOTE® G-1007 Grease, MOLYKOTE® G-1011 Grease, MOLYKOTE® G-1015 Grease, MOLYKOTE® G-1017 Grease, MOLYKOTE® G-1020 Grease, MOLYKOTE® G-1021 Synthetic Automotive Grease, MOLYKOTE® G-1031 Grease, MOLYKOTE® G-1035 Grease, MOLYKOTE® G-1039 Grease, MOLYKOTE® G-1051 Grease, MOLYKOTE® G-1054 Grease, MOLYKOTE® G-1058 Grease, MOLYKOTE® G-1066Y Grease, MOLYKOTE® G-1071 Grease, MOLYKOTE® G-1076 Grease, MOLYKOTE® G-1077 Grease, MOLYKOTE® G-1080 Grease, MOLYKOTE® G-1090 Grease, MOLYKOTE® G-1123 Grease, MOLYKOTE® G-2001 Bearing Grease, MOLYKOTE® G-2003 Grease, MOLYKOTE® G-2008 Synthetic Tool Gear Grease, MOLYKOTE® G-2088 Synthetic High Speed Gear Grease, MOLYKOTE® G-4500 Multi-Purpose Synthetic Grease Spray, MOLYKOTE® G-4700 Grease, MOLYKOTE® G-4700 Synthetic Bearing Grease, MOLYKOTE® G-5016 Grease, MOLYKOTE® G-5021 Grease, MOLYKOTE® G-5029 Grease, MOLYKOTE® G-5042 Silicone Automotive Service Grease, MOLYKOTE® G-5050 Grease, MOLYKOTE® G-56 Grease, MOLYKOTE® G-6000 Grease, MOLYKOTE® G-67 Grease, MOLYKOTE® G-8005 Grease, MOLYKOTE® G-8007 Grease, MOLYKOTE® G-8010 Grease, MOLYKOTE® G-8018 Grease, MOLYKOTE® G-8025 Grease, MOLYKOTE® G-8036 Grease, MOLYKOTE® G-8039 Grease, MOLYKOTE® G-8072 Grease, MOLYKOTE® G-8080 Grease, MOLYKOTE® G-9001 Grease, MOLYKOTE® G-9106 Grease, MOLYKOTE® Gas Cock Grease GC-SS(171606), MOLYKOTE® G-N Paste, MOLYKOTE® G-Rapid Plus Paste Spray, MOLYKOTE® HD-984 Powder, MOLYKOTE® HF-20 Oil, MOLYKOTE® HF-30 Oil, MOLYKOTE® HP Solvent, MOLYKOTE® HP-200 Grease, MOLYKOTE® HP-300 Spray, MOLYKOTE® HP-500 Spray, MOLYKOTE® HP-630 Grease, MOLYKOTE® HP-800 Grease, MOLYKOTE® HSC Plus Paste Spray, MOLYKOTE® HTF Solid Lubricant Dispersion, MOLYKOTE® L 13 Anti-Friction Coating Thinner, MOLYKOTE® L-0115 ISO VG 150 Gear Oil, MOLYKOTE® L-0346 FM Hydraulic Oil, MOLYKOTE® L-0500 Protective Zinc Coating Spray, MOLYKOTE® L-1115 ISO 150 VG Synthetic Gear Oil, MOLYKOTE® L-1368 Full Synthetic Hydraulic Oil, MOLYKOTE® L-8000 Lubricant, MOLYKOTE® L-8001 Lubricant, MOLYKOTE® L-8011 Lubricant, MOLYKOTE® L-8013 Lubricant, MOLYKOTE® L-8033 Lubricant, MOLYKOTE® Longterm 2/78 (USA) Grease, MOLYKOTE® Longterm 2/78 Grease, MOLYKOTE® Longterm W2 Multi-Purpose Grease, MOLYKOTE® M Dispersion, MOLYKOTE® M-30 Dispersion, MOLYKOTE® M-30 Solid Lubricant Dispersion, MOLYKOTE® M-55 Dispersion, MOLYKOTE® M-77 Assembly Paste, MOLYKOTE® M-8800 Anti-Friction Coating, MOLYKOTE® M-8800 Anti-Friction Coating Spray, MOLYKOTE® Metal Protector Plus Coating Spray, MOLYKOTE® Metalform, MOLYKOTE® MH-62 (USA) Grease, MOLYKOTE® MH-62 Grease, MOLYKOTE® MI-60 Grease, MOLYKOTE® Multigliss, MOLYKOTE® Omnigliss, MOLYKOTE® Omnigliss Extreme Pressure Oil, Spray, MOLYKOTE® P-1600 Paste, MOLYKOTE® P-40 Assembly Paste, MOLYKOTE® P-74 Assembly Paste, MOLYKOTE® PA-722 Anti-Friction Coating, MOLYKOTE® PD-920 Lubricant, MOLYKOTE® PD-930 Lubricant, MOLYKOTE® PD-933C Lubricant, MOLYKOTE® PG-21 Plastislip Grease, MOLYKOTE® PG-641 Grease, MOLYKOTE® PG-661(W) Grease, MOLYKOTE® PG-662Y Grease, MOLYKOTE® PG-663 Grease, MOLYKOTE® PG-663-UV Blue, MOLYKOTE® Polygliss-N Adhesive Transparent Lubricant, Spray, MOLYKOTE® POLYUREA 3(IN) GREASE, MOLYKOTE® Powder Spray Coating Spray, MOLYKOTE® PTFE-N UV Anti Friction Coating Spray, MOLYKOTE® PTFE-N UV Anti-Friction Coating, MOLYKOTE® Q5-0180 Oil, MOLYKOTE® Q5-7514 Grease, MOLYKOTE® S-1010 Anti-Spatter Spray, MOLYKOTE® S-1011 Open Gear Spray, MOLYKOTE® S-1013 Cutting Fluid Spray, MOLYKOTE® S-1501 High Temperature Synthetic Chain Oil, MOLYKOTE® S-1503 High Temperature Medium Viscosity Chain Oil, MOLYKOTE® Separator Silicone Spray, MOLYKOTE® SH 33 F Grease, MOLYKOTE® SH 33 L Grease, MOLYKOTE® SH 33 M Grease, MOLYKOTE® SH 4 Compound, MOLYKOTE® SH 41 Grease, MOLYKOTE® SH 44 F Grease, MOLYKOTE® SH 44 L Grease, MOLYKOTE® SH 44 M Grease, MOLYKOTE® SH 45 Grease, MOLYKOTE® SK-623 (USA) Grease, MOLYKOTE® Supergliss, MOLYKOTE® W 15 Solid Lubricant Dispersion, MOLYKOTE® X Grease Paste, MOLYKOTE® X5-6020 Grease, MOLYKOTE® G-72 Grease, MOLYKOTE® 1000 Thread Paste, MOLYKOTE® G-0010 Grease, MOLYKOTE® G-5032 Grease, MOLYKOTE® Supergliss Water Displacement Type Water Proofing Agent, MOLYKOTE® G-1068 Grease, MOLYKOTE® 55 Grease, MOLYKOTE® PD-910C Lubricant, MOLYKOTE® PD-910 Lubricant, MOLYKOTE® PG-671 Grease, MOLYKOTE® G-0109 Grease, MOLYKOTE® FB-180 Grease, MOLYKOTE® G-4500 FM Multi-Purpose Synthetic Grease Spray
Products:
MOLYKOTE® 1000 Paste, MOLYKOTE® 106 Anti Friction Coating, MOLYKOTE® 111 Compound, MOLYKOTE® 112 High Performance Lube/Sealant, MOLYKOTE® 1122 Chain and Open Gear Grease, MOLYKOTE® 165 LT Grease, MOLYKOTE® 3099 HVIC (High Voltage Insulator Coating) Compound, MOLYKOTE® 316 Silicone Release Spray, MOLYKOTE® 33 Extreme Low Temp. Bearing Grease, Light, MOLYKOTE® 33 Medium Extreme Low Temperature Grease, MOLYKOTE® 33M Grease, MOLYKOTE® 3400A AERO Anti-Friction Coating, MOLYKOTE® 3400A Anti-Friction Coating LF, MOLYKOTE® 3402-C LF Anti-Friction Coating, MOLYKOTE® 3451 Chemical Resistant Bearing Grease, MOLYKOTE® 3452 Chemical Resistant Valve Grease, MOLYKOTE® 4 Electrical Insulating Compound, MOLYKOTE® 41 Extreme High Temp. Bearing Grease, MOLYKOTE® 41 Grease, MOLYKOTE® 44 Light High Temperature Grease, MOLYKOTE® 44 Medium High Temperature Grease, MOLYKOTE® 44-L Grease, MOLYKOTE® 44-M Grease, MOLYKOTE® 44MA Grease, MOLYKOTE® 5 Compound, MOLYKOTE® 55 O-Ring Lubricant, MOLYKOTE® 557 Silicone Dry Film Lubricant, MOLYKOTE® 6173 Grease, MOLYKOTE® 7325 Grease, MOLYKOTE® 7365 Lubolid (EXP) Additive Powder, MOLYKOTE® 7400 Anti-Friction Coating, MOLYKOTE® 7415 Thinner, MOLYKOTE® 7514 Grease, MOLYKOTE® 822M Grease, MOLYKOTE® AG-626 Grease, MOLYKOTE® AG-626 Grease (USA), MOLYKOTE® AG-633 Grease, MOLYKOTE® AI-6159 Grease, MOLYKOTE® AS-880N Grease, MOLYKOTE® BG-20 Synthetic Bearing Grease, MOLYKOTE® BG-555 Low Noise Grease, MOLYKOTE® BR1 S Grease, MOLYKOTE® BR-2 Plus High Performance Grease, MOLYKOTE® C-40 High Temperature Chain Lubricant, MOLYKOTE® CU-7439 Lubricant, MOLYKOTE® Cu-7439 Plus High Temperature Copper Paste, MOLYKOTE® D Paste, MOLYKOTE® D-10-Gbl Anti-Friction Coating, MOLYKOTE® D-321 R Anti-Friction Coating, MOLYKOTE® D-55 Lubolid Additive Powder, MOLYKOTE® D-6927 Anti-Friction Coating, MOLYKOTE® D-7405 Anti-Friction Coating, MOLYKOTE® D-7409 Anti-Friction Coating, MOLYKOTE® D-7620 Anti-Friction Coating, MOLYKOTE® D-78 Lubolid Additive Powder, MOLYKOTE® DX Paste, MOLYKOTE® E Paste, MOLYKOTE® EM-30L Grease, MOLYKOTE® EM-30LP Grease, MOLYKOTE® EM-50L Grease, MOLYKOTE® EM-50LP Grease, MOLYKOTE® EM-60L Grease, MOLYKOTE® EM-D110 Grease, MOLYKOTE® FM1 Grease, MOLYKOTE® Food Machinery Spray Oil, MOLYKOTE® G-0051 FM White EP Bearing Grease, MOLYKOTE® G-0102 Bearing Grease, MOLYKOTE® G-0102 Grease, MOLYKOTE® G-1023 Grease, MOLYKOTE® G-1057 Grease, MOLYKOTE® G-1060 Grease, MOLYKOTE® G-1067 Grease, MOLYKOTE® G-2001 Grease, MOLYKOTE® G-3000 Synthetic Grease, MOLYKOTE® G-3407 Caliper Pin Grease, MOLYKOTE® G-3500 Grease, MOLYKOTE® G-407 Anti-Fretting Grease, MOLYKOTE® G-4500 FM Multi-Purpose Synthetic Grease, MOLYKOTE® G-4501 FM Multi-Purpose Synthetic Grease, MOLYKOTE® G-4700 Extreme Pressure Synthetic Grease, MOLYKOTE® G-5008 Dielectric Grease, MOLYKOTE® G-5025 Grease, MOLYKOTE® G-5111 Compound, MOLYKOTE® G-5511 Water Tap Compound, MOLYKOTE® G-68 Grease for Lubrication of Plastic, MOLYKOTE® G-804 Silicone Compound, MOLYKOTE® G-807 Low Friction Silicone Compound, MOLYKOTE® G-9000 Grease, MOLYKOTE® G-N Metal Assembly Paste, MOLYKOTE® G-N Metal Assembly Paste Aerosol, MOLYKOTE® G-N Plus Paste, MOLYKOTE® G-Rapid Spray, MOLYKOTE® High Vacuum Grease, MOLYKOTE® HP-300 Grease, MOLYKOTE® HP-500 Grease, MOLYKOTE® HP-670 Grease, MOLYKOTE® HP-870 Grease, MOLYKOTE® HSC Plus Paste, MOLYKOTE® HTP Paste, MOLYKOTE® L-0115 FM Gear Oil ISO 150, MOLYKOTE® L-0115 Gear Oil - ISO 150, MOLYKOTE® L-0122 FM Gear Oil ISO 220, MOLYKOTE® L-0122 ISO VG 220 Gear Oil, MOLYKOTE® L-0146 FM Gear Oil ISO 460, MOLYKOTE® L-0146 ISO VG 460 Gear Oil, MOLYKOTE® L-0268 Process Gas Oil, MOLYKOTE® L-0346 Hydraulic Oil, MOLYKOTE® L-0368 FM Hydraulic Oil, MOLYKOTE® L-0460 FM Chain Oil, MOLYKOTE® L-0501 High Performance Penetrating Lubricant, MOLYKOTE® L-0510 FM Multi-Purpose Oil, MOLYKOTE® L-0532FM Multi-Purpose Light Oil, MOLYKOTE® L-0568 Multi-Purpose Oil, MOLYKOTE® L-0610 Vacuum Pump Oil, MOLYKOTE® L-0660 Ammonia Refrigerant Compressor Oil, MOLYKOTE® L-0668 Ammonia Refrigerant Compressor Oil, MOLYKOTE® L-1115 FM Synthetic Gear Oil ISO 150, MOLYKOTE® L-1122 FM Synthetic Gear Oil ISO 220, MOLYKOTE® L-1122 Synthetic Gear Oil - ISO 220, MOLYKOTE® L-1132 FM Synthetic Gear Oil ISO 320, MOLYKOTE® L-1132 Synthetic Gear Oil - ISO 320, MOLYKOTE® L-1146 Synthetic Gear Oil - ISO 460, MOLYKOTE® L-1168 Synthetic Gear Lubricant, MOLYKOTE® L-1210 Synthetic Compressor And Vacuum Pump Oil, MOLYKOTE® L-1232 FM Synthetic Compressor Oil, MOLYKOTE® L-1232 Synthetic Compressor Oil, MOLYKOTE® L-1246 FM Synthetic Compressor Oil, MOLYKOTE® L-1246 Synthetic Compressor Oil, MOLYKOTE® L-13 Thinner, MOLYKOTE® L-1332 FM Synthetic Hydraulic & Gear Oil, MOLYKOTE® L-1346 FM Synthetic Blend Hydraulic Oil, MOLYKOTE® L-1368 FM Synthetic Blend Hydraulic Oil, MOLYKOTE® L-1428 High Temperature Chain Oil, MOLYKOTE® L-1468 FM Synthetic Freezer Chain Oil, MOLYKOTE® L-1510 Process Gas Oil, MOLYKOTE® L-1568 Process Gas Oil, MOLYKOTE® L-1605 FM Synthetic Barrier Fluid, MOLYKOTE® L-1668 FM Synthetic Blend Vacuum Pump Oil, MOLYKOTE® L-2110 Synthetic Gear Oil, MOLYKOTE® L-2115 Synthetic Gear Oil, MOLYKOTE® L-2122 Synthetic Gear Oil, MOLYKOTE® L-2132 Synthetic Gear Oil, MOLYKOTE® L-2146 Synthetic Gear Oil, MOLYKOTE® L-2168 Synthetic Gear Oil, MOLYKOTE® L-3232 Synthetic Compressor Oil, MOLYKOTE® L-3246 Synthetic Compressor Oil, MOLYKOTE® L-4610 Synthetic Blend Piston Compressor Oil, MOLYKOTE® L-4611 Synthetic Compressor Oil, MOLYKOTE® L-4640 SYN FLUSH FLD, MOLYKOTE® L-4646 High Temperature Synthetic Compressor Oil, MOLYKOTE® L-8030 Lubricant, MOLYKOTE® Longterm 00 Semi-Fluid Gearbox Grease, MOLYKOTE® Longterm 1 Plus Extreme Pressure Bearing Grease, MOLYKOTE® Longterm 2 Plus Extreme Pressure Bearing Grease, MOLYKOTE® Longterm 2/78 G, MOLYKOTE® M Gear Oil Additive, MOLYKOTE® M-77 Paste, MOLYKOTE® MI-60 Grease, MOLYKOTE® Microsize Powder, MOLYKOTE® MKL-N Chain Grease With Solid Lubricant, MOLYKOTE® Multilub High Performance Grease, MOLYKOTE® P-1500 Anti-Fretting Paste, MOLYKOTE® P-1500 Paste, MOLYKOTE® P-1900 FM Anti-Seize Paste, MOLYKOTE® P-37 Antiseize Paste, MOLYKOTE® P-37 Thread Paste, MOLYKOTE® P-40 Paste, MOLYKOTE® P-74 Paste, MOLYKOTE® PA-744 Anti-Friction Coating, MOLYKOTE® PG 54 Plastislip Grease, MOLYKOTE® PG-65 Plastislip Grease, MOLYKOTE® PG-75 Plastislip Grease, MOLYKOTE® SH 44 MA Grease, MOLYKOTE® SH 44 MT Grease, MOLYKOTE® Silicone Brake Fluid, MOLYKOTE® SK-623 Grease, MOLYKOTE® TP-42 Paste, MOLYKOTE® U Paste, MOLYKOTE® U-N Paste, MOLYKOTE® YM-102 Grease, MOLYKOTE® YM-103 Grease, MOLYKOTE® Z Powder, MOLYKOTE® 33L Grease, MOLYKOTE® D-3484 Anti-Friction Coating, MOLYKOTE® 7 Release Compound, MOLYKOTE® 7508 Valve Grease, MOLYKOTE® D-708 Anti-Friction Coating, MOLYKOTE® G-Rapid Plus Paste, MOLYKOTE® D-79 Lubolid Additive Powder, MOLYKOTE® Metal Protector Plus, MOLYKOTE® Polygliss-N Adhesive Transparent Lubricant, MOLYKOTE® G-0052 FM White EP Bearing Grease, MOLYKOTE® L-0322 Hydraulic Oil, MOLYKOTE® G-1056 Grease, MOLYKOTE® G-1074 Grease, MOLYKOTE® G-0050 FM White EP Bearing Grease, MOLYKOTE® G-3000, MOLYKOTE® 7375 Lubolid Additive Powder, MOLYKOTE® D-96 Anti-Friction Coating, MOLYKOTE® D-96 UV Anti-Friction Coating, MOLYKOTE® L-1115 Synthetic Gear Oil - ISO 150, MOLYKOTE® L-1146 FM Synthetic Extreme Temp Gear Oil ISO 460, MOLYKOTE® L-1268 Synthetic Compressor Oil, MOLYKOTE® G-1502 FM Synthetic Bearing & Gear Grease, MOLYKOTE® D-709 Anti-Friction Coating, MOLYKOTE® 1 PLUS (IN) GREASE, MOLYKOTE® 1000 Spray, MOLYKOTE® 1000 Thread Lubricant, MOLYKOTE® 1000 Thread Paste Spray, MOLYKOTE® 1102 Gas Cock Grease, MOLYKOTE® 1122 Chain and Open Gear Grease (Aerosol), MOLYKOTE® 1122 Chain Grease Spray, MOLYKOTE® 316 Silicone Release Fluid, MOLYKOTE® 33 Light Extreme Low Temperature Grease, MOLYKOTE® 3451 Grease, MOLYKOTE® 3452 Chemical Resistant Valve Lubricant, MOLYKOTE® 3452 Grease, MOLYKOTE® 41 Extreme High Temperature Grease, MOLYKOTE® 55 M Grease, MOLYKOTE® 557 Lubricant, MOLYKOTE® 557 Silicone Dry Film Lubricant Spray, MOLYKOTE® 6031A Anti-Friction Coating, MOLYKOTE® 6050 Anti-Friction Coating, MOLYKOTE® 6157 Grease, MOLYKOTE® 6166 Grease, MOLYKOTE® 6169 Grease, MOLYKOTE® 7325(W) Grease, MOLYKOTE® 7348 Grease, MOLYKOTE® 7508 Valve Grease (J), MOLYKOTE® 908 Paste, MOLYKOTE® 912 Lubricant, MOLYKOTE® A Solid Lubricant Dispersion, MOLYKOTE® AG-650 Grease, MOLYKOTE® AS-810 Grease, MOLYKOTE® AS-812 Grease, MOLYKOTE® AS-828 Grease, MOLYKOTE® BR-2 Plus Grease, MOLYKOTE® BY 28-026 Grease, MOLYKOTE® BY 28-034 L Grease, MOLYKOTE® CO-220 Oil Multi-Purpose Chain Oil, MOLYKOTE® CU-7439 Paste, MOLYKOTE® CU-7439 Plus Paste, MOLYKOTE® CU-7439 Plus Paste Spray, MOLYKOTE® D Paste Spray, MOLYKOTE® D-21 Anti-Friction Coating, MOLYKOTE® D-29 Lubolid Additive Powder, MOLYKOTE® D-3051 Lubolid Additive Powder, MOLYKOTE® D-3500 Lubolid, MOLYKOTE® D-42 Lubolid Additive Powder, MOLYKOTE® D-43 Lubolid Additive Powder, MOLYKOTE® D-51 Lubolid Additive Powder, MOLYKOTE® D-5321 R Spray, MOLYKOTE® D-6023-GBL Anti-Friction Coating, MOLYKOTE® D-6024 Anti-Friction Coating, MOLYKOTE® D-6500 Protective Coating, MOLYKOTE® D-6565 Anti-Friction Coating, MOLYKOTE® D-88-GBL Anti-Friction Coating, MOLYKOTE® D-9630 Anti-Friction Coating, MOLYKOTE® DR-07 Grease, MOLYKOTE® EM-10L Grease, MOLYKOTE® EM-40M Grease, MOLYKOTE® EM-70L Grease, MOLYKOTE® EP Grease, MOLYKOTE® FS-841 Grease, MOLYKOTE® G Paste, MOLYKOTE® G-1006Y Grease, MOLYKOTE® G-1007 Grease, MOLYKOTE® G-1011 Grease, MOLYKOTE® G-1015 Grease, MOLYKOTE® G-1017 Grease, MOLYKOTE® G-1020 Grease, MOLYKOTE® G-1021 Synthetic Automotive Grease, MOLYKOTE® G-1031 Grease, MOLYKOTE® G-1035 Grease, MOLYKOTE® G-1039 Grease, MOLYKOTE® G-1051 Grease, MOLYKOTE® G-1054 Grease, MOLYKOTE® G-1058 Grease, MOLYKOTE® G-1066Y Grease, MOLYKOTE® G-1071 Grease, MOLYKOTE® G-1076 Grease, MOLYKOTE® G-1077 Grease, MOLYKOTE® G-1080 Grease, MOLYKOTE® G-1090 Grease, MOLYKOTE® G-1123 Grease, MOLYKOTE® G-2001 Bearing Grease, MOLYKOTE® G-2003 Grease, MOLYKOTE® G-2008 Synthetic Tool Gear Grease, MOLYKOTE® G-2088 Synthetic High Speed Gear Grease, MOLYKOTE® G-4500 Multi-Purpose Synthetic Grease Spray, MOLYKOTE® G-4700 Grease, MOLYKOTE® G-4700 Synthetic Bearing Grease, MOLYKOTE® G-5016 Grease, MOLYKOTE® G-5021 Grease, MOLYKOTE® G-5029 Grease, MOLYKOTE® G-5042 Silicone Automotive Service Grease, MOLYKOTE® G-5050 Grease, MOLYKOTE® G-56 Grease, MOLYKOTE® G-6000 Grease, MOLYKOTE® G-67 Grease, MOLYKOTE® G-8005 Grease, MOLYKOTE® G-8007 Grease, MOLYKOTE® G-8010 Grease, MOLYKOTE® G-8018 Grease, MOLYKOTE® G-8025 Grease, MOLYKOTE® G-8036 Grease, MOLYKOTE® G-8039 Grease, MOLYKOTE® G-8072 Grease, MOLYKOTE® G-8080 Grease, MOLYKOTE® G-9001 Grease, MOLYKOTE® G-9106 Grease, MOLYKOTE® Gas Cock Grease GC-SS(171606), MOLYKOTE® G-N Paste, MOLYKOTE® G-Rapid Plus Paste Spray, MOLYKOTE® HD-984 Powder, MOLYKOTE® HF-20 Oil, MOLYKOTE® HF-30 Oil, MOLYKOTE® HP Solvent, MOLYKOTE® HP-200 Grease, MOLYKOTE® HP-300 Spray, MOLYKOTE® HP-500 Spray, MOLYKOTE® HP-630 Grease, MOLYKOTE® HP-800 Grease, MOLYKOTE® HSC Plus Paste Spray, MOLYKOTE® HTF Solid Lubricant Dispersion, MOLYKOTE® L 13 Anti-Friction Coating Thinner, MOLYKOTE® L-0115 ISO VG 150 Gear Oil, MOLYKOTE® L-0346 FM Hydraulic Oil, MOLYKOTE® L-0500 Protective Zinc Coating Spray, MOLYKOTE® L-1115 ISO 150 VG Synthetic Gear Oil, MOLYKOTE® L-1368 Full Synthetic Hydraulic Oil, MOLYKOTE® L-8000 Lubricant, MOLYKOTE® L-8001 Lubricant, MOLYKOTE® L-8011 Lubricant, MOLYKOTE® L-8013 Lubricant, MOLYKOTE® L-8033 Lubricant, MOLYKOTE® Longterm 2/78 (USA) Grease, MOLYKOTE® Longterm 2/78 Grease, MOLYKOTE® Longterm W2 Multi-Purpose Grease, MOLYKOTE® M Dispersion, MOLYKOTE® M-30 Dispersion, MOLYKOTE® M-30 Solid Lubricant Dispersion, MOLYKOTE® M-55 Dispersion, MOLYKOTE® M-77 Assembly Paste, MOLYKOTE® M-8800 Anti-Friction Coating, MOLYKOTE® M-8800 Anti-Friction Coating Spray, MOLYKOTE® Metal Protector Plus Coating Spray, MOLYKOTE® Metalform, MOLYKOTE® MH-62 (USA) Grease, MOLYKOTE® MH-62 Grease, MOLYKOTE® MI-60 Grease, MOLYKOTE® Multigliss, MOLYKOTE® Omnigliss, MOLYKOTE® Omnigliss Extreme Pressure Oil, Spray, MOLYKOTE® P-1600 Paste, MOLYKOTE® P-40 Assembly Paste, MOLYKOTE® P-74 Assembly Paste, MOLYKOTE® PA-722 Anti-Friction Coating, MOLYKOTE® PD-920 Lubricant, MOLYKOTE® PD-930 Lubricant, MOLYKOTE® PD-933C Lubricant, MOLYKOTE® PG-21 Plastislip Grease, MOLYKOTE® PG-641 Grease, MOLYKOTE® PG-661(W) Grease, MOLYKOTE® PG-662Y Grease, MOLYKOTE® PG-663 Grease, MOLYKOTE® PG-663-UV Blue, MOLYKOTE® Polygliss-N Adhesive Transparent Lubricant, Spray, MOLYKOTE® POLYUREA 3(IN) GREASE, MOLYKOTE® Powder Spray Coating Spray, MOLYKOTE® PTFE-N UV Anti Friction Coating Spray, MOLYKOTE® PTFE-N UV Anti-Friction Coating, MOLYKOTE® Q5-0180 Oil, MOLYKOTE® Q5-7514 Grease, MOLYKOTE® S-1010 Anti-Spatter Spray, MOLYKOTE® S-1011 Open Gear Spray, MOLYKOTE® S-1013 Cutting Fluid Spray, MOLYKOTE® S-1501 High Temperature Synthetic Chain Oil, MOLYKOTE® S-1503 High Temperature Medium Viscosity Chain Oil, MOLYKOTE® Separator Silicone Spray, MOLYKOTE® SH 33 F Grease, MOLYKOTE® SH 33 L Grease, MOLYKOTE® SH 33 M Grease, MOLYKOTE® SH 4 Compound, MOLYKOTE® SH 41 Grease, MOLYKOTE® SH 44 F Grease, MOLYKOTE® SH 44 L Grease, MOLYKOTE® SH 44 M Grease, MOLYKOTE® SH 45 Grease, MOLYKOTE® SK-623 (USA) Grease, MOLYKOTE® Supergliss, MOLYKOTE® W 15 Solid Lubricant Dispersion, MOLYKOTE® X Grease Paste, MOLYKOTE® X5-6020 Grease, MOLYKOTE® G-72 Grease, MOLYKOTE® 1000 Thread Paste, MOLYKOTE® G-0010 Grease, MOLYKOTE® G-5032 Grease, MOLYKOTE® Supergliss Water Displacement Type Water Proofing Agent, MOLYKOTE® G-1068 Grease, MOLYKOTE® 55 Grease, MOLYKOTE® PD-910C Lubricant, MOLYKOTE® PD-910 Lubricant, MOLYKOTE® PG-671 Grease, MOLYKOTE® G-0109 Grease, MOLYKOTE® FB-180 Grease, MOLYKOTE® G-4500 FM Multi-Purpose Synthetic Grease Spray
Active roll stabilizer suspension system relies on MOLYKOTE® Smart Lubrication® solution
Products:
MOLYKOTE® G-1074 Grease