Dytek® DCH-99
DYTEK® 1,2-Diaminocyclohexane (DCH-99) is a cyclic aliphatic diamine used in a variety of applications, including urethanes and epoxies. DYTEK® DCH-99 amine is a mixture of cis- and trans-isomers and a clear liquid at room temperature with an amine-like odor.
Knowde Enhanced TDS
Identification & Functionality
+
CASE Ingredients Functions
Composite Materials Functions
Fluids & Lubricants Functions
Epoxy Curatives
Epoxy resins cured with Dytek® amines have excellent properties for use in coatings, civil engineering, adhesives, marine, and composite applications.
Features
Typical Applications

Low viscosity vs. IPDA
Chemical resistance
Highest Tg of all Dytek® Amines

Tank linings with chemical exposure
High temperature applications
Wind turbine blades
High-performance composite parts
Applications
Chelating Agent
Oilfield
Textiles
Water treatment
Detergents
Epoxy Curing Agents
Composites
Flooring/paving
Herbicide intermediates
Polyamide Resin
Adhesives
Coatings
Films
Plastics
Inks
Polyurethane/Polyurea
Scale/Corrosion Inhibitors
Typical Properties
| | | | |
| --- | --- | --- | --- |
| | Value | Units | Test Method / Conditions |
| 1,2-Diaminocyclohexane Content | 99 | wt% | |
| 2-Methylpentamethylenediamine Content | 0.1 | wt% | |
| Amine Value | 967 | mgKOH/g | |
| Color | 15 | APHA | |
| Critical Pressure (Pc) | 43.4 | atm | |
| Critical Temperature (Tc) | 409.2 | °C | |
| Critical Vapourization (Vc) | 361.5 | mL | |
| Flash Point | 75 (167) | °C (°F) | Closed Cup |
| Hansen Solubility Parameters (δ) | 11 | | |
| Hansen Solubility Parameters (δd) | 8.6 | | |
| Hansen Solubility Parameters (δH) | 5.8 | | |
| Hansen Solubility Parameters (δp) | 3.5 | | |
| Heat of Vaporization (at 185°C) | 106 | cal/g | |
| Hexamethylenediamine Content | 0.1 | wt% | |
| Hydrogen Equivalent Weight | 28.5 | | |
| Melting Point (Cis) | 2 (36) | °C (°F) | |
| Melting Point (Trans) | 15 (59) | °C (°F) | |
| Molecular Weight | 114 | | |
| pH (5% Aqueous Solution) | 12 | | |
| pKa1 (at 30°C (86°F)) | 9.6 | | |
| pKa2 (at 30°C (86°F)) | 6.1 | | |
| Refractive Index (cis, n25 D) | 1.487 | | |
| Specific Gravity (at 20°C (68°F)) | 0.94 | | |
| Viscosity (at 21°C (70°F)) | 7.2 | cP | |
| Volatiles Content | 100 | % | |
| Water Content | 0.1 | wt% | |
| Tg, (DSC, 2nd run) | 176 | °C | |
| HDT | 94 | °C | |
| Shore D Hardness | 86 | | |
| Izod Impact Strength Unnotched | 5.9 | ft-lbf/in2 | |
| Charpy Impact Strength | 4.8 | ft-lbf/in2 | |
| Flexural Strength (X 103) | 12.8 | psi | |
| Elasticity Modulus (X 103) | 439 | psi | |
| Tensile Strength (X 103) | 4.4 | psi | |
| Elongation at Break | 2.4 | % | |
| Vapor Pressure (at 20°C) | 0.387 | mm Hg | |
Appearance
Clear and free of suspended materials
Technical Details & Test Data
+
Molecular Structure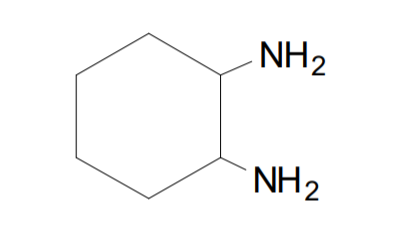 Aspartic Esters