Vitazyme Protein Complexed Vitamins are compatible with many commonly used cosmetic ingredients. These materials should be added to the batch after emulsification is complete and the temperature has been reduced to 40–45°C. All products in the Vitazyme family are water dispersible. For optimum stability, the pH of the final product should be in the range of 4–6.5
Products
(1)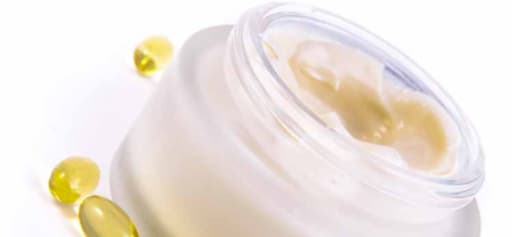 Lonza
Vitazyme® A Plus
Brand: Vitazyme
Product Families: Other OTC Actives, Skin Actives, Sensorial Modifiers
Chemical Family: Plant Extracts, Proteins, Peptides & Amino Acid Derivatives
End Uses: Moisturizers, Skin Toners, Foundation
Vitazyme™ A Plus is a complex formed from interactions of polypeptides and retinyl palmitate and delivering vitamin A as a water-dispersible substance. This property promotes absorption and rapid utilization, particularly upon topical application. The protein part of the complex increases substantivity and reduces or eliminates the well-known toxicity of the fat-soluble vitamins that tend to accumulate in the adipose tissues of the body.
Brand Summary
Identification & Functionality
+
Brand Highlights
Protein Complexed Vitamins
A biotechnologically advanced protein complexed delivery system that goes beyond traditional cosmetic vitamins. They are water-dispersible and compatible with many commonly used cosmetic ingredients and should be added to the batch after emulsification is complete and the temperature has been reduced to 40–45°C.
Key Benefits
Manufactured by taking natural GRAS (Generally Regarded As Safe) plant or yeast derived protein substrates which are known for their natural vitamin content.

Enhanced penetration into the skin and hair while providing excellent moisturizing and counter-irritant properties
Documents
(2)
Document Name
Type
Products
Aldo® MSD Kfg, Aldo® PGHMS Kfg, Amphoterge® K-2, Amphoterge® K-J-2-50%, Amphoterge® W, Amphoterge® W-2, Biocell™ SOD, Carnipure® Crystalline, Carnipure® Tartrate, Carsoquat® 450i, Carsoquat® CT-429, Carsoquat® SDQ-25, Carsoquat® SDQ-85, Cosmocil® CQ, Geogard® 111A, Geogard® 111S, Geogard® 221, Geogard® ECT, Geogard® LSA, Geogard Ultra®, Glycacil® 2000, Glycacil® L, Glydant®, Glydant® 2000, Glydant® LTD, Glydant Plus® Liquid, Isocil® PC, LaraCare® A200, Lonza Gel Base BSM5, Lonza Marula Oil, Lonza Niacinamide USP PC, Lonzagard® Benzethonium Chloride, Lonzaserve® PC, Lonzest® GDL, Lonzest® GMO, Lonzest® GMS-C, Lonzest® GMS-D, Lonzest® MSA, Lonzest® SML, Lonzest® SMO, Lonzest® SOC, Lonzest® STO, Metabiotics® Resveratrol ECT GEO, Mikrokill® COS, NAB® Butterbur Extract, NAB® Rhodiola Extract, Natrulon® H-10, Natrulon® H-6, Pegosperse® 100-S, Pegosperse® 1500 MS, Pegosperse® 400 DL, Pegosperse® 400 DS VEG, Pegosperse® 400 ML, Pegosperse® 50 DS, Pegosperse® 50 MS, SeaPure® Agarose, Solu-Mar® Elastin SD, Spectradyne™, ViscUp® 160, Vitazyme® A Plus, Zinc Omadine® 48% FPS Cosm Grade, Ethosperse® LA-23, Ethosperse® LA-4, Glycomul® S KFG, Glycomul® TS KFG, Glycosperse® L-20 KFG, Glycosperse® O-20 KFG, Glycosperse® S-20 KFG, Glycosperse® TS-20 KFG, Metabiotics® Resveratrol, ScreenLight® Block, Pegosperse® 400 DS Special, SYNETH™ O3 K RSPO MB, SYNETH™ S7 K RSPO MB Pastille, SYNETH™ S8 K RSPO MB Pastille, SYNETH™ S10 K RSPO MB Pastille, SYNETH™ P11 K RSPO MB Pastille, SYNETH™ O13 K RSPO MB, SYNETH™ C15 K RSPO MB, SYNETH™ L15 K RSPO MB, XPressEV™, H₂OBioEV®, Modifect® EV, PO.Fresh®, Glydant Plus®
Products:
Aldo® MSD Kfg, Aldo® PGHMS Kfg, Amphoterge® K-2, Amphoterge® K-J-2-50%, Amphoterge® W, Amphoterge® W-2, Biocell™ SOD, Carnipure® Crystalline, Carnipure® Tartrate, Carsoquat® 450i, Carsoquat® CT-429, Carsoquat® SDQ-25, Carsoquat® SDQ-85, Cosmocil® CQ, Geogard® 111A, Geogard® 111S, Geogard® 221, Geogard® ECT, Geogard® LSA, Geogard Ultra®, Glycacil® 2000, Glycacil® L, Glydant®, Glydant® 2000, Glydant® LTD, Glydant Plus® Liquid, Isocil® PC, LaraCare® A200, Lonza Gel Base BSM5, Lonza Marula Oil, Lonza Niacinamide USP PC, Lonzagard® Benzethonium Chloride, Lonzaserve® PC, Lonzest® GDL, Lonzest® GMO, Lonzest® GMS-C, Lonzest® GMS-D, Lonzest® MSA, Lonzest® SML, Lonzest® SMO, Lonzest® SOC, Lonzest® STO, Metabiotics® Resveratrol ECT GEO, Mikrokill® COS, NAB® Butterbur Extract, NAB® Rhodiola Extract, Natrulon® H-10, Natrulon® H-6, Pegosperse® 100-S, Pegosperse® 1500 MS, Pegosperse® 400 DL, Pegosperse® 400 DS VEG, Pegosperse® 400 ML, Pegosperse® 50 DS, Pegosperse® 50 MS, SeaPure® Agarose, Solu-Mar® Elastin SD, Spectradyne™, ViscUp® 160, Vitazyme® A Plus, Zinc Omadine® 48% FPS Cosm Grade, Ethosperse® LA-23, Ethosperse® LA-4, Glycomul® S KFG, Glycomul® TS KFG, Glycosperse® L-20 KFG, Glycosperse® O-20 KFG, Glycosperse® S-20 KFG, Glycosperse® TS-20 KFG, Metabiotics® Resveratrol, ScreenLight® Block, Pegosperse® 400 DS Special, SYNETH™ O3 K RSPO MB, SYNETH™ S7 K RSPO MB Pastille, SYNETH™ S8 K RSPO MB Pastille, SYNETH™ S10 K RSPO MB Pastille, SYNETH™ P11 K RSPO MB Pastille, SYNETH™ O13 K RSPO MB, SYNETH™ C15 K RSPO MB, SYNETH™ L15 K RSPO MB, XPressEV™, H₂OBioEV®, Modifect® EV, PO.Fresh®, Glydant Plus®
Vitazyme® A Plus, Vitazyme® B Complex
Products:
Vitazyme® A Plus, Vitazyme® B Complex