Geogard® 221
Geogard® 221 is a clear, light yellow to orange liquid globally approved preservative for cosmetics and toiletries with broad spectrum activity. This preservative is based on dehydroacetic acid (DHA) and benzyl alcohol and meets NPA and Soil Association standards and is effective in a wide pH range.
Experts
(1)
Carly Stead
Technical Sales
Welcome to Lonza on Knowde! You can ask us anything. Just give us a few moments to route your request to the right person before we answer.
Knowde Enhanced TDS
Identification & Functionality
+
Cosmetic Ingredients Functions
Key Attributes
Has a wide range of global regulatory approval
Easy-to-use and compatible with most types of cosmetic formulations
Wide effective pH range
Compatible with key raw materials
Chemically and physically stable
Meet ECOCERT and COSMOS requirements
Soil Association approved
Not tested on animals
Safe handling
Description
Geogard® 221 preservative is based on dehydroacetic acid (DHA) and benzyl alcohol, and therefore is recognized by major cosmetic, toiletry and fragrance regulatory authorities worldwide for use in cosmetic and personal care products. Geogard®221 is light in color, essentially odorless and compatible in a diverse range of product formulations.
Bath & Shower Applications
Color Cosmetic Applications
Other Beauty & Care Applications
Wipes, Tissue & Towel Applications
Applications
Anhydrous
Baby care
Baby wipes
Body Butter
Body wash
Conditioner
Cream
Deo/ Anti-Perspirant
Eye creams/gels
Eye shadow
Face Lotion
Face wipes
Facial Cream
Foundation
Hair gel
Hand soap
Lipstick/gloss
Lotion
Make up remover
Mascara
Oil in Water
Powder
Shampoo
Suncare
Toner
Water in Oil
Formulation Recommendations
Use between pH 2–7
Efficacy can be compromised above a pH of 7
Can be added at both room and elevated temperatures
Enhanced compatibility allows for the addition of Geogard®221
virtually anywhere in the manufacturing process
Anionics may cause discoloration – carbomers and certain surfactants
Highly soluble in polar organic solvents
Regulatory & Compliance
+
Certifications & Compliance
Global Regulatory
Europe
Max use level for DHA is 0.6% DHA – rinse-off & leave-on
Max use level for Benzyl Alcohol is 1% – rinse-off & leave-on
Japan
Benzyl alcohol is not permitted for use as a preservative in final
cosmetic products placed on the Japanese market
US
All ingredients allowed (CIR/PCPC)
Refer to present practices of use and concentration
General
ECOCERT & COSMOS accepted, Soil Association approved
Technical Details & Test Data
+
Efficacy
Microbiological Challenge Studies Studies were run using different concentrations of Geogard® 221 in various formulations to see efficacy against various bacteria, yeast and fungi. All samples were inoculated at the beginning of the study, sampled at 7, 14, 21 and 28 days.
Non Ionic Cream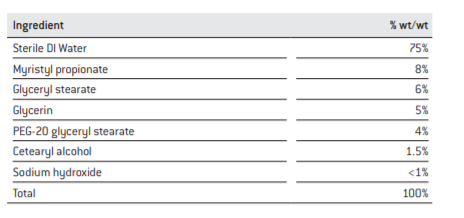 Non Ionic Cream Test Results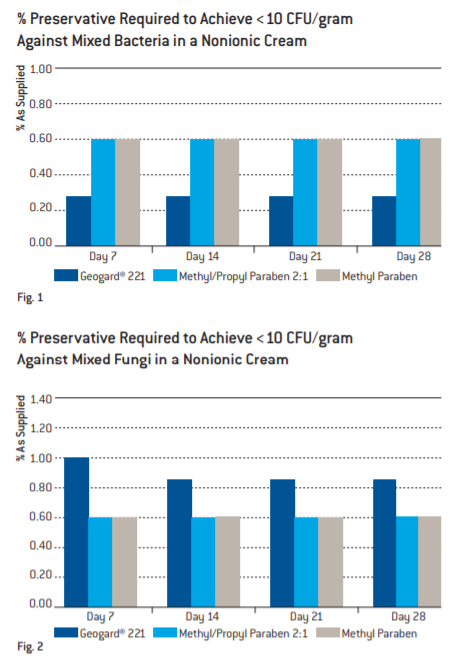 Shampoo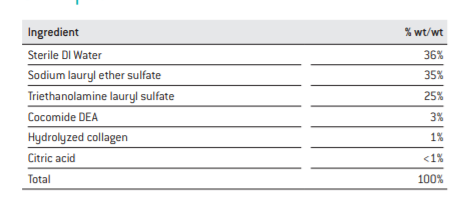 Shampoo Test Results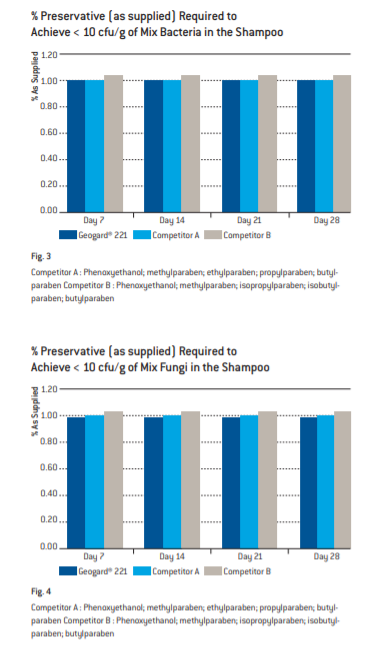 GMS Cream (pH 6)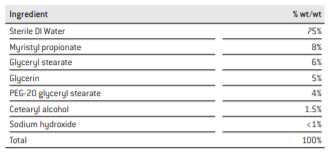 GMS Cream Test Results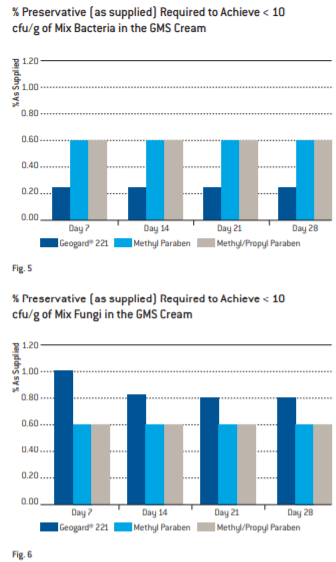 Cationic Cream (pH 4.5)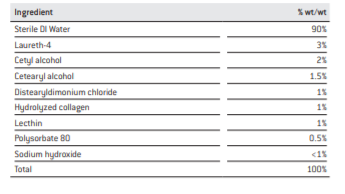 Cationic Cream Test Results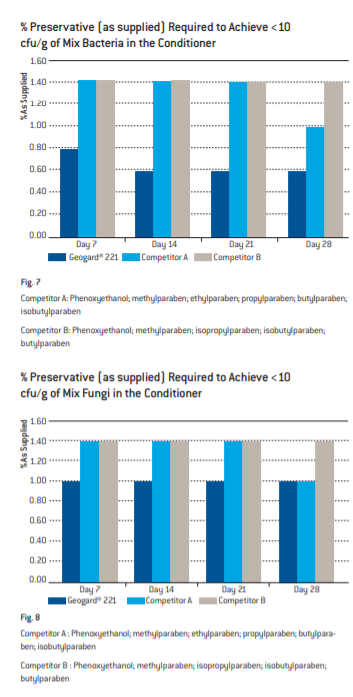 Packaging & Availability
+
Documents
(4)
Document Name
Type
Products
Cosmocil® CQ, Geogard® 111A, Geogard® 111S, Geogard® 221, Geogard® ECT, Geogard® LSA, Geogard Ultra®, Glycacil® 2000, Glycacil® L, Glydant®, Glydant® 2000, Glydant® LTD, Glydant Plus® Liquid, Isocil® PC, Lonzagard® Benzethonium Chloride, Lonzaserve® PC, Mikrokill® COS, Spectradyne™, Glydant® Plus
Products:
Cosmocil® CQ, Geogard® 111A, Geogard® 111S, Geogard® 221, Geogard® ECT, Geogard® LSA, Geogard Ultra®, Glycacil® 2000, Glycacil® L, Glydant®, Glydant® 2000, Glydant® LTD, Glydant Plus® Liquid, Isocil® PC, Lonzagard® Benzethonium Chloride, Lonzaserve® PC, Mikrokill® COS, Spectradyne™, Glydant® Plus
Aldo® MSD Kfg, Aldo® PGHMS Kfg, Amphoterge® K-2, Amphoterge® K-J-2-50%, Amphoterge® W, Amphoterge® W-2, Biocell™ SOD, Carnipure® Crystalline, Carnipure® Tartrate, Carsoquat® 450i, Carsoquat® CT-429, Carsoquat® SDQ-25, Carsoquat® SDQ-85, Cosmocil® CQ, Geogard® 111A, Geogard® 111S, Geogard® 221, Geogard® ECT, Geogard® LSA, Geogard Ultra®, Glycacil® 2000, Glycacil® L, Glydant®, Glydant® 2000, Glydant® LTD, Glydant Plus® Liquid, Isocil® PC, LaraCare® A200, Lonza Gel Base BSM5, Lonza Marula Oil, Lonza Niacinamide USP PC, Lonzagard® Benzethonium Chloride, Lonzaserve® PC, Lonzest® GDL, Lonzest® GMO, Lonzest® GMS-C, Lonzest® GMS-D, Lonzest® MSA, Lonzest® SML, Lonzest® SMO, Lonzest® SOC, Lonzest® STO, Metabiotics® Resveratrol ECT GEO, Mikrokill® COS, NAB® Butterbur Extract, NAB® Rhodiola Extract, Natrulon® H-10, Natrulon® H-6, Pegosperse® 100-S, Pegosperse® 1500 MS, Pegosperse® 400 DL, Pegosperse® 400 DS VEG, Pegosperse® 400 ML, Pegosperse® 50 DS, Pegosperse® 50 MS, SeaPure® Agarose, Solu-Mar® Elastin SD, Spectradyne™, ViscUp® 160, Vitazyme® A Plus, Zinc Omadine® 48% FPS Cosm Grade, Ethosperse® LA-23, Ethosperse® LA-4, Glycomul® S KFG, Glycomul® TS KFG, Glycosperse® L-20 KFG, Glycosperse® O-20 KFG, Glycosperse® S-20 KFG, Glycosperse® TS-20 KFG, Metabiotics® Resveratrol, ScreenLight® Block, Pegosperse® 400 DS Special, SYNETH™ O3 K RSPO MB, SYNETH™ S7 K RSPO MB Pastille, SYNETH™ S8 K RSPO MB Pastille, SYNETH™ S10 K RSPO MB Pastille, SYNETH™ P11 K RSPO MB Pastille, SYNETH™ O13 K RSPO MB, SYNETH™ C15 K RSPO MB, SYNETH™ L15 K RSPO MB, XPressEV™, H₂OBioEV®, Modifect® EV, PO.Fresh®, Glydant Plus®
Products:
Aldo® MSD Kfg, Aldo® PGHMS Kfg, Amphoterge® K-2, Amphoterge® K-J-2-50%, Amphoterge® W, Amphoterge® W-2, Biocell™ SOD, Carnipure® Crystalline, Carnipure® Tartrate, Carsoquat® 450i, Carsoquat® CT-429, Carsoquat® SDQ-25, Carsoquat® SDQ-85, Cosmocil® CQ, Geogard® 111A, Geogard® 111S, Geogard® 221, Geogard® ECT, Geogard® LSA, Geogard Ultra®, Glycacil® 2000, Glycacil® L, Glydant®, Glydant® 2000, Glydant® LTD, Glydant Plus® Liquid, Isocil® PC, LaraCare® A200, Lonza Gel Base BSM5, Lonza Marula Oil, Lonza Niacinamide USP PC, Lonzagard® Benzethonium Chloride, Lonzaserve® PC, Lonzest® GDL, Lonzest® GMO, Lonzest® GMS-C, Lonzest® GMS-D, Lonzest® MSA, Lonzest® SML, Lonzest® SMO, Lonzest® SOC, Lonzest® STO, Metabiotics® Resveratrol ECT GEO, Mikrokill® COS, NAB® Butterbur Extract, NAB® Rhodiola Extract, Natrulon® H-10, Natrulon® H-6, Pegosperse® 100-S, Pegosperse® 1500 MS, Pegosperse® 400 DL, Pegosperse® 400 DS VEG, Pegosperse® 400 ML, Pegosperse® 50 DS, Pegosperse® 50 MS, SeaPure® Agarose, Solu-Mar® Elastin SD, Spectradyne™, ViscUp® 160, Vitazyme® A Plus, Zinc Omadine® 48% FPS Cosm Grade, Ethosperse® LA-23, Ethosperse® LA-4, Glycomul® S KFG, Glycomul® TS KFG, Glycosperse® L-20 KFG, Glycosperse® O-20 KFG, Glycosperse® S-20 KFG, Glycosperse® TS-20 KFG, Metabiotics® Resveratrol, ScreenLight® Block, Pegosperse® 400 DS Special, SYNETH™ O3 K RSPO MB, SYNETH™ S7 K RSPO MB Pastille, SYNETH™ S8 K RSPO MB Pastille, SYNETH™ S10 K RSPO MB Pastille, SYNETH™ P11 K RSPO MB Pastille, SYNETH™ O13 K RSPO MB, SYNETH™ C15 K RSPO MB, SYNETH™ L15 K RSPO MB, XPressEV™, H₂OBioEV®, Modifect® EV, PO.Fresh®, Glydant Plus®
Geogard® 111A, Geogard® 111S, Geogard® 221, Geogard® ECT, Geogard® LSA, Geogard Ultra®
Products:
Geogard® 111A, Geogard® 111S, Geogard® 221, Geogard® ECT, Geogard® LSA, Geogard Ultra®