jER™ is an epoxy resin brand with the longest history in Japan. Based on decades of research and accumulated technology, we are offering a wide range of epoxy resin grades with characteristic properties, such as low chlorine, low viscosity, transparency, flexibility, photo-curability, high molecular weight type, and specialized molecular structure type, to meet diverse needs of our customers.
*jER™ is provided by Mitsubishi Chemical Corporation, a member of the Mitsubishi Chemical Group
Brand Summary
Identification & Functionality
Chemical Family
Bisphenol A Type Epoxy
,
Bisphenol Epoxy Resins
,
Bisphenol F Type Epoxy
,
Epoxy & Epoxy Derivatives
Technologies
CASE Ingredients
,
Composite Materials
,
Plastics
Product Families
Polymer Additives
Performance Additives
,
Surface Modifiers
CASE Ingredients Functions
Adhesion Promoter
,
Binder & Resin
,
Coupling Agent
,
Flame Retardant
,
Plasticizer
Plastics & Elastomers Functions
Adhesion Promoter
,
Plasticizer
,
Resin
Composite Materials Functions
Adhesion Promoter
,
Impact Modifier
,
Resin, Binder & Matrix Material
Markets
Adhesives & Sealants
,
Building & Construction
,
Consumer Goods
,
Electrical & Electronics
,
Paints & Coatings
,
Printing & Packaging
Applications
Industrial & Assembly Adhesives
Packaging & Assembly
Electronics Coatings
,
Adhesives & Sealants
,
Potting Compounds
,
Other Packaging & Assembly Applications
Parts & Components
Semiconductor Manufacturing
,
Printed Circuit Boards (PCBs)
Devices & Assemblies
Consumer Electronics
,
Displays
,
Other Devices & Assemblies
Applications
Other Adhesives & Sealants Applications
Applications
Other Building & Construction Applications
Applications
Other Paints & Coatings Applications
Compatible Substrates & Surfaces
Aluminum
,
Ceramic
,
Concrete
,
Fibers & Fabrics
,
Glass
,
Metal
,
Plastics
,
Steel
Cure Method
Chemical Cure
,
Radiation Cure
Plastics & Elastomers End Uses
Semiconductor Applications
Coating Type
Base Coat
,
Conformal Coating
,
Powder Coating
,
Radiation Curable Coating
Brand Highlights
Structure
Definition: Compounds having multiple epoxy groups

Characteristics
When an epoxy resin is allowed to react with various curing agents, an infusible, insoluble, three-dimensional, hardened material is formed. The features listed below indicate how this high-performance, multipurpose resin can be used for a wide variety of applications.
There is tremendous freedom to adapt the material properties to the specific application requirements by adding various modifying agents (fillers, flexibility agents, diluents.)
Curing shrinkage is small. Dimensional stability is excellent.
Excellent adhesion to metal, porcelain, concrete, etc.
High mechanically strength.
Excellent as an electrical insulator.
Excellent flexibility.
Excellent heat resistance.
Excellent wear and abrasion resistance.
Excellent chemical resistance, and moisture (water) resistance.
Typical Reactions
<Reaction with Representative Hardeners>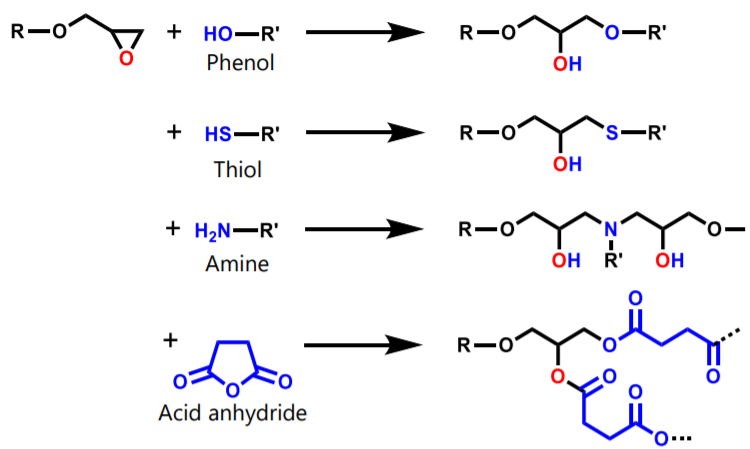 <Self Polymerization>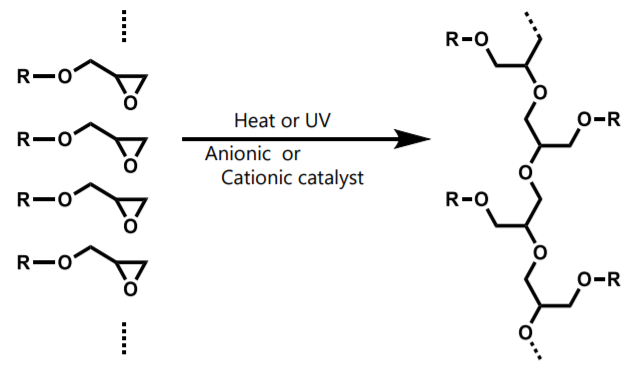 Selection of Hardeners
Appropriate choice of Hardener for a desired curing temperature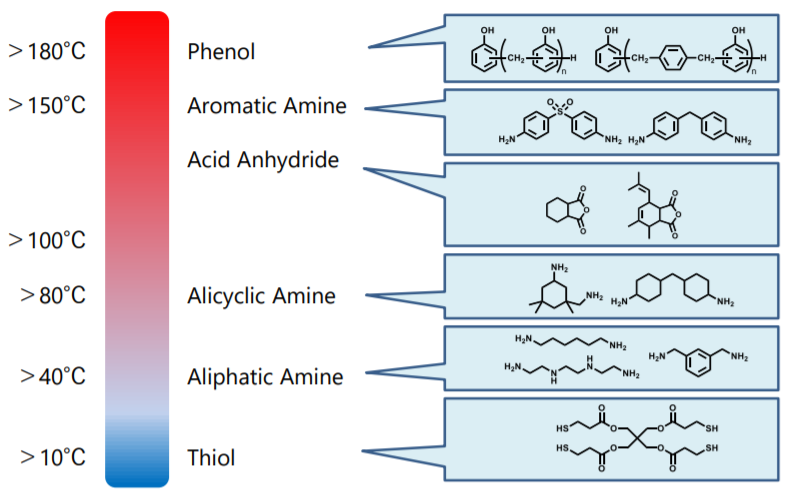 General Ways to Use Epoxy
Epoxy resin forms 3D-crosslinked network structure
Abundant choices of Epoxy/Hardener combination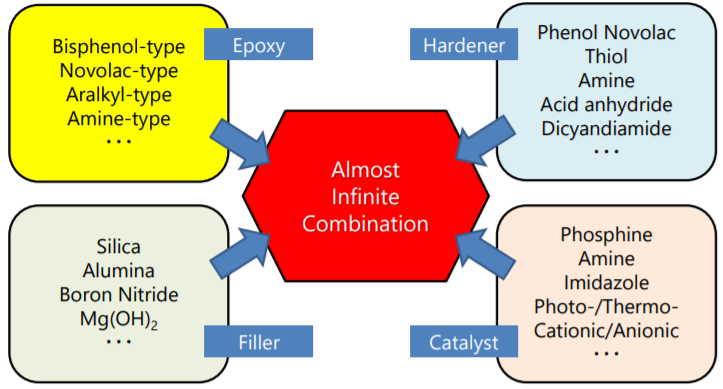 Types of Epoxy Resins
In addition to the basic bisphenol A resin mentioned above, other specialized resins are manufactured and sold to give the cured material specific property enhancements.
Following are the main specialized resins
Bisphenol F epoxy resin: Low viscosity makes it excellent to work with.
Multifunctional epoxy resin: Cured material has outstanding thermal and chemical resistance.
Flexible epoxy resin: The cured material's crack-resistance is improved.
High molecular weight epoxy resin (phenoxy resin): The cured coating has excellent machinery property.
Biphenyl epoxy resin: The cured material has excellent heat resistance and low stress.
Either alone or in combination with bisphenol A epoxy resin, these special resins can give specific features to the cured product to satisfy application requirements.
Applications
Paints and coatings
Electrical insulation materials
Composite materials
Civil-engineering and construction materials
Adhesives
Tools
Other applications
Handling Precautions
A Japanese Ministry of Health, Labor, and Welfare toxicity study concluded that bisphenol A liquid epoxy resin and bisphenol F liquid epoxy resin are mutagenic. Therefore, when handling, it is necessary to follow the guidelines provided by the Ministry. In addition, as substances that can cause allergic dermatitis, official handling guidelines have been established by the Japanese Labor Standards Director and the Ministry of Health, Labor and Welfare. Similarly, precautions are needed in handling the curing agent. Especially amine-type curing agents can cause allergy-like dermatitis in people. In order to avoid direct contact, please use protective cream, gloves, goggles, and apron. Avoid inhalation of vapor and particulates by working in a well-ventilated area and working upwind of the material.
In the event of skin contact, avoid use of solvents, wipe the affected area with a dry cloth, wash thoroughly with soap and water, and then apply hand cream.
In the event of eye contact, flush eyes with water for more than 15 minutes, and then seek medical attention.
Lineup / Specifications
Various requirements are addressed by changing the molecular weight and/or the basic structure of the epoxy resin. A broad range of products are available in liquid, solid, or powder form, depending on the application.
Basic Liquid Type
Diluted Type
Basic Solid Type
Solution Type
Bis-F Liquid Type
Bis-F Solid Type
Phenoxy Type (Polymer Type Epoxy Resins)
Flame-retardant Type
Multifunction Type
Flexible Type
Special Function Type
Biphenyl Type
Emulsion Type (water-based epoxy resin)