A line of unique narrowly distributed waxes that allow highly selective performance enhancement in rheology, crystallization, gelation and stability. Benefits: Control crystallinity, nucleation, viscosity increaser, aggressive oil gelling, temperature stability, gloss.
Knowde Enhanced TDS
Identification & Functionality
+
Cosmetic Ingredients Functions
Key Attributes
The highly linear nature of the material combined with the narrow distribution enhances oil gelation and stability, modifies rheology, imparts gloss and improves structuring in sticks
Recommended Uses
The Paracera N 101 has multiple uses across all cosmetic product groups, with particular performance benefits as an oil phase rheology modifier, temperature stabilizer and increaser, structuring component, hardness increasing agent and to impart glossy appearance in sticks and color cosmetics.
Sticks for high gloss, structure and temperature stability
Creams / lotions for thickening and tackiness reduction
Mascara for slip and thickening
Gels for stability and texture (firmness)
Regulatory & Compliance
+
Technical Details & Test Data
+
DSC
The Paracera N waxes are producted in a FSSC 22000 certified food safe production environment.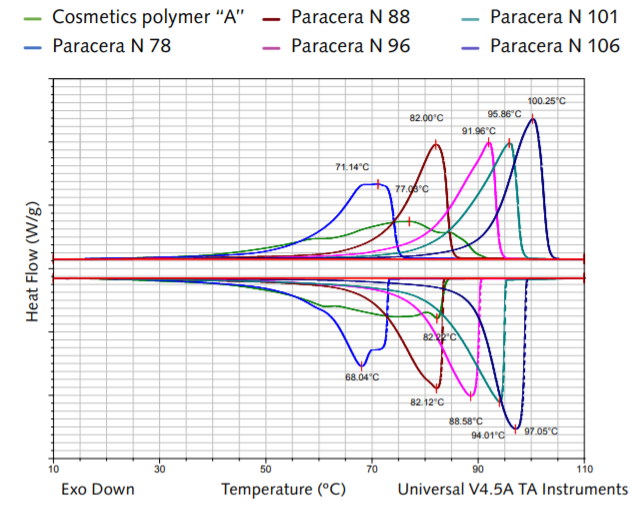 Paracera N high temperature products relative efficacy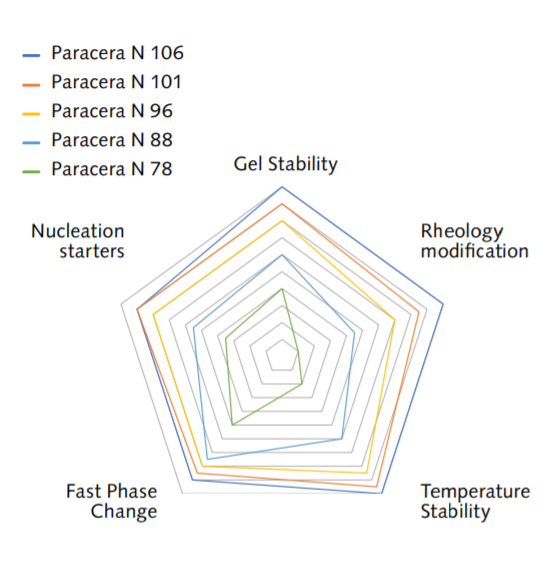 Packaging & Availability
+
Most Viewed Documents
Type
Products
Document Name
Learn More
Paramelt Beeswax Blend 164, Paramelt Beeswax Blend 166, Paramelt Beeswax Care 144, Paramelt Beeswax Care 146, Paracera® 11946, Paracera® 13863, Paracera® C 44, Paracera® H, Paracera® L, Paracera® M, Paracera® MW, Paracera® P, Paracera® W 80, Paracera® N 101, Paracera® N 106
Paracera® Waxes for Cosmetic and Pharmaceutical Preparations
Products:
Paramelt Beeswax Blend 164, Paramelt Beeswax Blend 166, Paramelt Beeswax Care 144, Paramelt Beeswax Care 146, Paracera® 11946, Paracera® 13863, Paracera® C 44, Paracera® H, Paracera® L, Paracera® M, Paracera® MW, Paracera® P, Paracera® W 80, Paracera® N 101, Paracera® N 106
Paracera® N 101, Paracera® N 106, Paracera® N 78, Paracera® N 88, Paracera® N 96
Paracera® N-range Brochure
Products:
Paracera® N 101, Paracera® N 106, Paracera® N 78, Paracera® N 88, Paracera® N 96
Paracera® N 101 Safety Data Sheet
Products:
Paracera® N 101
Paracera® N 101 Technical Data Sheet
Products:
Paracera® N 101