Ymer™ N90
Ymer™ N90 is a polymeric nonionic dispersing monomer containing two primary hydroxyl groups which are incorporated in the polymer and can be used to disperse the polymer (polyurethanes, alkyds and polyesters) in water. Ymer™ N90 allows you to fine tune specific properties of your waterborne polyurethane dispersions. It has been specifically designed with a long ethoxylated chain to help add more softness and flexibility in the final product. Ymer™ N90 with the chemical name difunctional polyethylene glycol monomethyl ether is a white/opaque amorphous material.
Knowde Enhanced TDS
Identification & Functionality
+
CASE Ingredients Functions
CASE Ingredients Features
Product Highlights
Ymer™ N90 is diols with a long end-capped ethoxylated side chain which provides non-ionic segments in lateral position along the polymer backbone
Some of the key advantages:
Ready to use, no additional synthesis step required, e.g., compared to adduct process
Increase plant through put
Long shelf life of dispersing monomer
Low viscosity product, decreases the need of co-solvents during the prepolymer synthesis
Enables solvent-free PUDs
Two hydroxyl groups enables incorporation along the polymer backbone
No end capping of the polymer
Contributes with increased stability towards pH variations
Highly increased stability towards electrolytes (salts)
Increased freeze/thaw stability – compared to other nonionic technologies
Reduces the amount of harmful amines in the PUD
Improve pigment wetting
Improve flexibility and solvent resistance
Segment Applications
Waterborne resins systems (e.g. alkyd, epoxy, polyester, polyurethane), Polyurethane dispersions, Hydrophilic PU-systems, Surfactants, Fiber sizing, Chemical building block
Regulatory & Compliance
+
Technical Details & Test Data
+
PUD Formulations Study
5 different formulations, have been prepared.
• Variations based on molar exchange and weight exchange of N120
Constant parameters:
• Macrodiol – Polycarbonate diol (HDO based)
• Combination with Bis-MPA™ (DMPA) to broaden application window, improve water resistance and increase hardness
PUD Formulation
1
2
Ymer grade
Ymer™ N90
Ymer mole (on 100g solid)
0.008
0.010
Ymer, % (on solid)
9.9
12.0
EO, % (on solid)
8.7
10.5
NCO/OH ratio
1.8
1.8
IPDI, % (on solids)
31.5
31.2
Solid content, %
35
35
Viscosity (23 °C), Pas
230
55
Particle size, nm
158
110
Appearance
OK
OK
Formulation properties investigated in the study:

• Rheology
• Shear stability
• König hardness
• Electrolyte stability (effect of addition of HCl and CaCl2)
• Freeze-thaw stability – impact on viscosity
• Tensile testing
• Chemical resistance
A Comparative Study in PUD
Rheology
Rheology properties differs between the grades. For Ymer™ N90 the behavior is shear thinning, while Ymer™ N180 is almost Newtonian. This implicates less entanglement with shorter EO chains. Viscosity is also reduced by shorter EO chains.

Shear Stability
Test method: Viscosities are measured before and after dispersing (10 min at 2000rpm).
The test results points shows that all PUD formulations are stable which facilitates (or safeguard) robust paint preparation and coating application.

König Hardness
König Hardness test indicates that longer EO chains acts as internal plasticizers which reduces hardness. The trend points towards increased hardness for shorter EO chains, in this case it is shows that Ymer™ N180 will provide the highest hardness.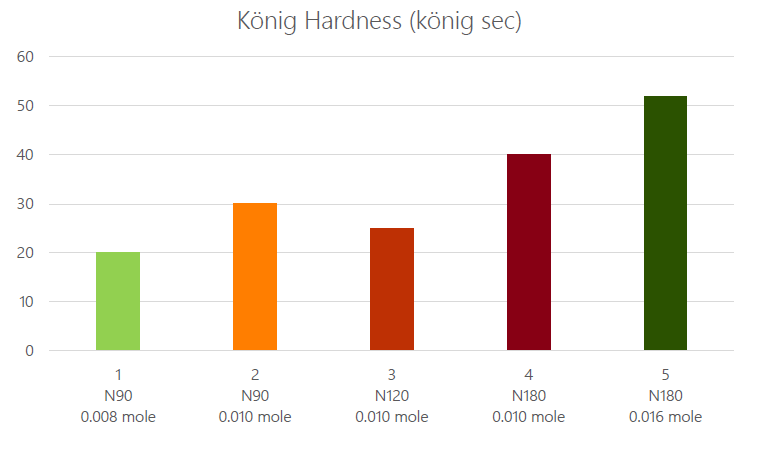 pH and Electrolyte Stability

Test method: 1 M HCl or CaCl2 was added to 25g of the PUD formulation. The final concentration in both cases where 0.02 M. Amount of coagulation were detected.
→ Ymer™ N90 and Ymer™ N120 are more resistant to hydrolytes as longer EO-chains provide more effective nonionic steric stabilization.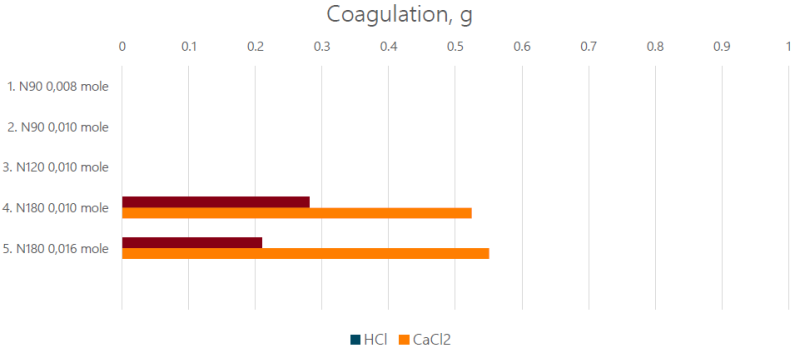 Freeze-thaw Stability Impact on Viscosity
Test method: Freeze-thaw cycle: -26°C, 16-18 hours, Room temperature 6-8 hours. Number of cycles 2. - Extended thaw (regeneration):
Formulation 3-5: 12h at 40 °C. Formulation 1-2: Additional 2h at 60 °C.
Viscosity is considerably higher after thawing at room temperature.
However, there is good regeneration after thawing at elevated temperature but Ymer™ N90 need a higher temperature (60 °C).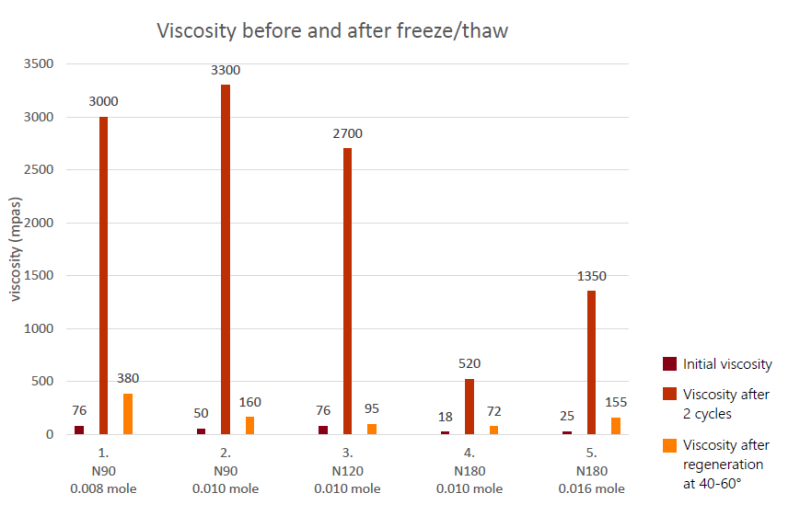 Additional tests indicates:
Freezing effect (higher gel strength, higher storage modulus in rheology analyses) is higher for Ymer™ grades with longer EOchains. It is also more pronounced with increased amount of Ymer™ in the formulation.
König hardness and particle sizes are to a great extent restored after extended thawing
Tensile Testing
Ymer™ N180 gives the highest E-modulus and highest tensile strength
Ymer™ N120 indicates slightly higher E-modulus and tensile strength compared to Ymer™ N90
No significant difference between grades regarding strain at break
A higher concentration of Ymer gives higher E-modulus and lower strain at break
E-modulus
MPa
Tensile strength
MPa
Strain at break
%
1 N90 0,008 mole
11±3
11±2
710±65
2 N90 0,010 mole
26±6
14±2
620±20
3 N120 0,010 mole
28±5
16±2
620±100
4 N180 0,010 mole
100±34
37±4
620±50
5 N180 0,016 mole
115±30
32±3
560±65
Chemical Resistance
The study concludes that a longer EO chain contributes to improved Ethanol resistance. For water, acid and alkali, results are equally good.
PUD
Distilled water
24 h
Ethanol
(48 %)
6 h
HCl (5%)
30 min
NaOH (5%)
30 min
2 N90 0,0110mole
4
3
4
4
3 N120 0,010 mole
4
2
4
4
4 N180 0,010 mole
4
0
4
4
Scale: 0=poor and 5=good
Comparison Study for Ymer™ Grades in Polyurethane Dispersions
| | | | |
| --- | --- | --- | --- |
| | Ymer™ N90 | Ymer™ N120 | Ymer™ N180 |
| Chain length, EO | Long | Medium | Short |
| Delivery form | Solid at RT | Solid at RT | Liquid at RT |
| Viscosity in PUD | High, shear thinning | Medium | Low, Newtonian |
| Shear stability | Good | Good | Good |
| pH and electrolyte stability | Excellent | Excellent | Fair |
| Freeze/thaw stability | Good | Good | Best |
| Ethanol resistance | Excellent | Good | Fair |
| König hardness | Softest | Soft | Hard |
| E-modulus | Low | Low | High |
| Tensile strength | Low | Low | High |
Packaging & Availability
+
Delivery Forms
Drums 220 kg, 880 kg/pallet
Handling and Storage
Perstorp recommends storing Ymer™ in sealed containers at ambient temperature, in a dry area protected from direct sunlight and the elements. The maximum storage temperature has not been determined, but when stored as recommended, temperatures up to 35°C should present no problems. When drums are opened, and the product is exposed to air, moisture can be absorbed by the product.
Most Viewed Documents
Document Name
Type
Products
Learn More
Products:
Ymer™ N90, Ymer™ N180
Ymer™ N90 Safety Data Sheet
Ymer™ N90 Technical Data Sheet