Roquette
What next?
Request a sample, download documents, and dive deeper.
Bringing healthier and tastier ingredients for plant-based food and nutrition.
Manufacturers are offering plant-based alternatives for everything from breakfast foods to hamburgers, and consumers are learning that nutritious choices can taste good, too.
Roquette ingredients help you achieve nutrition, texture and functional attributes in a cost-efficient way thanks to the partnership of our multidisciplinary teams with our customers.
Accelerate your food and beverage innovation with easy ordering, no minimum order quantity and rapid delivery.
Plant-based Solutions for a variety of functional and nutritional needs
Create protein and fiber-enriched bread, pastries, cereals, bars, snacks and more with reduced or no sugar, consumer-friendly labeling, texture improvement and enhanced nutrition.
Learn more now!
Develop lower sugar and reduced calorie soft drink alternatives with plant-based soluble fibers and nutritive carbohydrates.
Explore beverage ingredients
Formulate sugar-free, gelatin-free and sugar-reduced confections from tablets and gummies to chewing gum with sugar-free sweeteners, polyols and specialty starches.
Find confectionery ingredients
Achieve taste and texture improvement for plant-based dairy alternatives with specialty starches, plant proteins and soluble fibers.
Explore dairy products
Savory and meat alternatives
Formulate delicious and nutritious plant-based meat and fish alternatives, sauces, dressings and ready meals with plant proteins and specialty starches.
Explore Savory ingredients
Customize nutrition for everyone with nutritive carbohydrates for maternal and infant nutrition, plant protein for sports and senior nutrition, soluble fiber for digestive health and specialty starches for senior and clinical nutrition.
Explore specialized nutrition
Food and Nutrition solutions
Roquette solutions can help you capture consumer demands.

Global leader in plant-based ingredients and a pioneer of plant proteins.
We address current and future societal challenges by unlocking the potential of Nature to offer the best ingredients for Food, Nutrition and Health markets.
Roquette is dedicated to improving the well-being of people while caring for the world's resources. By combining innovation with responsible sourcing, Roquette has a long-term vision for itself and its customers. Research & Development is key to the Group strategy with 85 years of expertise, 300 dedicated employees and 40 patents filled each year.


Learn About Roquette in 40 Seconds
At Roquette, we believe that Nature has the answer to provide people with the Food, Nutrition and Health they need. To imagine and offer the best ingredients for our customers and consumers, we base our culture and actions on 4 core values.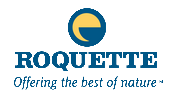 Roquette