Roquette
CLEARAM® CH
Specialty Starch
CLEARAM® CH are cook-up modified starches derived from waxy corn providing thickening and shelf-life extension to various sauce, soup and custard applications. Developed by Roquette, this texturizer is in an easy-to-process powder form, is fully traceable and is non-GMO.
What next?
Request a sample, download documents, and dive deeper.
Meet our experts

Ines Sabatier
E sales manager
Welcome to Roquette. How can we help you today?
Browse products in this brand
Complete your formula with these ingredients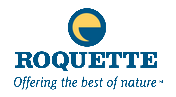 CLEARAM® CH