Roquette
NUTRIOSE ®
Soluble Fiber
NUTRIOSE® is a range of plant-based soluble fibers with a neutral taste to preserve the original taste of your products and an outstanding digestive tolerance clinically proven. Today's sophisticated consumers seek optimum nutrition in their food - without having to sacrifice taste and convenience. An invisible, safe, stable, prebiotic, and soluble fiber, NUTRIOSE® meets this global demand. It is simple to use, whether to supplement nutrition in existing formulations or to replace sugars and fats. Suitable for both food and beverage applications, it's a key to innovation and can be used in virtually any process. Obtained from non-GMO raw materials (wheat, corn, or pea) it offers a reliable high fiber level and friendly labeling such as gluten-free, kosher, and Halal-certified.
What next?
Request a sample, download documents, and dive deeper.
Meet our experts

Ines Sabatier
E sales manager
Welcome to Roquette. How can we help you today?
Browse products in this brand
Complete your formula with these ingredients
Branded products
Function
Categories
NUTRIOSE® FM 10
Food, Beverage And Nutrition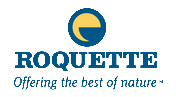 NUTRIOSE