Beauté by Roquette® CD 102 Cyclodextrin
Beauté by Roquette® CD 102 acts as a molecular encapsulating agent to help you solubilise your lipophilic actives and enhance their efficacy to protect your actives from outside attacks like UV rays, the temperature or oxidants and to make fragances last longer.
Experts
(1)
Ines Sabatier
Sales
Welcome to Roquette. How can we help you today?
Knowde Enhanced TDS
Identification & Functionality
+
Cosmetic Ingredient Functions
Benefits
Molecular encapsulating agent for sensitive ingredients
Controls the release of the encapsulated actives
Reduces the volatility of the encapsulated molecules (long-lasting effect)
Increases water solubility and the bioavailability of actives (encapsulated molecules)
Protects from UV radiation (for suncare and fragrance applications)
Increases the stability to heat, UV, chemicals or oxidants of oils, dyes, vitamins and perfumes
Excellent scrubbing agent, alternative to plastic microbeads
Specific Features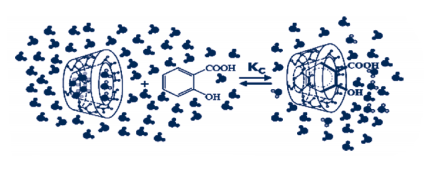 Natural cyclic oligosaccharide from starch, obtained via an enzymatic conversion
Lipophilic central cavity and hydrophilic outer surface
Very low solubility in water (about 18 g/L)
Very resistant to acid, oxidative or enzymatic degradations
Ecological Profile
Derived from 100% vegetable feedstock
ISO 16128 Ino* = 1
Readily biodegradable (OECD 301)
* Natural Origin index = Number of natural carbon atoms/Total number of carbon atoms (natural 14 & non natural)
Fragrances & Perfume Applications
Applications
All cosmetics & perfume applications
Appearance
White odorless crystalline powder
Regulatory & Compliance
+
Regulatory Status
Conform to:
Europe - European Cosmetic Regulation 1223/2009 and its amendments
USA - FD&C Act – 21 CFR 700 to 740
China - Hygienic Standard for Cosmetics: listed IECIC 2015
Japan - Regulation for cosmetics
Technical Details & Test Data
+
Kneading Method
Advantages:
Short process
Simple and inexpensive method
Safe: solvent free method
Low temperature and low quantity of water used
Excellent yield of inclusion formation
No waste produced
Possibility of scaling up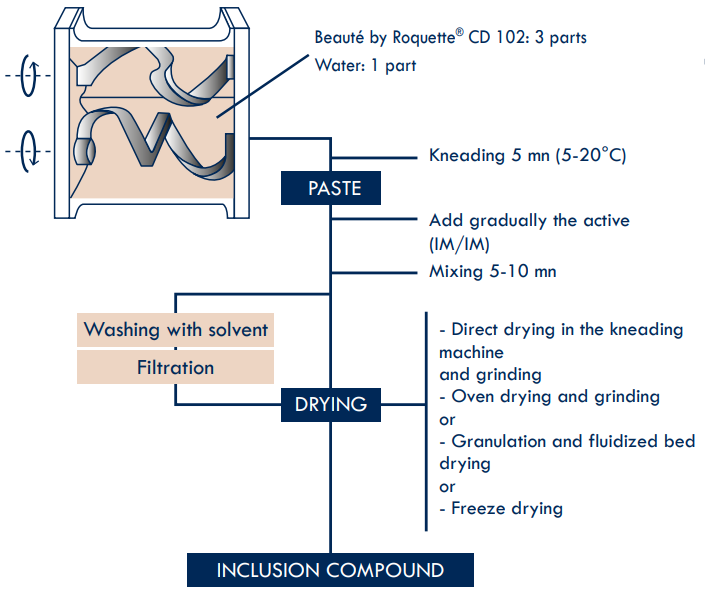 Documents
(3)
Document Name
Type
Products
Beauté by Roquette® CD 102 Cyclodextrin
Products:
Beauté by Roquette® CD 102 Cyclodextrin
Beauté by Roquette® CD 102 Cyclodextrin, Beauté by Roquette® CD 110 Cyclodextrin, Beauté by Roquette® DS 112 Dry System, Beauté by Roquette® DS 146 Dry System, Beauté by Roquette® GA 290 Organic Acid, Beauté by Roquette® PO 260 Polyol, Beauté by Roquette® PO 370 Polyol, Beauté by Roquette® PO 455 Polyol, Beauté by Roquette® PO 475 Polyol, Beauté by Roquette® PO 500 Polyol, Beauté by Roquette® ST 005 Starch, Beauté by Roquette® ST 012 Starch, Beauté by Roquette® ST 118 Starch, Beauté by Roquette® ST 720 Starch, Beauté by Roquette® CD 100 Cyclodextrin, Beauté by Roquette® PO 070 Polyol, Beauté by Roquette® PO 324 Polyol, Beauté by Roquette® SA 130 Organic Acid, Beauté by Roquette® PO 160 Polyol, Beauté by Roquette® DS 421 Dry System, Beauté by Roquette® PO 071 Polyol
Products:
Beauté by Roquette® CD 102 Cyclodextrin, Beauté by Roquette® CD 110 Cyclodextrin, Beauté by Roquette® DS 112 Dry System, Beauté by Roquette® DS 146 Dry System, Beauté by Roquette® GA 290 Organic Acid, Beauté by Roquette® PO 260 Polyol, Beauté by Roquette® PO 370 Polyol, Beauté by Roquette® PO 455 Polyol, Beauté by Roquette® PO 475 Polyol, Beauté by Roquette® PO 500 Polyol, Beauté by Roquette® ST 005 Starch, Beauté by Roquette® ST 012 Starch, Beauté by Roquette® ST 118 Starch, Beauté by Roquette® ST 720 Starch, Beauté by Roquette® CD 100 Cyclodextrin, Beauté by Roquette® PO 070 Polyol, Beauté by Roquette® PO 324 Polyol, Beauté by Roquette® SA 130 Organic Acid, Beauté by Roquette® PO 160 Polyol, Beauté by Roquette® DS 421 Dry System, Beauté by Roquette® PO 071 Polyol
Beauté by Roquette® CD 102 Cyclodextrin
Products:
Beauté by Roquette® CD 102 Cyclodextrin