Beauté by Roquette® DS 146 Dry System
Beauté by Roquette® DS 146 is a ready-to-use powder, convenient for cold process and suitable for a wide range of cosmetic products. Beauté by Roquette® DS 146 is very efficient in emulsions containing a high level of oil or sunscreens. This natural emulsifier system provides a dry & smooth skin feel.
Experts
(1)
Ines Sabatier
Sales
Welcome to Roquette. How can we help you today?
Knowde Enhanced TDS
Identification & Functionality
+
Cosmetic Ingredient Functions
Benefits
Ready-to-use emulsifier system
Cold process
Efficient even with a high level of oil (up to 60%) and a low level of oil (sprayable)
Efficient with a high level of sunscreens
Dry & smooth skin feel
Specific Features
O/W emulsifier
Non-ethoxylated system
Compatible with mineral or chemical UV filters
Emulsifies all types of oils (ester, mineral, vegetable, silicone)
Variety of texture (spray, lotion, cream)
Non pH dependant
Stable over a wide pH range (4 to 10)
Application Guidelines
To incorporate preferentially in the water phase
Avoid an emulsifying temperature above 45°C
Cold process (from RT to 45°C)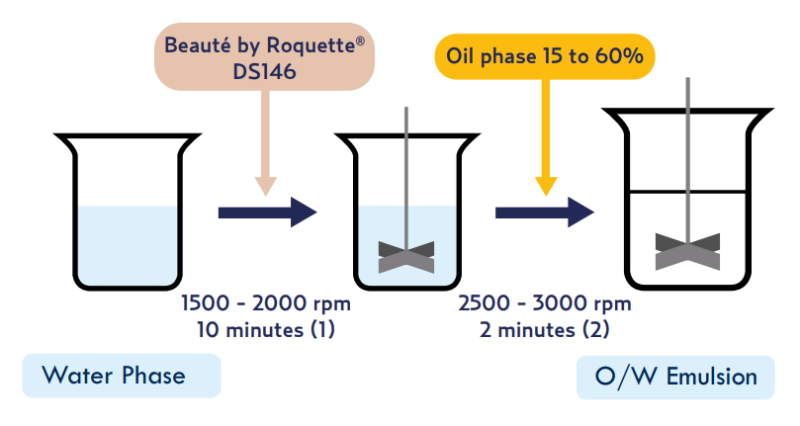 (1) Opaque dispersion (no clear solution)
(2) High shear defloculator
Applications
Skin care
Sun care
Colour cosmetics
Regulatory & Compliance
+
Certifications & Compliance
Technical Details & Test Data
+
Technical Information
A New System of Emulsification
Innovative technology using a cyclodextrin and a polyglycerol ester acting in synergy to create stabilizing layers of self-assembled molecular inclusion compounds at the oil/water interface.

With 4% of Beauté by Roquette® DS 146 a very stable & extra fine emulsions is obtained (15% of vegetal oil).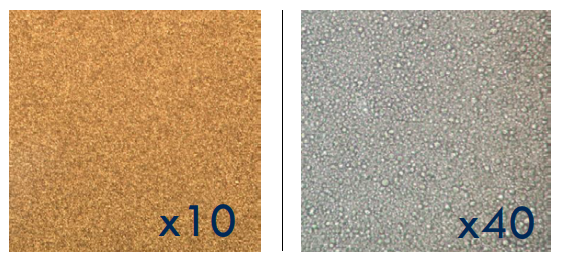 Documents
(3)
Document Name
Type
Products
Beauté by Roquette® DS 146 Dry System
Products:
Beauté by Roquette® DS 146 Dry System
Beauté by Roquette® CD 102 Cyclodextrin, Beauté by Roquette® CD 110 Cyclodextrin, Beauté by Roquette® DS 112 Dry System, Beauté by Roquette® DS 146 Dry System, Beauté by Roquette® GA 290 Organic Acid, Beauté by Roquette® PO 260 Polyol, Beauté by Roquette® PO 370 Polyol, Beauté by Roquette® PO 455 Polyol, Beauté by Roquette® PO 475 Polyol, Beauté by Roquette® PO 500 Polyol, Beauté by Roquette® ST 005 Starch, Beauté by Roquette® ST 012 Starch, Beauté by Roquette® ST 118 Starch, Beauté by Roquette® ST 720 Starch, Beauté by Roquette® CD 100 Cyclodextrin, Beauté by Roquette® PO 070 Polyol, Beauté by Roquette® PO 324 Polyol, Beauté by Roquette® SA 130 Organic Acid, Beauté by Roquette® PO 160 Polyol, Beauté by Roquette® DS 421 Dry System, Beauté by Roquette® PO 071 Polyol
Products:
Beauté by Roquette® CD 102 Cyclodextrin, Beauté by Roquette® CD 110 Cyclodextrin, Beauté by Roquette® DS 112 Dry System, Beauté by Roquette® DS 146 Dry System, Beauté by Roquette® GA 290 Organic Acid, Beauté by Roquette® PO 260 Polyol, Beauté by Roquette® PO 370 Polyol, Beauté by Roquette® PO 455 Polyol, Beauté by Roquette® PO 475 Polyol, Beauté by Roquette® PO 500 Polyol, Beauté by Roquette® ST 005 Starch, Beauté by Roquette® ST 012 Starch, Beauté by Roquette® ST 118 Starch, Beauté by Roquette® ST 720 Starch, Beauté by Roquette® CD 100 Cyclodextrin, Beauté by Roquette® PO 070 Polyol, Beauté by Roquette® PO 324 Polyol, Beauté by Roquette® SA 130 Organic Acid, Beauté by Roquette® PO 160 Polyol, Beauté by Roquette® DS 421 Dry System, Beauté by Roquette® PO 071 Polyol
Beauté by Roquette® DS 146 Dry System
Products:
Beauté by Roquette® DS 146 Dry System