ISOCARB 12 is a primary, saturated carboxylic acid with defined branching of the carbon chain. For documents specific to a region, please contact Sasol using the 'Request Document' button.
Function:
Corrosion Inhibitor

,
Intermediate

,
Emollient

,
Re-Fatting Agent

,
Deodorant

,
Chemical Intermediate
Chemical Family:
Organic Acids
End Uses:
Odor Control Products

,
Detergents

,
Degreasers

,
Industrial Cleaners

,
Automotive Applications

,
Metalworking Fluids

,
Antiperspirants & Deodorants
Features:
Emolliency

,
Odor Neutralizing

,
Odor Masking

,
Corrosion Resistant
Knowde Enhanced TDS
Identification & Functionality
CASE Ingredients Functions
Cleaning Ingredients Functions
Cosmetic Ingredients Functions
Fluids & Lubricants Functions
ISOCARB 12

Features & Benefits
Product Highlights
Colourless and odourless liquid acid with low pour point.
Highly polar and medium spreading emollient.
Emollient with excellent stability towards calcium and magnesium ions.
Compatible with silicones, lipophilic cosmetic ingredients and AP/Deo active ingredients.
Fluids & Lubricants End Use
I&I Cleaning Applications
Recommended Uses & Known Applications
ISOCARB acids and their derivatives are used as raw materials and intermediates in many specialized applications:
Esters
Betaines
Ethoxylates
Amides
Metalworking and lubrication:
ISOCARB acids can be used as a corrosion inhibitor when formulating lubricating oils and greases in industrial and automotive applications.
ISOCARB acids can be used, neutralized, as ingredient of soluble and synthetic metal-working fluids or in water-based degreasers due to their very good anticorrosion properties.
Inks, Paints & Coatings
Cosmetic Agents
Thermal Properties
| | | | |
| --- | --- | --- | --- |
| | Value | Units | Test Method / Conditions |
| Refractive Index (nD20) | approx. 1.4393 | - | DIN 51423 |
| Density (20°C) | 0.885 - 0.890 | g/ml | DIN 51757 |
Typical Properties
| | | | |
| --- | --- | --- | --- |
| | Value | Units | Test Method / Conditions |
| Water Content | 5 | % | - |
| 2-Butyloctansaure | min. 96.0 | wt% | 1050F-33 |
| Acid number | 273-283 | mg KOH/g | 600-31 |
| Melting range | -13 - -9 | °C | 600-27 |
| Viscosity (20°C) | approx. 26.4 | mPas | 600-25 |
| Molecular weight | approx. 200 | g/mol | 600-19 |
| Ester value | max. 1.0 | mg KOH/g | 600-33 |
| Org. volatile Compounds (Hexane) | max. 20 | ppm | 600-74 |
| Boiling Range | approx. 1.4393 | °C | 600-21 |
| Flash point | approx. 157 | °C | DIN EN ISO 2719 |
Technical Details & Test Data
Emollient Properties At Glance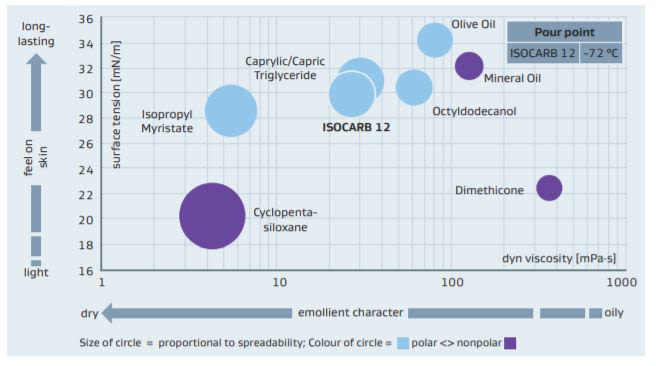 Efficacy Studies
Lipid Composition of the Uropygial Gland Secretion of Asio Otus
The lipid composition of uropygial gland secretion of the long-eared owl (Asio otus) contains waxes of higher 2-alkyl-branched fatty acids, predominately 2-butyl-substituted fatty acids (55.6 %). These higher 2-alkyl-branched fatty acids are believed to contribute to the antimicrobial defence system of the avian plumage.
The antimicrobial efficacies have been evaluated of such higher 2-alkylbranched fatty acids obtained either from uropygial gland secretion or chemically synthesised. The most pronounced reduction in bacterial growth was observed with 2-butyloctanoic acid suppressing the growth of staphylococcus epidermis and corynebacterium xerosis below detection limit. It could be also demonstrated that chemically synthesised 2-butyloctanoic acid displayed antimicrobial performance similar to that of the acid isolated from nature.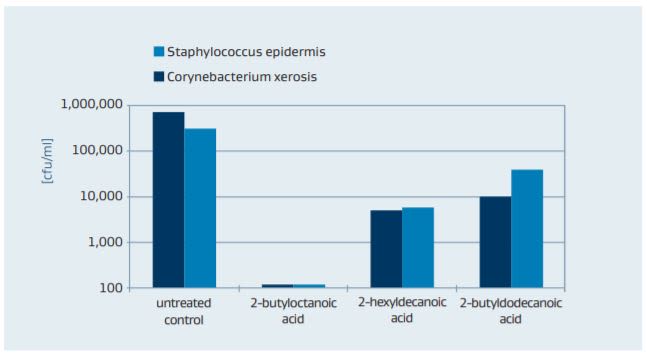 Study about the Prevention of Stress-Induced Sweating and Axillary Malodour Formation in Teenagers

The human axilla region is characterised by a dense arrangement of sebaceous, eccrine and apocrine sweat glands and provides an ideal humid and semi-occlusive environment for skin bacteria growth. The sweat secreted by the axillary glands contains various non-smelling precursor substances such as glutamine and steroids, which are biotransformed by lipophilic corynebacteria and staphylococci species into volatile, odorous substances such as 3-methyl-2-hexenoic acid and sulphanylalkanol.
During stressful situations in everyday life, the eccrine and apocrine sweat glands become activated, resulting in enhanced sweat secretion accompanied by a strong axillary odour and making it very unpleasant for the affected person.
Stinkless–Under stress
A study was conducted to investigate stress-induced sweating and malodour formation in teenagers who are known to experience stressful situations such as exams at school or job interviews. A test panel of 40 healthy adolescents (20 females and 20 males) aged 16 to 18 years participated in the Trier Social Stress Test (TSST), considered to be the most standardised and reliable test set-up to induce moderate psychosocial stress in a laboratory environment. The TSST induced high amounts of sweat and strong axillary malodour in this test panel of teenagers.
Specially developed to meet the needs of adolescent consumers, novel AP/Deo products (female and male AP aerosols) containing aluminium chlorohydrate (ACH) and 2-butyloctanoic acid (ISOCARB 12) were applied as AP/Deo active ingredients and parfume to mask sweat odour.
The study clearly showed that stress-induced axillary malodour among teenagers can be very effectively controlled by a combination of aluminium chlorohydrate (ACH), 2-butyloctanoic acid (ISOCARB 12) and parfume.
It was possible to reduce stress-induced sweat secretion under the challenging conditions of the Trier Social Stress Test (TSST) by 50 % regardless of gender, thus indicating that the tested formulations have a very strong antiperspirant effect.
Figure 3: Emotional sweating during Trier Social Stress Test (TSST)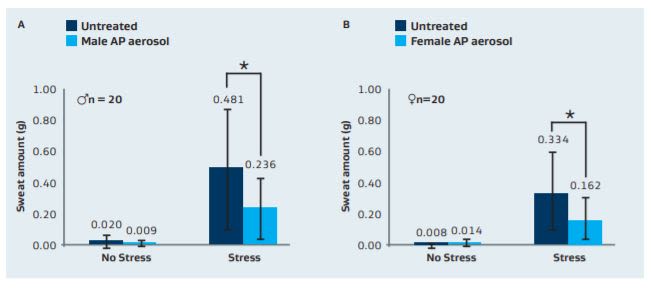 Asterisks indicate significant differences (P < 0.05)
In a comparison of male and female teenagers, the test results also showed significantly higher stress-induced axillary odour scores (2.79 versus 2.38) for male teenagers caused by increased apocrine sweat gland activity due to a higher testosterone level. After application of the aerosol formulation containing a combination of aluminium chlorohydrate (ACH), 2-butyloctanoic acid (ISOCARB 12) and parfume, a signifi cant decrease in malodour formation of 30% in male adolescents and 22% in female adolescents could be achieved.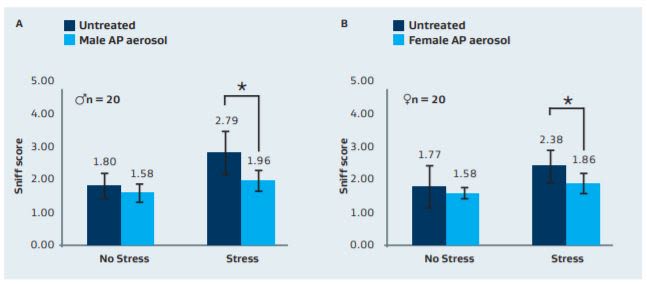 Asterisks indicate significant differences (P < 0.05)
Viscosity And Density
Viscosity is a measure of a fluid's ability to resist flow under gravity. The kinematic viscosity of a fluid is defined as the ratio of absolute or dynamic viscosity to its density. The viscosity of a fluid is highly temperature dependant. For a liquid the kinematic viscosity will decrease with higher temperature, for a gas the kinematic viscosity will increase with higher temperature.
ISOCARB acid viscosity vs temperature
Density is a measure of how much mass is contained in a given unit volume. The formal definition of density is mass per unit volume. Usually the density is expressed in grams per ml. In general, density can be changed by changing either the pressure or the temperature. Increasing the pressure will always increase the density of a material. Increasing the temperature generally decreases the density, but there are notable exceptions to this generalisation.
ISOCARB acid density vs temperature
Storage And Handling
Safe handling advice
Take measures to prevent the build up of electrostatic charge.
Storage/Transport pressure
Load/Unload temperature
Typically, 10-30°F above the melting point.
Most Viewed Documents
Document Name
Type
Products
Raw Materials For Cosmetics
TRIDAC ISO-3, TRIDAC ISO-8, LIPOXOL 4000 MED, LIPOXOL 6000 MED, ALCHEM 123, COSMACOL ECI, COSMACOL ELI, COSMACOL EMI, MARLINAT 242/70 C, ALFOL 1216 CO, ALFOL 1618 CG, ALFOL 1618GC, ALFOL 8, COSMACOL N II-9, ISOFOL 18 T, MARLINAT 242/70 B, MARLINAT 242/90 MC, MARLOSOL PK 9040, NACOL 16-98, NACOL 18-98, NAFOL 1618 H, NAFOL 1618, EMULDAC AS-18, SAFOL 23E2 Ethoxylate, ISALCHEM 145, LIAL 125, MARLOWET CG, SAFOL 23E6.5 Ethoxylate, Sasol AES 270N-II, NOVEL 1618-80 Ethoxylate, Sasol AAES 370ZN, Sasol AEO4-24Z, MULTISO 13/89, COSMACOL AES 70-2-24, COSMACOL ECL, ALFOL 1618, CERALUTION ES RSPO-MB, CERALUTION H RSPO-MB, COSMACOL OE, LIPOXOL 1000 MED, LIPOXOL 1500 MED, LIPOXOL 400 MED, LIPOXOL 600 MED, LIPOXOL 300 MED, ISALCHEM 125, ISOFOL 24, ISOFOL 32, LIAL 123, LIAL 145, LIALCHEM 25/75, LIALET 111-5,5, LIPOXOL 3350 MED powder, LIPOXOL 8000 MED powder, MARLINAT 242/28, MARLIPAL 1618/11, MARLIPAL 24/100, MARLIPAL 24/20, MARLIPAL 24/30, MARLIPAL 24/40, MARLIPAL 24/50, MARLIPAL 24/60, MARLIPAL 24/70, MARLIPAL 24/79, MARLIPAL 24/99, MARLIPAL O 13/100, MARLIPAL O 13/109, MARLIPAL O 13/120, MARLIPAL O 13/129, MARLOSOL TA 30, MARLIPAL O 13/30, MARLIPAL O 13/40, MARLIPAL O 13/50, MARLIPAL O 13/60, MARLIPAL O 13/69, MARLIPAL O 13/70, MARLIPAL O 13/79, MARLIPAL O 13/80, MARLIPAL O 13/89, MARLIPAL O 13/90, MARLIPAL O 13/99, MARLOWET 1072, Sasol Monoethanolamine, pure cosmetic, NACOL 20-95, NOVEL 1012-6 Ethoxylate, MARLOSOL TA 60, PARAFOL 22-95, SAFOL 23E3 Ethoxylate, SAFOL 23E5 Ethoxylate, SAFOL 23E7 Ethoxylate, SAFOL 23E9 Ethoxylate, ALFONIC 1216CO-3 Ethoxylate, SAFOL 23A70, NOVEL 1216CO-7 Ethoxylate, SAFOL 23E2S, NOVEL 16-20 Ethoxylate, NOVEL 18-20 Ethoxylate, NOVEL 23E6.5 Ethoxylate, NOVEL 23E9 Ethoxylate, Sasol AEO7-24Z, Sasol AEO5-24Z, NOVEL TDA-100 Ethoxylate, NOVEL TDA-12 Ethoxylate, NOVEL 810-4.5 Ethoxylate, NOVEL TDA-150 Ethoxylate, NOVEL TDA-3 Ethoxylate, NOVEL TDA-5 Ethoxylate, NOVEL TDA-6 Ethoxylate, MARLOSOL TA 90, NOVEL TDA-8 Ethoxylate, MULTISO 13/70, MULTISO 13/50, MULTISO 13/90, NOVEL TDA-9 Ethoxylate, MULTISO 13/120, MARLOSOL TA 50, NOVEL 22-25 Ethoxylate, MARLOSOL TA 80, NOVEL 23E30 Ethoxylate, SAFOL 23E4 Ethoxylate, NOVEL 1412-3 Ethoxylate, NOVEL 1412-7 Ethoxylate, NOVEL 23E3 Ethoxylate, NOVEL 23E7 Ethoxylate, NOVEL 1618CG-25 (PSTLLE), GALENOL 1618 AE, NOVEL TDA-30 Ethoxylate, ALCHEM 145, TRIDAC ISO-12, TRIDAC ISO-40, TRIDAC ISO-5, TRIDAC ISO-6, MULTISO 13/100, ALFOL 12, LIALET 111-3, LIALET 111-7, LORODAC 4-24, ALFOL 10, ALFOL 16, ALFOL 14, ALFOL 6, NOVEL 1216CO-2 ETHOXYLATE, NOVEL TDA-7 ETHOXYLATE, NAFOL 1618 S, ISOFOL 16, ISOFOL 20 Native, NOVEL 1412-9 ETHOXYLATE, ISOCARB 12, LIALET 111-8, EMULDAC AS-80, ALFOL 18, COSMACOL AES 27-2-24, ISOFOL 18 E, MARLINAT 242/28 UK, ALFOL 1618 E Alcohol, Sasol AAES 370N-II, EMULDAC AS-25, NAFOL 1822 B, NAFOL 1822 C, MARLIPAL SU, MARLOSOL ST 9150 P, NACOL 16-95, NAFOL 2022 E, NAFOL 2022, ALFONIC 1216CO-2 ETHOXYLATE, MARLIPAL O13 Alcohol, NOVEL 12-23 ETHOXYLATE, NOVEL 1412-2 ETHOXYLATE, NOVEL 16-3 ETHOXYLATE, NOVEL 23E2 ETHOXYLATE, NOVEL TDA-4 ETHOXYLATE, NOVEL TDA-40 ETHOXYLATE, GALENOL 2100, GALENOL 2800, GALENOL 2880, MARLOSOL TA 70, MULTISO 13/30, MULTISO 13/60, MULTISO 13/80, Sasol ALS-70, ISOFOL 28, NACOL 14-95, PARAFOL 12 RSPO-MB, PARAFOL 14 RSPO-MB
Products:
TRIDAC ISO-3, TRIDAC ISO-8, LIPOXOL 4000 MED, LIPOXOL 6000 MED, ALCHEM 123, COSMACOL ECI, COSMACOL ELI, COSMACOL EMI, MARLINAT 242/70 C, ALFOL 1216 CO, ALFOL 1618 CG, ALFOL 1618GC, ALFOL 8, COSMACOL N II-9, ISOFOL 18 T, MARLINAT 242/70 B, MARLINAT 242/90 MC, MARLOSOL PK 9040, NACOL 16-98, NACOL 18-98, NAFOL 1618 H, NAFOL 1618, EMULDAC AS-18, SAFOL 23E2 Ethoxylate, ISALCHEM 145, LIAL 125, MARLOWET CG, SAFOL 23E6.5 Ethoxylate, Sasol AES 270N-II, NOVEL 1618-80 Ethoxylate, Sasol AAES 370ZN, Sasol AEO4-24Z, MULTISO 13/89, COSMACOL AES 70-2-24, COSMACOL ECL, ALFOL 1618, CERALUTION ES RSPO-MB, CERALUTION H RSPO-MB, COSMACOL OE, LIPOXOL 1000 MED, LIPOXOL 1500 MED, LIPOXOL 400 MED, LIPOXOL 600 MED, LIPOXOL 300 MED, ISALCHEM 125, ISOFOL 24, ISOFOL 32, LIAL 123, LIAL 145, LIALCHEM 25/75, LIALET 111-5,5, LIPOXOL 3350 MED powder, LIPOXOL 8000 MED powder, MARLINAT 242/28, MARLIPAL 1618/11, MARLIPAL 24/100, MARLIPAL 24/20, MARLIPAL 24/30, MARLIPAL 24/40, MARLIPAL 24/50, MARLIPAL 24/60, MARLIPAL 24/70, MARLIPAL 24/79, MARLIPAL 24/99, MARLIPAL O 13/100, MARLIPAL O 13/109, MARLIPAL O 13/120, MARLIPAL O 13/129, MARLOSOL TA 30, MARLIPAL O 13/30, MARLIPAL O 13/40, MARLIPAL O 13/50, MARLIPAL O 13/60, MARLIPAL O 13/69, MARLIPAL O 13/70, MARLIPAL O 13/79, MARLIPAL O 13/80, MARLIPAL O 13/89, MARLIPAL O 13/90, MARLIPAL O 13/99, MARLOWET 1072, Sasol Monoethanolamine, pure cosmetic, NACOL 20-95, NOVEL 1012-6 Ethoxylate, MARLOSOL TA 60, PARAFOL 22-95, SAFOL 23E3 Ethoxylate, SAFOL 23E5 Ethoxylate, SAFOL 23E7 Ethoxylate, SAFOL 23E9 Ethoxylate, ALFONIC 1216CO-3 Ethoxylate, SAFOL 23A70, NOVEL 1216CO-7 Ethoxylate, SAFOL 23E2S, NOVEL 16-20 Ethoxylate, NOVEL 18-20 Ethoxylate, NOVEL 23E6.5 Ethoxylate, NOVEL 23E9 Ethoxylate, Sasol AEO7-24Z, Sasol AEO5-24Z, NOVEL TDA-100 Ethoxylate, NOVEL TDA-12 Ethoxylate, NOVEL 810-4.5 Ethoxylate, NOVEL TDA-150 Ethoxylate, NOVEL TDA-3 Ethoxylate, NOVEL TDA-5 Ethoxylate, NOVEL TDA-6 Ethoxylate, MARLOSOL TA 90, NOVEL TDA-8 Ethoxylate, MULTISO 13/70, MULTISO 13/50, MULTISO 13/90, NOVEL TDA-9 Ethoxylate, MULTISO 13/120, MARLOSOL TA 50, NOVEL 22-25 Ethoxylate, MARLOSOL TA 80, NOVEL 23E30 Ethoxylate, SAFOL 23E4 Ethoxylate, NOVEL 1412-3 Ethoxylate, NOVEL 1412-7 Ethoxylate, NOVEL 23E3 Ethoxylate, NOVEL 23E7 Ethoxylate, NOVEL 1618CG-25 (PSTLLE), GALENOL 1618 AE, NOVEL TDA-30 Ethoxylate, ALCHEM 145, TRIDAC ISO-12, TRIDAC ISO-40, TRIDAC ISO-5, TRIDAC ISO-6, MULTISO 13/100, ALFOL 12, LIALET 111-3, LIALET 111-7, LORODAC 4-24, ALFOL 10, ALFOL 16, ALFOL 14, ALFOL 6, NOVEL 1216CO-2 ETHOXYLATE, NOVEL TDA-7 ETHOXYLATE, NAFOL 1618 S, ISOFOL 16, ISOFOL 20 Native, NOVEL 1412-9 ETHOXYLATE, ISOCARB 12, LIALET 111-8, EMULDAC AS-80, ALFOL 18, COSMACOL AES 27-2-24, ISOFOL 18 E, MARLINAT 242/28 UK, ALFOL 1618 E Alcohol, Sasol AAES 370N-II, EMULDAC AS-25, NAFOL 1822 B, NAFOL 1822 C, MARLIPAL SU, MARLOSOL ST 9150 P, NACOL 16-95, NAFOL 2022 E, NAFOL 2022, ALFONIC 1216CO-2 ETHOXYLATE, MARLIPAL O13 Alcohol, NOVEL 12-23 ETHOXYLATE, NOVEL 1412-2 ETHOXYLATE, NOVEL 16-3 ETHOXYLATE, NOVEL 23E2 ETHOXYLATE, NOVEL TDA-4 ETHOXYLATE, NOVEL TDA-40 ETHOXYLATE, GALENOL 2100, GALENOL 2800, GALENOL 2880, MARLOSOL TA 70, MULTISO 13/30, MULTISO 13/60, MULTISO 13/80, Sasol ALS-70, ISOFOL 28, NACOL 14-95, PARAFOL 12 RSPO-MB, PARAFOL 14 RSPO-MB
ISOCARB® 12 ACID Technical Data Sheet
ISOCARB 12 Safety Data Sheet
Isocarb 12 Product Brochure
ISOCARB® 12 ACID Safety Data Sheet
ISOCARB 12 ACID (Germany) Technical Data Sheet
ISOCARB Branched Acids Brochure
ISOCARB 16, ISOCARB 24, ISOCARB 12, ISOCARB 32
Products:
ISOCARB 16, ISOCARB 24, ISOCARB 12, ISOCARB 32