BioEcolia®
BioEcolia® is a glucan oligosaccharide obtained by enzymatic synthesis from natural sugars (sucrose and maltose). This product is used for the protection and biostimulation of natural skin defenses. It is a bioselective substrate for beneficial microbial flora, Ecoflora, to the detriment of pathogens and undesirable flora. It offers gentle protective and restoring action for all types of skin and the scalp.
Knowde Enhanced TDS
Identification & Functionality
+
Cosmetic Ingredients Functions
Recommended Uses
Care products for all healthy skin types – preventive effect
Care products for babies and young children
Care products for acne-prone skins
Care products for sensitive or even atopic-prone skins
Intimate care and hygiene products

Regulatory & Compliance
+
Technical Details & Test Data
+
Efficacy Studies
Stimulation of Beneficial Flora
1. Selective Metabolism
In vitro study. Incubation (48h) of saprophytic and pathogenic strains, in a reference culture medium containing 0.5% or 3% carbonated substrate (BIOECOLIA® vs glucose). Determination of the quantity of residual substrate.
2. Growth inhibition of cutaneous yeast
In vitro study. Incubation (24h) of strains in a culture medium (tryptone salt) supplemented by 0.5% or 1% BIOECOLIA®. Counting on Sabouraud agar.
Result : No growth of Malassezia furfur and Candida albicans
3. Competitive inhibition
In vitro study. Simultaneous inoculation of M. kristinae (saprophytic flora) and S. aureus (pathogenic flora) or C. xerosis (undesirable flora) in a liquid culture medium containing 0.5% BIOECOLIA®. Bacterial counting on a specific medium after 24h.

Result: Stimulation of the bacterial growth of the beneficial flora to the detriment of undesirable/pathogenic flora
Stimulation of Anti-Microbial Defenses
Stimulation of β-Defensin 2 & 3 : Ex vivo study on skin explants treated with 0.25% or 0.75% BIOECOLIA® in culture medium vs untreated control. At D7, quantification of hBD2 and hBD3 by immunolabeling.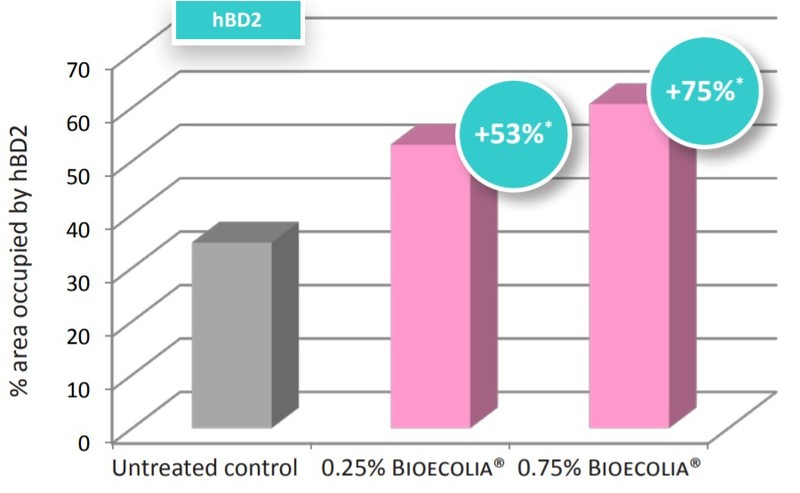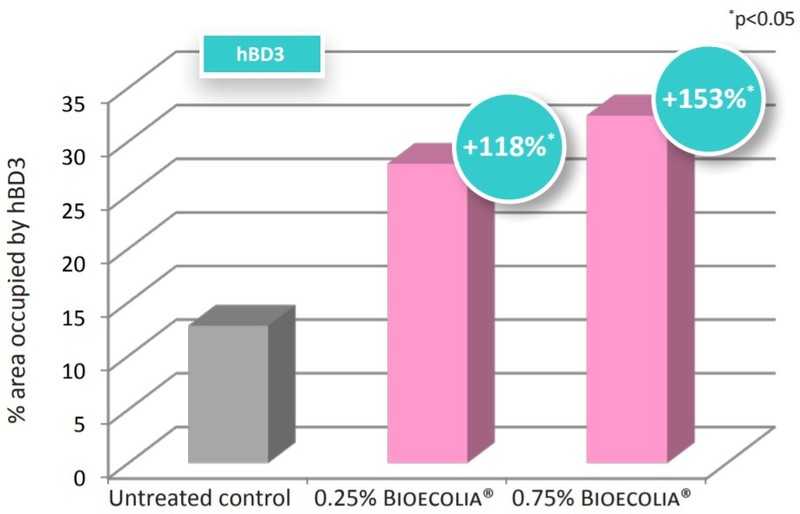 Result: At 0.75%, Bioecolia® stimulates β-defensin 2 & 3 by +75% and +153% after 7 days
Mechanism of Action
Bioecolia® is a recognized prebiotic dedicated to the preservation of the protective ecosystem (microbiota) of the skin, mucous membranes and scalp:
it stimulates, in a bioselective way, the development of the beneficial flora to the detriment of pathogenic and undesirable flora.
it stimulates the production of anti-microbial peptides, key immunological markers, essential for maintaining microbial balance.
Usually the effect of glucooligosaccharides is limited to this bioselectivity only. The research of the Solabia group has detected and patented these molecules, and in particular Bioecolia®, which could also have immunostimulant properties that favor the expression and synthesis of anti-microbial peptides in the skin.
This capacity can be explained by several hypotheses and routes:
- they activate the capacity of commensal bacteria to induce the expression of anti-microbial peptides via the stimulation of the development of the beneficial Ecoflora.
- they induce the expression of anti-microbial peptides via the interaction with keratinocyte immunologic receptors
- they constitute a cell-cell communication path, via the binding of keratinocyte membrane lectins, which is capable of activating signalization paths that could lead to the production of anti-microbial antibodies.
Packaging & Availability
+
Most Viewed Documents
Document Name
Type
Products
Learn More
Bioecolia - Product sheet V6
FDS_MSDS_BIOECOLIA®_AC033_EN