A longtime leader in the food industry, Tulkoff Food Products continues its legacy of providing customers with a personal experience, centered on quality products and value. Tulkoff is recognized for manufacturing and supplying a variety of full flavored, high quality condiments, specialty sauces and ingredients for co-pack, private label, foodservice, industrial and retail customers nationwide.
We manufacture superior quality ingredients so our customers can develop their very best products. Our Industrial product segment offers core ingredients to major national and international chain restaurants, foodservice distributors and food manufacturers across the world.
Our core Industrial products consist of Garlic, Horseradish and Ginger in a variety of formulas and packaging formats to accommodate manufacturers processing environments. If you do not see the specific formula or packaging you're looking for on our store, contact us for more information on other available items.
Featured Products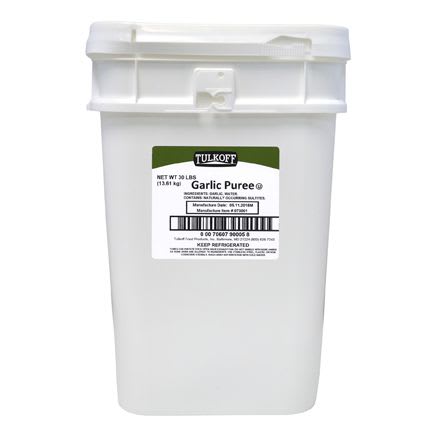 Tulkoff
Tulkoff® Garlic Puree
Tulkoff's Garlic Puree is a smooth blend of garlic and water, ready-to-use out of the container for whatever application you require!
Applications:
Convenience Foods, Savory & Culinary, Meat, Poultry & Seafood
Product Families:
Spices, Herbs & Seasonings, Vegetable Products & Extracts
End Uses:
Mashed Potatoes, Packaged Salads, Burgers & Patty, Processed Meat Products, Seafood Products, Mayonnaise, Spreads, Sauces, Stocks, Soups
Labeling Claims:
Kosher, Natural, Naturally Derived, Allergen-free
Most Viewed Documents
Document Name
Type
Products
Tulkoff® Ginger Puree (Item Spec 164001) Technical Data Sheet
Products:
Tulkoff® Ginger Puree
Tulkoff® Fine Grind Horseradish (Item Spec 089001) Technical Data Sheet
Tulkoff® Fine Grind Horseradish
Products:
Tulkoff® Fine Grind Horseradish
Tulkoff® Chopped Roasted Garlic (Item Spec 125001) Technical Data Sheet
Tulkoff® Chopped Roasted Garlic
Products:
Tulkoff® Chopped Roasted Garlic
Tulkoff® Chopped Garlic in Water (Item Spec 045001) Technical Data Sheet
Tulkoff® Chopped Garlic in Water
Products:
Tulkoff® Chopped Garlic in Water
Tulkoff® Coarse Grind Horseradish (Item Spec 049001) Technical Data Sheet
Tulkoff® Coarse Grind Horseradish
Products:
Tulkoff® Coarse Grind Horseradish
Tulkoff Food Products Industrial Sales Sheet
Tulkoff® Fine Grind Horseradish, Tulkoff® Coarse Grind Horseradish, Tulkoff® Chopped Garlic in Water, Tulkoff® Chopped Roasted Garlic, Tulkoff® Garlic Puree, Tulkoff® Ginger Puree
Products:
Tulkoff® Fine Grind Horseradish, Tulkoff® Coarse Grind Horseradish, Tulkoff® Chopped Garlic in Water, Tulkoff® Chopped Roasted Garlic, Tulkoff® Garlic Puree, Tulkoff® Ginger Puree
Tulkoff® Garlic Puree (Item Spec 073001) Technical Data Sheet
Products:
Tulkoff® Garlic Puree