Jojoba oil, although named "oil", is actually a liquid wax ester. The chemical makeup of jojoba gives it a unique non-oily, non-occlusive, elegant skin feel and great oxidative stability. Performing as a functional ingredient, jojoba can be used in a variety of applications including hair care, skin care, lip care and nail care. DW Jojoba Golden is a clear, golden oil with a typical, slightly nutty aroma.
INCI Name:
Simmondsia Chinensis (Jojoba) Seed Oil
Function:
Conditioner

,
Restoring Agent

,
Gloss Enhancer

,
Nourishing Agent

,
Softener

,
Antioxidant

,
Emollient

,
Sebum Regulator

,
Anti-Inflammatory
Ingredient Origin:
Natural Origin

,
Plant Origin
Labeling Claims:
Gluten-free

,
Natural

,
Organic

,
Non-GMO

,
Plant-Based
Certifications & Compliance:
Organic Certified

,
ECOCERT

,
COSMOS
Benefit Claims:
Anti-Inflammatory

,
Softening

,
Conditioning

,
Emolliency

,
Non-Occlusive

,
Soothing

,
Non-Greasy Feel

,
Rapid Absorption

,
Sebum Control

,
Antioxidant Properties

,
Nourishing

,
Elegant Feel

,
Good Oxidative Stability

,
Non-Oily Feel

,
Shine & Radiance
Price
Available upon quote
Minimum Order Quantity
Quote required
Available Incoterms
Quote required
Regional Availability
Quote required
Product Name
Product Families
Applications
Jojoba Oil Deriaties Brochure
Jojoba Oil Deriaties Brochure
Brochure
Jojoba Oil Technical Data Sheet
Jojoba Oil Technical Data Sheet
Technical Data Sheet
Knowde Enhanced TDS
Identification & Functionality
DW Jojoba Golden

Features & Benefits
Key Attributes
Natural & Sustainable
Mimics Skin & Scalp Lipids
Fast Absorbing & Non-greasy
Deep Hydration
Anti-oxidant
Soothing
Pore Cleansing & Rebalancing
Conditioning & Emollience
Shine
Product Information
This multitasking botanical oil offers intense hydration as well as conditioning and emollient properties for smoother, softer, more radiant skin + hair. It is known to help replenish lipids, seal in moisture, and restore skin's hydrolipidic film.
Desert Whale Jojoba Oil also helps prevent visible signs of aging. A powerful antioxidant, it is proven to protect against free radical damage caused by environmental aggressors and inflammation. This oil also has healing and anti-inflammatory properties, promotes rejuvenation and may help flush out oil and debris in clogged pores, while discouraging overproduction of sebum and minimizing the appearance of pores. The oil is silky smooth, luxurious and lightweight. It glides on smoothly and absorbs quickly with no greasy after feel for deeply nourished skin and hair.
Non-comedogenic Desert Whale Jojoba Oil is ideal for all ages, skin types and hair types. It is the perfect nourishing treatment to help skin, hair, and nails look and feel more beautiful and healthy.
This incredible, versatile product can be used head to toe -- alone as a serum or as a booster to mix with other products before application. It is an ideal ingredient for nearly all types of formulas. It helps a formula apply easily without dragging, and is an excellent carrier oil to dilute essential oils. Desert Whale Jojoba Oil is available as a clear golden or colorless fluid. It can be easily incorporated into skin care, hair care, sun care and color cosmetic products using traditional methods and does not require any special processing.
Desert Whale Jojoba Oil is vegan, free of gluten and GMOs, certified organic and Ecocert/COSMOS. It is sustainably, responsibly and securely sourced from Vantage's own farms in the U.S. and Argentina. Production of this oil helps support local communities while preserving the desert ecosystem. The oil is made using an eco-friendly extraction method (solvent-free crushing) and cold-pressed. Jojoba oil has been used for centuries by Native Americans for its healing and nourishing properties. It was introduced to the beauty market in the 1970s by founders of the Desert Whale Jojoba Company as a replacement for sperm whale oil to assist in the "Save the Whales" movement.
Color Cosmetic Applications
Treatment Product Applications
Typical Properties
| | | | |
| --- | --- | --- | --- |
| | Value | Units | Test Method / Conditions |
| Peroxide Value | max. 2 | meq O2/kg | - |
| Color | max. 8 | Gardner | - |
| Refractive Index | 1.45 - 1.46 | - | at 40°C |
Technical Details & Test Data
Efficacy Studies
PHYTOSTEROL COMPONENTS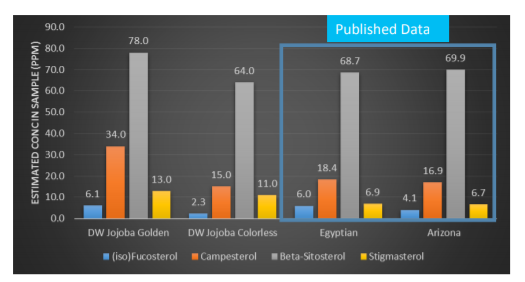 Results of a Gas Chromatography-Mass Spectral (GC-MS) analysis (in-vitro): Desert Whale Jojoba Oil contains 4 types of phytosterols. Phytosterols are known to be similar to cholesterol found naturally in the skin barrier.
ANTI-OXIDANT POWER
Results of an Oxygen Radical Absorbance Capacity (ORAC) analysis that measures a product's anti-oxidant power (in-vitro): Desert Whale Jojoba Oil neutralizes free radicals caused by both environmental aggressors (extrinsic stresses) and natural skin processes (intrinsic stresses) -- specifically, hydroxyl radicals (caused by UV, pollution and inflammation) and hypochlorite radicals (caused by inflammation).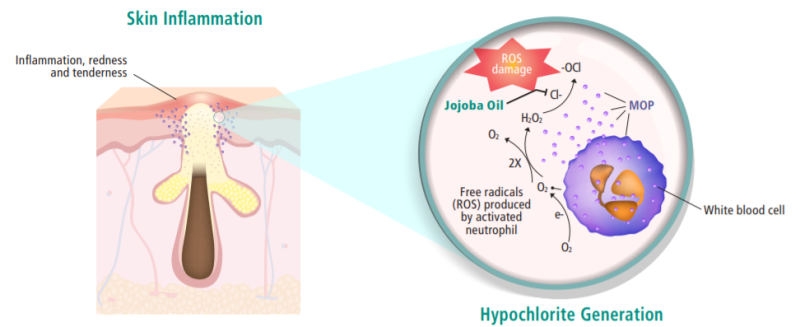 SKIN-RENEWING, ANTI-IRRITATION & HEALING PROPERTIES
Results of a gene expression study* that helps identify a product's mechanism of action (in-vitro): Desert Whale Jojoba Oil influences genes involved in inflammation, wound healing, skin regeneration, skin cell renewal, and other natural skin processes.​​​​​​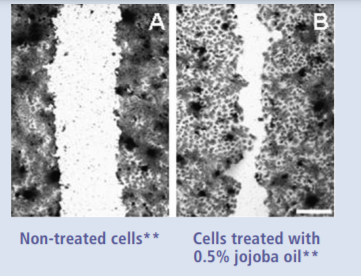 Results of a scratch wound assay after 6 hours (an in-vitro test that measures wound healing speed): Jojoba oil accelerates wound healing.

Results of a Western Blot analysis that helps identify a product's mechanism of action (in-vitro): Jojoba oil stimulates proteins involved in cell migration & wound healing.