DW Jojoba Wax Flakes
DW Jojoba Wax Flakes is fully hydrogenated jojoba oil. Jojoba Wax Flakes provides structure and glide to stick formulations including lip sticks, skin care sticks and sun care sticks. Jojoba Wax Flakes can also be used in mascaras, blushes and eye shadows.
Knowde Enhanced TDS
Identification & Functionality
+
Key Attributes
Naturally-Derived + Sustainable
Structure
Glide
Stick Strength
Flexible Film Forming
Substantivity
Creamy Texture
Non-Greasy Emolliency
Moisturization
Increased Color Payoff
Exceptional Stability
Color Cosmetic Applications
Recommended Uses & Known Applications
Sticks
Emulsions
Anhydrous Formulas
Lip care
Usage Guidelines
In stick formulations, Desert Whale Jojoba Wax Flakes create a flexible non-brittle structure – improving stick strength, glide, color payoff, and creamy feel – while also allowing for a higher loading of pigments or emollients, if desired.
They can also be used as a film former or bodying agent. These unique wax flakes form a flexible film that prevents flaking in hair styling products and mascaras, and adds structure to emulsions.
Desert Whale Jojoba Wax Flakes are ideal for use in a broad range of applications including color cosmetics, lip care, hair care, skin care and sun care products. Recommended formulation types: Sticks, emulsions and anhydrous formulas.
Desert Whale Jojoba Wax Flakes enhance structure, glide and substantivity, while providing a creamy formulation texture, non-greasy emolliency and moisturization. Compared to traditional or other natural waxes they provide greater emolliency and less drag.
Appearance
White, free flowing hard wax flakes
Typical Properties
| | | | |
| --- | --- | --- | --- |
| | Value | Units | Test Method / Conditions |
| Melting Point | 68-72 | ˚C | - |
| Iodine Value | max. 1 | cg l/g | - |
Regulatory & Compliance
+
Technical Details & Test Data
+
Efficacy Studies
EVALUATION OF STICK HARDNESS: CASTOR OIL/WAX STICKS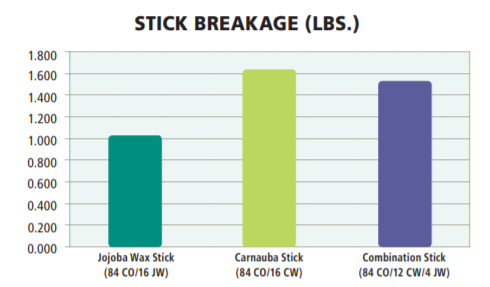 The addition of Desert Whale Jojoba Wax Flakes produces a somewhat softer stick with improved payoff, creaminess and glide
Most Viewed Documents
Document Name
Type
Products
Learn More
Jojoba Oil Deriaties Brochure
DW Jojoba Milk, Iso Jojoba™ 35, Iso Jojoba™ 50, Jojoba Buttercreme™, Jojoba Glaze™ HV, Jojoba Glaze™ LV, Jojoba Hydrate™, Jojoba Illuminate™, PFJ™ S Beads, DW Jojoba Esters-15, DW Jojoba Esters-20, DW Jojoba Esters-30, DW Jojoba Esters-60, DW Jojoba Esters-70, Jojoba Aqua™ Bio-120, DW Jojoba Colorless, DW Jojoba Golden, DW Jojoba Wax Flakes
Products:
DW Jojoba Milk, Iso Jojoba™ 35, Iso Jojoba™ 50, Jojoba Buttercreme™, Jojoba Glaze™ HV, Jojoba Glaze™ LV, Jojoba Hydrate™, Jojoba Illuminate™, PFJ™ S Beads, DW Jojoba Esters-15, DW Jojoba Esters-20, DW Jojoba Esters-30, DW Jojoba Esters-60, DW Jojoba Esters-70, Jojoba Aqua™ Bio-120, DW Jojoba Colorless, DW Jojoba Golden, DW Jojoba Wax Flakes
Jojoba Wax Flakes Technical Data Sheet
Products:
DW Jojoba Wax Flakes