INCI Name:
Sodium Hyaluronate Crosspolymer
Function:
Binder

,
Anti-Aging Agent

,
Scavenger

,
Moisturizing Agent
Ingredient Origin:
Non-Animal Origin
Labeling Claims:
Clean at Sephora
Benefit Claims:
Moisturizing

,
Anti-Aging

,
Film Forming

,
Binding

,
Free Radical Scavenging
Price
Available upon quote
Minimum Order Quantity
Quote required
Available Incoterms
Quote required
Regional Availability
View
Hylasome® EG10 Technical Data Sheet
Hylasome® EG10 Technical Data Sheet
Technical Data Sheet
Knowde Enhanced TDS
Identification & Functionality
Cosmetic Ingredients Functions
Hylasome™ EG-10

Features & Benefits
Key Attributes
Fifty (50) times the water binding capacity of hyaluronic acid
Five times more moisturization than hyaluronic acid after 24 hours
Product Background
Hylasome is the trade name of Hylan B gel (cross-linked HA) used in topical applications.
HylaMed Research, Inc. has the exclusive, global license for Hylasome technology for use in the topical cosmetic and skin care field.
Lipo Chemicals is the exclusive worldwide distributor for HylaMed Research.
Medical Products containing Hylan B gel:
Synvisc : treatment for osteoarthritis (OA); injection of Synvisc (Hylan B gel/Hylan A HA mixture) into the knee relieves the pain of OA
Hylaform : soft tissue augmentation- correction of facial wrinkles and scars by intradermal injection of Hylaform (composed of Hylan B gel)
Consists of an aqueous gel of crosslinked hyaluronic acid.
Polymer content: 6% by weight of polymer plus bound water
Delivery of Water
Unique non-equilibrium gel.
Developed specifically in a non-equilibrium state, i.e. with gel domains that are not completely swollen.
Gel domains, which contain tightly bound water, are surrounded by free water.
The gel forms a film on the skin and continuously delivers the bound water.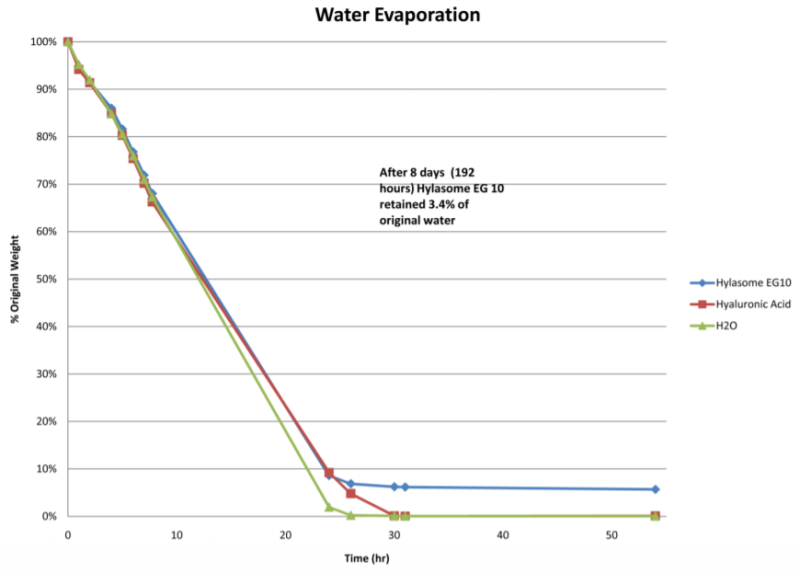 Bath & Shower Applications
Typical Properties
| | | | |
| --- | --- | --- | --- |
| | Value | Units | Test Method / Conditions |
| pH | 5.50 - 7.50 | - | - |
| Total Bacteria Count | max. 500 | CFU/g | - |
Technical Details & Test Data
Efficacy Studies
Skin Moisturization Study Preliminary Experiments
Confocal Raman Spectroscopy
Ex vivo – surgically removed skin (including stratum corneum, viable epidermis, and some dermis).
Hylasome EG10 vs. Hyaluronic Acid, both at 0.1% polymer weight in D2O
Performed by C. Flach and R. Mendelsohn at Rutgers University
Confocal Raman Spectroscopy
Confocal sampling:
Skin sections parallel to surface
Placed in a brass block (SC up)
Sealed with cover slip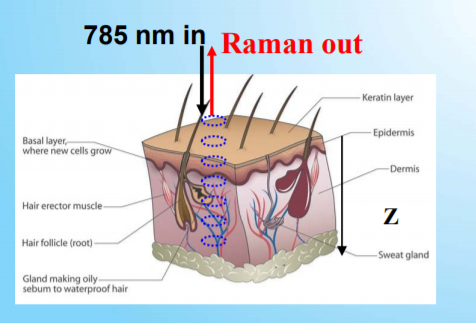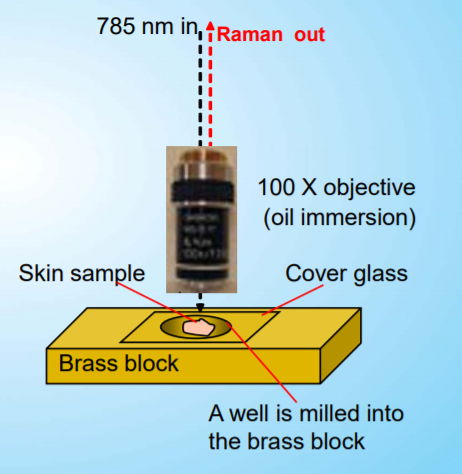 Experimental Procedure
5 µL D2O-based test material applied to 2x2 cm2 surgically removed skin.
Held at 55% relative humidity (D2O) and room temp for 24 hrs.
Placed in milled brass sample holder and covered with glass cover slip.
D2O content in the skin measured by confocal Raman spectroscopy in the x and z axes.
Raman Spectra of Materials


Typical Raman spectrum of human cadaver stratum corneum exposed to 100% RH D2O
Integrated band area ratio of D2O / Phe is used to quantify the relative concentration of D2O in skin. Skin protein component phenylalanine (Phe), band area is used as an "internal standard" to correct for scattering losses with depth. The ratio of the D O peak to the Phe peak indicates the moisture content at the measurement site.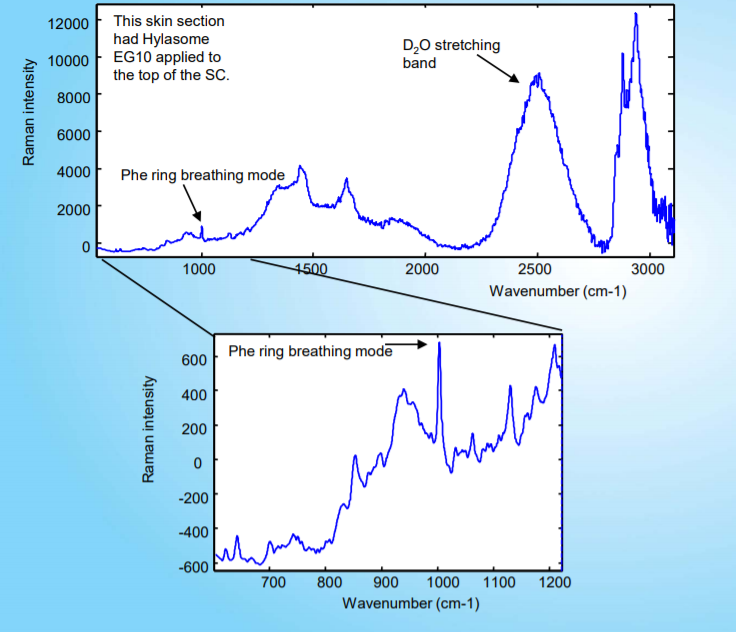 HA application in 55% RH D2O environment D2O / Phe band area ratio
After 24 hour incubation at 55% RH in a D2O environment, the results show that the section treated with the Hylasome preparation contains more D2O in the skin and in the stratum corneum than the section treated with the 0.1% HA formulation. Higher ratio numbers indicate higher D2O concentration.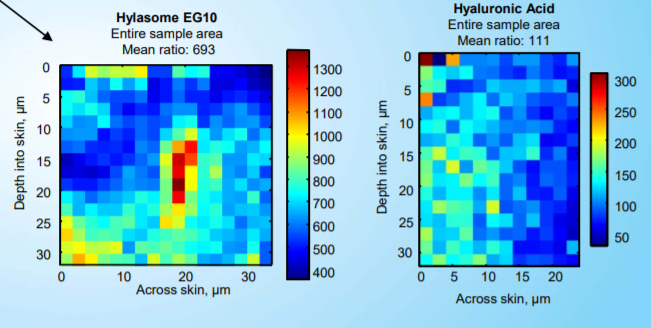 Skin appears to dry over time while exposed to Raman laser. Spectra acquired left to right.
HA application in 55% RH D2O environment D2O / Phe band area ratio for stratum corneum region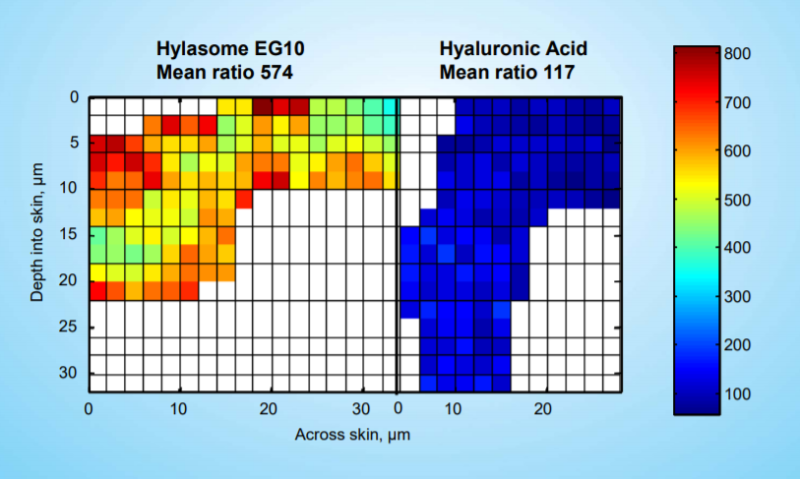 Conclusion
Hylasome EG10 -treated skin contained 6x more moisture in the total sample and 5x more moisture in the stratum corneum than hyaluronic acid-treated skin.
Water Binding (DIFFERENTIAL SCANNING CALORIMETRY)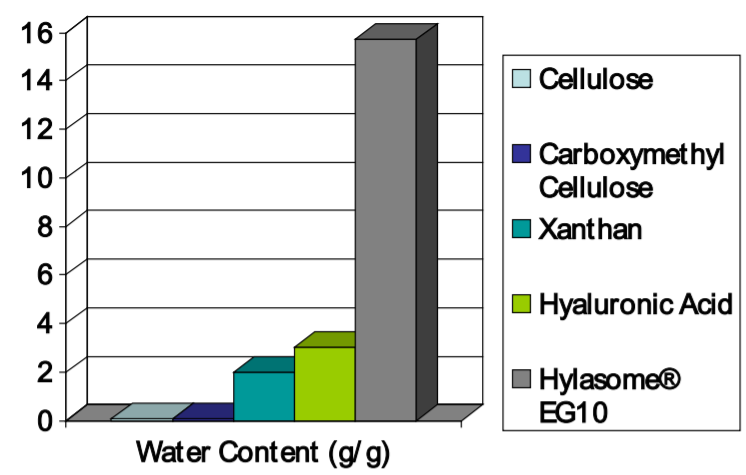 Phillips, et al, Carbohydrate Polymers 26 (1995) 11-18
Free Radical Scavenger
Hyaluronic Acid (HA):
Natural scavenger of free radicals (FR) (Greenwald & Moy)
Protects against FR induced cell damage, molecular weight dependent (Presti & Scott 1994)
Prevents FR damage to healing tissue (Foschi, et al 1990)
Inhibits lipid peroxidation (Albertini, et al 2000)
Hylasome® gel:
Inhibition of FR production; FR consumption (Larsen et al 1992)
Accelerates healing of full thickness wounds in rats (SBIR grant final report, 1987, Biomatrix, Inc.)
Free Radical Scavenging by Hylasome Antioxidant Activity Measured in vitro [xanthine oxidase/hypoxanthine]