Liponate™ CCC MB is naturally-derived extra light and fast-spreading emollient that can offer a great alternative to volatile dry silicones such as dimethicone. Liponate™ CCC MB is a clear oil that performs as a very light emollient that spreads quickly upon application before leaving a soft and powdery after-feel on skin. It is certified RSPO Mass Balanced. Liponate™ CCC MB creates an invisible and ultra silky film that provides long-term moisturization. Liponate™ CCC MB is recommended for light skin care, sun care and color cosmetic applications.
INCI Name:
Coco-Caprylate/Caprate
Function:
Dispersant

,
Emollient
Ingredient Origin:
Natural Origin
Labeling Claims:
Organic

,
Biodegradable

,
Naturally Derived

,
Natural
Certifications & Compliance:
Organic Certified

,
RSPO MassBalance Certified

,
COSMOS

,
ECOCERT
Price
Available upon quote
Minimum Order Quantity
Quote required
Available Incoterms
Quote required
Regional Availability
Quote required
Product Name
Product Families
Applications
Liponate® CCC MB Technical Data Sheet
Liponate® CCC MB Technical Data Sheet
Technical Data Sheet
Knowde Enhanced TDS
Identification & Functionality
Cosmetic Ingredients Functions
Liponate™ CCC MB

Features & Benefits
Product Background
Liponate™ CCC is an ester of natural fatty alcohol, caprylic acid and capric acid. It is an ultra low viscosity, colorless and odorless dry emollient ester, which is an ideal sensorial alternative to volatile silicone oils. This product is 100% derived from natural, renewable feedstocks. It is a fast spreading emollient ester that provides very light skin feel similar to silicone oils. It can also be incorporated with powders, colorants, UV filters to enhance the solubility of those materials and further improve the skin feel.
Vantage has developed this ultra-light sensorial profile for Liponate™ CCC with unique chemical compositions and chain length distribution, making it much lighter than traditional grades of Coco Caprylate/Caprate esters.
Key Benefits
Great biocompatibility with skin and provides skin with incredible softness
Good alternative for silicon oils in skincare
Excellent spreadability and solubilizing characteristics, great for suncare, BB and CC applications
Biodegradable
Excellent pigment dispersing capability for color cosmetics
Product Highlights
Liponate™ CCC is a fast-spreading, low-greasiness emollient, whose absorption profile positions it as an excellent alternative to dimethicone or other light synthetic emollients esters. However, while dimethicone is highly volatile, Liponate™ CCC leaves an invisible film on the skin that contributes to long-term hydration after application.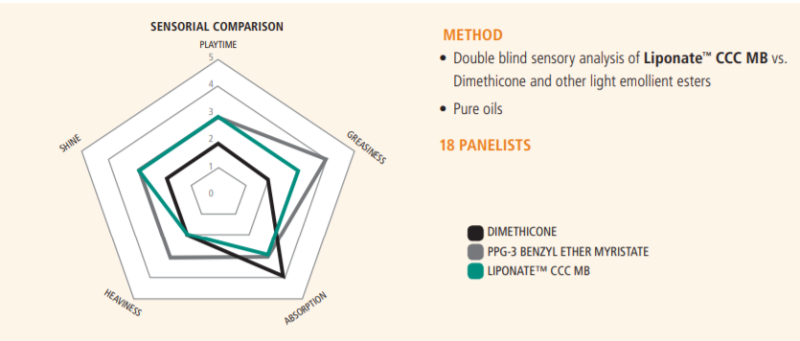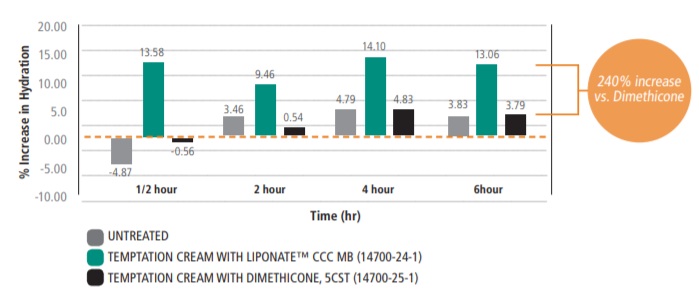 Method
Comparison of 2 formulations with respectively Liponate™ CCC (11%), and Dimethicone, 5 cst. (11%) vs. Untreated
Measurement via hydration probe
Baseline vs. 1/2h, 2h, 4h, 6h
Liponate™ CCC is an excellent choice for the formulation of light clear lotions. It improves the spreadability and glide of varieties of skin care products during application and leaves a non-greasy, soft after touch.
Liponate™ CCC can improve the solubilizing of crystalline UV filters for sun care products. It is also a great pigment dispersant for color applications.
Color Cosmetic Applications
Appearance
Clear Colorless to Slightly Yellow Liquid
Typical Properties
| | | | |
| --- | --- | --- | --- |
| | Value | Units | Test Method / Conditions |
| Saponification Value | 190-220 | mgKOH/g | - |
| Specific gravity | 0.856-0.862 | - | at 20°C |
| Refractive Index | 1.436–1.440 | - | at 20°C |