Join the world's largest marketplace for ingredients, polymers & chemistry.
7,000+ suppliers are already on Knowde.
Request a demo to learn how Knowde makes it easier than ever for you to market, sell and transact online.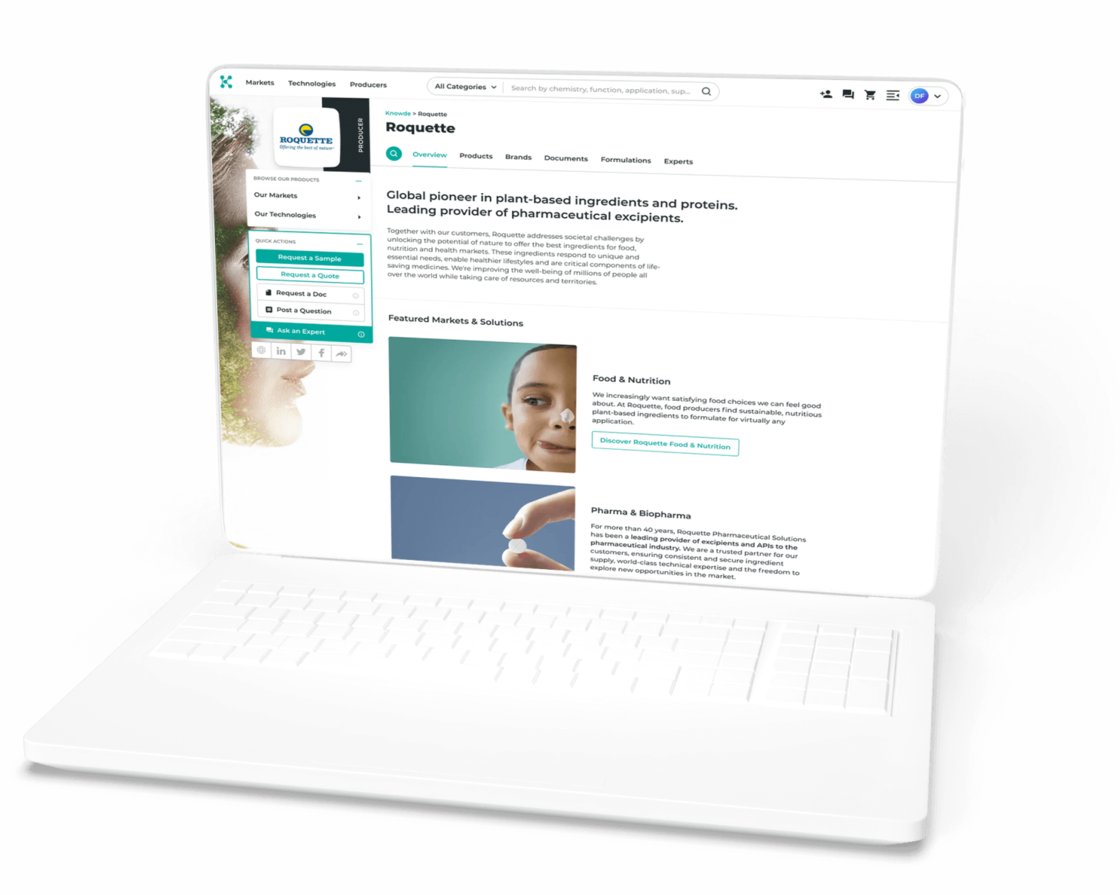 The modern 4th channel for you and your customers.
Knowde helps you open up a new channel to reach more customers, fast. We do not replace sales, distributors, or your website — we complement them to help you better serve existing customers and unlock new ones.
Give your customers the modern, digital experience they need for seamless product development:
Customers can easily find your products from Google or Knowde.
Customers can learn everything about your products within your storefront.
Customers can request documents, samples and quotes in a few clicks.
Customers can engage you and ask questions from within your storefront.
Your customers can place orders with a modern eCommerce experience.
Impress your customers and create engagement with a beautiful digital storefront.
Over 7,000 suppliers have already created a store on Knowde to reach thousands of new customers.
Trusted by customers and suppliers of all sizes in every market:
Everything you need to move online — all in one place.
Storefront for all your products
Impress customers and create engagement with a stunning digital storefront with a built-in messenger system.
Lead & Request Management
We give you all the tools you need to manage your leads and route your leads to the correct person or system.
We give you access to the activity happening in your storefront.
Looking for more in depth Analytics? Learn about Premium Analytics through Knowde Premium!
Automatically nurture storefront visitors with relevant content and turn them into qualified leads.
Launch your storefront in one month or less!
Just share your product documentation with us — we'll handle the rest.
02 We Build Your Storefront
Knowde builds your catalog and organizes all your product content.
03 Your Storefront Launches
Together we launch your storefront leveraging the marketing materials created by KnowdeDigitalTM.
Knowde is especially helping us with newer, smaller but up-and-coming suppliers that are useful to have on our radar especially in the field of sustainbility.
Attract more customer leads & grow your business with Knowde Premium.
Harnass the latest features and services to blow open the top of the funnel and convert leads to customers, faster.
| | | |
| --- | --- | --- |
| Feature | Standard | Knowde Premium |
| Storefront | | |
| Basic Marketing Features | | |
| Basic Analytics | | |
| Basic Sales Features | | |
| Marketing Automation | | |
| Lead Management | | |
| Digital Selling | | |
| Premium Analytics | | |
| CRM Integration | | |
| Advanced KnowdeDigital™ | | |
| Customer Success | | |