Termin-8®
Termin-8 offers the highest level of Pathogen Control in feed and has a residual effect, approved by the US Food and Drug Administration (FDA), for three weeks post-application. Termin-8 controls feed contamination caused by: Salmonella species and molds. Application of Termin-8 reduces pathogen incidence in the food chain. It is particularly effective in reducing contamination caused by Salmonella spp. Termin-8 has been extensively tested, resulting in worldwide approvals including FDA and the European Commission. Termin-8 provides pathogen control for feed used in more than 60 countries.
Knowde Enhanced TDS
Identification & Functionality
+
Animal Feed & Nutrition Functions
Animal Feed & Nutrition Features
Product Highlights
TERMIN-8 – SECURITY THROUGH SCIENCE
BENEFITS CONFIRMED BY INDEPENDENT, IN-HOUSE AND PRACTICAL RESEARCH
Effect of Termin-8 on Layers – Piedmont Research Station, Salisbury, North Carolina, USA
Conclusion: Treating the feeds with Termin-8 improved feed quality and egg hygiene.
Effect of Termin-8 on vaccination response in turkeys – field research, USA
Conclusion Degree of variation in antibody concentration amongst eggs produced on different days was reduced from 9.8 to 1.7%, indicating a more uniform vaccination response.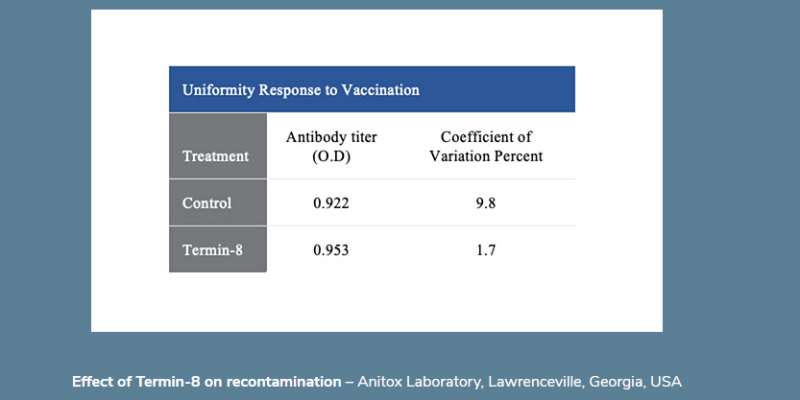 Effect of Termin-8 on recontamination – Anitox Laboratory, Lawrenceville, Georgia, USA
*Samples contaminated with S. typhimurium 19 days after production, samples tested 48h after contamination
Conclusion: Termin-8 provides extensive protection against Salmonella when applied at a minimum of 2 kg/mt
S. typhimurium count (%)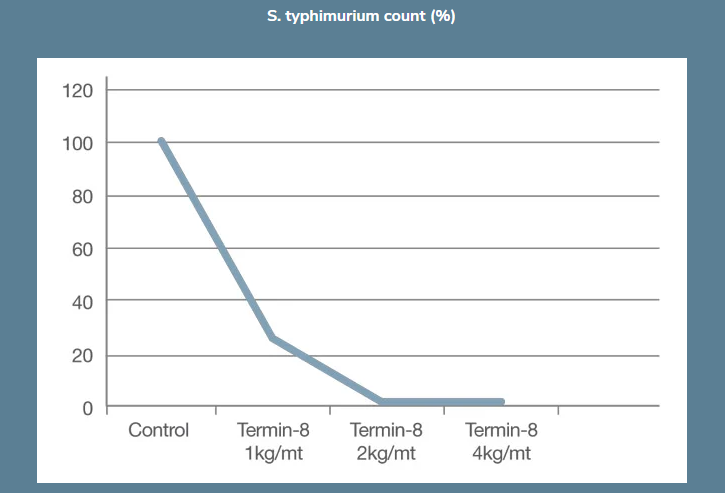 End Uses
Aqua
Genetic Stock
Parent Stock
Layers
Broilers
Turkeys
Swine
Regulatory & Compliance
+