Salibact is an oil soluble antibacterial and antifungal active ingredient. It is effective against gram positive and gram negative bacteria, fungi, yeast and molds and biodegradable. Compatible with most of the other personal care ingredients.
Function:
Anti-Fungal Agent

,
Anti-Microbial Agent

,
Fungistatic Agent

,
Bacteriostatic Agent
INCI Name:
Chlorhexidine Diundecylenate
Benefit Claims:
Anti-Fungal

,
Antimicrobial

,
Anti-Bacterial
Knowde Enhanced TDS
Identification & Functionality
Cleaning Ingredients Functions
Cosmetic Ingredients Functions
CAS No.
1884575-91-0
1884575-91-0
Salibact

Features & Benefits
Product Benefits
Broad spectrum activity
Near zero probability of bacterial resistance
Biocompatibility
Low environmental concern
Biodegradable
Technical Details & Test Data
Impurities
| Organic Impurities | |
| --- | --- |
| Chlorhexidine oxazinone analog | 0.2% |
| Specified unidentified impurity 1 | 0.2% |
| Chlorhexidine amine | 0.3% |
| Chlorhexidine amine | 1% |
| Chlorhexidine urea | 0.2% |
Efficacy Tests
Comparison with Other Anti-Microbials
| Test Organism | SALIBACT | Nanosilver | Triclosan | Triclocarban |
| --- | --- | --- | --- | --- |
| Effective against gram (+) bacteria | ✓ | ✓ | ✓ | ✓ |
| Effective against gram (-) bacteria | ✓ | ✓ | ✓ | - |
| Antifungal Properties | ✓ | ✓ | ✓ | - |
| Fast acting (Time to complete kill) | ✓ | | ✓ | ✓ |
| Biocompatibility (inert towards mammalian cells) | ✓ | - | - | - |
| Multi-faceted mode of kill | ✓ | - | - | - |
| Very low probability of bacterial resistance | ✓ | - | - | - |
| Minimal environmental concerns | ✓ | - | - | - |
| Controllable release (tunable solubility) | ✓ | - | - | - |
| Cost Effective | ✓ | | ✓ | ✓ |
Challenge Test Result on Soap Bar using Salibact @ 0.1%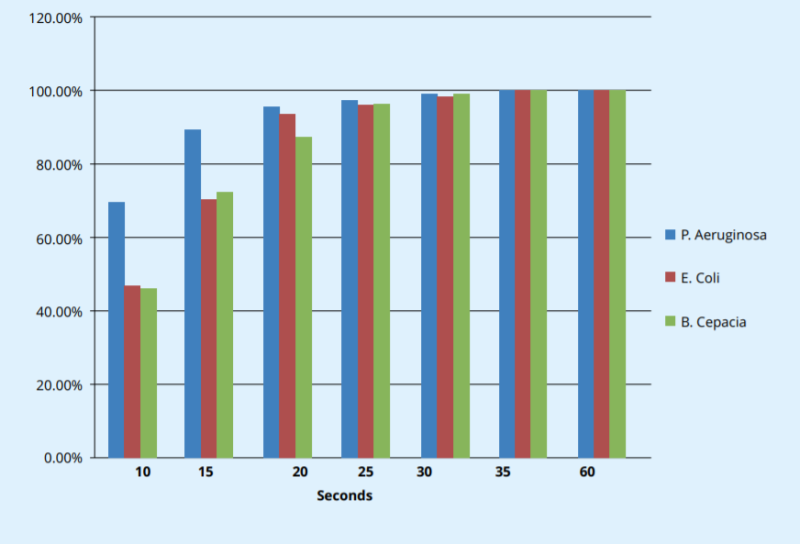 Toxicological Information
Acute and Genetic Toxicology Studies
Acute Dermal Toxicology Studies – LD 50 greater than 2000mg/kg body weight
Acute Oral Toxicity – LD50 greater than 2000 mg/kg body weight
Salibact did not induce Gene Mutation
Eye Irritation studies – Salibact was found to be a mild irritant.
Acute Dermal Irritation studies – Salibact is a non-irritant
Most Viewed Documents
Document Name
Type
Products
Salicylates and Chemicals Product List
Salicat™ MI 10, Salicat™ MM, Salicylates and Chemicals Salicylic Acid USP, Salidant™ DMH, Saliethanol ™ Saliethanol, Saligerm™ G-2, Saligin™ BP, Saligin™ Methyl Paraben, Saligin™ Propyl Paraben, Saliguard® BDHA, Saliguard® BDP, Saliguard® COS, Saliguard® EHG Ethylhexylglycerin, Saliguard® HDC, Saliguard® HDZ, Saliguard® PCG, Saliguard® PG, Saliguard® SP, Saliguard® UCP, Saliguard® UZB, Salimall™ II, Salimid™ 115, Salicylates and Chemicals Saliplus, Salisol® 4, Salisol® HMS, Salisol® OMC, Salisol® OS, Salinatural® CCL, Salinatural® BCLS, Salinatural® CIN, Salinatural® KJ, Salinatural® OLG, Salinatural® TCLS, Salinatural® MIN, Salizole, Saliactive MXDL, Salisol® BMZ, Salisol® AB, Salisol® HS, Salisol® CRY, Salisol® EHT, Saliguard® EHGP, Saliguard® EHGP-U, Saliguard® ULTIMA 2, Saliguard® S2, Saliguard® CEZ, Saliguard® PBC, Saliguard® PBU, Salimine, Salidruff, Brosalidox L, Salicylates and Chemicals Methyl Salicylate, Salibact, Salibide DMI, Salicap CSA, Salicap G, Salicat™ K 100, Salicat™ K 145, Salicide™ BR, Salicos, Salidant™ DMH (LFC), Salidine, Salidine ACT, Salidine HCL, Salidiol G, Saligin™ EP, Saligin™ EPS, Saligin™ MEPX, Saligin™ MPS, Saligin™ PPS, Saliguard® EPC, Saliguard® EZ, Saliguard® UA, Salilite HR, Salilite® NBR, Salimeg EGMS, Salimix MCI, Salinip XB, Salipharm TS, Saliphenesin, Salisan, Salisod, Salisol® 3, Salivite C-SAP, Sallitoin
Products:
Salicat™ MI 10, Salicat™ MM, Salicylates and Chemicals Salicylic Acid USP, Salidant™ DMH, Saliethanol ™ Saliethanol, Saligerm™ G-2, Saligin™ BP, Saligin™ Methyl Paraben, Saligin™ Propyl Paraben, Saliguard® BDHA, Saliguard® BDP, Saliguard® COS, Saliguard® EHG Ethylhexylglycerin, Saliguard® HDC, Saliguard® HDZ, Saliguard® PCG, Saliguard® PG, Saliguard® SP, Saliguard® UCP, Saliguard® UZB, Salimall™ II, Salimid™ 115, Salicylates and Chemicals Saliplus, Salisol® 4, Salisol® HMS, Salisol® OMC, Salisol® OS, Salinatural® CCL, Salinatural® BCLS, Salinatural® CIN, Salinatural® KJ, Salinatural® OLG, Salinatural® TCLS, Salinatural® MIN, Salizole, Saliactive MXDL, Salisol® BMZ, Salisol® AB, Salisol® HS, Salisol® CRY, Salisol® EHT, Saliguard® EHGP, Saliguard® EHGP-U, Saliguard® ULTIMA 2, Saliguard® S2, Saliguard® CEZ, Saliguard® PBC, Saliguard® PBU, Salimine, Salidruff, Brosalidox L, Salicylates and Chemicals Methyl Salicylate, Salibact, Salibide DMI, Salicap CSA, Salicap G, Salicat™ K 100, Salicat™ K 145, Salicide™ BR, Salicos, Salidant™ DMH (LFC), Salidine, Salidine ACT, Salidine HCL, Salidiol G, Saligin™ EP, Saligin™ EPS, Saligin™ MEPX, Saligin™ MPS, Saligin™ PPS, Saliguard® EPC, Saliguard® EZ, Saliguard® UA, Salilite HR, Salilite® NBR, Salimeg EGMS, Salimix MCI, Salinip XB, Salipharm TS, Saliphenesin, Salisan, Salisod, Salisol® 3, Salivite C-SAP, Sallitoin