ISOFOL 12 is a primary, saturated alcohol with defined branching of the carbon chain. It can be chemically described as 2-butyl-1-octanol and is also referred to as C12 Guerbet alcohol. It is used in personal care. ISOFOL 12 is a light emollient, solvent, basic material for the production of emollient esters. For documents specific to a region, please contact Sasol using the 'Request Document' button.
Get a Quote
It's fast and easy
Properties
End Use Claims
Cleansing
Conditioning
Emolliency
Solubilization
Cleaning
Solvency
Thermal Stability
Regulatory Status
AICS Listed (Australia)
DSL Listed (Canada)
ENCS Listed (Japan)
TSCA Listed (USA)
IECSC Listed (China)
KECI Listed (Korea)
ISHL Listed (Japan)
CH INV Listed (Switzerland)
Regional Availability
Latin America
North America
Europe
Asia Pacific
Middle East & Africa
Soluble in
Ethanol
Mineral Oil
Dimethicone
Cyclopentasiloxane
Propylene Glycol
Isopropyl Myristate
Caprylic/Capric Triglyceride
Olive Oil
Iodine Value
max. 0.5
mg I/100mg
600-39
iC 12 OH
min. 97.0
wt. %
600-12a
Ester value
max. 0.3
mg KOH/g
600-33
Acid number
max. 0.05
mg KOH/g
600-31
Boiling Point
approx. 243
°C
600-21
Flash point
approx. 120
°C
DIN 51758
Molecular weight
approx. 186
g/mol
600-19
Hydroxyl value
286 - 305
mg KOH/g
600-30
Water Content
max. 0.1
wt. %
DIN 51777
Color Value
max. 10
–
EN ISO 6271-2
Melting range
max. -30
°C
600-27
Refractive Index
approx. 1.443
nD20
DIN 51423
Density (at 20°C)
0.831 - 0.835
g/ml
DIN 51757
Viscosity (at 20°C)
approx. 23
mPa.s
600-25
Technical product information
Recommended Uses & Known Applications
ISOFOL Alcohols and their derivatives are used as raw materials and intermediates in many application areas including:
Lubricants – converted to esters having improved hydrolytic stability and lower pour points than linear counterparts.
Cosmetics and Pharmaceuticals – an odorless ingredient of creams, lotions, and ointments.
Personal Care – sulfate derivative gives low foaming cleansing.
Melting points of ISOFOL alcohols in comparison with linear NACOL alcohols
The ISOFOL alcohols C12 to C24 are liquid at ambient temperature, whereas corresponding linear and saturated alcohols are solid. While oleyl alcohol starts to solidify at approx. 10 °C, ISOFOL alcohol of similar chain lengths remains liquid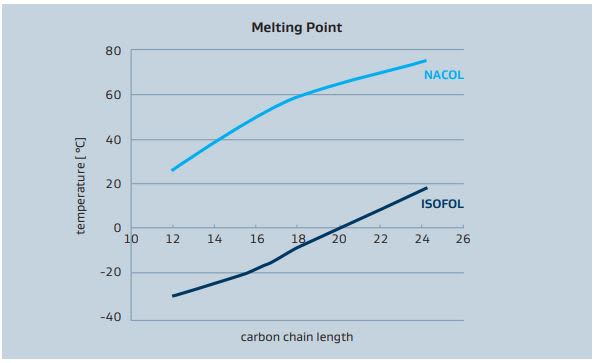 ISOFOL alcohol viscosity vs temperature
The temperature-dependant kinematic viscosity of ISOFOL alcohols is shown in Figure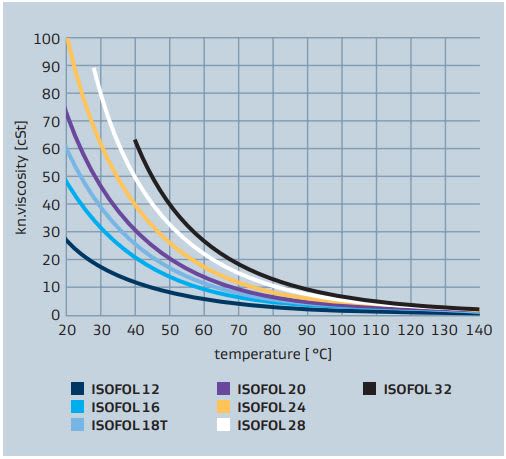 ISOFOL alcohol density vs temperature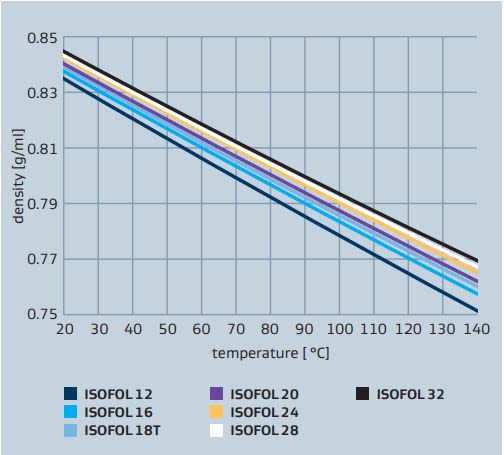 Storage And Handling
Precautions for safe handling
Advice on safe handling
Handle in accordance with good industrial hygiene and safety practice
Provide sufficient air exchange and/or exhaust in work rooms
Advice on protection against fire and explosion
The product is flammable but not readily ignited. Normal measures for preventive fire protection.
Fire-fighting class
B: Fires involving liquids or liquid containing substances. Also includes substances which become liquid at elevated temperatures
Conditions for safe storage, including any incompatibilities
Storage class (TRGS 510)
10-13: German Storage Class 10 to 13
Other data
Stable under normal conditions.
Other Products within this Brand (10)
Complete your formula with these ingredients
Branded products
Function
Categories
ISOFOL 28
Conditioners & Emollients

,
Intermediates And Precursors
Coupling Agent

,
Emollient

,
and 6 others
Personal Care

,
Paints & Coatings

,
and 7 others
Beauty & Personal Care

,
Industrial

,
and 3 others
ISOFOL 32
Intermediates And Precursors
Coupling Agent

,
Solubilizer

,
and 3 others
Personal Care

,
Paints & Coatings

,
and 6 others
Beauty & Personal Care

,
Industrial

,
and 2 others
ISOFOL 16
Conditioners & Emollients

,
Solvents & Delivery Systems

,
and 1 other
Coupling Agent

,
Emollient

,
and 4 others
Personal Care

,
Paints & Coatings

,
and 9 others
Beauty & Personal Care

,
Household, Industrial & Institutional Care

,
and 2 others
ISOFOL 2426S ALCOHOL
Coupling Agent

,
Lubricant

,
and 1 other
Paints & Coatings

,
Adhesives & Sealants

,
and 8 others
Industrial

,
Household, Industrial & Institutional Care

,
and 1 other
ISOFOL ESTER 1202
Lubricants & Greases

,
Mining & Metals
ISOFOL ESTER 4693
Metal Finishing & Fabrication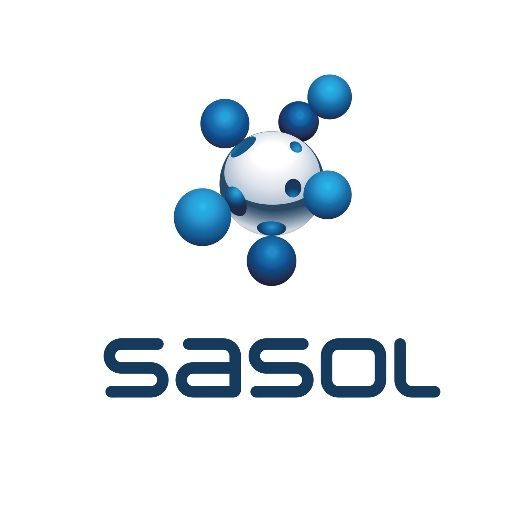 ISOFOL 12
Sasol Place, 50 Katherine Street