Vertec BioSolvents Inc. provides environmentally friendly alternatives to traditional petroleum-based solvents. At Vertec, we place an emphasis on technology and sustainability, creating bio-based solvents designed to outperform their petrochemical counterparts.
Browse Products by Market (6)
Browse Products by Technology (5)
Most Viewed Brands
Vertec BioSolvents
VertecBio
Applications: Institutional & Industrial Care, Industrial Cleaning, Chemical Manufacturing
Product Families: Solvents & Carriers, Other Solvents & Specialties, Other Solvents
Chemical Family: Chemical Mixtures & Blends, Esters, Acetates
End Uses: Asphalt
VertecBio™ offers a full line of bio-based, safe solvents, derived from renewable resources, and solvent blends that provide high performance as formulating ingredients, carrier solvents and/or cleaning solvents.
Vertec BioSolvents
Vertecbio™ ELSOL
Applications: Institutional & Industrial Care, Surface Care, Industrial Cleaning
Product Families: Solvents & Carriers, Blends & Combinations, Functional Additives
Chemical Family: Blends & Combinations
End Uses: Lacquers, Automotive Polishes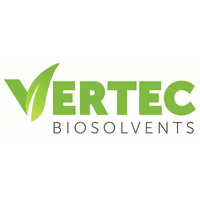 Most Viewed Documents
Document Name
Type
Products
VertecBio ELSOL Clean ECO-Solv Technical Data Sheet
Products:
VertecBio™ Clean ECO-Solv
VertecBio™ DLR Product Data Sheet
VertecBio™ ELpine #1 Product Data Sheet
Products:
VertecBio™ ELpine #1
VertecBio™ Citrus #1 Product Data Sheet
Products:
VertecBio™ Citrus #1
VertecBio™ ELSOL® XR Product Data Sheet
Products:
VertecBio™ ELSOL® XR
VertecBio™ ELSOL® BCR Product Data Sheet
Products:
VertecBio™ ELSOL® BCR
VertecBio™ ELpine 118 Product Data Sheet
Products:
VertecBio™ ELpine 118
VertecBio™ Ink Zapper® Product Data Sheet
Products:
VertecBio™ Ink Zapper®
VertecBio™ ELSOL® NMPR3 Product Data Sheet
Products:
VertecBio™ ELSOL® NMPR3
VertecBio Gold® #1EG Product Data Sheet
Products:
VertecBio Gold® #1EG
VertecBio ELSOL AR Technical Data Sheet
Products:
VertecBio™ ELSOL® AR
Products:
VertecBio™ 5516, VertecBio™ ELpine #1, VertecBio™ EL Ethyl Lactate, VertecBio™ Ink Zapper®