Oxidised Fischer-Tropsch Hard Wax supplied as a coarse powder.
Chemical Name:
Paraffin Waxes and Hydrocarbon Waxes, Oxidized
Chemical Family:
Fischer Tropsch Waxes

,
Waxes
Price
Available upon quote
Minimum Order Quantity
Quote required
Available Incoterms
Quote required
Regional Availability
View
Similar Products from Sasol
NEW
Fischer-Tropsch Hard Waxes Brochure
Fischer-Tropsch Hard Waxes Brochure
Other
Industrial Waxes - Textile & Leather Brochure
Industrial Waxes - Textile & Leather Brochure
Brochure
SASOLWAX A28 Technical Data Sheet
SASOLWAX A28 Technical Data Sheet
Technical Data Sheet
SASOLWAX A28 Safety Data Sheet
SASOLWAX A28 Safety Data Sheet
Safety Data Sheet
SASOLWAX Lubricant for PVC Products
SASOLWAX Lubricant for PVC Products
Brochure
Knowde Enhanced TDS
Identification & Functionality
SASOLWAX A28

Features & Benefits
CASE Ingredients Features
Industrial Additives Features
Performance Highlights
Comparison of SASOLWAX FT hard waxes to 165F refined paraffin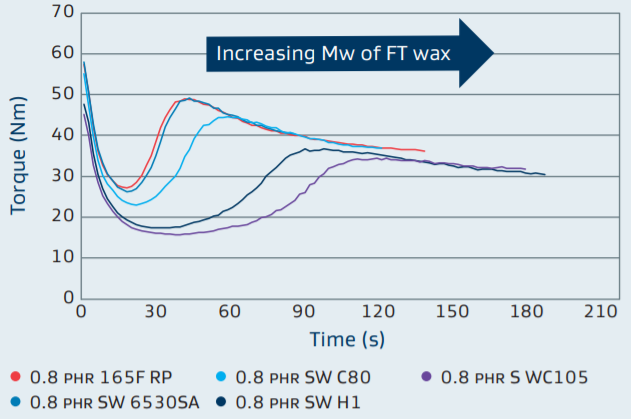 SASOLWAX high efficiency lubricants can be formulated to boost output and lower energy consumption.
Comparison of functionalized SASOLWAX FT waxes to 165F refined paraffin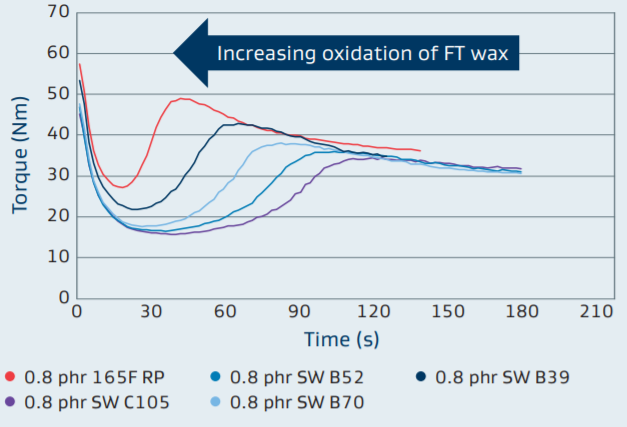 SASOLWAX Oxygenated Fischer-Tropsch waxes show more internal lubrication, promoting earlier fusion and lower melt pressures.
SASOLWAX FT waxes can yield output advantages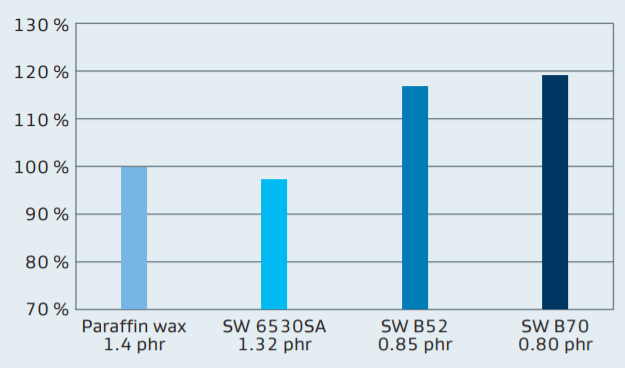 The high efficiency of synthetic SASOLWAX FT waxes moves output bottlenecks from the extruder to downstream take off and cooling capacity.
SW B52 and SW B70 are proven to yield excellent physical and aesthetic properties to rigid PVC profiles.
Fusion of PVC when using SW B52 or SW B70 is highly temperature dependent.
Output of PVC with SW B52 or SW B70 is gained via higher screw speeds as the external efficiency reduces melt pressure and torque in the extruder.
Benefits at a Glance
The efficiency of SASOLWAX FT products may allow lower concentrations of the external lubricant to be used, particularly when alternative systems lead to blooming.
Our products efficiently controls the fusion of PVC (when correctly formulated with internal lubricants), allowing optimal processing and physical properties to be achieved.
Reduces power consumption as observed by drop in amps
Reduction of volatiles at vent and die exit versus other wax materials, reducing environmental issues during extrusion
Provides good metal release
Reduces the formation of "hot spots" that result in thermal degradation of the PVC
Reduces die lines and improves surface gloss
Allows for reduction of external lubricant loading while improving physical properties, such as impact, flexural and tensile strength.
SASOLWAX 6530SA is a qualified hydrocarbon wax yielding similar torque fusion response as fully refined 165F melt paraffin with benefit of reduced die drool (beard), faster heat transfer, slightly stiffer melt and higher output.
Good cost to performance benefits.
Lower plate out / die-drool than other external lubricants.
General Guidelines
It is essential that proper processing conditions be used in order to take full advantage of the benefits offered by SASOLWAX products. The level of these products required in any application will need to be determined such that the fusion time of the polymer is matched with the optimised process conditions, e.g., line speed.
Our products maintain regulatory approvals over a wide range of PVC, Polymer, and non-polymer applications. Please contact your local Sasol representative for details. With technical support by Sasol's experts, higher melting point SASOLWAX FT wax can be used as highly efficient lubricants that are proven to yield output benefits.
Applications
Applications: SASOLWAX FT waxes
| | |
| --- | --- |
| Lead stabilizers | ✓ |
| Tin stabilizers | ✓ |
| Calcium stabilizers | ✓ |
| Pipe | ✓ |
| Profile | ✓ |
| Injection molding | ✓ |
| Wire and cable | ✓ |
| Footwear | ✓ |
| Fittings | ✓ |
Appearance
Off-white to Pale Yellow Coarse Powder
Typical Properties
| | | | |
| --- | --- | --- | --- |
| | Value | Units | Test Method / Conditions |
| Molecular Weight | 900.0 | Dalton | - |
| Color | 0.5 | ASTM | ASTM D1500 |
| Ester Value | 27.0 | mgKOH/g | ASTM D 1386/ASTM D 1387 |
| Saponification Value | 56.0 | mgKOH/g | ASTM D 1386/ASTM D 1387 |
| Acid Value | 29.0 | mgKOH/g | ASTM D 1386/ASTM D 1387 |
| Penetration (at 25°C) | 4.0 | 0.1mm | ASTM D 1321 |
| Softening Point | 102.0 | °C | ASTM D 3461 |
| Congealing Point | 95.0 | °C | ASTM D 938 |
| Dosage | 0.2 - 1.2 | phr | - |
| Drop Melting Point | 109.0 | °C | ASTM D 3954 |
Technical Details & Test Data
Lubricants for PVC
The Sasol Chemicals – Performance Solutions offers a range of external lubricants that has been specially developed for use during PVC processing, and includes the unique Fischer-Tropsch (FT) products.
The Sasol Chemicals FT products are synthesised using Sasol's proprietary FT technology, which reacts carbon monoxide and hydrogen to form unsaturated and unbranched molecules. The linear structure of these synthetic hydrocarbons is responsible for the many desirable properties and performance benefits of SASOLWAX, for example, the low viscosity of these products make them very efficient external lubricants in PVC. Sasol's R&D team have developed unique performing functionality into the SASOLWAX FT product group. These materials yield desirable properties to modify melt viscosity, melt stiffness, fusion rate, and gelation time. These properties often yield the opportunity to increase the output rate of UPVC.
The function of lubricants in PVC
The "melting" behaviour of PVC is different from that of semicrystalline polymers. PVC granules have a particulate structure; each granule is an agglomerate of primary particles ("globules"). Each primary particle has an internal fine structure made up of fibrils ("nodules"). The properties of any article fabricated from PVC depend on the original coarse powder structure being destroyed and replaced with a new connected microstructure. This process is known as fusion. Under- or over-fusion results in poor mechanical properties and so it is important to ensure that fusion takes place at the right time during processing. Internal lubricants, which coat the surfaces of the globules to assist the breakdown of the particulate structure, accelerate the fusion process that may lead to over-fusion and polymer degradation. External lubricants, which act between the polymer and metal surfaces, delay fusion. The use of SASOLWAX FT products can benefit and help PVC processors.
Storage and Handling
Safe handling advice
Do not breathe dust. Pneumatic conveying of this product could lead to the production of fine material, which increases the risk of dust explosions. The pipes and ducts should be made from conductive material and properly earthed.
Requirements for storage areas and containers
Keep containers tightly closed in a cool, well-ventilated place.
Advice on common storage
Should not be stored adjacent to Ammonia and Amine containing compounds.
To obtain the best performance from the product, we recommend use within 10 years from sample date on the Certificate of Analysis. Product should be stored under standard warehousing conditions, at least in a clean dry place, in its original packing at a temperature not exceeding 35°C.
For detailed instructions, please refer SDS.