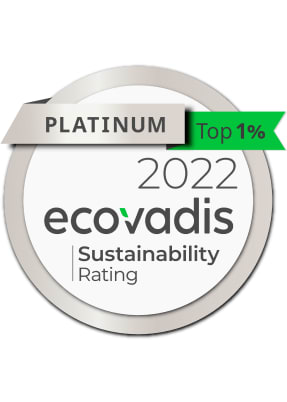 About us
Our solutions make a better world for generations
CREATING TOMORROW'S SOLUTIONS
As a pioneer of modern chemistry, today we are a globally active company with state-of-the-art specialty chemical products.
Our portfolio includes more than 3,200 products. You, our customers, come from virtually every major sector. We develop intelligent solutions and innovative technologies for you.
Customer-oriented and innovative with a long-term vision, we aim to improve people's quality of life around the world.
WACKER has joined Race to Zero, the UN's carbon neutrality initiative. We want to pursue specific projects and measures to halve our greenhouse gas emissions by 2030 and to ensure that how we work and make products achieves net-zero by 2045
WACKER is a chemical company that develops solutions for a wide range of industries, including the electronics, construction, adhesives and binders, automotive, and photovoltaic sectors, through its extensive portfolio of silicones, polymers, biosolutions and polysilicon. WACKER stands for quality in everyone's life and creates solutions for the future.
WACKERs contribution to sustainable business (SustainaBalance®)
Do you know what sustainability goals WACKER has set for 2030? And by when does WACKER want to become net zero?
WACKER Magazine joins WACKER Square App
From now on, you can enjoy the WACKER Magazine's inspiring content via WACKER Square app, while taking advantage of its numerous features. By adding hand-written notes or using other text-editing options, you can easily comment on articles and share them with colleagues or peers. And should lack of internet coverage be of concern while on the go – don't worry. All recent issues are available as complete downloads or individual articles.

Browse Products by Market (13)
Browse Products by Technology (15)
Most Viewed Documents
Document Name
Type
Products
GENIOSIL® XB 502 (US-EN) Technical Data Sheet
Products:
GENIOSIL® XB 502
BELSIL® TMS 803 (US-EN) Technical Data Sheet
Products:
BELSIL® TMS 803
Wacker Chemie 3-Chlorobutanone (3-Cl-MEK) (US-EN) Technical Data Sheet
Wacker Chemie 3-Chlorobutanone (3-Cl-MEK)
Products:
Wacker Chemie 3-Chlorobutanone (3-Cl-MEK)
SILRES® Powder D (US-EN) Technical Data Sheet
Products:
SILRES® Powder D
CAVAMAX® W6 (US-EN) Technical Data Sheet
SILFOAM® Silicone-Based Foam Management Brochure (US-EN)
SILFOAM® SC 1132, SILFOAM® SC 120, SILFOAM® SC 124, SILFOAM® SC 132, SILFOAM® SC 133, SILFOAM® SD 168, SILFOAM® SD 650, SILFOAM® SE 36, SILFOAM® SE 39, SILFOAM® SE 47, SILFOAM® SP 150, SILFOAM® SP 7960, SILFOAM® SRE
Products:
SILFOAM® SC 1132, SILFOAM® SC 120, SILFOAM® SC 124, SILFOAM® SC 132, SILFOAM® SC 133, SILFOAM® SD 168, SILFOAM® SD 650, SILFOAM® SE 36, SILFOAM® SE 39, SILFOAM® SE 47, SILFOAM® SP 150, SILFOAM® SP 7960, SILFOAM® SRE
Wacker Chemie Ethyl Silicates Binders for Industrial Coatings Brochure (US-EN)
SILESTER® XAR, WACKER® Silicate MKS, WACKER® Silicate S100, WACKER® Silicate TES 28, WACKER® Silicate TES 40 WN
Products:
SILESTER® XAR, WACKER® Silicate MKS, WACKER® Silicate S100, WACKER® Silicate TES 28, WACKER® Silicate TES 40 WN
HDK® Product Overview Brochure (US-EN)
HDK® D05, HDK® H13L, HDK® H15, HDK® H16, HDK® H17, HDK® H18, HDK® H20, HDK® H2000, HDK® H20RH, HDK® H20RM, HDK® H21, HDK® H30, HDK® H30LM, HDK® H30RM, HDK® N20, HDK® N20 Nutrition, HDK® N20 P Pharma, HDK® N20 Pharma, HDK® N20D, HDK® N20P, HDK® N20Plus, HDK® N20ST, HDK® S13, HDK® T30, HDK® T30P, HDK® T30Plus, HDK® T40, HDK® V15, HDK® V15A, HDK® V15D, HDK® V16, HDK® V16D
Products:
HDK® D05, HDK® H13L, HDK® H15, HDK® H16, HDK® H17, HDK® H18, HDK® H20, HDK® H2000, HDK® H20RH, HDK® H20RM, HDK® H21, HDK® H30, HDK® H30LM, HDK® H30RM, HDK® N20, HDK® N20 Nutrition, HDK® N20 P Pharma, HDK® N20 Pharma, HDK® N20D, HDK® N20P, HDK® N20Plus, HDK® N20ST, HDK® S13, HDK® T30, HDK® T30P, HDK® T30Plus, HDK® T40, HDK® V15, HDK® V15A, HDK® V15D, HDK® V16, HDK® V16D
ETONIS® Polymer Binders Optimizing Construction with Modified Concrete Brochure (US-EN)
ETONIS® 1400 S, ETONIS® 1450 S, ETONIS® 3500 W (GER), ETONIS® 5150 P, ETONIS® 5500 P, ETONIS® 7245 A, ETONIS® 7445 A, ETONIS® 7550 A, ETONIS® 7850 A
Products:
ETONIS® 1400 S, ETONIS® 1450 S, ETONIS® 3500 W (GER), ETONIS® 5150 P, ETONIS® 5500 P, ETONIS® 7245 A, ETONIS® 7445 A, ETONIS® 7550 A, ETONIS® 7850 A
BELSIL® Silicones for the Cosmetics Industry Product Overview Brochure (US-EN)
BELSIL® ADM 1370, BELSIL® ADM 1650, BELSIL® ADM 6057 E, BELSIL® ADM 6300 E, BELSIL® ADM 8105 E, BELSIL® ADM 8301 E, BELSIL® ADM 9000 E, BELSIL® CDM 3526 VP, BELSIL® CM 7026 VP, BELSIL® DADM 3240 E, BELSIL® DM 0.65, BELSIL® DM 1 Plus, BELSIL® DM 10, BELSIL® DM 100, BELSIL® DM 1000, BELSIL® DM 100000, BELSIL® DM 1000000, BELSIL® DM 12500, BELSIL® DM 20, BELSIL® DM 300000, BELSIL® DM 3096, BELSIL® DM 3112 VP, BELSIL® DM 3200 E, BELSIL® DM 350, BELSIL® DM 3560 VP, BELSIL® DM 3601 E, BELSIL® DM 5, BELSIL® DM 50, BELSIL® DM 500, BELSIL® DM 500000, BELSIL® DM 5102 E, BELSIL® DM 5700 E, BELSIL® DM 60000, BELSIL® DM 6101 E, BELSIL® DMC 6031, BELSIL® DMC 6038, BELSIL® eco DM 10, BELSIL® eco DM 100, BELSIL® eco DM 1000, BELSIL® eco DM 20, BELSIL® eco DM 350, BELSIL® eco DM 5, BELSIL® eco DM 50, BELSIL® eco DM 60 000, BELSIL® eco GB 1020, BELSIL® eco TMS 803, BELSIL® EG 6000, BELSIL® GB 1020, BELSIL® OW 2100 DE, BELSIL® P 1101, BELSIL® PDM 1000, BELSIL® PDM 20, BELSIL® PF 100, BELSIL® PF 200, BELSIL® PF 22, BELSIL® PMS MK Powder, BELSIL® R 220, BELSIL® REG 1102, BELSIL® REG 1103 B, BELSIL® RG 100, BELSIL® RG 90, BELSIL® SDM 5055 VP, BELSIL® SPG 128 VP, BELSIL® SPR 45 VP, BELSIL® TMS 803, BELSIL® W 3230, BELSIL® WO 5000
Products:
BELSIL® ADM 1370, BELSIL® ADM 1650, BELSIL® ADM 6057 E, BELSIL® ADM 6300 E, BELSIL® ADM 8105 E, BELSIL® ADM 8301 E, BELSIL® ADM 9000 E, BELSIL® CDM 3526 VP, BELSIL® CM 7026 VP, BELSIL® DADM 3240 E, BELSIL® DM 0.65, BELSIL® DM 1 Plus, BELSIL® DM 10, BELSIL® DM 100, BELSIL® DM 1000, BELSIL® DM 100000, BELSIL® DM 1000000, BELSIL® DM 12500, BELSIL® DM 20, BELSIL® DM 300000, BELSIL® DM 3096, BELSIL® DM 3112 VP, BELSIL® DM 3200 E, BELSIL® DM 350, BELSIL® DM 3560 VP, BELSIL® DM 3601 E, BELSIL® DM 5, BELSIL® DM 50, BELSIL® DM 500, BELSIL® DM 500000, BELSIL® DM 5102 E, BELSIL® DM 5700 E, BELSIL® DM 60000, BELSIL® DM 6101 E, BELSIL® DMC 6031, BELSIL® DMC 6038, BELSIL® eco DM 10, BELSIL® eco DM 100, BELSIL® eco DM 1000, BELSIL® eco DM 20, BELSIL® eco DM 350, BELSIL® eco DM 5, BELSIL® eco DM 50, BELSIL® eco DM 60 000, BELSIL® eco GB 1020, BELSIL® eco TMS 803, BELSIL® EG 6000, BELSIL® GB 1020, BELSIL® OW 2100 DE, BELSIL® P 1101, BELSIL® PDM 1000, BELSIL® PDM 20, BELSIL® PF 100, BELSIL® PF 200, BELSIL® PF 22, BELSIL® PMS MK Powder, BELSIL® R 220, BELSIL® REG 1102, BELSIL® REG 1103 B, BELSIL® RG 100, BELSIL® RG 90, BELSIL® SDM 5055 VP, BELSIL® SPG 128 VP, BELSIL® SPR 45 VP, BELSIL® TMS 803, BELSIL® W 3230, BELSIL® WO 5000
ELASTOSIL® M 4470 (US-EN) Technical Data Sheet
Products:
ELASTOSIL® M 4470
ETONIS® 7142 A (US-EN) Technical Data Sheet