Beauté by Roquette® ST 005 Starch
Beauté by Roquette® ST 005 can be used in all application types, from dry powder to creamy texture and lotions. Beauté by Roquette® ST 005 will bring body and consistency to your formulation, as well as a final soft touch after application.
Experts
(1)
Ines Sabatier
Sales
Welcome to Roquette. How can we help you today?
Knowde Enhanced TDS
Identification & Functionality
+
Cosmetic Ingredient Functions
Benefits
Natural alternative to mineral powders
Absorbent for oils & fats
Soft touch and dry feel
Applications
All types of cosmetic products.
Application Guidelines
Disperse in the water phase at cold process <40°C.
Appearance
White to slightly yellowish odorless powder
Regulatory & Compliance
+
Technical Details & Test Data
+
Sebum and Sweat Absorption Capacities
Beauté by Roquette® ST 005 has similar absorption capacities than talc officinal (grade 5 microns)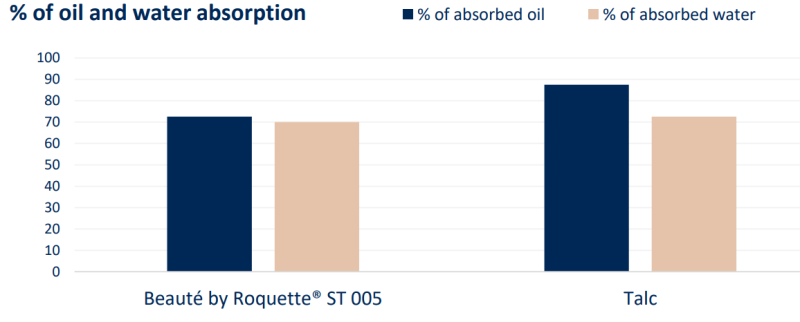 Sensorial Evaluation
Compared to kaolin, talc and others starches, best combination between sensorial properties and absorption capacities is obtained with Beauté by Roquette® ST 005.

Documents
(3)
Document Name
Type
Products
Beauté by Roquette® ST 005 Starch
Products:
Beauté by Roquette® ST 005 Starch
Beauté by Roquette® CD 102 Cyclodextrin, Beauté by Roquette® CD 110 Cyclodextrin, Beauté by Roquette® DS 112 Dry System, Beauté by Roquette® DS 146 Dry System, Beauté by Roquette® GA 290 Organic Acid, Beauté by Roquette® PO 260 Polyol, Beauté by Roquette® PO 370 Polyol, Beauté by Roquette® PO 455 Polyol, Beauté by Roquette® PO 475 Polyol, Beauté by Roquette® PO 500 Polyol, Beauté by Roquette® ST 005 Starch, Beauté by Roquette® ST 012 Starch, Beauté by Roquette® ST 118 Starch, Beauté by Roquette® ST 720 Starch, Beauté by Roquette® CD 100 Cyclodextrin, Beauté by Roquette® PO 070 Polyol, Beauté by Roquette® PO 324 Polyol, Beauté by Roquette® SA 130 Organic Acid, Beauté by Roquette® PO 160 Polyol, Beauté by Roquette® DS 421 Dry System, Beauté by Roquette® PO 071 Polyol
Products:
Beauté by Roquette® CD 102 Cyclodextrin, Beauté by Roquette® CD 110 Cyclodextrin, Beauté by Roquette® DS 112 Dry System, Beauté by Roquette® DS 146 Dry System, Beauté by Roquette® GA 290 Organic Acid, Beauté by Roquette® PO 260 Polyol, Beauté by Roquette® PO 370 Polyol, Beauté by Roquette® PO 455 Polyol, Beauté by Roquette® PO 475 Polyol, Beauté by Roquette® PO 500 Polyol, Beauté by Roquette® ST 005 Starch, Beauté by Roquette® ST 012 Starch, Beauté by Roquette® ST 118 Starch, Beauté by Roquette® ST 720 Starch, Beauté by Roquette® CD 100 Cyclodextrin, Beauté by Roquette® PO 070 Polyol, Beauté by Roquette® PO 324 Polyol, Beauté by Roquette® SA 130 Organic Acid, Beauté by Roquette® PO 160 Polyol, Beauté by Roquette® DS 421 Dry System, Beauté by Roquette® PO 071 Polyol
Beauté by Roquette® ST 005 Starch
Products:
Beauté by Roquette® ST 005 Starch