Experts
(1)
Ines Sabatier
Sales
Welcome to Roquette. How can we help you today?
Knowde Enhanced TDS
Identification & Functionality
+
Cosmetic Ingredient Functions
Benefits
Water-soluble transparent film-forming agent
Effective barrier against atmospheric pollutants
Non occlusive film - No transfer
Good skin adhesion
Smooth feel on skin
Easily removable with soap and water
Specific Features
Alternative to synthetic polymers (PVP, PVA, silicon resins...) or modified cellulose
Cold or hot process
Applications
Skin care
Color cosmetics
Hair care
Application Guidelines
Disperse in the water phase
Regulatory & Compliance
+
Technical Details & Test Data
+
Efficacy Studies
Effective Barrier Against Atmospheric Pollutants (In Vivo Evaluation)
Beauté by Roquette® ST 720 reduces the adhesion of black micro-particles: 2.3 times more efficient than the placebo.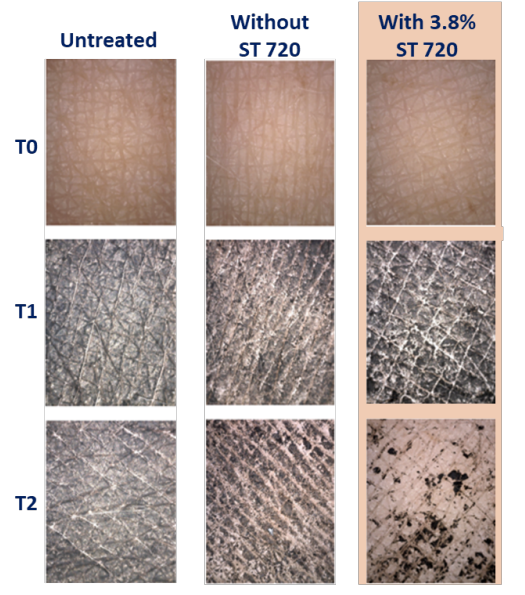 T0= before the application of the cream
T1= after the application of carbon black
T2= after rinsing
*Natural origin index = Number of natural carbon atoms/Total number of carbon atoms (natural 14 & non natural)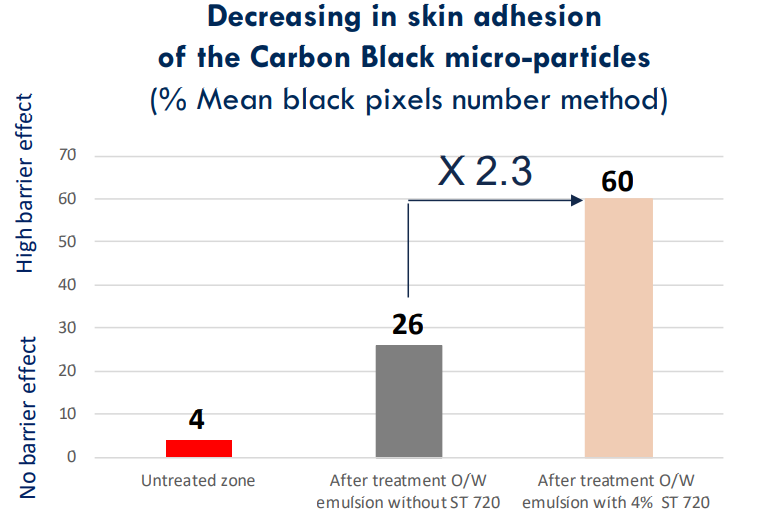 Effective Barrier Against Atmospheric Pollutants (In Vivo Efficacy)
Increasing in skin lightness (%) in the tested area. (L parameter analysis)

In the area treated with Beauté by Roquette® ST 720, after rinsing, the black particles is decreased and the skin lightness (L parameter) is increased.
Documents
(4)
Document Name
Type
Products
Beauté by Roquette® ST 720 Starch
Products:
Beauté by Roquette® ST 720 Starch
Beauté by Roquette® CD 102 Cyclodextrin, Beauté by Roquette® CD 110 Cyclodextrin, Beauté by Roquette® DS 112 Dry System, Beauté by Roquette® DS 146 Dry System, Beauté by Roquette® GA 290 Organic Acid, Beauté by Roquette® PO 260 Polyol, Beauté by Roquette® PO 370 Polyol, Beauté by Roquette® PO 455 Polyol, Beauté by Roquette® PO 475 Polyol, Beauté by Roquette® PO 500 Polyol, Beauté by Roquette® ST 005 Starch, Beauté by Roquette® ST 012 Starch, Beauté by Roquette® ST 118 Starch, Beauté by Roquette® ST 720 Starch, Beauté by Roquette® CD 100 Cyclodextrin, Beauté by Roquette® PO 070 Polyol, Beauté by Roquette® PO 324 Polyol, Beauté by Roquette® SA 130 Organic Acid, Beauté by Roquette® PO 160 Polyol, Beauté by Roquette® DS 421 Dry System, Beauté by Roquette® PO 071 Polyol
Products:
Beauté by Roquette® CD 102 Cyclodextrin, Beauté by Roquette® CD 110 Cyclodextrin, Beauté by Roquette® DS 112 Dry System, Beauté by Roquette® DS 146 Dry System, Beauté by Roquette® GA 290 Organic Acid, Beauté by Roquette® PO 260 Polyol, Beauté by Roquette® PO 370 Polyol, Beauté by Roquette® PO 455 Polyol, Beauté by Roquette® PO 475 Polyol, Beauté by Roquette® PO 500 Polyol, Beauté by Roquette® ST 005 Starch, Beauté by Roquette® ST 012 Starch, Beauté by Roquette® ST 118 Starch, Beauté by Roquette® ST 720 Starch, Beauté by Roquette® CD 100 Cyclodextrin, Beauté by Roquette® PO 070 Polyol, Beauté by Roquette® PO 324 Polyol, Beauté by Roquette® SA 130 Organic Acid, Beauté by Roquette® PO 160 Polyol, Beauté by Roquette® DS 421 Dry System, Beauté by Roquette® PO 071 Polyol
Beauté by Roquette® ST 720 Starch
Products:
Beauté by Roquette® ST 720 Starch
Beauté by Roquette® ST 720 Starch
Products:
Beauté by Roquette® ST 720 Starch